These healthy coconut banana cookies have only 3 ingredients and no added sugar! They are gluten-free, paleo and vegan! Finally you can have a cookie that is good for you!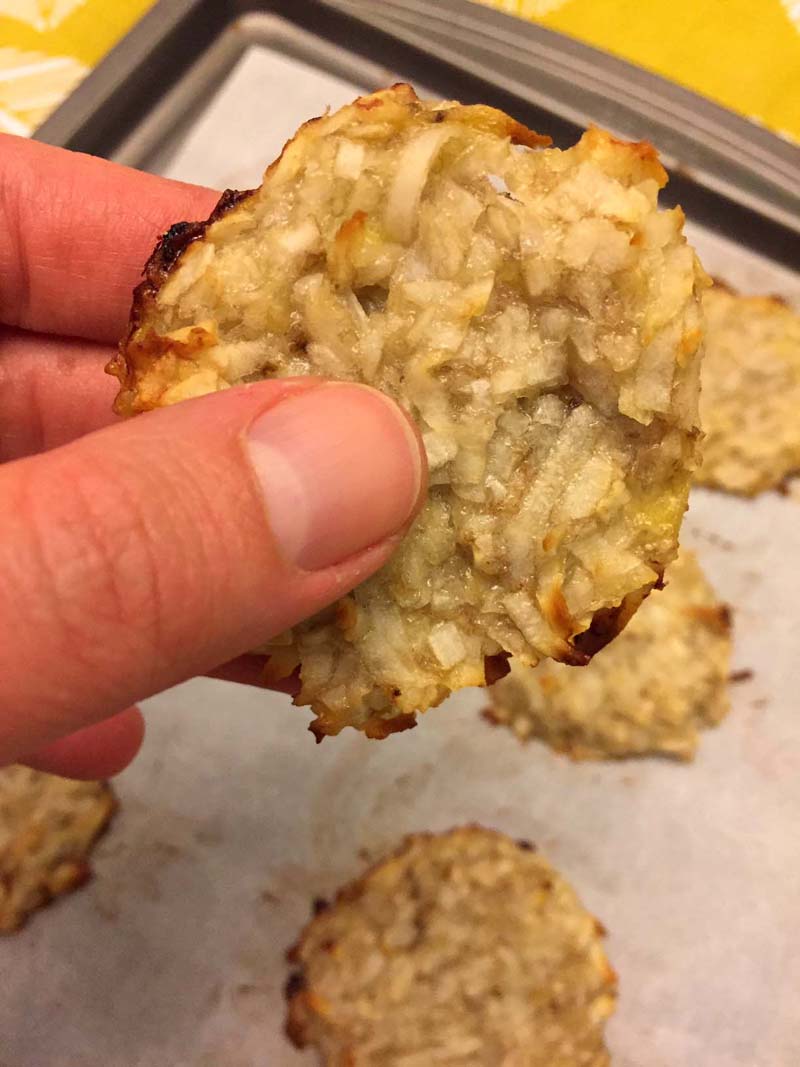 So what are the ingredients to these amazing super-healthy coconut cookies? It's unsweetened coconut flakes, overripe banana and vanilla extract! Technically, you can leave out vanilla and make them into 2-ingredient coconut-banana cookies, but I think vanilla flavor adds a nice touch :)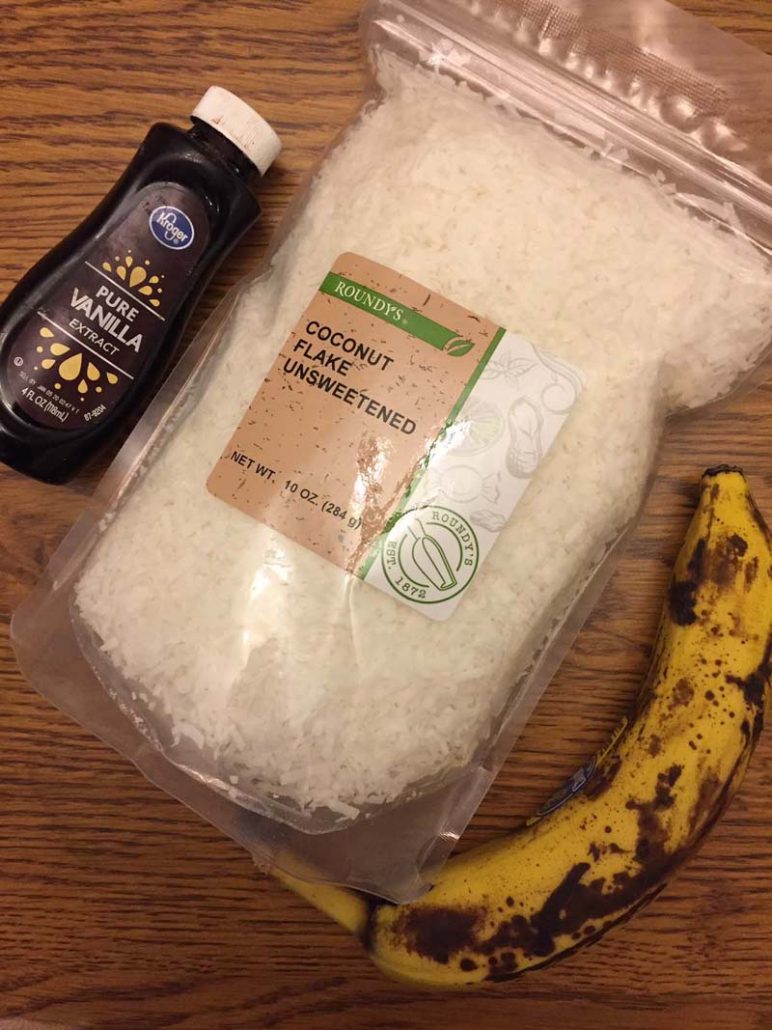 No added sugar! No gluten! No grains! No animal products! Just real wholesome ingredients, these coconut banana cookies are the healthiest cookies you will ever eat! They are so chewy and satisfying!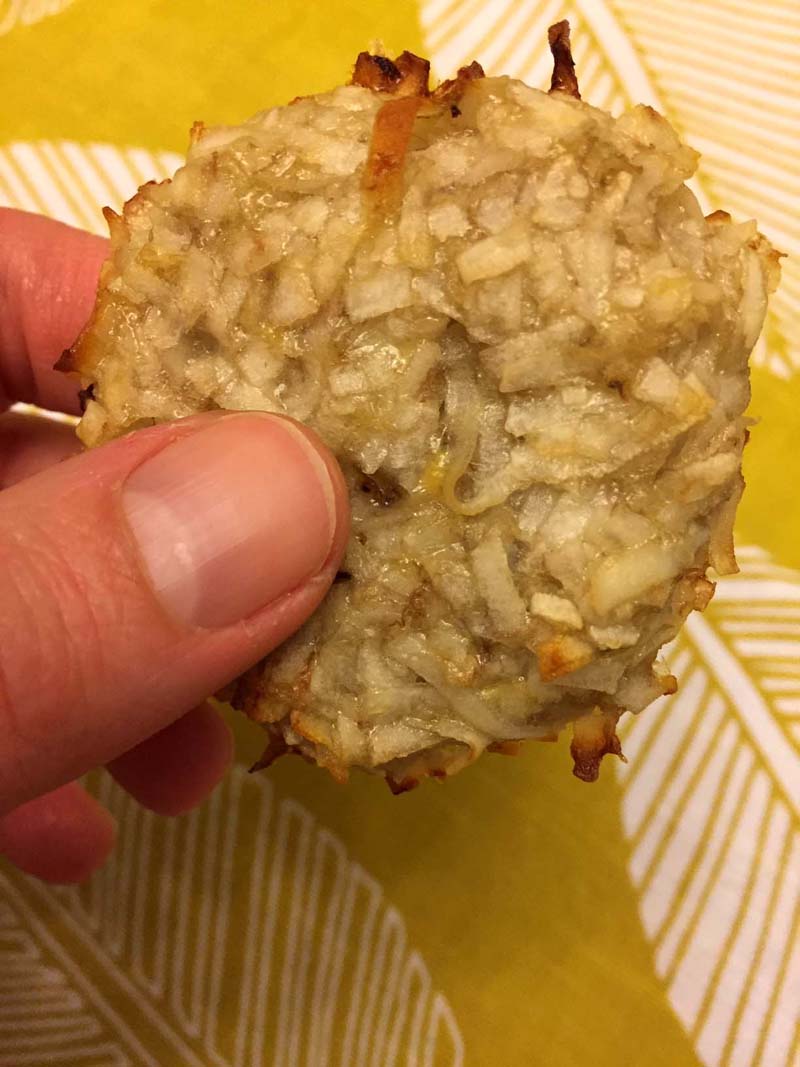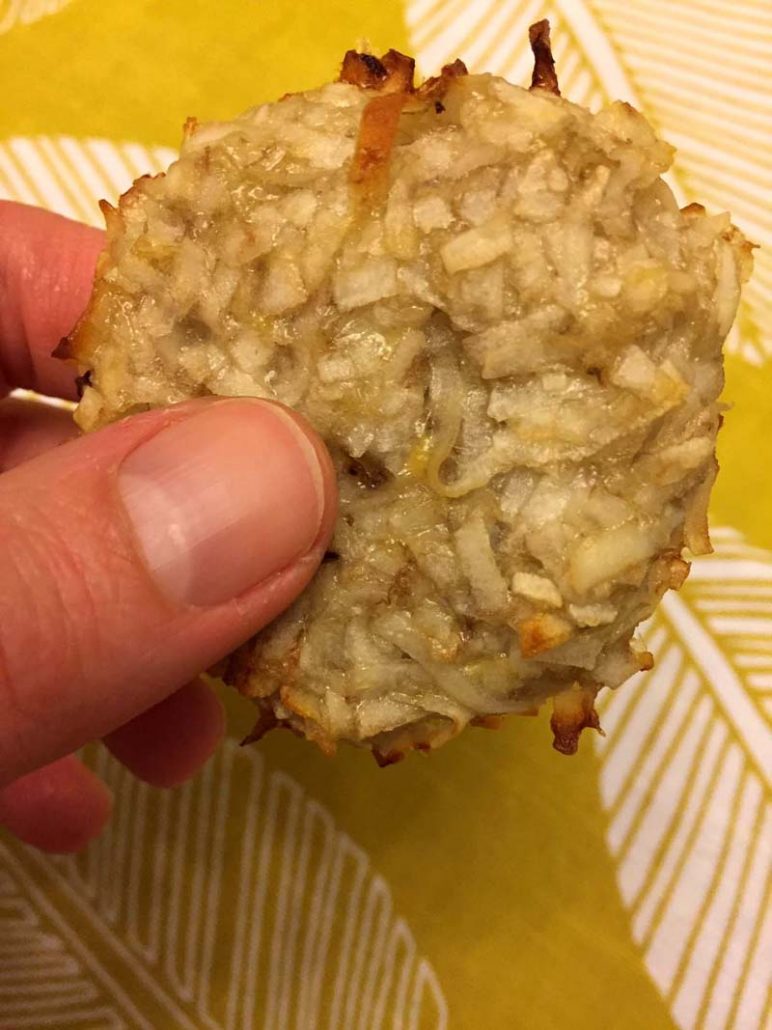 If you find it hard to believe that coconut flakes and banana can turn into cookies, that means you haven't try my other similar recipes: 3-ingredient banana pancakes and 3-ingredient banana oatmeal cookies. Seriously, if you are into healthy eating, those recipes are a must-try, they will open up the whole new world of possibilities for you!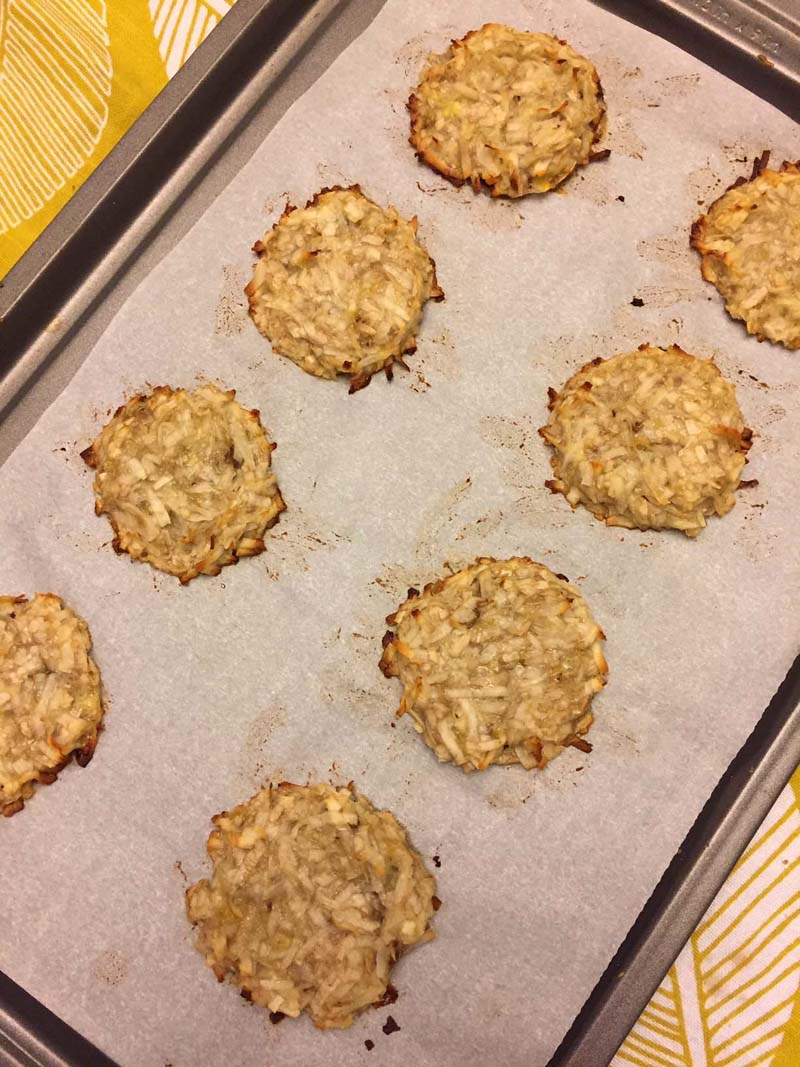 Bananas work like a miracle in binding ingredients in healthy baked goodies. Plus bananas are naturally sweet, so you can skip added sugar or sweetener! The riper the banana, the sweeter it is, so those super overripe bananas that are almost totally black will make the sweetest cookies :) So if you have an overripe banana laying around, think beyond banana bread – use up your brown bananas by making these healthy coconut banana cookies! And if you are looking for tried-and-true banana bread recipes, I've got those too – see my banana bread recipes collection for all kind of banana bread including the chocolate chip one and gluten-free one :)
Can you use sweetened coconut flakes instead of unsweetened? Of course you can! Same recipe, same ingredient proportions, using sweetened coconut flakes will produce super-sweet coconut banana cookies. I always try to cut sugar, so I use unsweetened coconut flakes – natural sweetness of banana is enough for me. Plus I eat these cookies for snack, and too sweet of a cookie will spike your blood sugar and will just make you hungry, while the one with unsweetened coconut flakes actually curbs your hunger. Yum!
I love to have unsweetened coconut flakes in my pantry and snack on them quite often :) Check out my article about unsweetened coconut flakes benefits and recipes.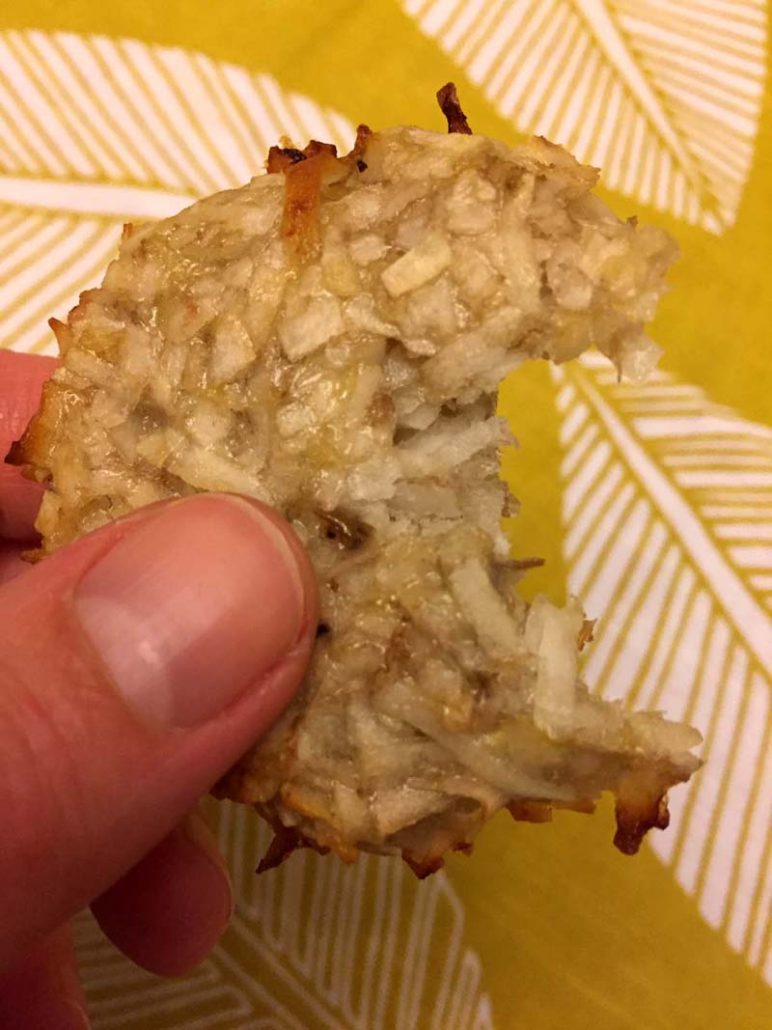 How To Make Healthy Coconut Banana Cookies
Making these healthy 3-ingredient coconut cookies is very easy. Just mix mashed banana, 3/4 cup of unsweetened coconut flakes and 1/2 tsp of vanilla in a bowl, drop by heaping tablespoons on a parchment-paper-lined baking sheet, shape with your hands into cookies and bake in pre-heated 350F oven for 20-25 minutes, or until golden brown. Take out the cookies and let them cool down fully on the baking sheet before attempting to handle them :) When these coconut banana cookies first come out of the oven, they are very fragile and will fall apart, but they firm up once they cool down. Enjoy!
Here are the step-by-step pictures:
Step 1: Mix mashed banana, coconut flakes and vanilla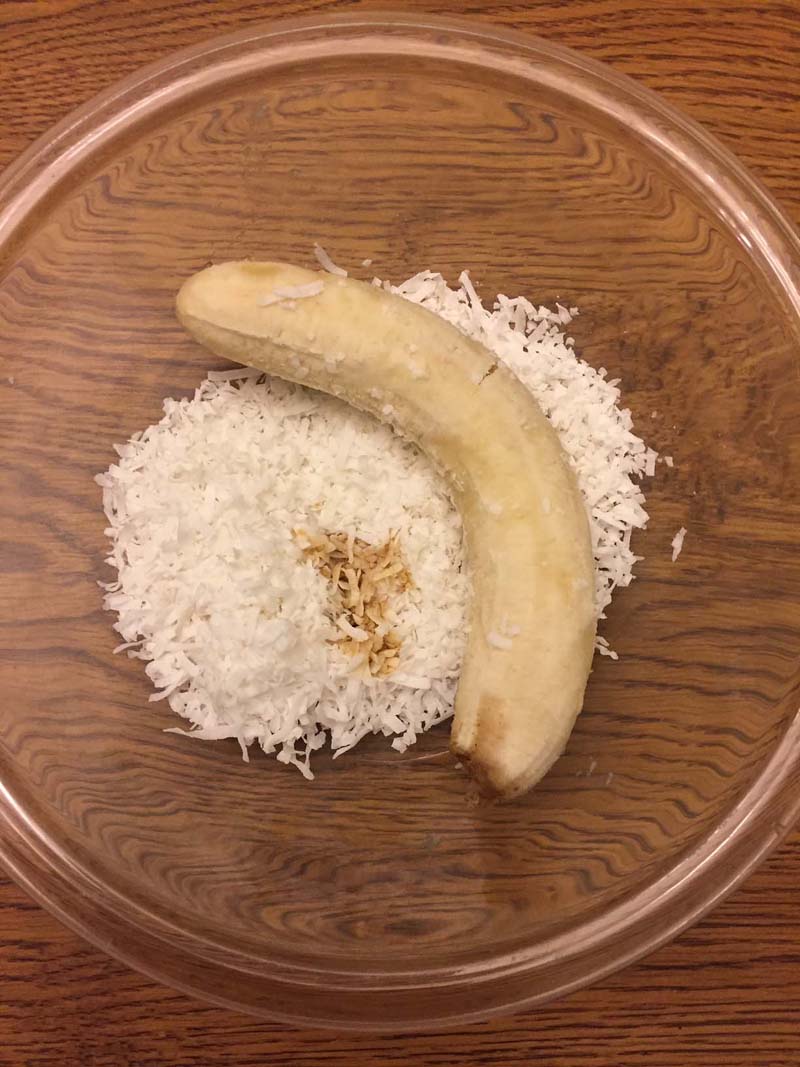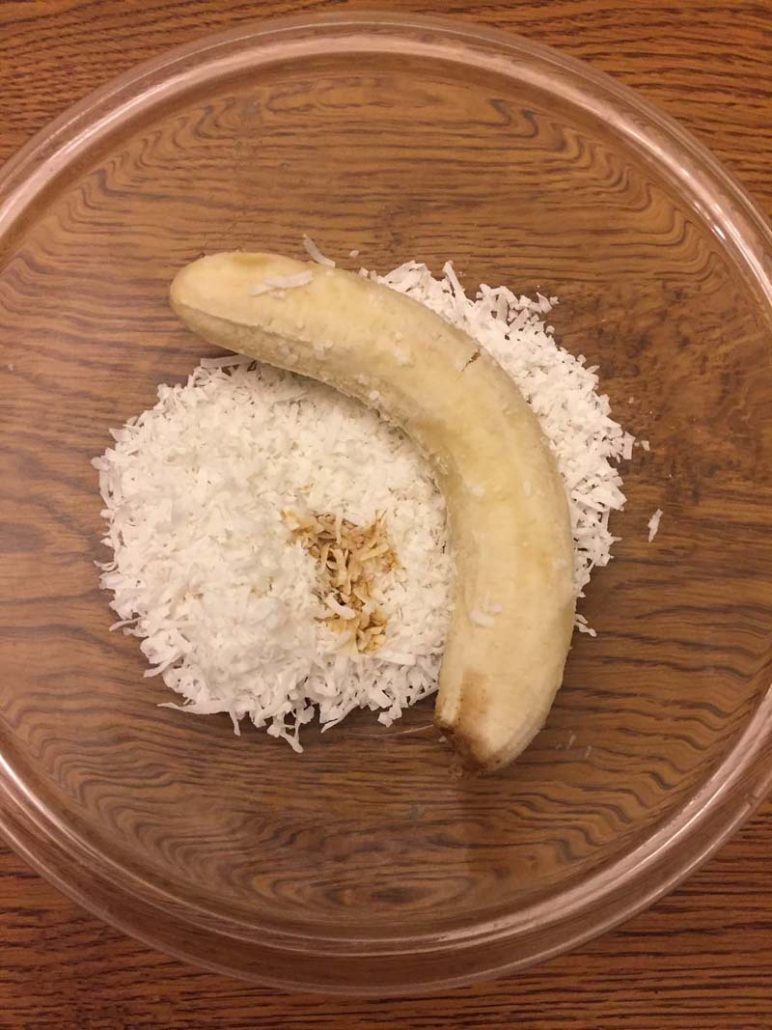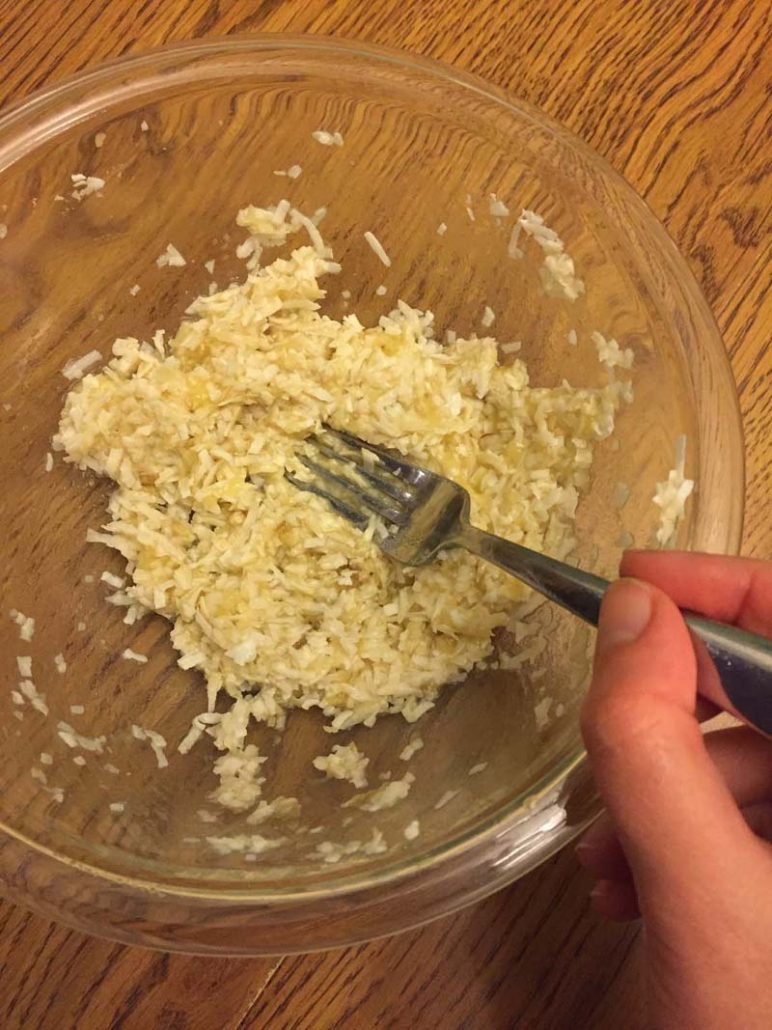 Step 2: Drop the mixture on a parchment-paper-lined baking sheet and shape into cookies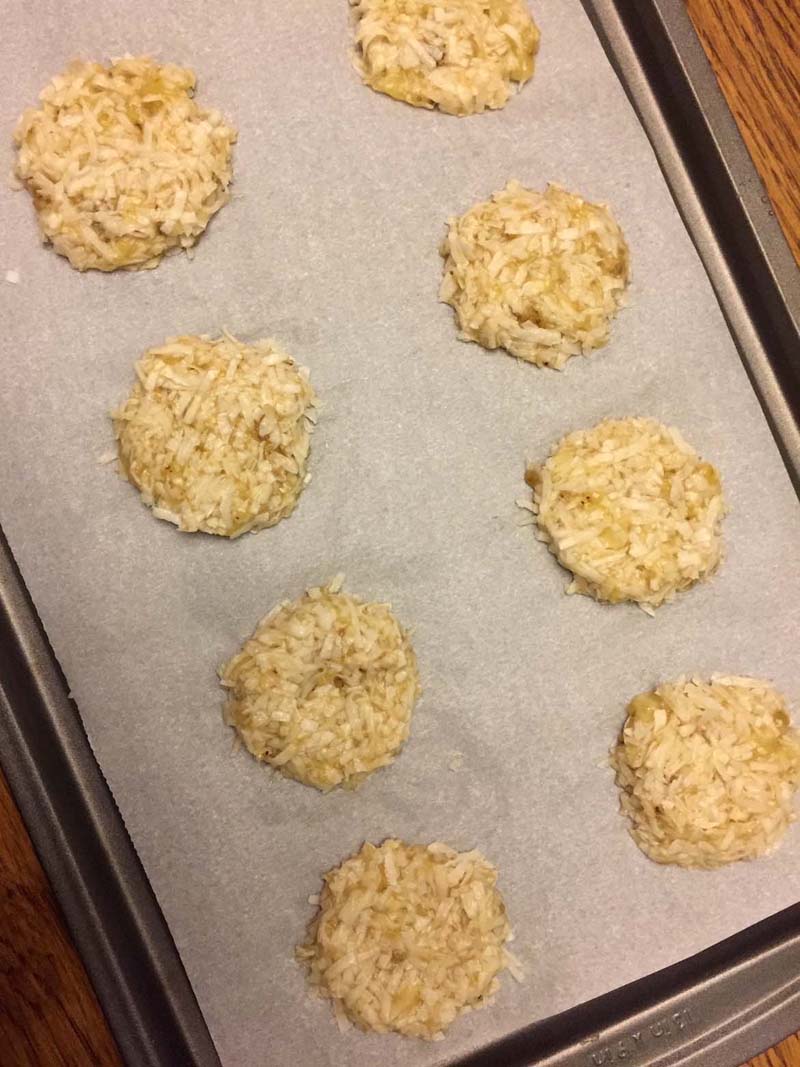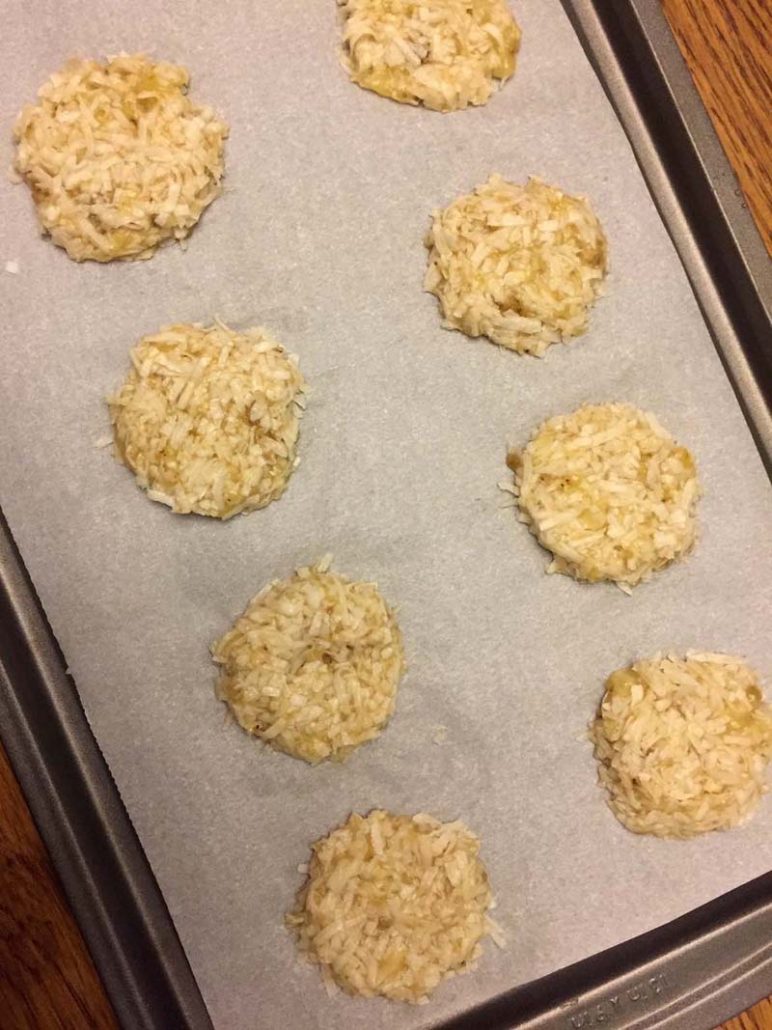 Step 3: Bake in pre-heated 350F oven for 20-25 minutes, until golden-brown. Let cookies cool completely before handling.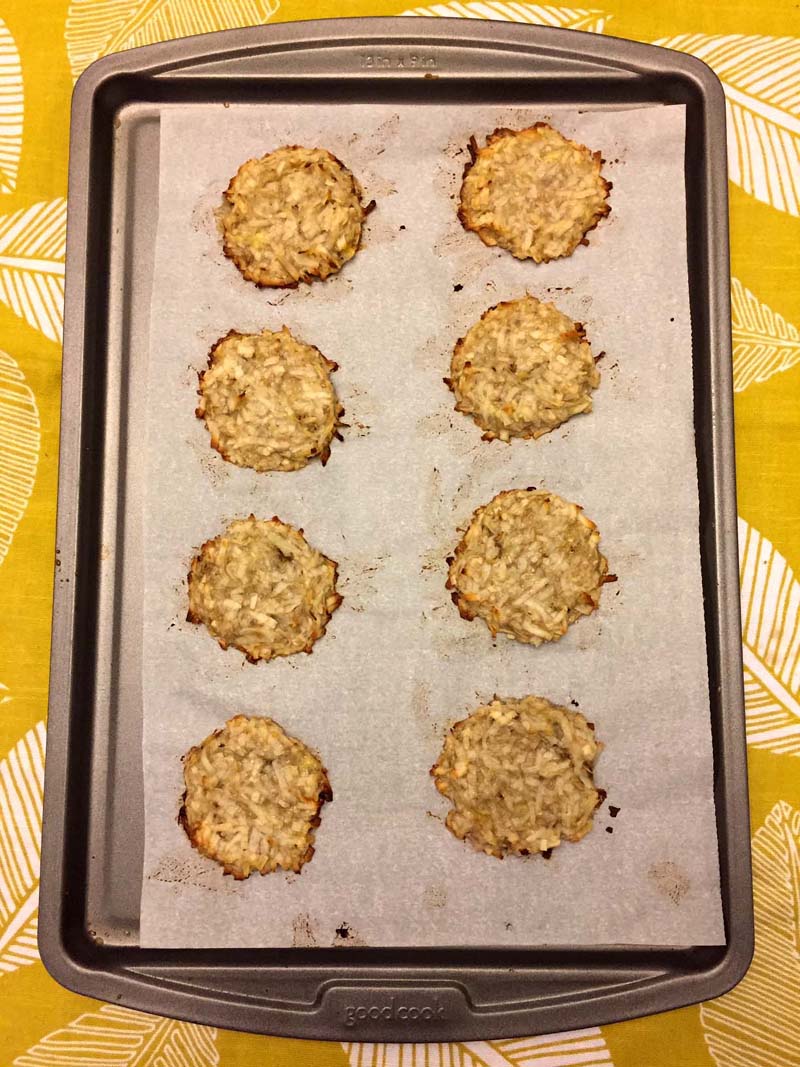 If you like these 3-ingredient coconut banana cookies, you will also love these easy healthy recipes:
Coconut Energy Balls – these healthy coconut balls are so moist, chewy and full of coconut flavor! Perfect portable snack!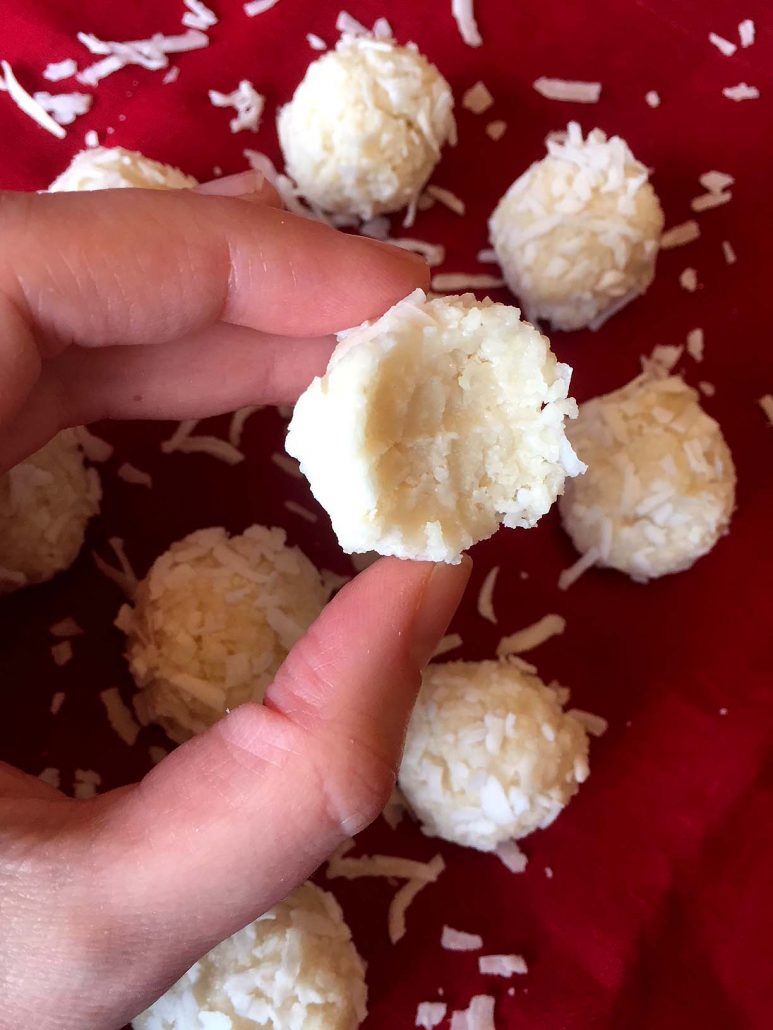 3 Ingredient Banana Pancakes – these pancakes are gluten-free and paleo, they are the healthiest pancakes you will ever eat!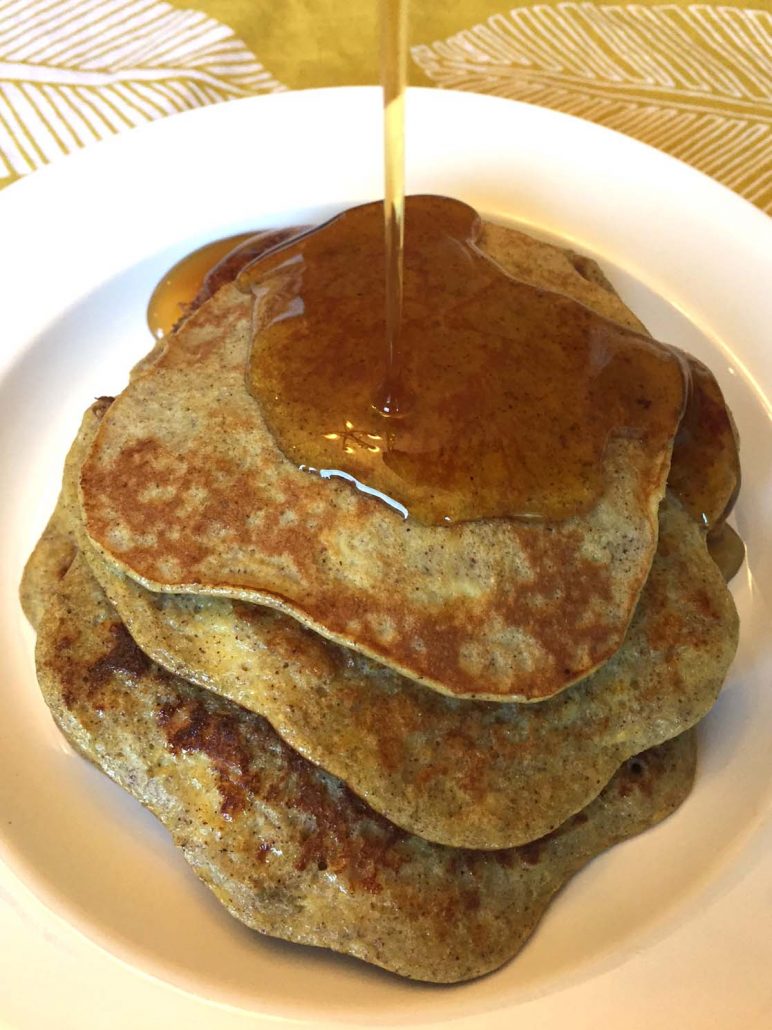 3 Ingredient Banana Oatmeal Cookies – here's another healthy cookie that is made with banana! No added sugar in this one either!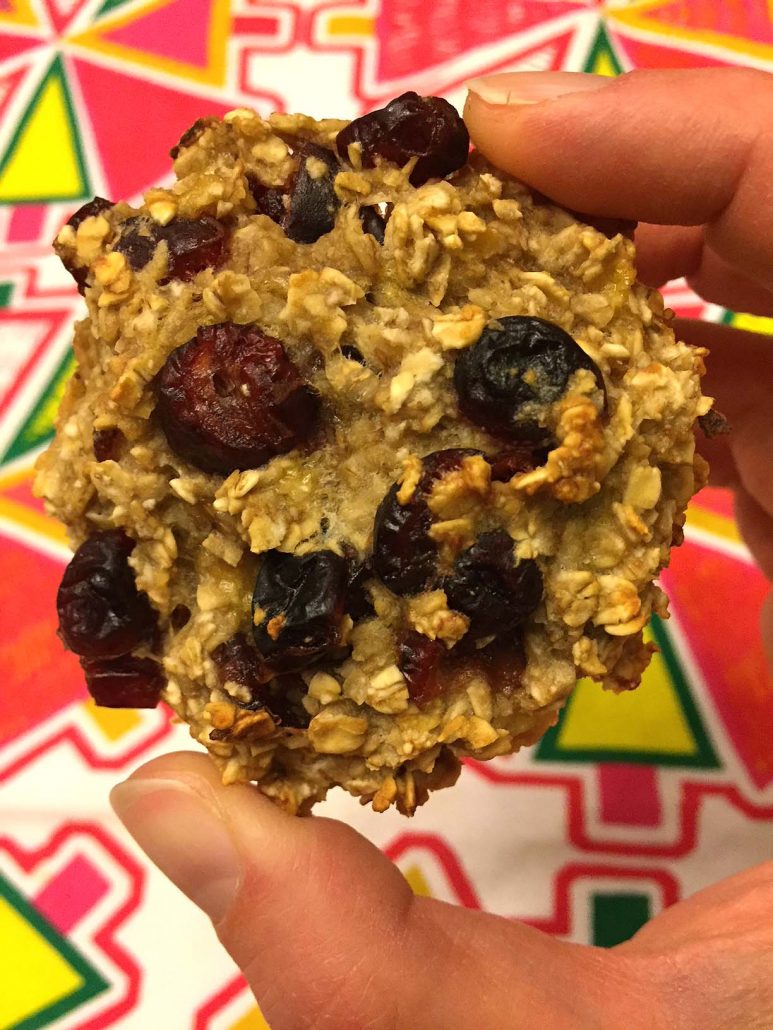 Healthy Chocolate Banana Ice Cream – this ice cream is actually good for you! It's low in calories, vegan and has no dairy!
Gluten-Free Banana Bread Mug Cake – want banana bread but can't have gluten? No worries – just make this gluten-free banana bread in a mug in minutes!
3-Ingredient Coconut Cookies (Gluten-Free, Paleo, Vegan)
These 3-ingredient coconut cookies are the healthiest cookies ever! Whole food ingredients and no added sugar! Finally a cookie that is actually good for you!
Ingredients
1 overripe banana
½ tsp vanilla
Instructions
Preheat the oven to 350F. Line a baking sheet with parchment paper.
Mash the banana in a bowl with a fork. Add the coconut flakes and vanilla and mix until combined.
Drop the coconut mixture by the heaping tablespoons on a baking sheet and shape with your hands into cookies.
Put the coconut cookies in the oven on the top rack and bake for 20-25 minutes, or until golden brown.
Remove the coconut cookies from the oven and let cool completely on a baking sheet before removing them from the baking sheet (they will harden as they cool).
Save this for later on your social media:
Get Melanie's FREE Recipes In Your Inbox!
https://www.melaniecooks.com/wp-content/uploads/2018/10/coconut_banana_paleo_cookies.jpg
1067
800
Melanie Mendelson
https://www.melaniecooks.com/wp-content/uploads/2015/11/logo-new2.png
Melanie Mendelson
2018-10-22 07:01:40
2019-11-06 12:09:11
3-Ingredient Coconut Banana Cookies (Gluten-Free, Paleo, Vegan)