Strawberry Banana Oatmeal Breakfast Bars (Vegan, Gluten-Free)
This post may contain affiliate links (disclosure).
These strawberry banana oatmeal bars are so good for you and taste mouthwatering! They make a perfect healthy breakfast or snack!
Who wants a slice of this amazing strawberry banana baked oatmeal? Cut it into bars or squares and munch away! You can taste the strawberries and bananas in every bite!
These strawberry banana oatmeal squares are so healthy, it's hard to believe something so delicious can actually be good for you! This recipe is vegan, gluten-free and has no refined sugar!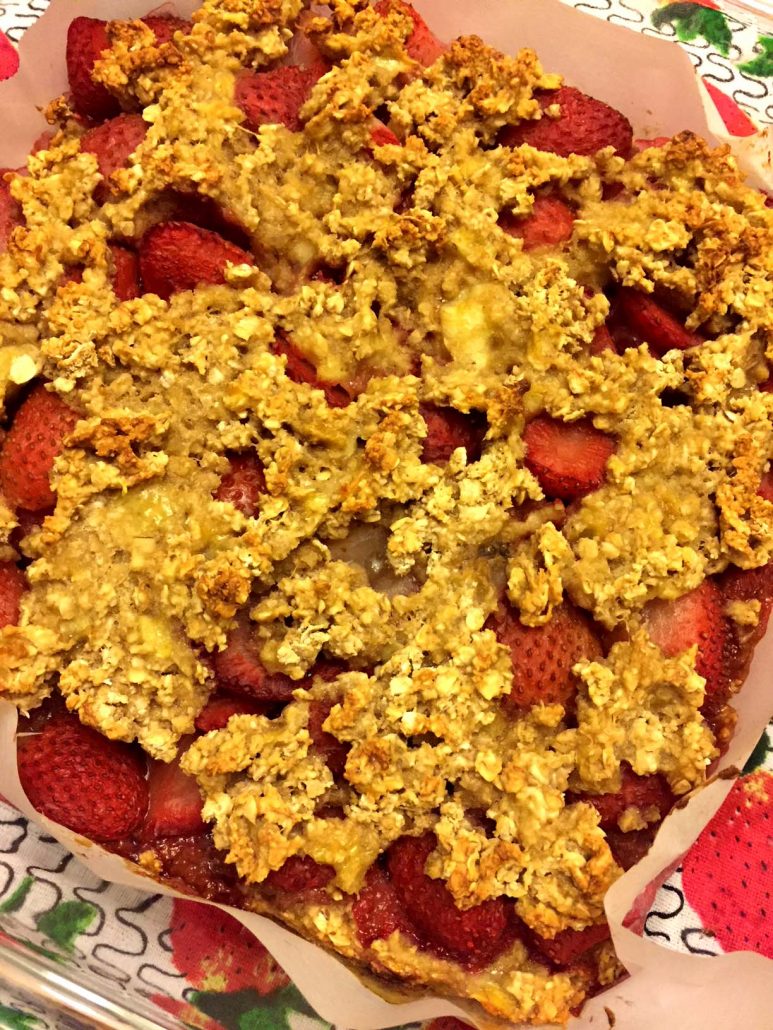 The ingredients for this recipe are very simple: strawberries, bananas, oatmeal, baking powder, vanilla extract and maple syrup. Simple natural goodness!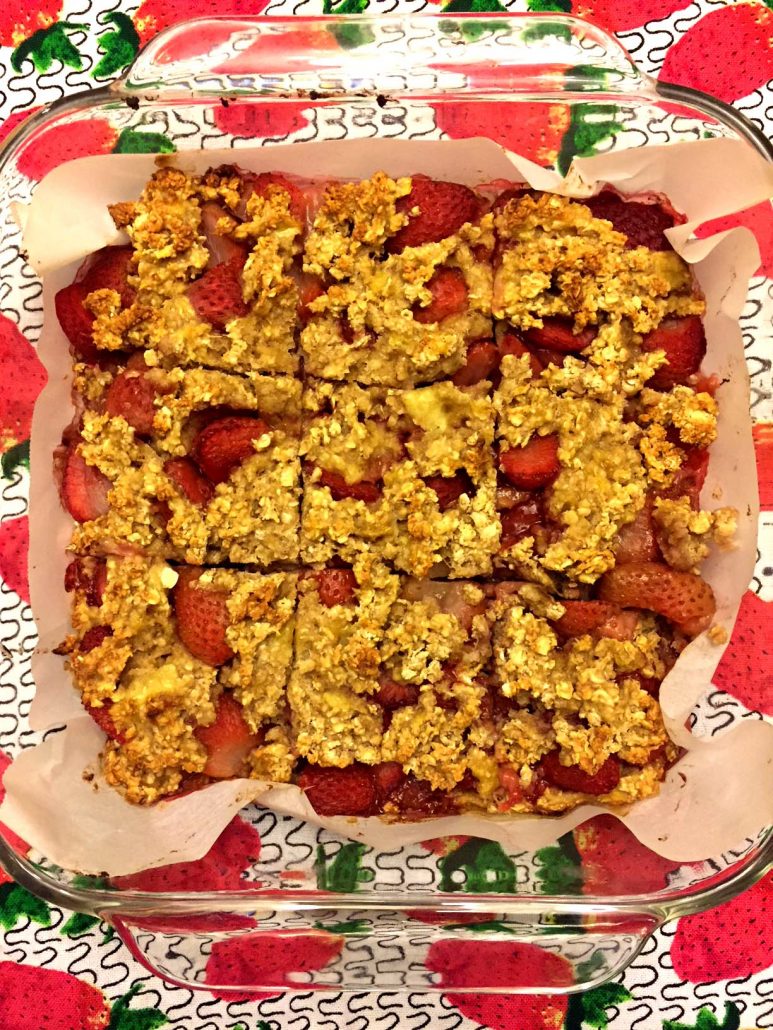 These strawberry banana oatmeal squares are vegan! It's hard to find any baked oatmeal recipe that doesn't use dairy or eggs, but this recipe is free from animal products.
You can make this recipe with fresh or frozen strawberries. On the pictures I used the frozen ones, but this recipe works just as well with fresh! You can also substitute the strawberries with any other berries or sliced fruits!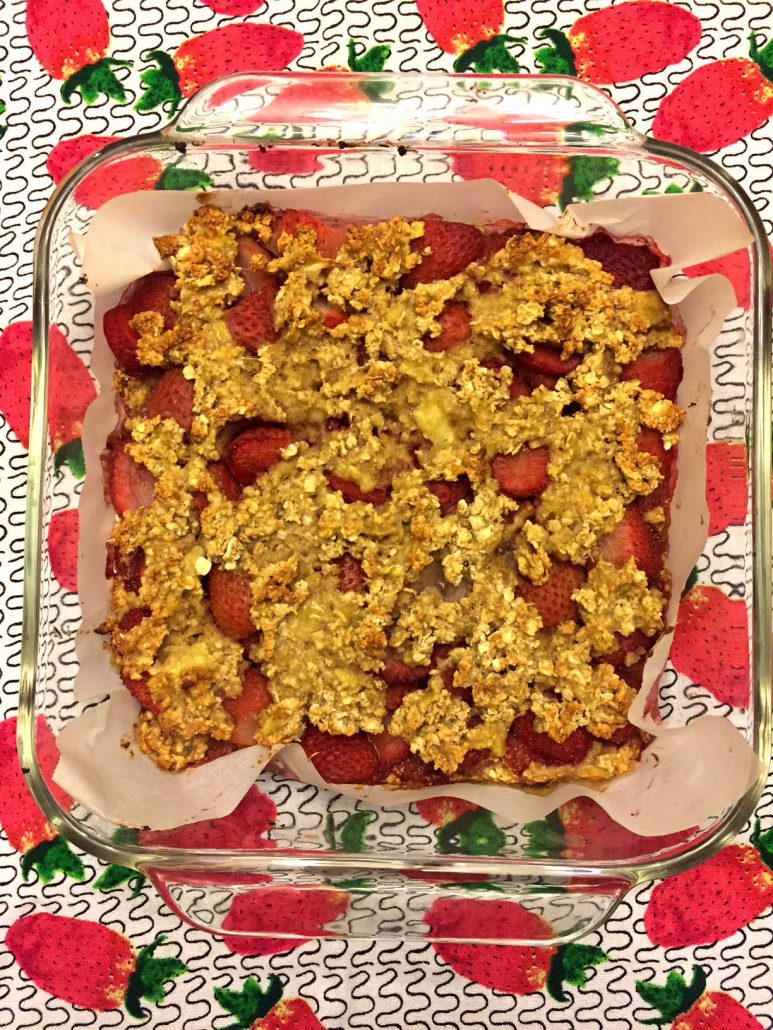 Eat these yummy strawberry banana squares for breakfast, eat them for snack, eat them for dessert, eat them any time of the day! You can also freeze them in individual ziploc bags and thaw when needed! You can never have too many healthy snacks on hand!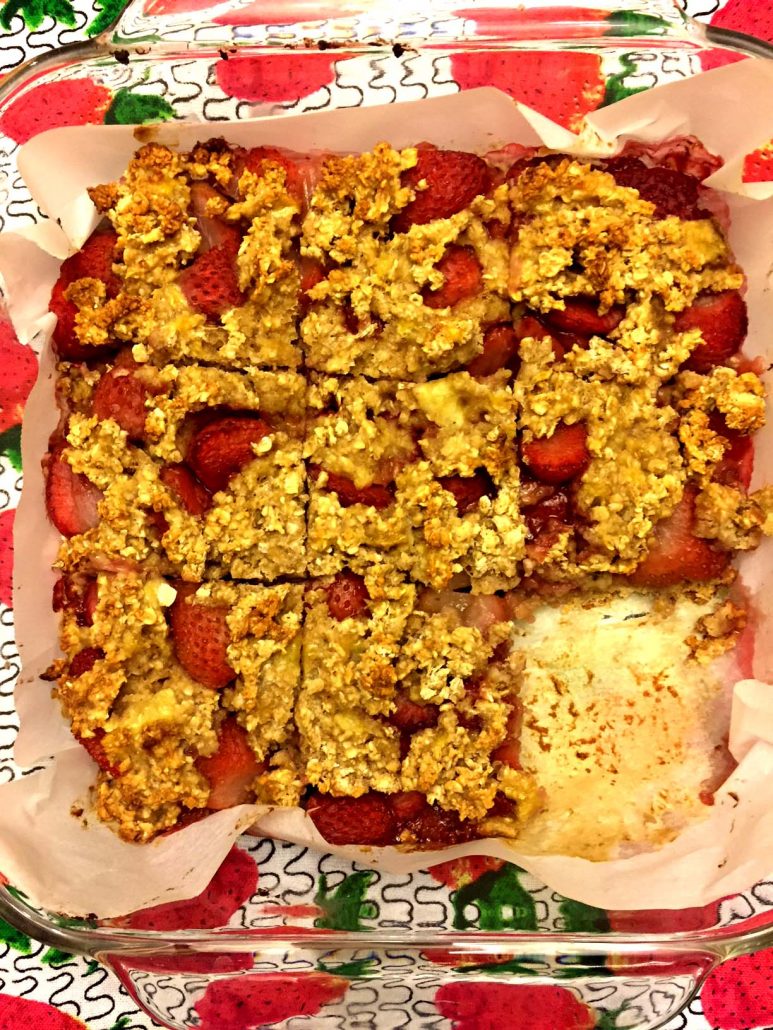 If you like these strawberry banana oatmeal bars, you will also love these easy recipes:
Oatmeal Raisin Mug Cake – healthy gluten-free mug cake made in 2 minutes in a microwave!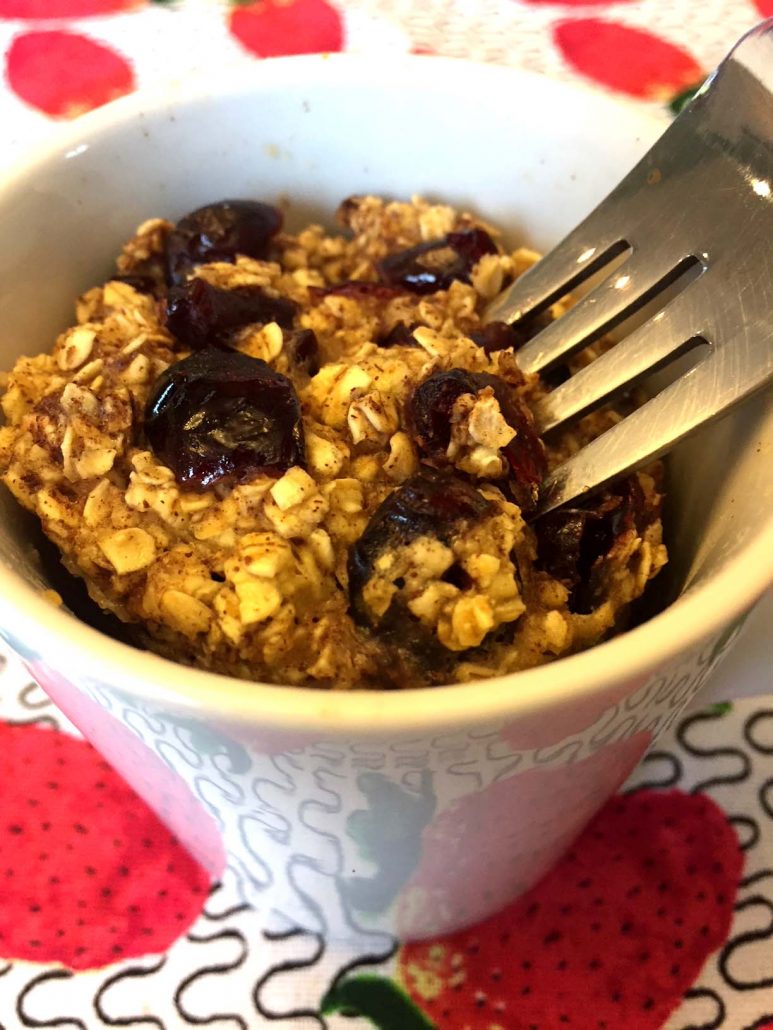 Vegan Banana Oatmeal Cookies – just 3 ingredients, this is the healthiest cookie you'll ever eat!
Paleo Strawberry Popsicles – these homemade popsicles have just 1 ingredients – fresh strawberries! No added sugar!
Blueberry Oatmeal Muffins – amazing healthy gluten-free muffins, this is a perfect healthy snack on the go!
Paleo Banana Pancakes – you just have to see this 3-ingredient banana pancake recipe to believe it!
Vegan Chocolate Banana Ice Cream – OMG, chocolate ice cream that's actually good for you :)
Click Here To Pin This Recipe
Strawberry Banana Oatmeal Bars
These strawberry banana oatmeal bars are mouthwatering! They are vegan, gluten-free and free from refined sugar! Perfect for healthy breakfast or snack!
Instructions
Preheat the oven to 375F. Line an 8x8 square baking dish with parchment paper.

Put 1 cup of rolled oats in a food processor and process for several minutes until it turns into oat flour.

Put bananas in a large bowl and mash with a fork until smooth. Add maple syrup and vanilla and mix until combined. Add oat flour, baking powder and remaining 1 cup of rolled oats. Mix until combined.

Transfer 2/3 of the banana mixture to the baking dish and spread in a single layer.

Put a layer of strawberries on top of the banana mixture.

Put the remaining banana mixture on top of the strawberries, so it resembles crumble.

Put the baking dish in the oven and bake for 45 minutes.

Let cool completely, then slice into bars or squares.
Save This Recipe
Save this for later on your social media:
Get Melanie's FREE Recipes In Your Inbox!
https://www.melaniecooks.com/wp-content/uploads/2018/04/strawberry_banana_vegan_squares.jpg
1632
1224
Melanie Mendelson
https://www.melaniecooks.com/wp-content/uploads/2015/11/logo-new2.png
Melanie Mendelson
2018-04-10 15:24:41
2021-12-08 07:51:09
Strawberry Banana Oatmeal Breakfast Bars (Vegan, Gluten-Free)