Easy Amish Baked Oatmeal Breakfast Casserole Recipe
This post may contain affiliate links (disclosure).
Baked oatmeal is the healthy way of having cake for breakfast! This hearty slice of Amish Baked Oatmeal is delicious, nutritious and will keep you full until lunch!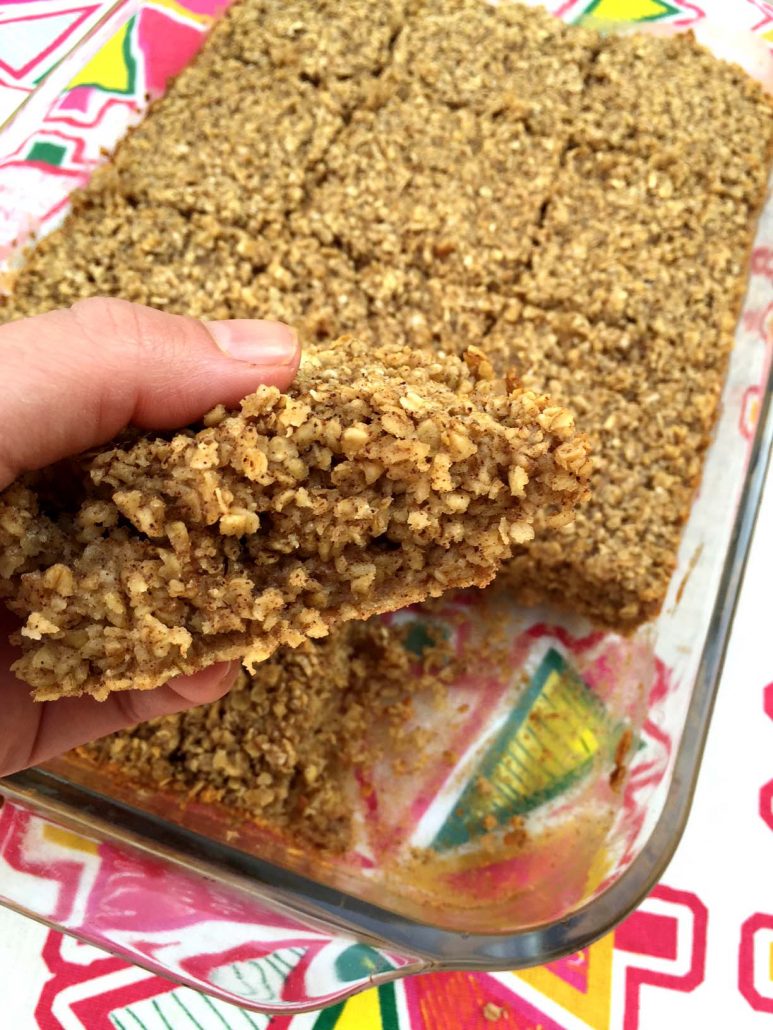 Do you love having cake for breakfast? I certainly do! :) However, there are two problems with having cake for breakfast: (1) it will make you gain weight in a long run, and (2) it doesn't make you full for long – if I eat cake for breakfast, I'm usually hungry an hour later. Thankfully, there is solutions for those of use who want to have their cake for breakfast and eat it too – BAKED OATMEAL!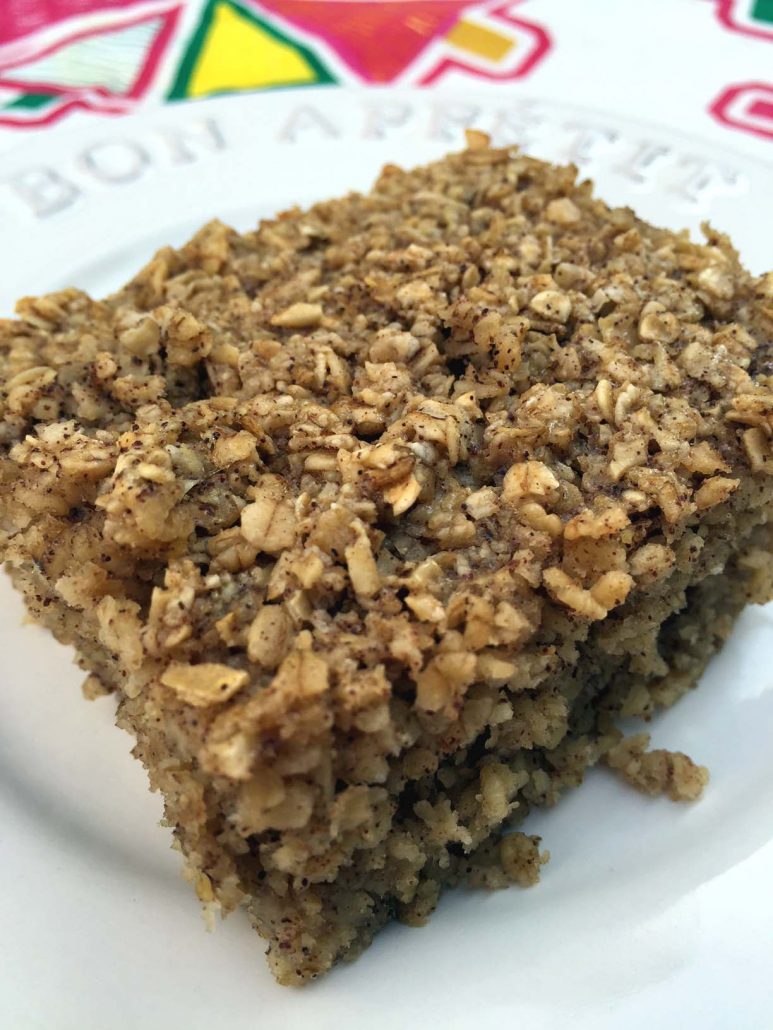 A warm slice of delicious baked oatmeal is as close as you can get for eating cake for breakfast, while keeping it healthy and nutritious. Baked oatmeal casserole is so tasty, healthy and filling – it feels like a miracle! A cup of coffee with a big slice of warm baked oatmeal – that's one of my favorite breakfasts!
The best part of this Amish baked oatmeal casserole is that it can be made ahead. So if you are like most people who doesn't have time or energy to cook in the morning, you'll love having this amazing baked oatmeal waiting for you in a fridge! Just grab a slice of baked oatmeal, pop it in a microwave and warm for 30 seconds, and it will be as warm and delicious as it was freshly baked! You are going to love the cinnamon smell of it too!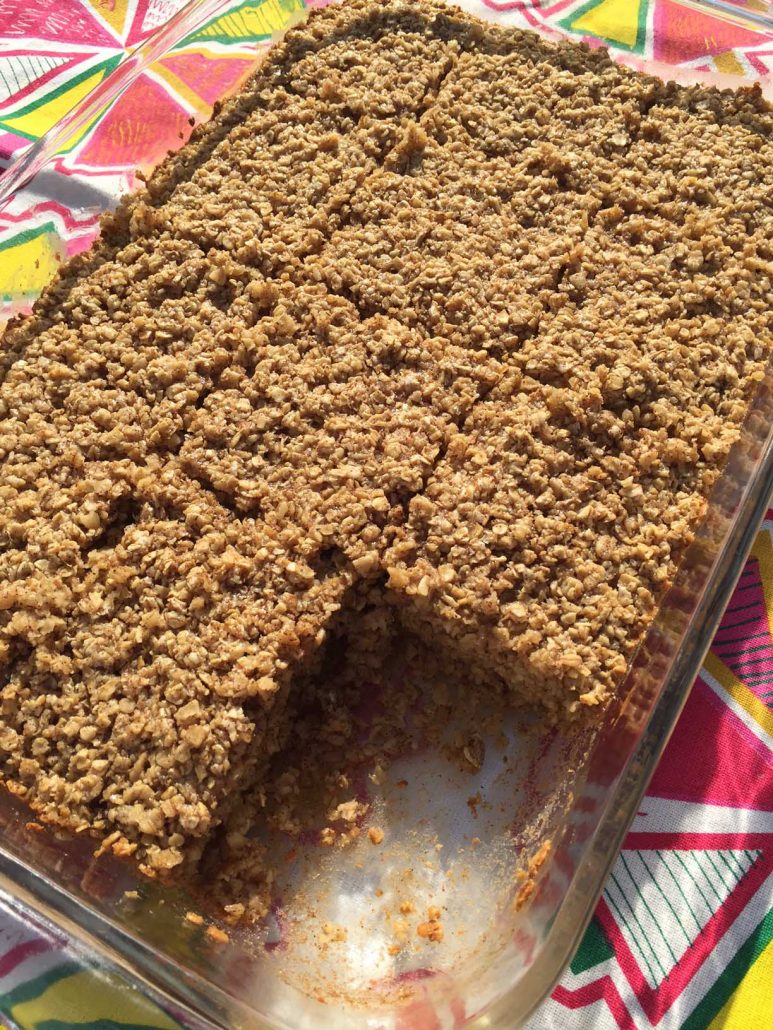 This recipe makes a huge casserole dish of baked oatmeal that is enough for 12 generous servings. Those Amish families are big, you know ;) If you'd like, you can half the ingredients and bake it in an 8×8 dish to make 6 servings. However, I always make the big portion because in our house this Amish baked oatmeal casserole disappears in 2 days!
You can also freeze this baked oatmeal – just put each square individually into a small ziploc bag, squeeze out the air and freeze. Then take out as many squares as you need and defrost in a refrigerator overnight – they'll be as good as new :) Baked oatmeal square in a ziploc bag also makes an awesome treat to pack in a lunchbox!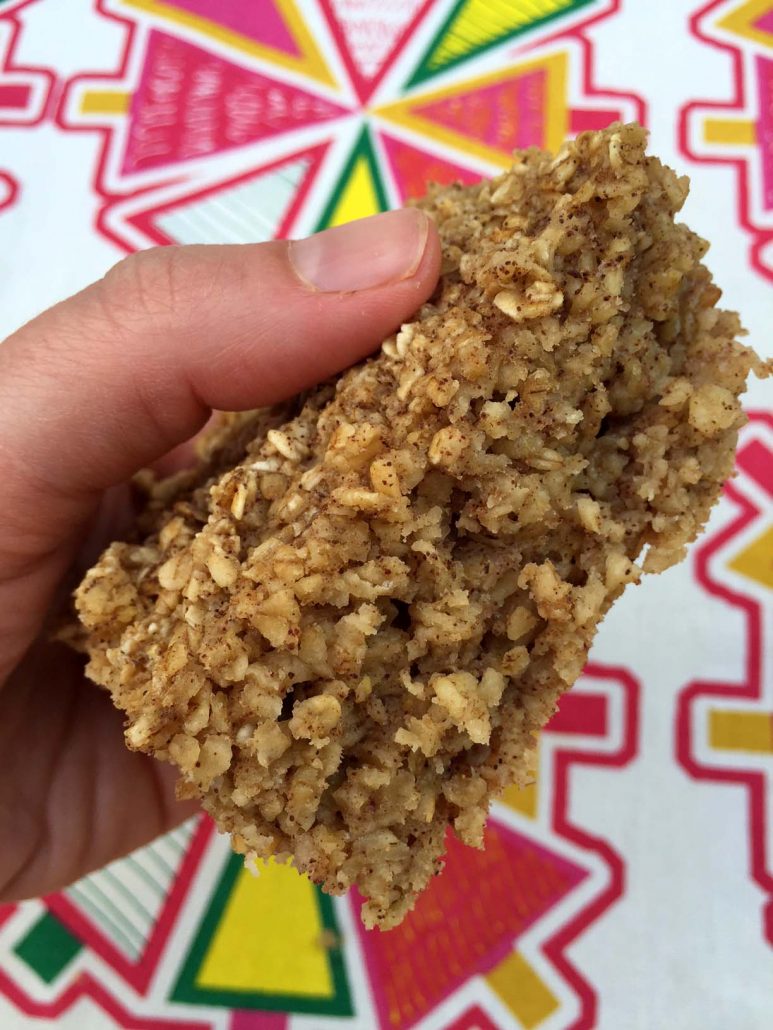 Click Here To Pin This Recipe
Amish Baked Oatmeal Casserole Breakfast Recipe
This delicious baked oatmeal will become your favorite breakfast! Baked oatmeal slices taste simply amazing, and they are so healthy and filling!
Instructions
Preheat the oven to 350F.

Butter the 9x13-inch non-stick baking dish (just rub the end of a stick of butter all over the bottom and sides of the dish).

Put butter in a microwave-safe bowl and melt in a microwave by heating it for 1-2 minutes.

Whisk eggs in a large bowl. Add sugar, baking powder, salt, cinnamon and vanilla and mix until smooth.

Add the milk and melted butter to the egg mixture and mix until combined.

Add the oats to the egg mixture and stir until combined.

Transfer the oatmeal mixture to the baking dish, and smooth the top with the back of a spoon. (At this point you can either refrigerate it ovenight and bake it in the morning, or bake immediately).

Put in the oven and bake for 40-45 minutes, until fully set.

Remove from the oven, cut into squares and serve warm.
Notes
Baked oatmeal can be stored in refrigerator for up to 5 days, and re-heated in a microwave before serving. You can also freeze the individual squares for baked oatmeal in ziploc bags, and defrost them in refrigerator overnight.
Save This Recipe
Save this for later on your social media:
Get Melanie's FREE Recipes In Your Inbox!
https://www.melaniecooks.com/wp-content/uploads/2016/09/baked_oatmeal_recipe3.jpg
1632
1224
Melanie Mendelson
https://www.melaniecooks.com/wp-content/uploads/2015/11/logo-new2.png
Melanie Mendelson
2016-09-02 10:25:48
2021-12-08 09:10:46
Easy Amish Baked Oatmeal Breakfast Casserole Recipe