Bacon Wrapped Dates Appetizer Recipe
This post may contain affiliate links (disclosure).
These homemade bacon-wrapped dates will be a hit of every party! Just 2 ingredients and 10 minutes of prep, this is the easiest appetizer ever!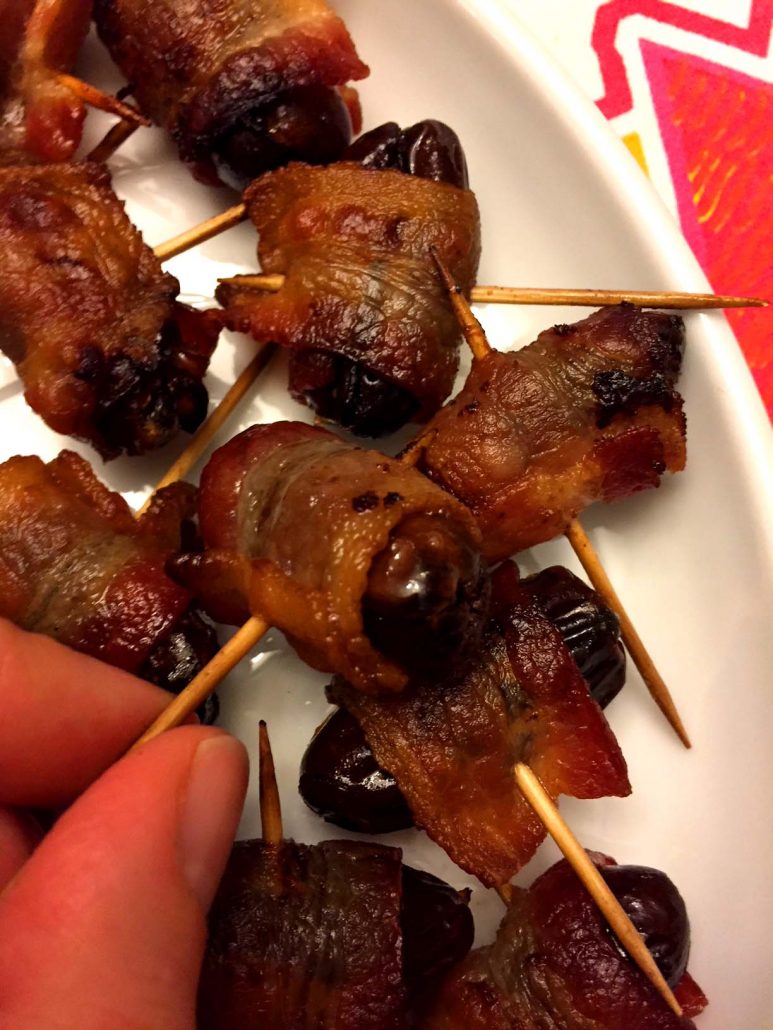 I was first introduced to bacon-wrapped dates at a Spanish tapas restaurant. Bacon-wrapped dates were listed in the hot tapas menu with an asterisk next to them, indicating that it's one of their most popular dishes! When I tasted them, I immediately knew why they are so popular. The combination of sweet caramelized dates and smoky crunchy bacon is simply irresistible!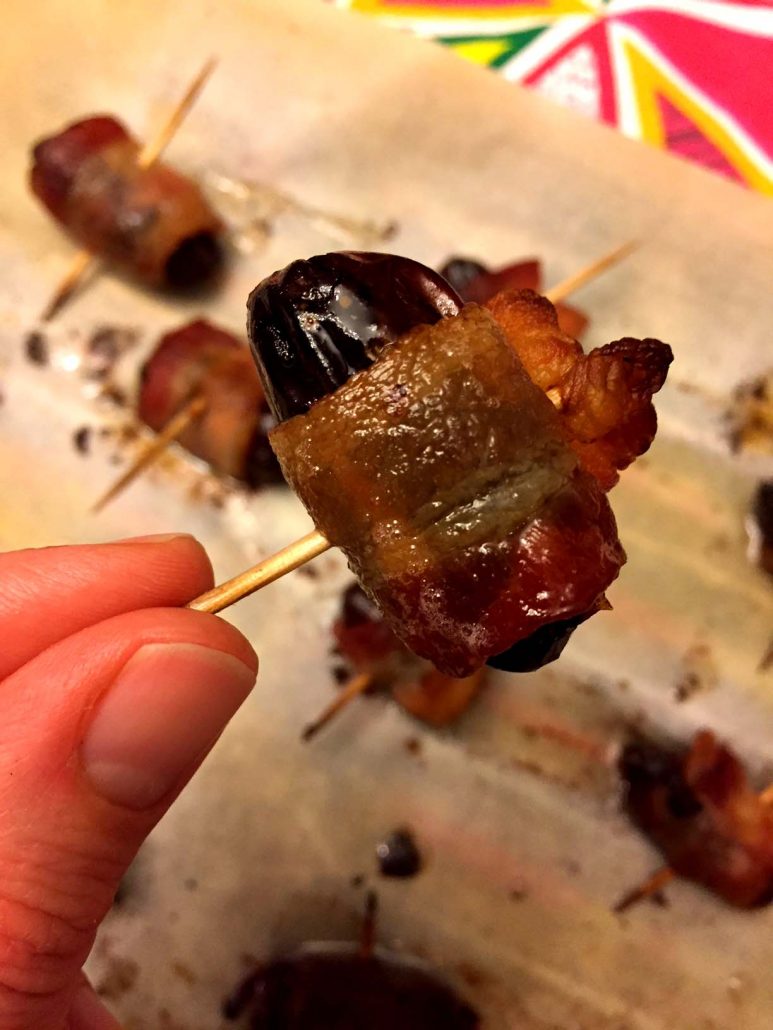 Whoever first thought of putting bacon and dates together is a genius. This combo tastes amazing! The only problem with restaurant tapas is that the portions are so small. They only give you 5 bacon-wrapped dates, and those tapas are meant for sharing :) Who wants to share these measly 5 bacon-wrapped dates? I can eat a big plate of these yummy things all by myself! Yes, I'm that greedy ;)
What's the perfect solution for a greedy bacon-wrapped dates lover? Yes, make them yourself! Not only will it cost a fraction of what it costs at the tapas restaurant, but you'll have the whole tray of these bacon wrapped dates to enjoy! Save a ton of money and eat as much bacon-wrapped dates as you want – yes!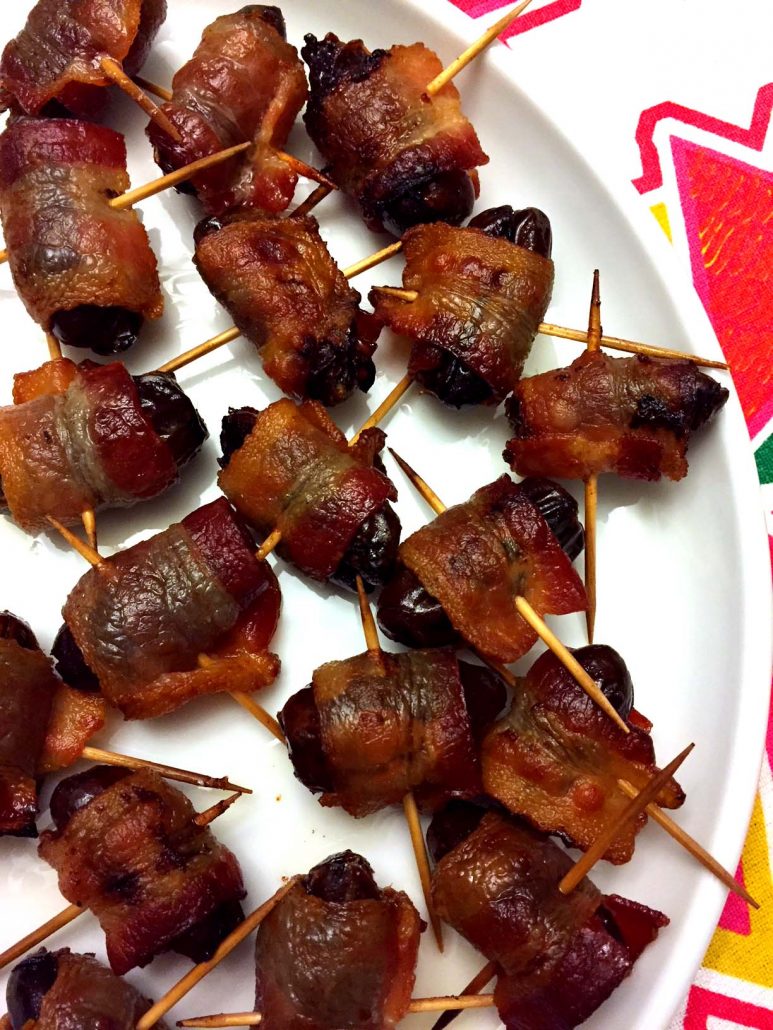 If you bring a plate of these bacon-wrapped dates to a party, you'll be the most popular person in the room! Everyone loves bacon-wrapped dates! I've seen people who previously claimed that they stay away from bacon devour them :) They are so yummy, nobody can resist! This is the best party appetizer ever!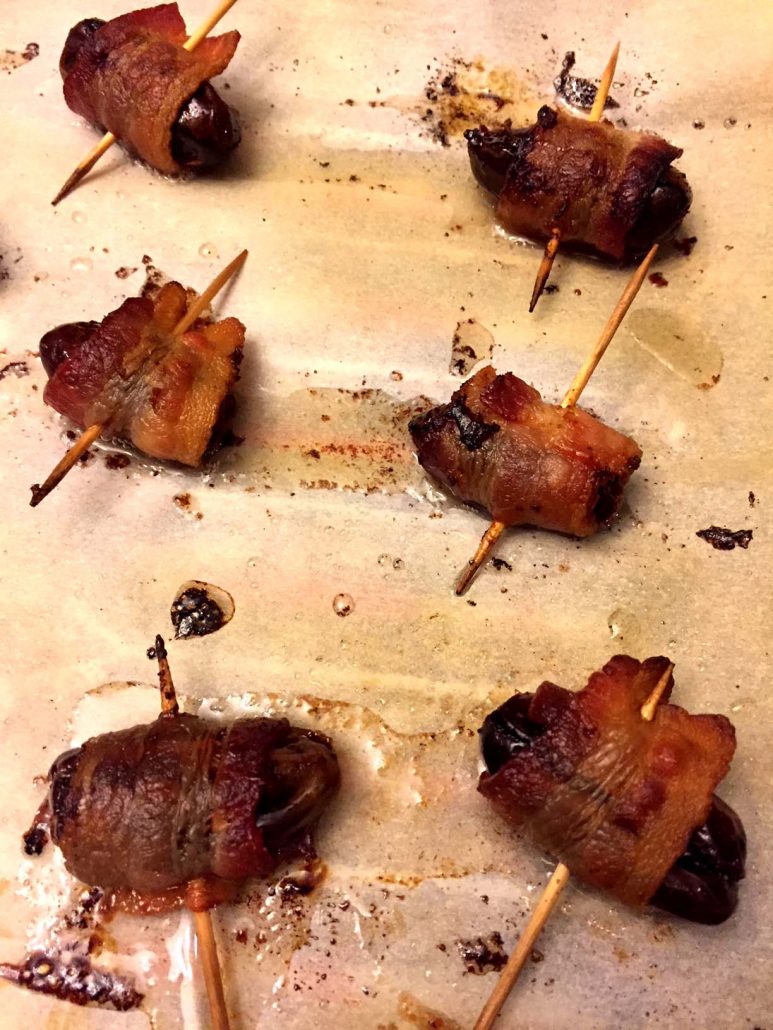 Bacon-wrapped dates look so fancy, it's hard to believe that making them is virtually effortless! All you need is just 2 ingredients: the first one is bacon, and the second one is pitted dates. Yep, what you see is what you get! Precook the bacon in a microwave for 1 minute, then cut each bacon strip in 3 pieces, wrap each date in a piece of bacon and secure with a toothpick, then bake until the bacon is crispy. Just make sure you are buying the dates without pits :) That's all there is to it!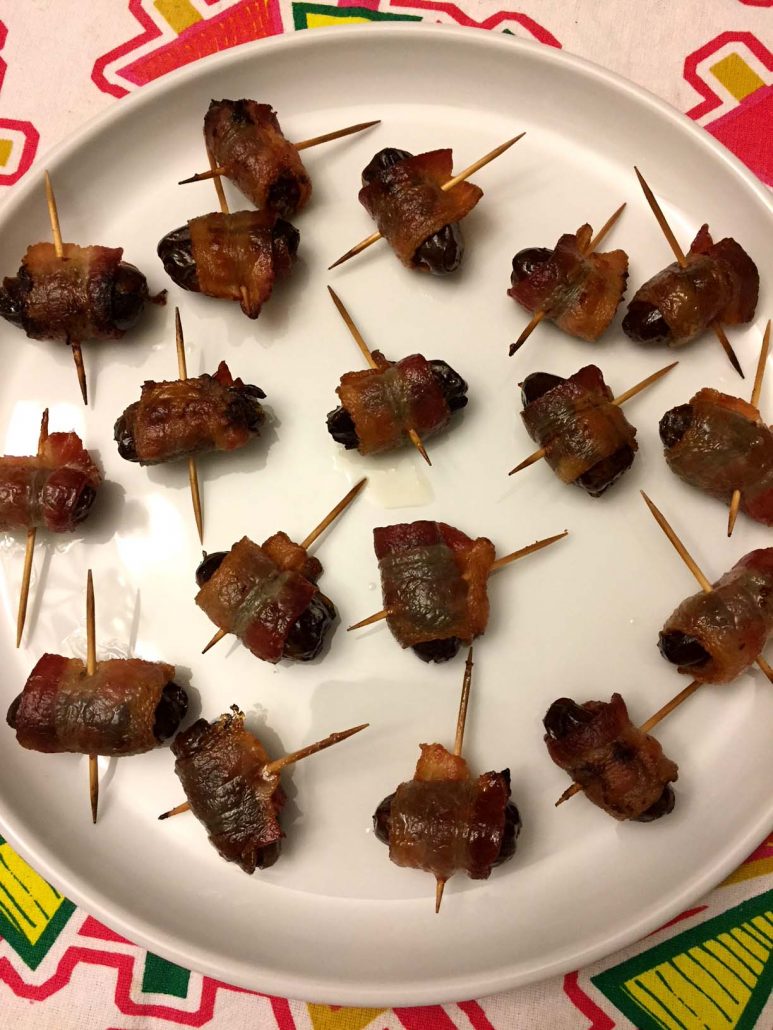 Bacon-wrapped dates can be made in advance. To make them in advance, skip the microwaving, cut bacon into thirds, assemble bacon-wrapped dates and store in a refrigerator. Before serving, put them on a baking sheet and bake (since they are cold, they'll probably take 5 minutes longer). You can even make bacon-wrapped dates fully in advance, including the baking. To reheat, just microwave them right before serving.
How To Make Bacon Wrapped Dates
Step 1: Microwave Bacon For 1 Minute
Put bacon strips on a paper towel in a single layer and microwave on High for 1 minutes to jump-start the cooking process.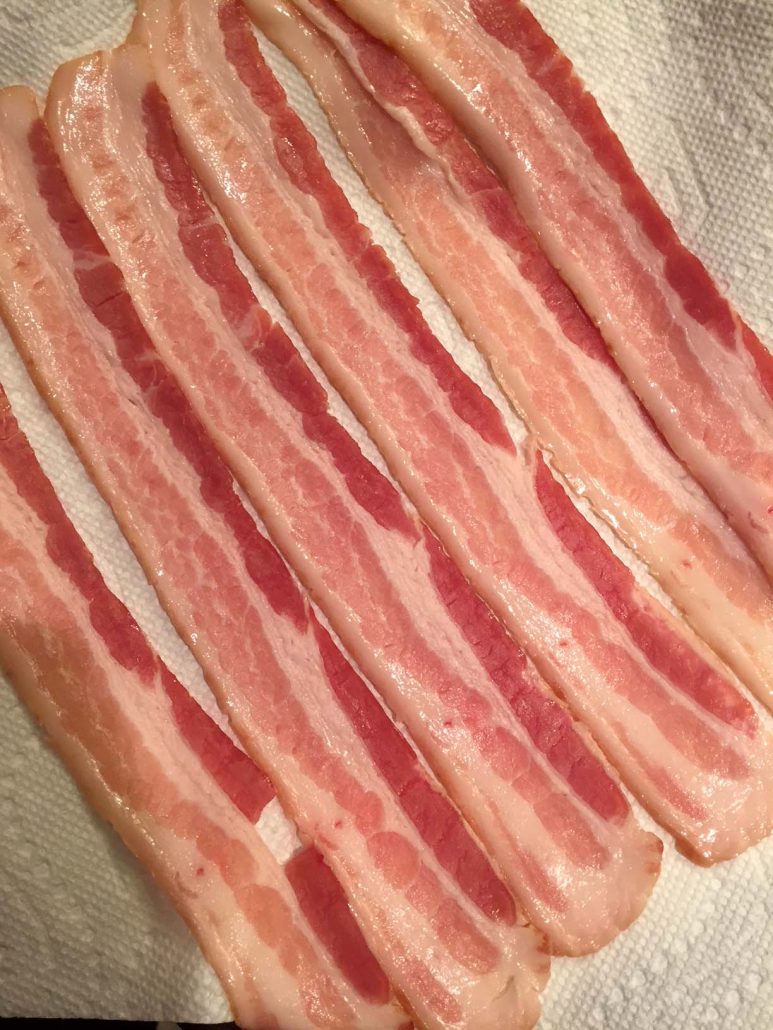 Step 2: Cut Bacon In 3 Pieces
The easiest way to do it is to use scissors :)
Step 3: Wrap dates with bacon and secure with toothpicks.
Put a pitted date on a piece of bacon:
Wrap the bacon around the date:
Secure with a toothpick: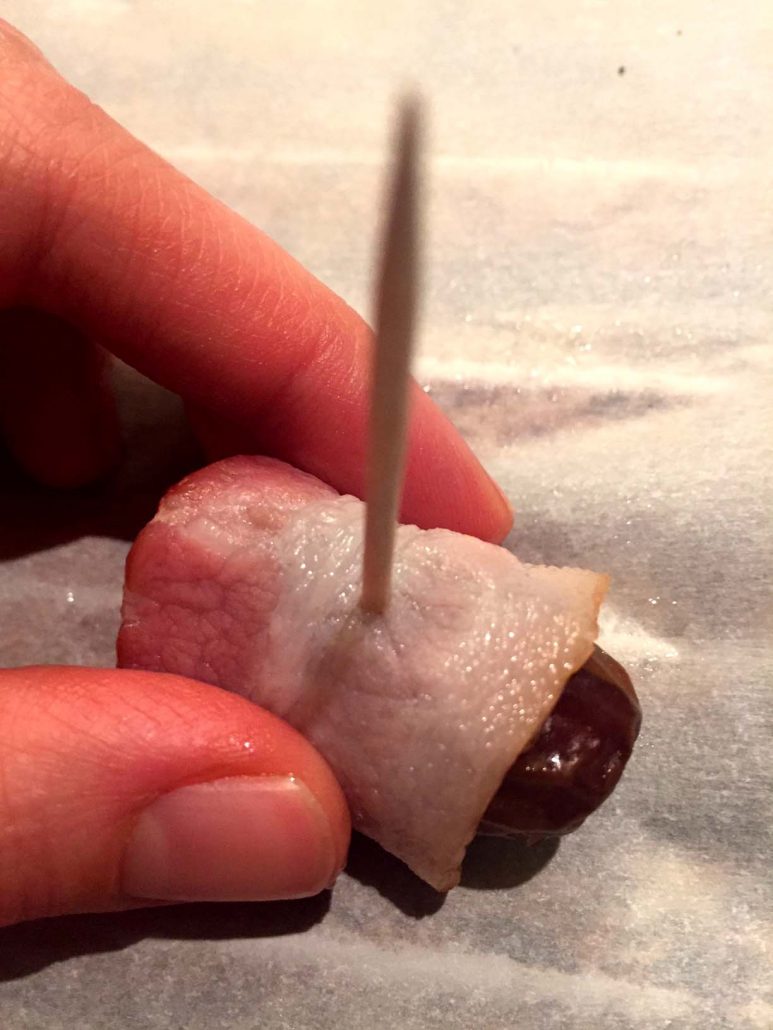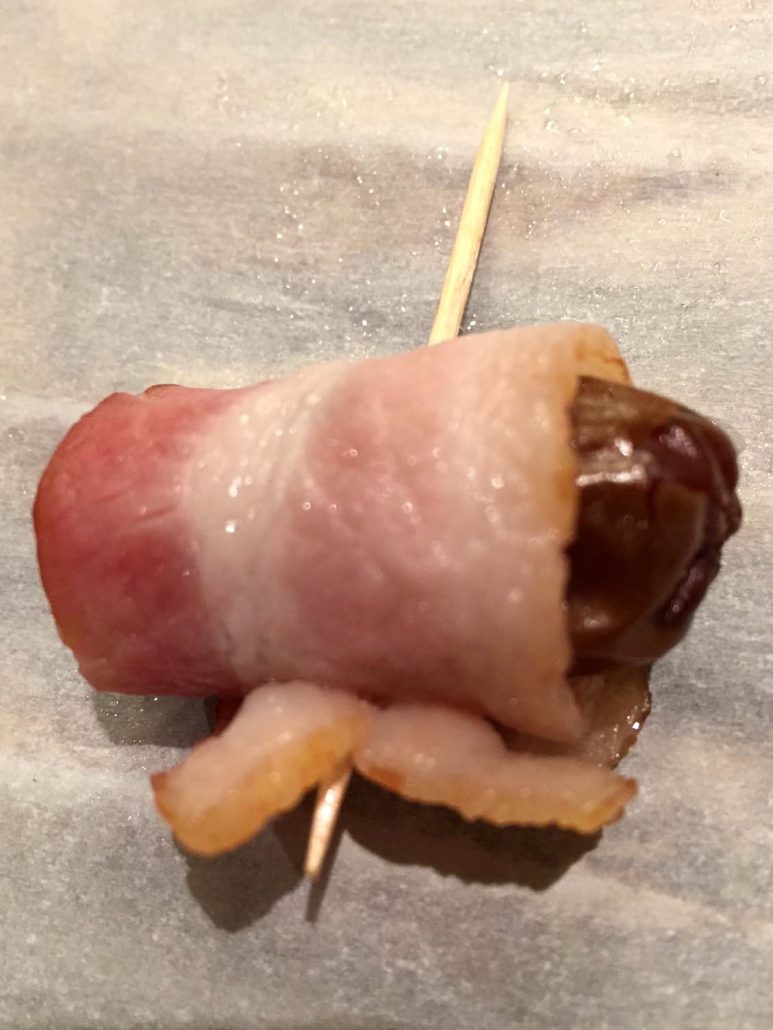 Step 4: Put prepared bacon-wrapped dates on a baking sheet in a single layer.
Step 5: Bake in pre-heated 425F oven for 15 minutes.
These bacon-wrapped dates are amazing! Enjoy!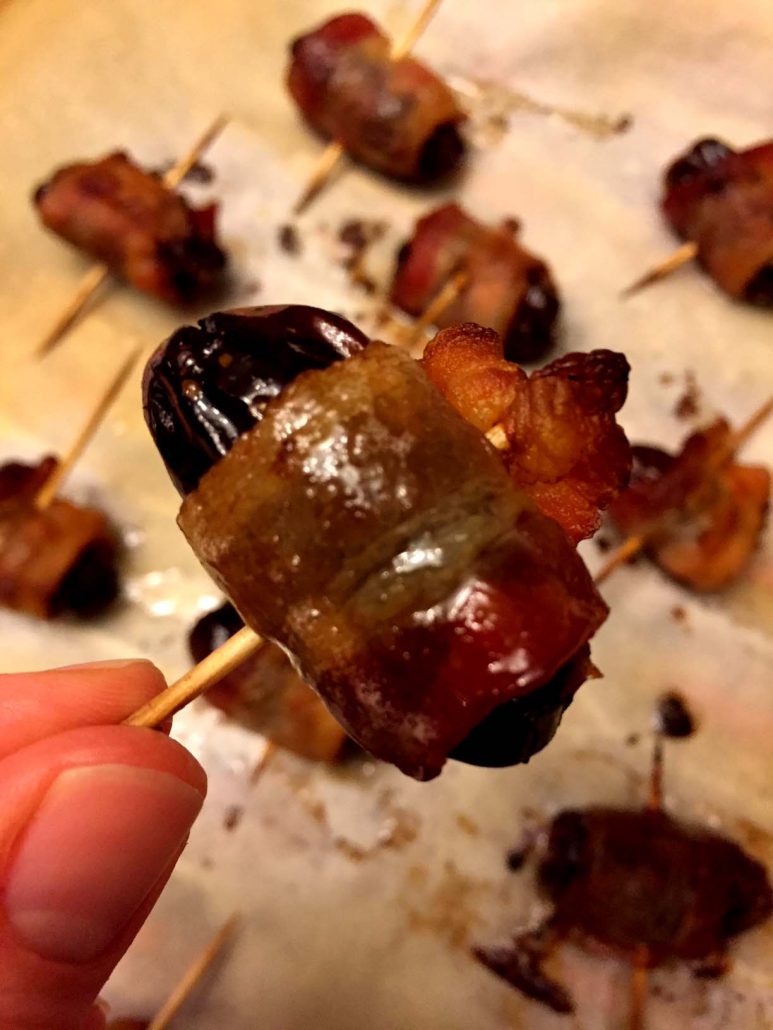 If you love bacon-wrapped dates, I bet you will love these:
Honey Candied Pecans – imagine eating a handful of those, yum!
Perfect Cheese Board – be a hero and make an epic cheese platter!
Easy Stuffed Mushrooms – everyone loves these yummy little mushrooms for an appetizer!
Spanish Tortilla Potato Omelette – for the tapas lovers in your life!
Click Here To Pin This Recipe
Bacon Wrapped Dates Appetizer Recipe
These bacon-wrapped dates are amazing! Perfect party appetizer, everyone loves bacon-wrapped dates! They are super easy to make, look so impressive and disappear immediately!
Ingredients
6

slices

of bacon

18

pitted dates
Instructions
Preheat the oven to 425F. Line a baking sheet with parchment paper.

Line a large plate with a paper towel and put bacon strips on it in a single layer. Microwave for 1 minute.

Cut the slices of bacon in 3 pieces (using scissors is the easier way to do it).

Wrap a piece of bacon around each date and secure with a toothpick.

Put the bacon wrapped dates on a baking sheet in a single layer.

Put the baking sheet with bacon wrapped dates in the oven and bake for 15 minutes.
Save This Recipe
Save this for later on your social media:
Get Melanie's FREE Recipes In Your Inbox!
https://www.melaniecooks.com/wp-content/uploads/2017/11/bacon_wrapped_dates_best.jpg
1632
1224
Melanie Mendelson
https://www.melaniecooks.com/wp-content/uploads/2015/11/logo-new2.png
Melanie Mendelson
2017-11-30 07:23:32
2021-12-08 09:00:51
Bacon Wrapped Dates Appetizer Recipe