Easy No-Flip Spanish Tortilla (Tortilla Espanola) Potato Omelette Recipe
This post may contain affiliate links (disclosure).
This easy Spanish tortilla recipe shows you how to make a traditional Spanish potato omelette without having to flip it! You'll enjoy a perfectly shaped golden-brown omelette with potatoes and onions – go ahead and have a slice!

Tortilla is a traditional Spanish omelette dish, also called a Tortilla Espanola. Classic Spanish tortilla is made first by cooking potatoes and onions in oil, then mixing them with eggs, cooking the omelette until browned at the bottom, and then flipping it and cooking the omelette on the other side.
Since I like to simplify every recipe whenever I see the potential to do so without sacrificing the taste, I made 3 modifications to the tortilla cooking process by making it (1) quicker (2) easier (3) healthier. With the modern technology, there is no reason to cook the tortilla the same way as it was done in Spain 5 centuries ago :) Don't be stuck in the Medieval times and just think outside the box!
1. Quicker Cooking Spanish Tortilla
I speed up the cooking process by 20 minutes by pre-cooking the potato slices in the microwave before frying them. Traditionally, potato slices are cooked together with onion slices in the frying pan until the potatoes soften, which is about 25 minutes. Cooking potatoes in the microwave is extremely quick – they are cooked in 5 minutes! I cook the potato slices in the microwave, then put them on the frying pan with onions and a little oil, and finish cooking them on the frying pan so they are flavored with onions and are golden-brown – just the way they should be in the Spanish tortilla!
2. Easier Spanish Tortilla
Most typical home cooks aren't very good in flipping omelettes :) If you are an exception to that, be proud of yourself and just make a tortilla the traditional way – on the frying pan. To me, flipping omelettes can be hit or miss (I even have an article here for a no-flip omelette recipe), so I simply avoid flipping the tortilla by baking it in the oven instead of cooking it on the stove. The oven cooks the tortilla evenly on both sides, so there is no need for flipping it! Flipping a Spanish tortilla is no joke, and baking it in the oven will make your like so much easier!
3. Healthier Spanish Tortilla
According to the traditional Spanish omelette recipe, you need to deep-fry the potatoes and onions in at least 1/2 cup of oil. Who needs all this grease? I use 2 tbsp of oil for the potatoes and onions, and it's more than enough – anything extra doesn't really add any flavor, but just adds unnecessary calories. So say No to deep-frying, and Hello to simple pan-frying!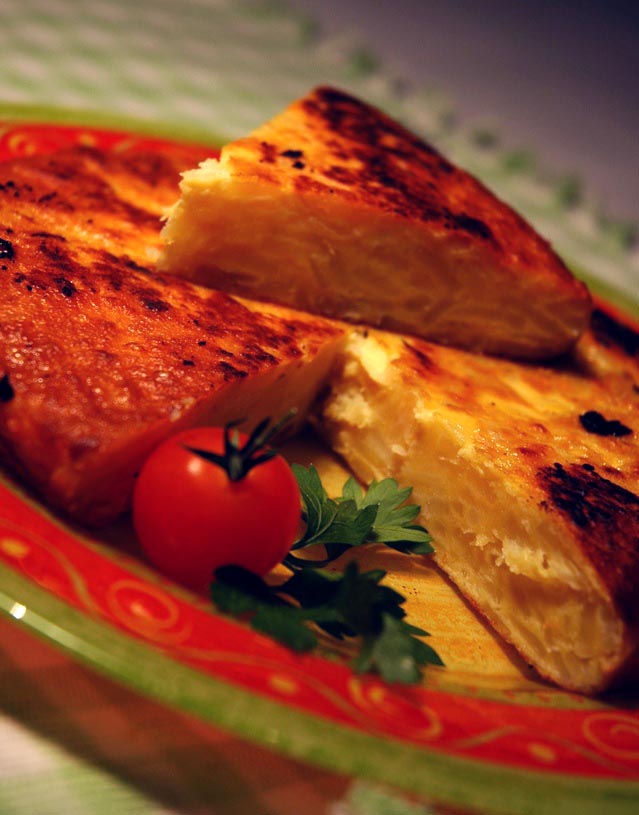 Click Here To Pin This Recipe
Easy No-Flip Spanish Tortilla (Tortilla Espanola) Potato Omelette Recipe
This is the easiest recipe for the Spanish Tortilla (potato omelette) that you'll ever find! It gets rid of the trickiest part - flipping the omelette! Instead of frying, the tortilla is baked in the oven, so it cooks evenly on both sides and there is no need to flip it!
Ingredients
Instructions
Preheat the oven to 375F.

Spray a 9-inch baking dish with cooking spray and line the bottom with parchment paper.

Put potato slices in a microwave-safe bowl and microwave on High for 5 minutes.

While the potatoes are cooking, heat 1 tbsp of oil over medium-high heat. Add the onions and cook, stirring every minute, for 4 minutes.

Add the microwaved potatoes to the onions. Add another 1 tbsp of oil to the potatoes and mix. Cook, stirring every minute, for 5 minutes, or until potatoes are soft and golden-brown.

Sprinkle the potatoes and onions with salt, stir and remove from heat.

Whisk the eggs in a large bowl, then add potatoes and onions to them and stir to combine.

Put the egg and potato mixture in a baking dish.

Put the tortilla in the oven and bake for 25 minutes.

Take the Spanish tortilla out of the oven, let cool for 5 minutes, then invert into a plate, slice and serve.
Notes
If you'd like the tortilla to have the extra browned top, put it under the broiled for the last 3 minutes of baking.
Save This Recipe
Spanish tortilla can be eaten hot or cold. I personally prefer it hot, but most Tapas restaurants serve it cold. I say serve it hot right after cooking, and if you have leftovers, you can have them cold the next day. A slice of tortilla is very easy to pack and is a perfect choice for next day lunch. Homemade tortilla tapas in a lunchbox – that would be the fanciest packed lunch ever :)
If you love Spanish cuisine, I have simplified another famous Spanish dish for you – a paella! I have a delicious version of Paella that can be made in 30 minutes from start to finish! Just follow my easy instructions on how to make Spanish paella – you'll love it!
Save this for later on your social media:
Get Melanie's FREE Recipes In Your Inbox!
https://www.melaniecooks.com/wp-content/uploads/2016/06/spanish_tortilla_potato_omelette.jpg
800
600
Melanie Mendelson
https://www.melaniecooks.com/wp-content/uploads/2015/11/logo-new2.png
Melanie Mendelson
2016-06-04 09:33:40
2021-12-08 09:11:19
Easy No-Flip Spanish Tortilla (Tortilla Espanola) Potato Omelette Recipe