Japanese Soba Noodle Bowl Mason Jar Salad (Vegan, Gluten-Free)
This post may contain affiliate links (disclosure).
This Japanese Soba Noodle Bowl salad is vegan, but has enough protein to power you for the whole day! Soba noodles are gluten-free, and this recipe makes 4 portable healthy lunches that are delicious and good for you!
I make this delicious vegan Soba noodle bowl in the form of mason jar salads to prep 4 portable healthy lunches at once! Glass mason jars keep the ingredients super fresh, layers beautifully separated, and the contents ready to be dumped onto a plate for an instant noodle bowl deliciousness!
Japanese soba noodles pair perfectly with mushrooms, edamame, shredded carrots and shredded red cabbage, and the soy lime dressing makes it taste divine! Mason jar setup keeps the dressing on the bottom, and the first layer is green edamame, followed by the grey soba noodles, then orange carrots, then brown mushrooms, and topped with purple cabbage – so colorful, so healthy, so yummy!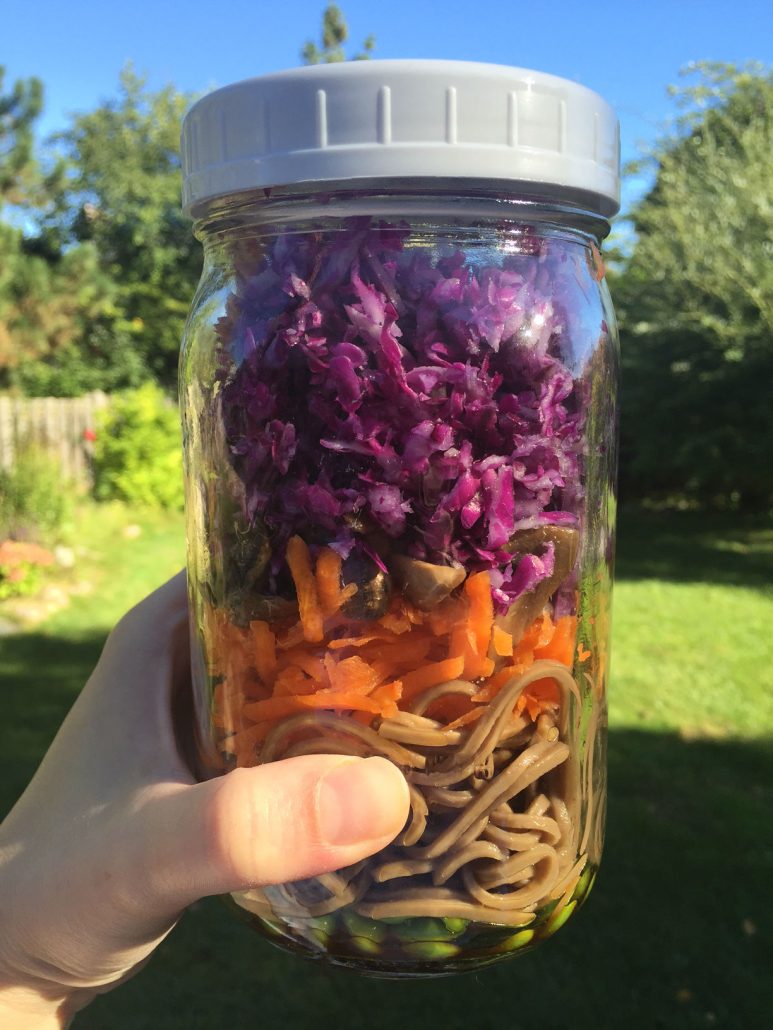 You don't have to be a vegan to enjoy this salad – I'm not a vegan and I think this salad is amazing! This Soba noodle bowl salad keeps you full for hours because it's so high in protein. Soba noodles themselves are high in protein, plus you get tons of protein from edamame and mushrooms – scrumptious! Super healthy ingredients, so filling and no need for meat :)
If you are on a gluten-free diet, you'll certainly appreciate the fact that soba noodles are gluten-free! Authentic Japanese soba noodles are made out of buckwheat which doesn't contain gluten. When buying Soba noodles in the US, read the labels as some brands contain the mix of wheat (with gluten) and buckwheat. Choose the brand of Soba noodles that are 100% buckwheat, you can find them in Whole Foods or on Amazon.
Soba noodles are delicious cold, which makes them perfect for mason jar salads! And combined with the soy-lime dressing, they are so addictive! You are going to love this healthy noodle bowl salad – this vegan and gluten-free lunch is incredible!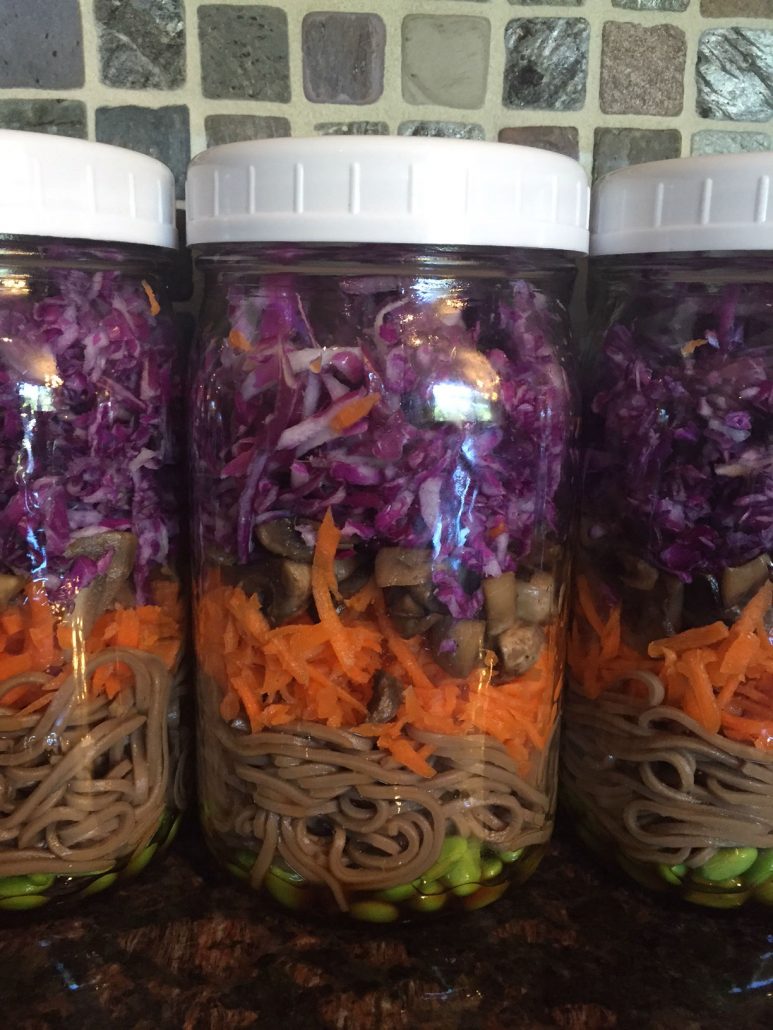 Click Here To Pin This Recipe
Japanese Vegan Soba Noodle Bowl Mason Jar Salad
This Japanese noodle bowl is vegan, but has enough protein to power you for the whole day! So healthy and yummy, this soba noodle bowl will become your staple lunch!
Instructions
Cook Soba noodles according to package directions. Drain the noodles, rinse with cold water, put into a bowl and let cool completely.

While the noodles are cooking, spray the non-stick frying pan with cooking spray. Add the mushrooms and pan-fry, stirring every minute, for 5 minutes. Remove from frying pan into a bowl and let cool completely.

In a cup, combine soy sauce, olive oil, lime juice and black papper. Whisk with a fork to make a dressing.

Prepare 4 mason jars (quart size - 32 oz each). Add the dressing to each jar, so it's on the bottom.

Put the edamame on the bottom of the jars.

Put the soba noodles in the jars.

Put the layer of shredded carrots in the jars.

Put the layer of mushrooms in the jars.

Put the red cabbage in the jars as the top layer.

Close the jars and refrigerate for up to 5 days. To serve the noodle bowl, open the jar, flip it upside down and put the contents on a large plate. Enjoy!
Save This Recipe
Save this for later on your social media:
Get Melanie's FREE Recipes In Your Inbox!
https://www.melaniecooks.com/wp-content/uploads/2016/09/vegan_soba_noodle_bowl.jpg
1632
1224
Melanie Mendelson
https://www.melaniecooks.com/wp-content/uploads/2015/11/logo-new2.png
Melanie Mendelson
2016-10-06 15:42:32
2021-12-08 09:10:31
Japanese Soba Noodle Bowl Mason Jar Salad (Vegan, Gluten-Free)