Honey Candied Pecans – Healthy Clean Eating Recipe With No Added Sugar!
This post may contain affiliate links (disclosure).
Sticky roasted pecans with a thick candied layer of honey – it doesn't get any better than that! Best of all, these candied honey pecans are actually GOOD FOR YOU! All natural, no added sugar, clean eating at its best!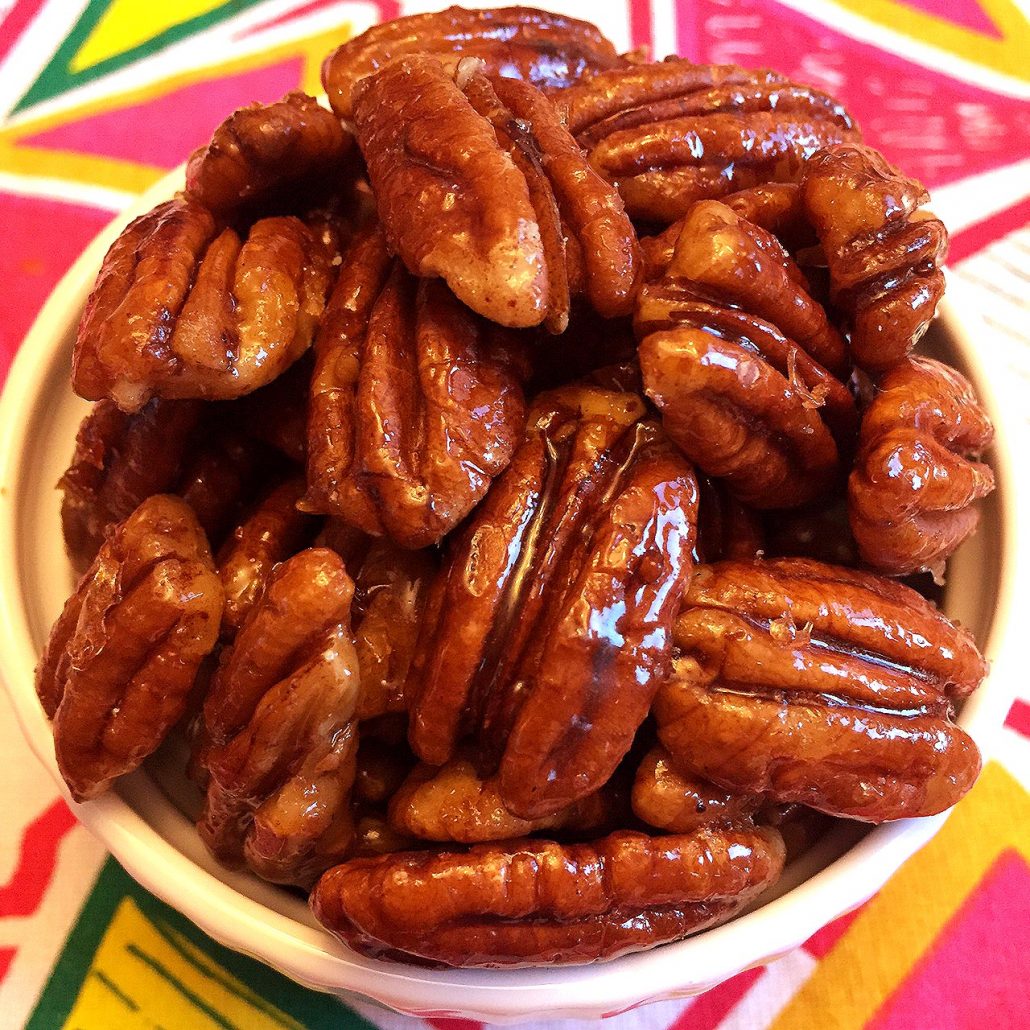 These honey candied pecans are simply amazing! So sweet and sticky, with a mouthwatering honey glaze! The pecans and honey are cooked together on a frying pan, so the pecans develop a deep roasted flavor, and the honey caramelizes and coats the pecans!
Yes, this easy honey pecans recipe is using just 2 ingredients – honey and pecans :) The simpler, the better – easier to make and healthier too! Both honey and pecans are extremely nutritious, healthy and unprocessed foods, and not to mention so yummy! Honey and pecans are really tasty on their own, but when they are combined together they elevate each other to the whole new level. Honey really brings the best taste out of pecans, it's an amazing combo!
Unlike regular candied pecans which use butter and white sugar, these honey pecans don't need any butter or sugar. Honey is used to sweeten the pecans and coat them with a candied glaze, and because of honey's consistency butter is simply not needed! Honey is definitely healthier than sugar for 3 reasons: (1) it's sweeter than sugar so less of it is needed to achieve desired sweetness, (2) honey has healthy nutrients and minerals while sugar is just empty calories, and (3) honey has a lower Glycemic Index (GI) than sugar and gets absorbed into your blood more slowly.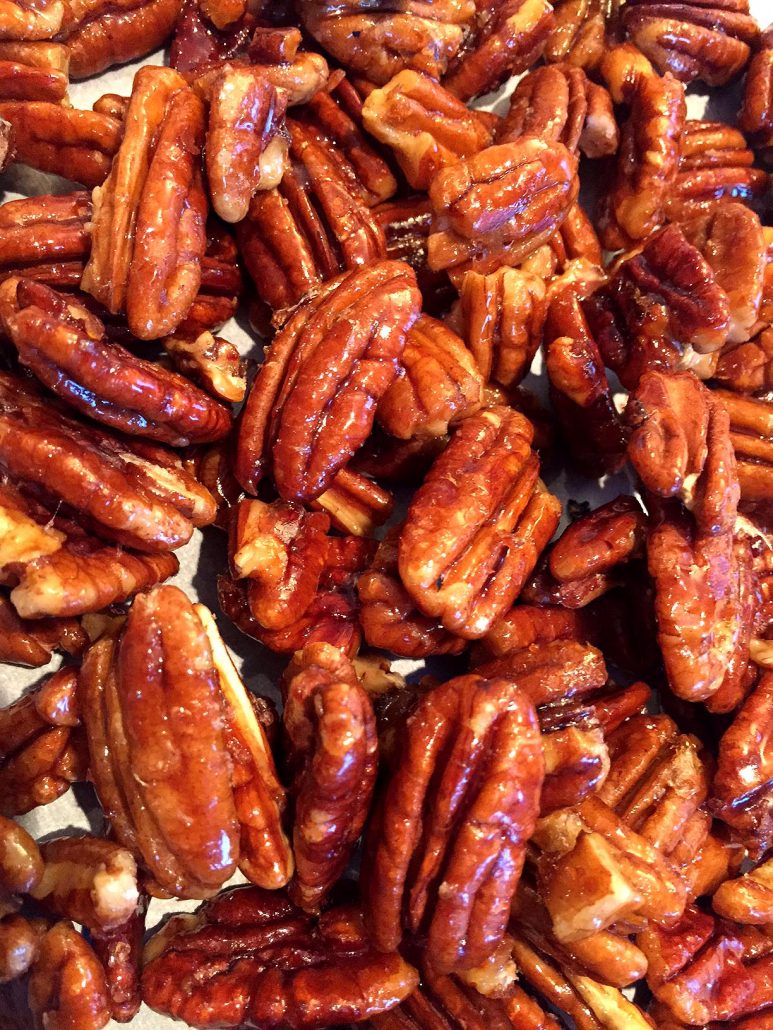 These honey candied pecans are extremely easy to make, they'll be ready in 5 minutes! All you need to do is put raw pecans on the non-stick frying pan, pour honey over them and cook, stirring, for about 4 minutes. The pecans will develop deep roasted flavor and the honey will coat them with a sweet sticky glaze. Perfection!
Honey candied pecans are stickier than regular candied pecans, so to minimize the stickiness, dry them on parchment paper for 24 hours. However, at my house by the time 24 hours pass, there are no honeyed pecans left – all that remains on that parchment paper are some pecan crumbs and the traces of honey :)
There are so many way to serve honey candied pecans. Enjoy them as an appetizer, as a snack, as a salad topping or as a dessert – these nuts so good that they go well with anything! Honey candied pecans are so easy to make, festive and healthy – you absolutely have to make this recipe ASAP!
Click Here To Pin This Recipe
Honey Candied Pecans - Healthy Clean Eating Recipe
These honey candied pecans are absolutely delicious! Sweet and sticky with a thick glaze of honey - mouthwatering! Best of all, they are using wholesome ingredients that are actually HEALTHY! This is a perfect clean eating recipe!
Instructions
Line a baking sheet or 2 large plates with parchment paper (for cooling the pecans) and set aside.

Put pecans and honey on a non-stick frying pan and heat over medium-high heat.

When the honey starts bubbling, reduce heat to simmer.

Cook, stirring the pecans every 10 seconds, for 4 minutes, or until excess honey evaporates and the pecans look candied.

Put the candied pecans on parchment paper and spread them apart so they are not touching.

Let the pecans dry on parchment paper for 24 hours.
Save This Recipe
Save this for later on your social media:
Get Melanie's FREE Recipes In Your Inbox!
https://www.melaniecooks.com/wp-content/uploads/2016/12/honey_pecans_insta.jpg
1280
1280
Melanie Mendelson
https://www.melaniecooks.com/wp-content/uploads/2015/11/logo-new2.png
Melanie Mendelson
2016-12-16 12:07:25
2021-12-08 09:09:21
Honey Candied Pecans – Healthy Clean Eating Recipe With No Added Sugar!