Homemade Candied Nuts Recipe (Pecans, Walnuts or Almonds)
This post may contain affiliate links (disclosure).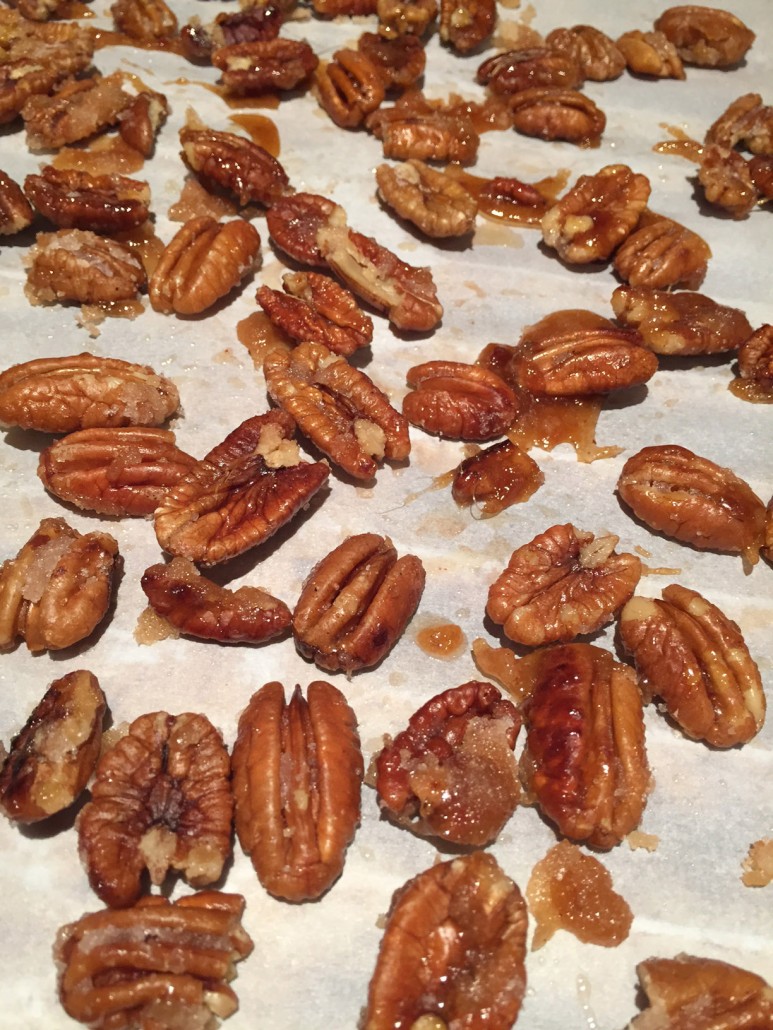 Homemade candied nuts are so addictive! If you taste them, you just won't be able to stop eating them :) You can eat them as a snack, or you can add them to salads.I made the candied nuts myself for the first time because I needed candied pecans for a salad but couldn't find them at the store. So I bought regular pecans and made them candied myself! Now I'll never go back to buying store-bought candied nuts. It's so easy to make your own candied nuts, and the result is so much better than store-bought candied nuts!
Homemade Candied Nuts (Pecans, Walnuts or Almonds) Recipe
Ingredients
2 cups nuts
1/2 cup sugar
2 tbsp butter
Cooking time: 5 minute(s)
Directions How To Make Candied Nuts:
Line a baking sheet with parchment paper. You won't be baking anything – candied nuts are made on the stove – but you need this parchment paper for letting the candied nuts dry after they are ready. Don't use foil instead of the parchment paper – it will stick to the nuts. When it comes to making candied nuts, there is no substitute to parchment paper.

Melt butter in a large non-stick frying pan over medium-high heat. Add sugar and nuts. Reduce heat to medium. Mix everything and cook, stirring constanly, until sugar completely dissolves and all the nuts are coated with the brown caramel (about 5 minutes). Be careful not to burn the nuts!
After all the nuts are candied, remove them promptly to a baking sheet lined with parchment paper. Distribute the nuts in a single layer so they are not touching. After the nuts cool down, you can put them in a bowl.
Enjoy your homemade candied nuts!
Here are some more pictures of candied pecans:
Candied Pecans On A Pretty Plate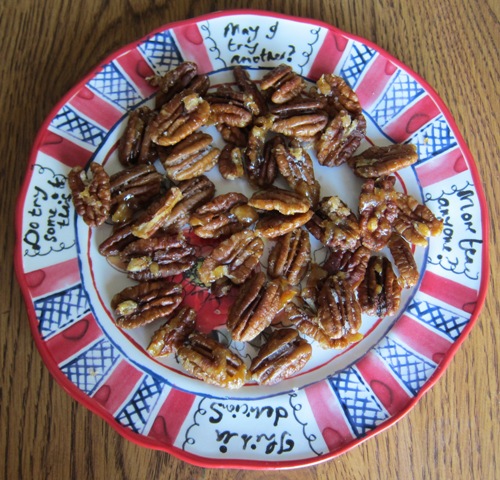 Candied Pecans Drying On 2 Baking Sheets Lined With Parchment Paper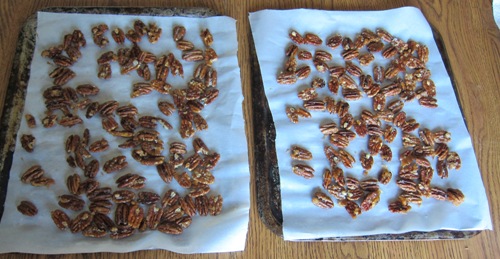 These are piping hot, just cooked, cooling down! Don't you want to taste this hot caramel coating? Yum!
If you never made candied pecans before, check out my step-by-step instructions on how to make candied pecans.
Also, check out my super-yummy spinach salad recipe with candied pecans.
Save this for later on your social media:
Get Melanie's FREE Recipes In Your Inbox!
https://www.melaniecooks.com/wp-content/uploads/2011/11/candied_pecans.jpg
1632
1224
Melanie Mendelson
https://www.melaniecooks.com/wp-content/uploads/2015/11/logo-new2.png
Melanie Mendelson
2011-11-30 06:20:47
2015-12-01 12:11:22
Homemade Candied Nuts Recipe (Pecans, Walnuts or Almonds)