Easy Soft & Chewy Oatmeal Raisin Cookies Recipe
This post may contain affiliate links (disclosure).
These easy oatmeal raisin cookies are amazing! Their texture is so soft and chewy, just like oatmeal raisin cookie is supposed to be! Once you try this simple oatmeal raisin cookie recipe, you'll never make them any other way!
Who doesn't love a good oatmeal raisin cookie? These yummy oatmeal cookies are perfect for breakfast, dessert or anything snack! They taste amazing, they are so chewy and soft! You can taste the chewy oats and raisins in every bite among the soft buttery crumbs that just melt in your mouth!
Forget the tough and dry oatmeal cookies – those are not the real thing! Or puffy cake-like oatmeal cookies – no thanks! An oatmeal raisin cookie doesn't deserve to be called by its name unless it's chewy and soft. Yep, this one is setting the homemade oatmeal raisin cookie standard!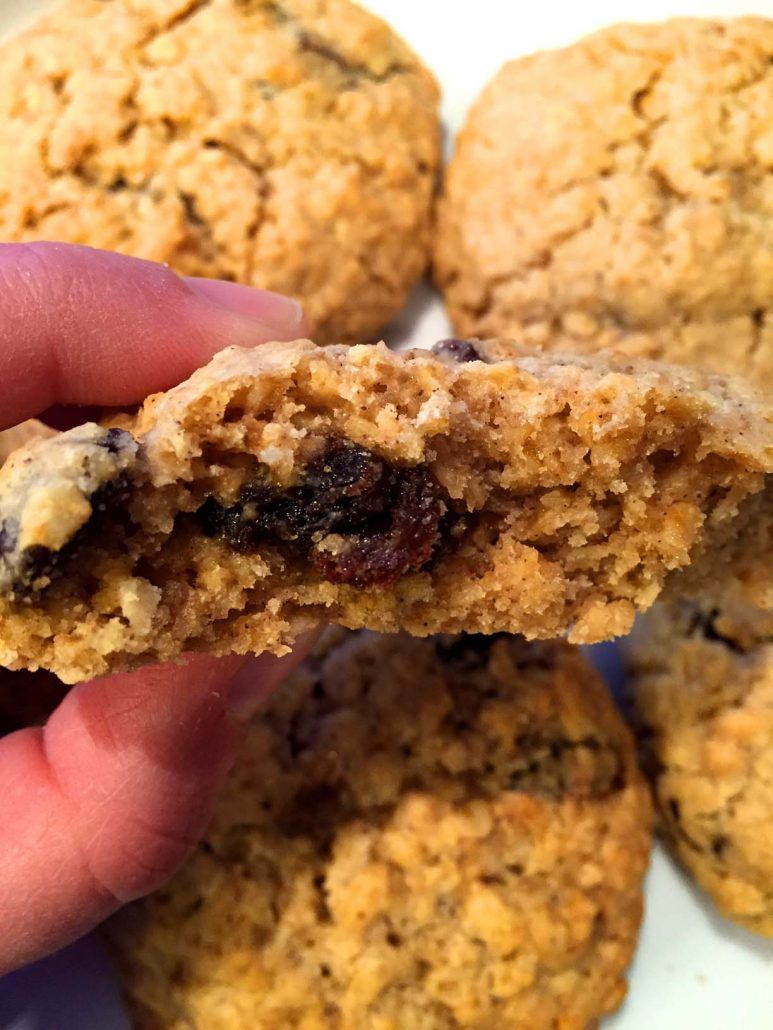 Oatmeal raisin cookies just have to be homemade. The store-bought ones are never good, they are always tough and fake tasting. Nothing can compare to the freshly baked oatmeal raisin cookies that are coming out of your oven! They are so hot and you want to grab them immediately while they crumble. The house will smell amazing! Let the cookies cool for 5 minutes so they can fully set and then devour their chewy delicious goodness.
These easy oatmeal raisin cookies are made with very simple and natural ingredients: flour, oats, sugar, butter, egg, vanilla, baking powder, baking soda, salt and of course raisins. All natural goodness and simple is always best!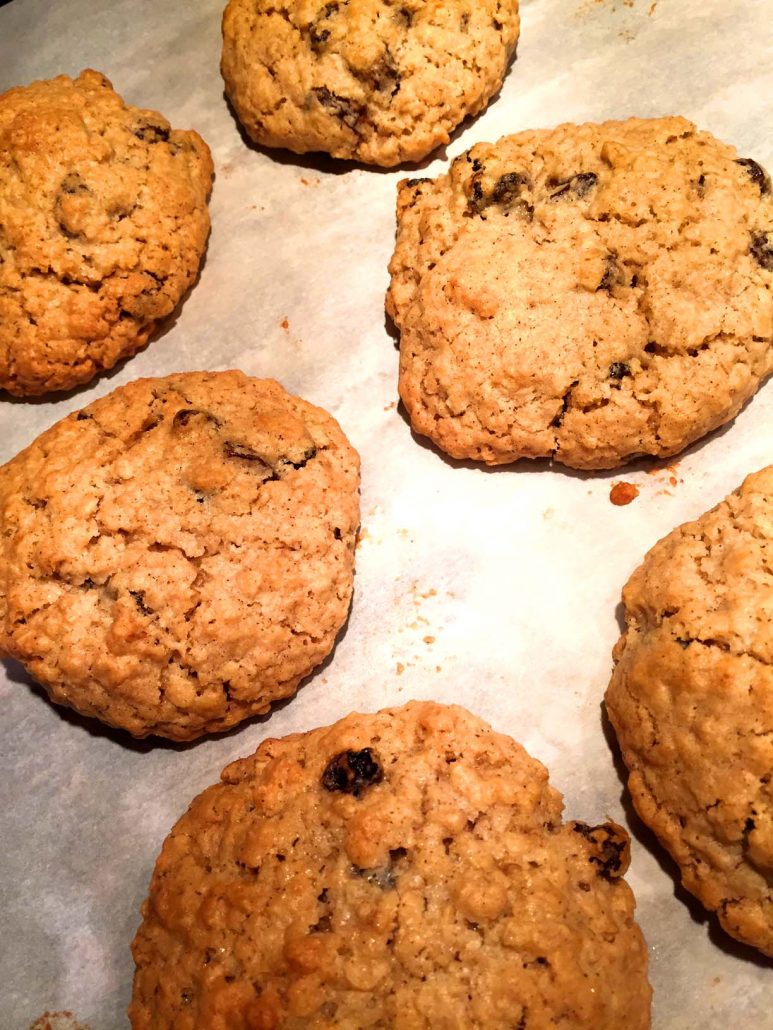 Are oatmeal raisin cookies healthy? Well, I wouldn't exactly call it a health food, but these cookies are definitely healthier than typical cookies. After all, they have 1 1/2 cups of rolled oats, plus they have raisins in them instead of chocolate chips :) So here's another excuse to make and eat these delicious oatmeal raisin cookies!
It's very easy to make these yummy oatmeal cookies, this recipe is perfect for beginning bakers. Just mix all ingredients in a bowl to make the cookie dough, chill the dough in the refrigerator for 30 minutes (to keep the cookies from spreading too much), then scoop the dough onto the baking sheet and bake for 10 minutes. Take out the cookies and let them cool on a baking sheet for 5 minutes so they can fully set and enjoy!
Here are some more amazing recipes that use oatmeal you will love:
Healthy Blueberry Oatmeal Muffins
Click Here To Pin This Recipe
Easy Soft & Chewy Oatmeal Raisin Cookies
These soft and chewy oatmeal raisin cookies are amazing! Perfect texture, just the way the oatmeal raisin cookies should be! This recipe is so easy to make and never fails to produce amazing soft and chewy cookies!
Instructions
Put butter, brown sugar and white sugar in a large bowl and cream together with a mixer until smooth. Add the egg and vanilla and mix until combined.

Add flour, cinnamon, baking soda and salt to the liquid ingredients. Mix with a mixer until incorporated. Add the oats and raisins, and mix with a spoon until everything is combined.

Cover the bowl with the cookie dough with a plastic wrap and refrigerate for 30 minutes to chill.

Preheat the oven to 350F. Line 2 baking sheets with parchment paper.

Remove chilled cookie dough from the refrigerator. Drop the cookie dough by a heaping tablespoon on a baking sheet, leaving 2 inches of space between cookies.

Put the baking sheets in the oven and bake the oatmeal raisin cookies for 10-12 minutes. Remove the cookies from the oven and let cool on a baking sheet for 5 minutes.
Save This Recipe
Save this for later on your social media:
Get Melanie's FREE Recipes In Your Inbox!
https://www.melaniecooks.com/wp-content/uploads/2017/11/oatmeal_raisin_cookies_simple.jpg
1583
1187
Melanie Mendelson
https://www.melaniecooks.com/wp-content/uploads/2015/11/logo-new2.png
Melanie Mendelson
2017-11-21 08:07:49
2021-12-08 09:01:07
Easy Soft & Chewy Oatmeal Raisin Cookies Recipe