Baked Gluten-Free Meatballs Recipe With Oatmeal
This post may contain affiliate links (disclosure).
This baked gluten-free meatballs recipe is using oatmeal instead of bread crumbs! These meatballs are so tender, juicy, delicious and healthy!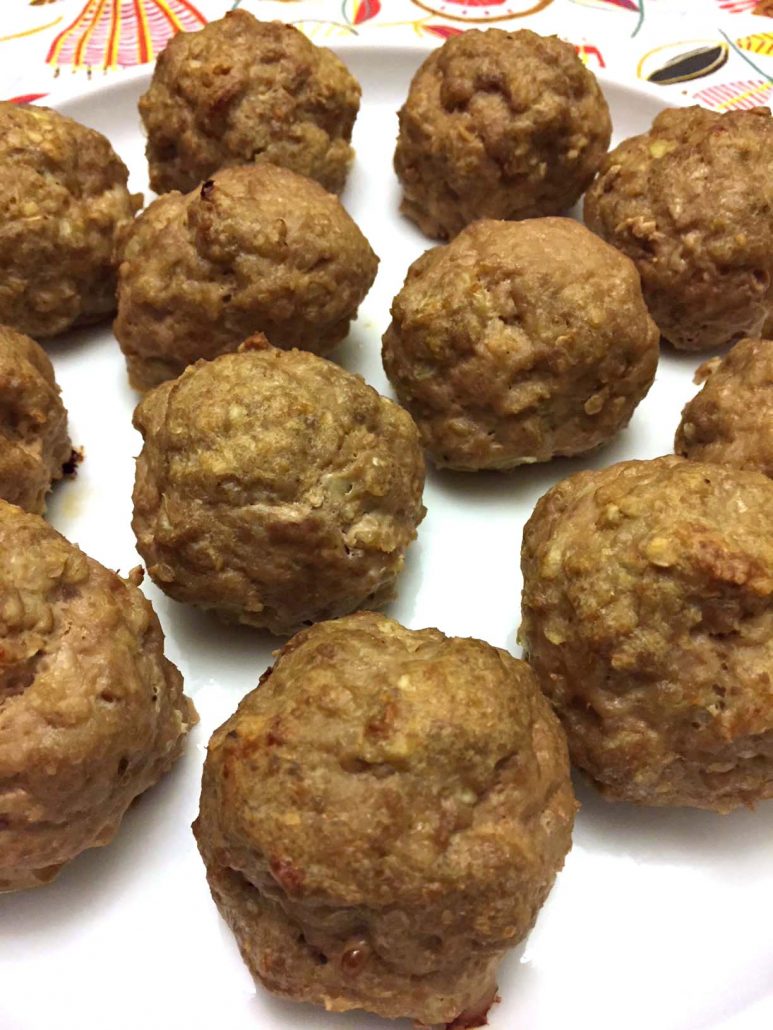 If you always used bread crumbs in your homemade meatballs but are now trying out the gluten-free diet, the easiest way to get rid of gluten in meatballs is to substitute bread crumbs with oatmeal! These gluten-free oatmeal meatballs taste exactly the same as regular meatballs, you won't even notice the difference!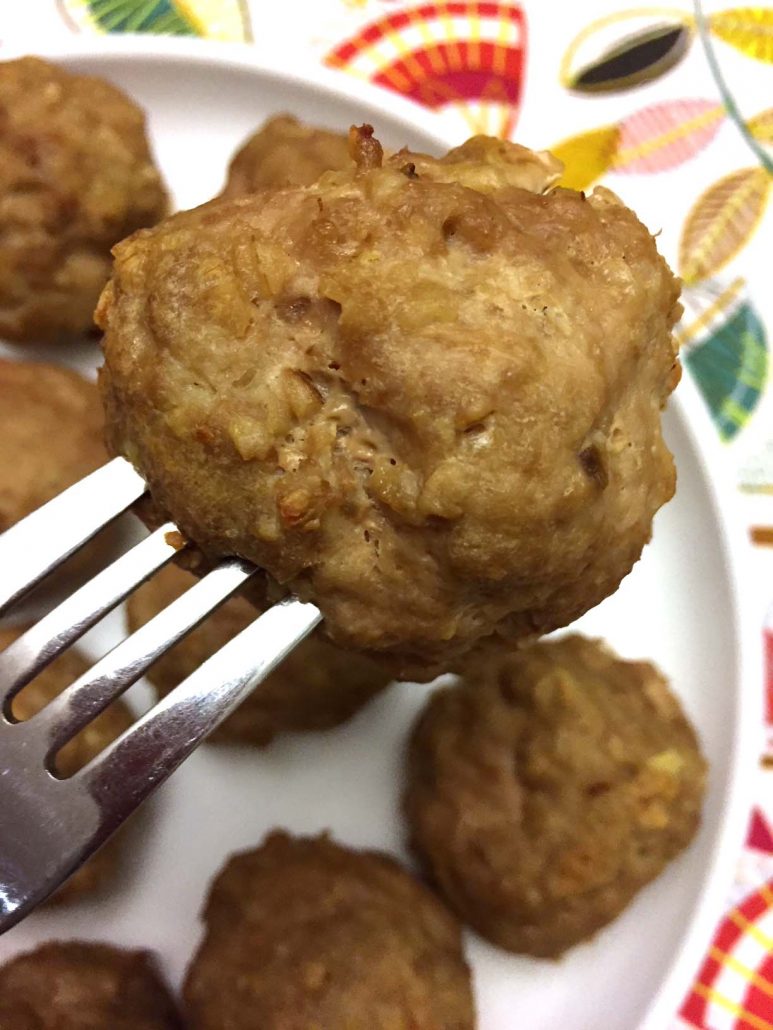 Many traditional meatball recipes require pan-frying meatballs in a frying pan and then simmering them in sauce, but baking meatballs in the oven is so much easier! If you were pan-frying meatballs, you have to do it in batches since they won't all fit on a frying pan at once, then have to stand over the stove and flip the meatballs with a spatula. When you bake the meatballs, you just put them in the oven and the oven does all the work!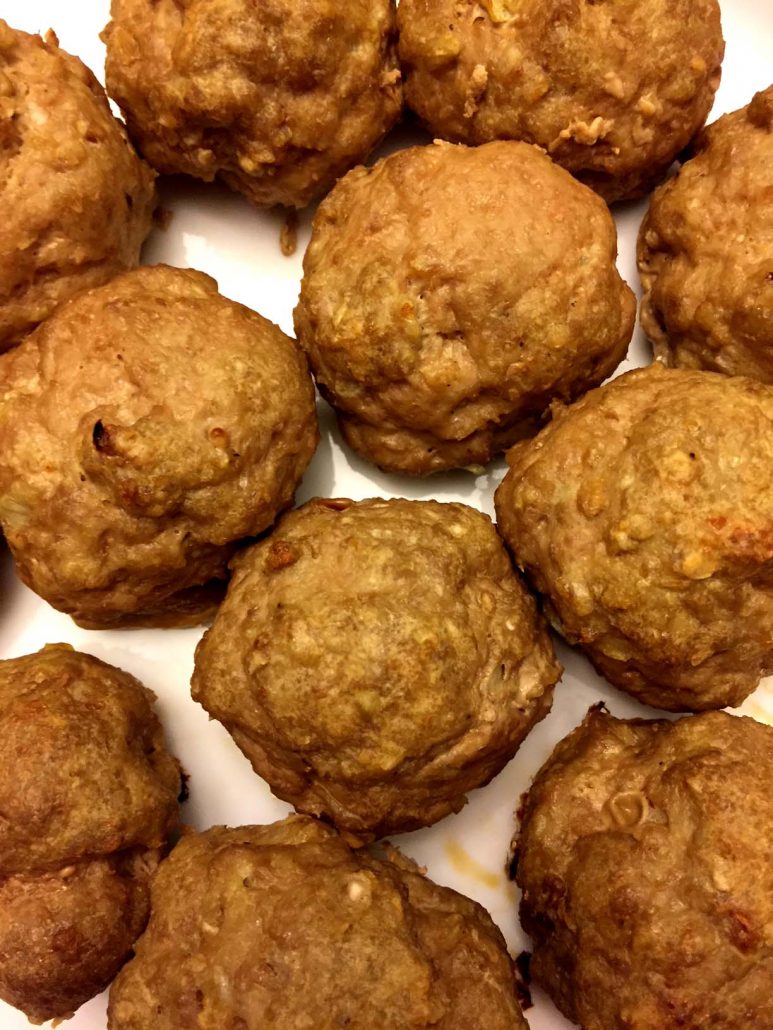 The baking method is completely passive – you just put the meatballs in the oven, set the oven timer and take them out when the timer beeps. The less work the better!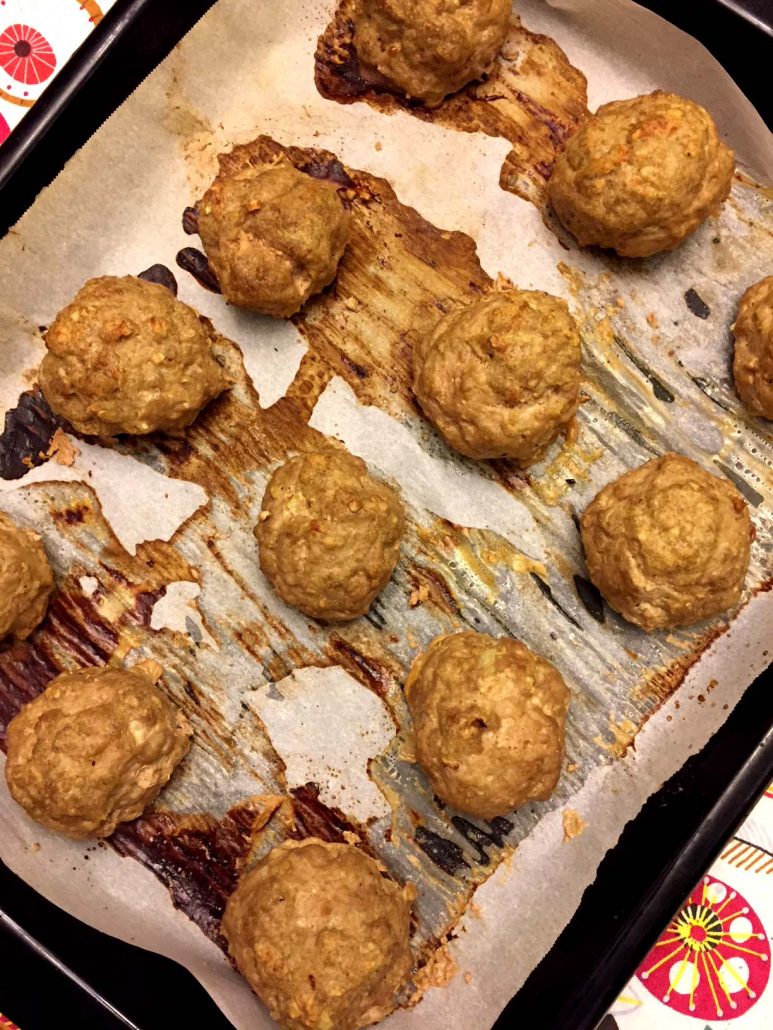 If you line your baking pan with foil or parchment paper, you don't even need to wash the baking dish – just throw away the foil!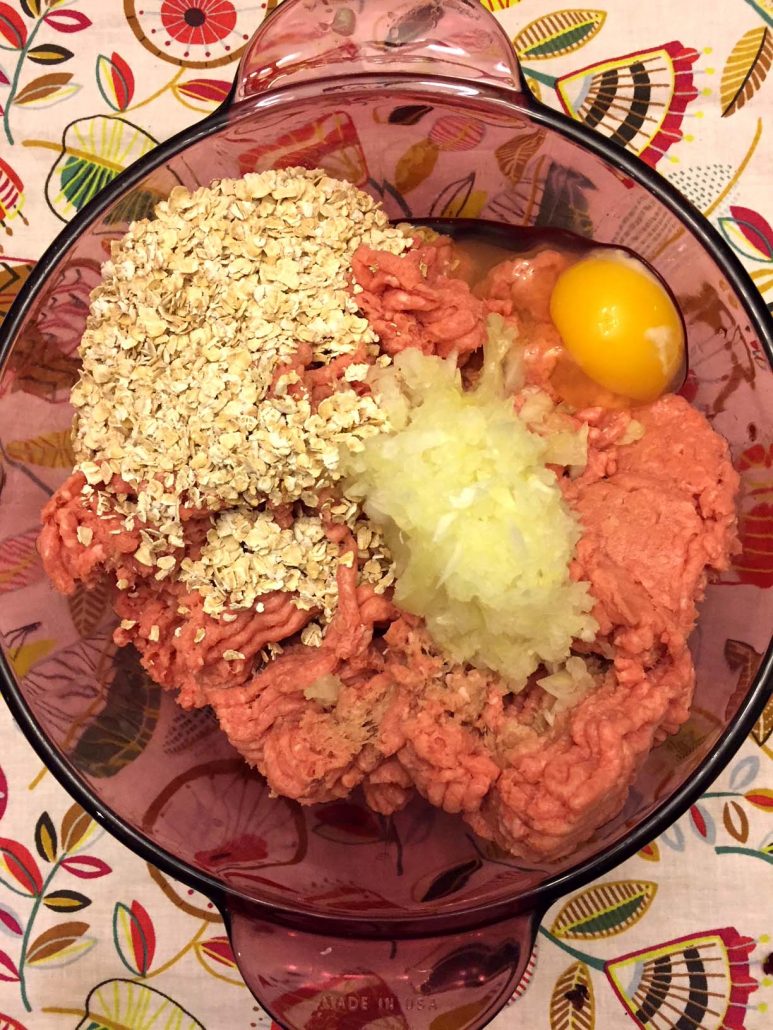 Making these oven baked gluten-free meatballs is super easy. Just combine simple ingredients into the meatball mix – ground meat, grated onion, oatmeal, egg, salt and pepper. Roll the meat mixture into meatballs, put on a baking sheet and bake for 25 minutes at 375F. That's all there is to it!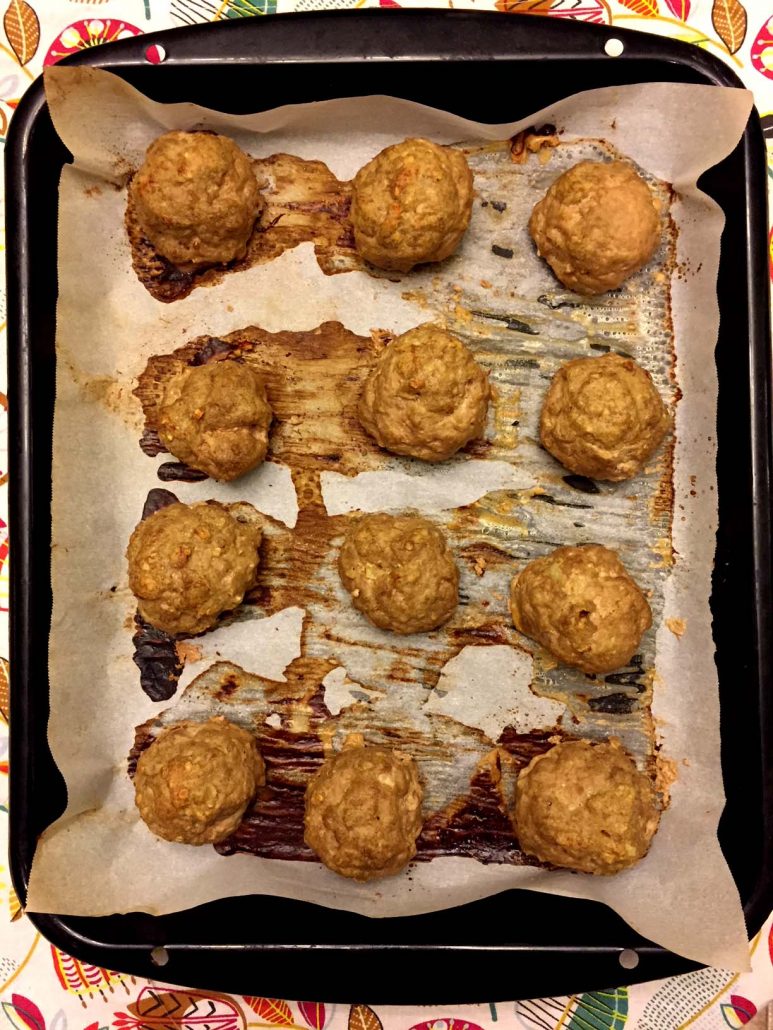 You can make these oatmeal meatballs with any type of ground meat – ground turkey, beef, pork, lamb or chicken. Just use the meat of your choice, these gluten-free baked meatballs will taste amazing no matter which ground meat you use!
Feel free to make a double batch of these gluten-free oatmeal meatballs and freeze them for later. Meatballs freeze great in a cooked form! For more details, please see my guide on how to freeze meatballs. It's always awesome to have some homemade frozen meatballs in your freezer for those nights when you are too busy to cook!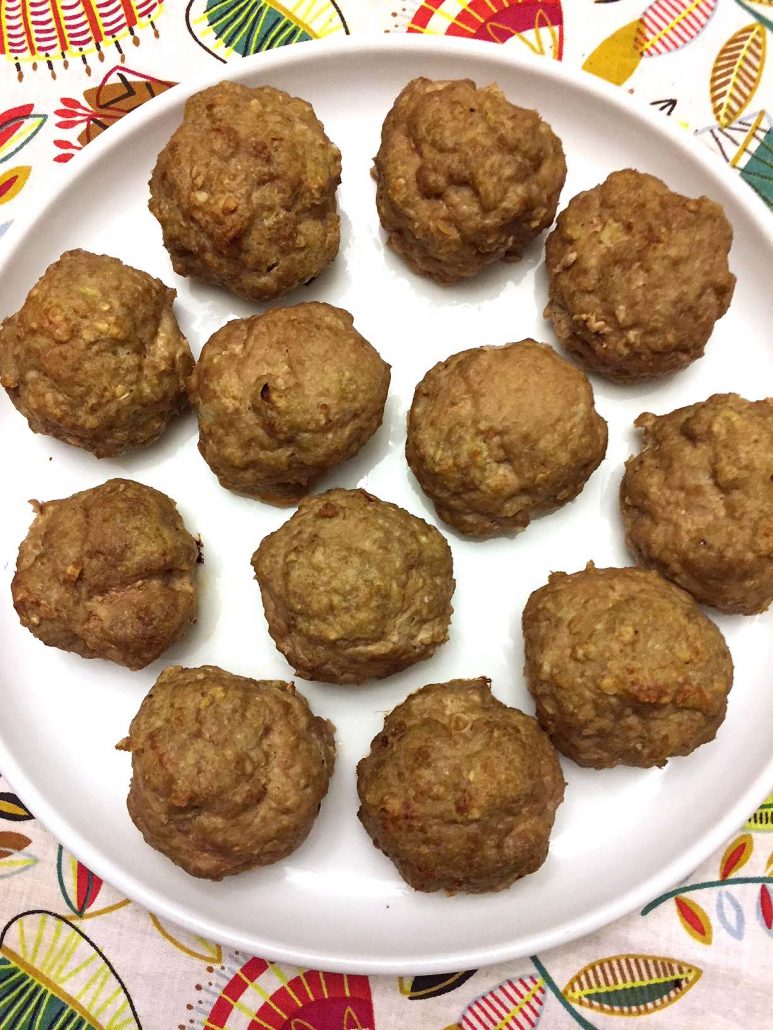 Other Easy Healthy Recipes For Meatball Lovers
Muffin Tin Meatloaf – you can make individually sized meatloaves by using this oatmeal meatball mixture and baking it in a muffin tin! This technique is great for portion control and freezing mini meatloaves for later!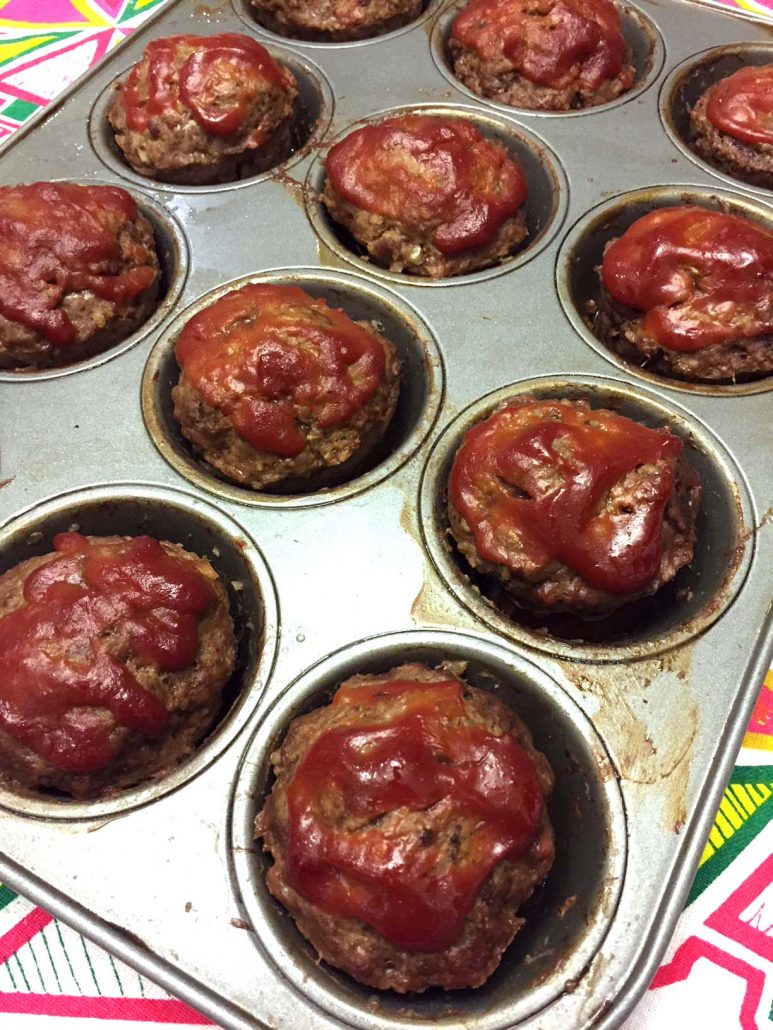 Gluten-Free Banana Pancakes – this the best clean eating pancakes recipe ever, just 3 ingredients!
Gluten-Free Cheese Bread Rolls – these Brazilian cheese bread rolls are amazing! Naturally gluten free, so soft and delicious!
Stuffed Zucchini Boats – hollowed out zucchini halves stuffed with ground meat and cheese – mouthwatering!
Best Ever Crockpot Chili – another great recipe to make with ground meat, just dump the ingredients in a slow cooker and come back to a delicious dinner!
Click Here To Pin This Recipe
Baked Gluten-Free Meatballs With Oatmeal
These baked meatballs are gluten-free and taste delicious! They are using healthy oatmeal instead of bread crumbs! You can make these meatballs with ground beef or turkey, they are so tender and juicy!
Instructions
Preheat the oven to 375F. Line a baking sheet with parchment paper.

Mix ground meat, onion, quick oats, egg, salt and pepper in a bowl.

Take the meat mixture by a heaping tablespoon, roll into balls and put the meatballs on the baking sheet in a single layer, so they are not touching.

Put the meatballs in the oven and bake for 25 minutes.
Save This Recipe
Save this for later on your social media:
Get Melanie's FREE Recipes In Your Inbox!
https://www.melaniecooks.com/wp-content/uploads/2017/12/meatballs_oatmeal_easy.jpg
1632
1224
Melanie Mendelson
https://www.melaniecooks.com/wp-content/uploads/2015/11/logo-new2.png
Melanie Mendelson
2017-12-31 15:50:43
2021-12-08 08:59:34
Baked Gluten-Free Meatballs Recipe With Oatmeal