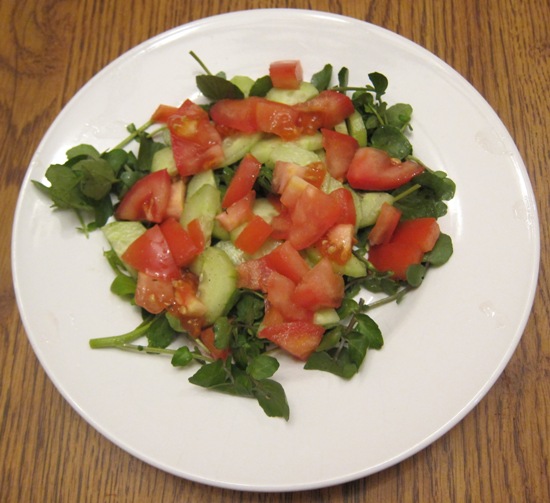 Watercress is a tender salad green with small and pretty leaves, and it's very tasty and healthy.  If you never tried watercress, you must give it a try – it has a very mild taste that's universally pleasing, and it looks so nice that it transforms an ordinary salad into a gourmet dish!
Watercress is extremely nutritious and full of anti-oxidants – it's a true superfood.  I buy packaged watercress by B&W Gourmet Farms brand in Whole Foods, and here's some interesting information about watercress from the package: "What makes watercress so super?  Once for ounce, watercress has more vitamin C than an orange and more calcium than whole milk.  Watercress is packed with beta-carotene and vitamin A, and it is a better source of vitamins C, B1, B6, K, E, Iron, Calcium, Magnesium, Manganese, Zinc and Potassium than apples, broccoli and tomatoes.  It is among the most nutrient dense vegetables known to man."
Here's the nutritional information of watercress (per 3 oz serving) – 9 calories, zero fat, zero cholesterol, 34 mg sodium, 0.8 g carb, 1.8 g protein, 80% vitamin A, 10% calcium, 61% vitamin C, 266% vitamin K, 8% potassium.  So enjoy this yummy super-healthy green!
Watercress Salad Recipe With Tomato And Cucumber
Salad Ingredients
2 cups watercress
1 tomato
1 small cucumber
1/2 tbsp extra-virgin olive oil
1 /2 tsp balsamic vinegar
Salt and pepper to taste
Instructions How To Make Watercress Salad
Chop the tomato.
Peel and chop the cucumber.
Sprinkle chopped tomato and cucumber with salt and pepper to taste.
Put watercress in the bowl and toss with oil and vinegar.
Put watercress on a plate and top with tomato and cucumber pieces.
Preparation time: 3 minutes
Here's the picture of the watercress package: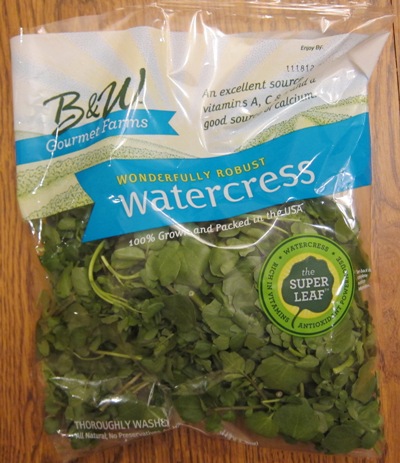 Another yummy gourmet green lettuce that you need to check out is mache lettuce – see mache lettuce salad recipe.
http://www.melaniecooks.com/wp-content/uploads/2013/01/watercress-salad-recipe.jpg
503
550
Melanie Mendelson
http://www.melaniecooks.com/wp-content/uploads/2015/11/logo-new2.png
Melanie Mendelson
2013-02-01 07:07:29
2013-07-09 17:41:10
Watercress Salad Recipe With Tomato And Cucumber