Caprese Salad Skewers Appetizer Bites
This post may contain affiliate links (disclosure).
Looking for the perfect appetizer to bring to the party? Something a little different that everyone will love? Caprese Salad Skewers is your recipe!
I confess, I'm helplessly in love with the simple, delicious dish called Caprese Salad. In addition to the classic version, I already have several other variations – chopped caprese salad and green salad with tomato and mozzarella. And this variation, Caprese Salad Skewer Appetizer Bites, has everything going for it that the standard Caprese Salad does, and then some!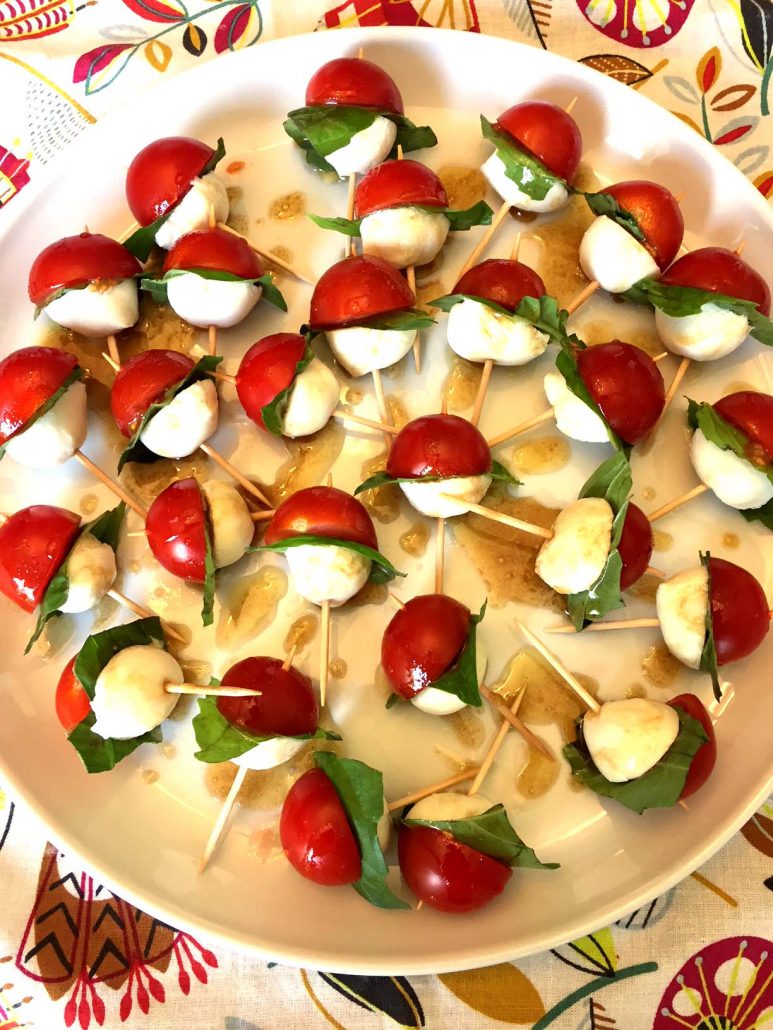 First, these are incredibly easy – "easy caprese" – to make! If you have little kitchen helpers, they will love helping you make these, putting a piece of cheese, a basil leaf and a half of a cherry tomato onto a toothpick skewer.
Second, they are delicious! The flavors capture the best of Italian cooking, simple yet intense.
Third, they are beautiful, sporting the vivid colors of the Italian flag, red, white and green.
Fourth, Caprese Salad, in any form, is very healthy. You know how good for you fresh tomatoes are – low calorie, lots of potassium and phytonutrients, especially lycopene, a powerful antioxidant! But there is a catch: lycopene in tomatoes is best absorbed with a little fat. The mozzarella and olive oil in this recipe provide just that!
And, as the name suggests, Caprese Salad Skewer Appetizer Bites are the perfect party food – so easy to eat, just bite size. No muss, no fuss. If you bring these to a party, you should make twice what you think you should – they'll disappear that fast! And did I mention they are delicious?
Caprese salad skewers recipe has been floating around Pinterest for a while, but my variation has a new twist :) Usually people put the whole cherry tomato and the whole ball of mozzarella on each skewer, but I cut them in half! Since these appetizers are supposed to be bite-size, the whole tomato and mozzarella ball are a bit too much to shove in your mouth at once :) Cutting them in half makes these skewers a perfect size to fit in your mouth in a single bite!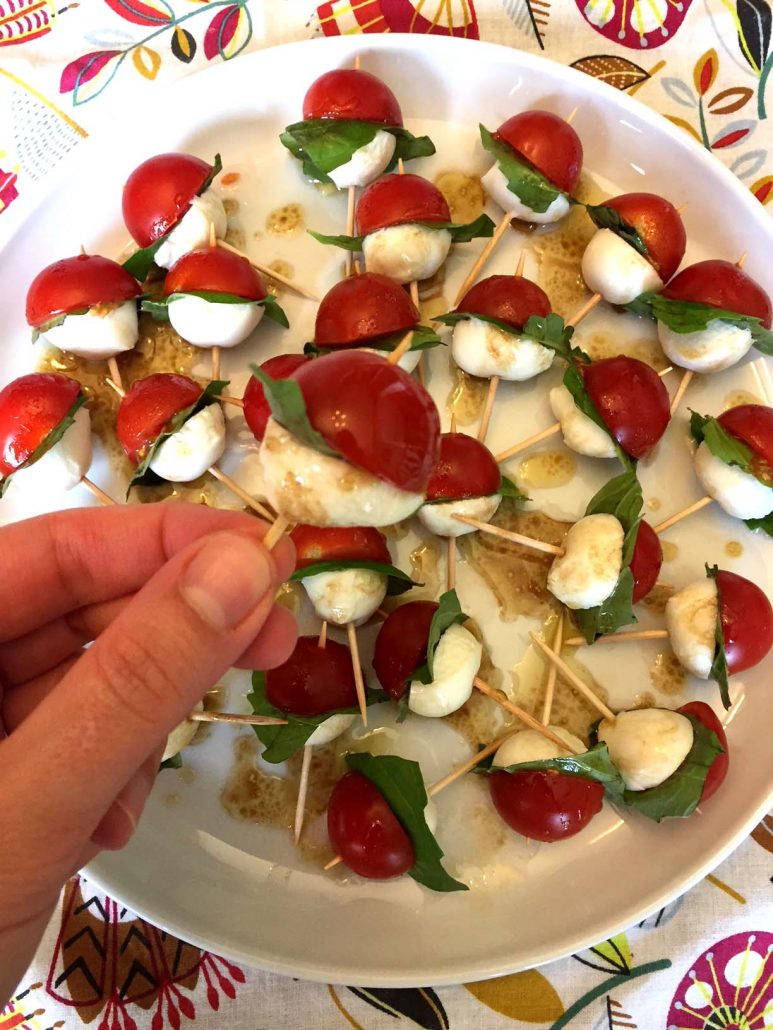 You may have first had Caprese Salad in an upscale Italian restaurant, and these appetizers certainly taste "gourmet." Indeed, Caprese Salad originated in the 1920's on the Isle of Capri, at the 5-star luxury hotel, the Grand Hotel Quisisana, long a favorite of royalty and rock stars, politicians and poets. If a trip to the beautiful Isle of Capri with its breathtaking rocky coastline is not in your future, you can still take yourself, your family and your friends on a virtual trip to Italy, with these Caprese Salad Skewer Appetizer Bites.
So, grab one of those little boxes of cherry tomatoes and a bunch of fresh basil from the produce section, and a container of those adorable little mozzarella balls from the cheese aisle. A small bottle of a good Extra Virgin Olive Oil and some balsamic vinegar should also be in your cart if those are not staples in your pantry at home. Then, simply assemble these cute and yummy bites of Italian fresh goodness. Who knew such a simple recipe could be so divine? You'll be making these Caprese Salad Skewer Appetizer Bites again and again!
If you are looking for more finger food appetizers, check out these other epic ideas:
Easy Stuffed Mushrooms – these homemade stuffed mushrooms are truly foolproof and everyone loves them!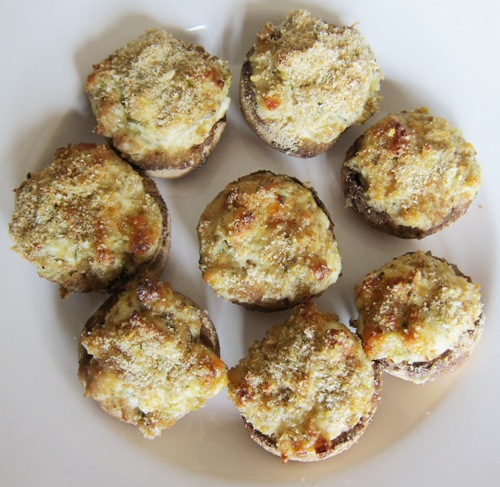 Bacon Wrapped Dates – sweet dates wrapped in crispy baked bacon – need I say more?
Perfect Cheese Platter – follow my easy formula in creating a perfect cheese platter on a budget!
Brie and Jam Cracker Bites – this super simple appetizer is always a hit! These crackers disappear immediately!
Honey Candied Pecans – everyone will want to dig into a bowl of these stickly little pecans, mmmm!
Click Here To Pin This Recipe
Caprese Salad Skewers Appetizer Bites
These Caprese salad skewers are so cute and delicious! Cherry tomatoes, fresh mozzarella and basil on a stick, drizzled with balsamic - what a perfect bite-sized way to eat a Caprese salad! Perfect for parties!
Recommended Kitchen Tools (click the links below to see the items used to make this recipe)
Instructions
Cut the cherry tomatoes in half.

Cut the mozzarella balls in half.

Tear the basil leaves into 1-inch pieces.

Assemble the Caprese salad skewers: put half of mozzarella ball on a toothpick, followed by a basil leaf and topped with a cherry tomato half. Put the assembled Caprese skewers on a large plate.

Put olive oil and balsamic vinegar in a cup and whisk with a fork until combined to make a dressing.

Drizzle the balsamic dressing over the Caprese salad skewers.
Notes
Caprese salad skewers can be made up to 1 day ahead. If making ahead, cover the plate with Caprese skewers with a plastic wrap and refrigerate until ready to serve.
See also:
Nutrition
Calories:
170
kcal
|
Carbohydrates:
4
g
|
Protein:
9
g
|
Fat:
13
g
|
Saturated Fat:
6
g
|
Cholesterol:
30
mg
|
Sodium:
246
mg
|
Potassium:
201
mg
|
Fiber:
1
g
|
Sugar:
3
g
|
Vitamin A:
641
IU
|
Vitamin C:
18
mg
|
Calcium:
200
mg
|
Iron:
1
mg
Save This Recipe
Save this for later on your social media:
Get Melanie's FREE Recipes In Your Inbox!
https://www.melaniecooks.com/wp-content/uploads/2018/07/caprese_skewers.jpg
1632
1224
Melanie Mendelson
https://www.melaniecooks.com/wp-content/uploads/2015/11/logo-new2.png
Melanie Mendelson
2018-08-19 07:47:47
2020-12-14 09:19:23
Caprese Salad Skewers Appetizer Bites