Sauteed Shiitake Mushrooms Recipe
This post may contain affiliate links (disclosure).
If you are wondering how to cook shiitake mushrooms, the easiest way to cook them is on the frying pan! These sauteed shiitake mushrooms are ready in 5 minutes and so full of flavor!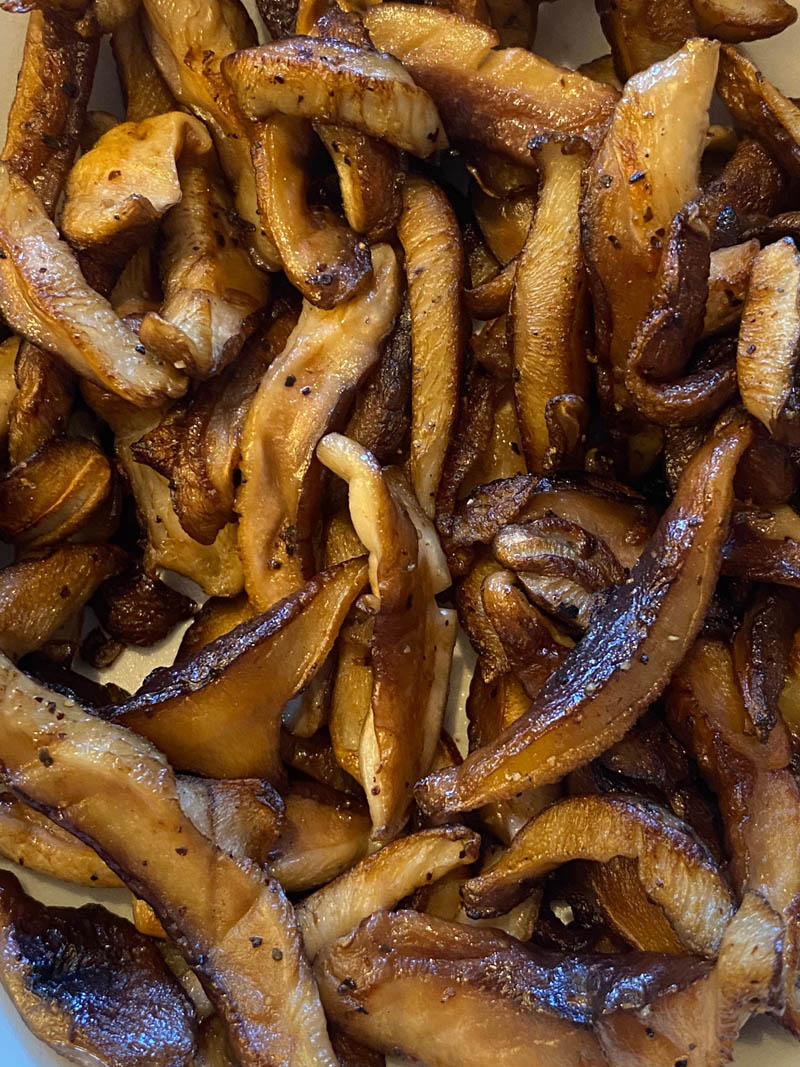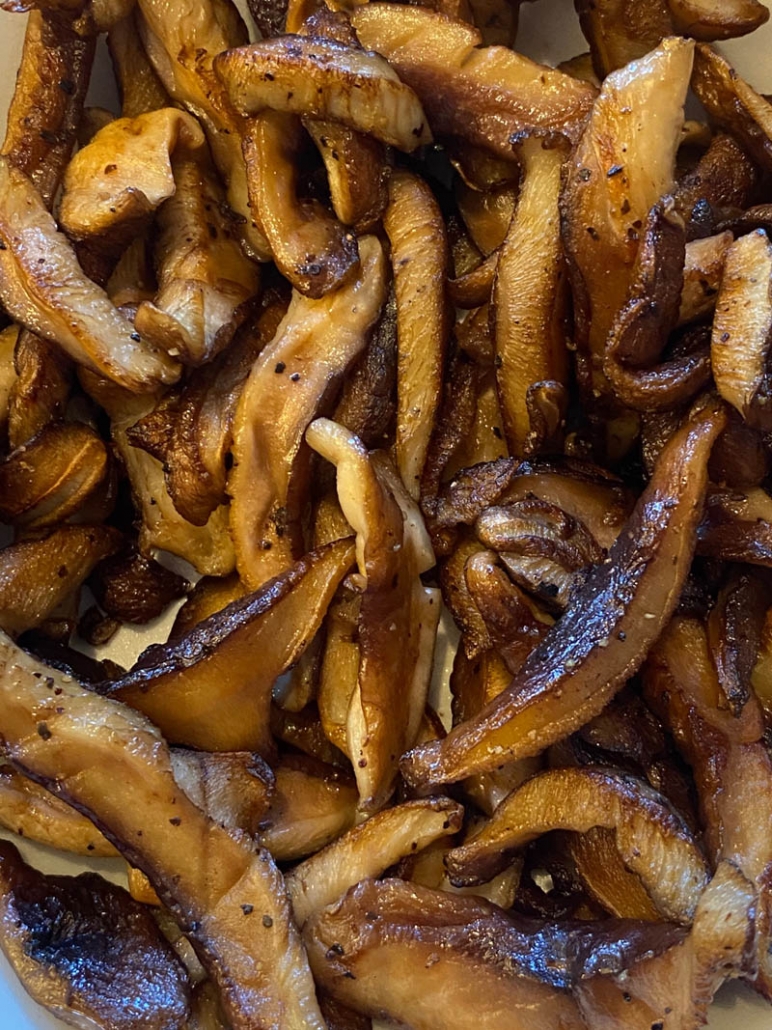 Shiitake mushrooms are my favorite kind of mushrooms! They are just so much more flavorful then regular white button mushrooms!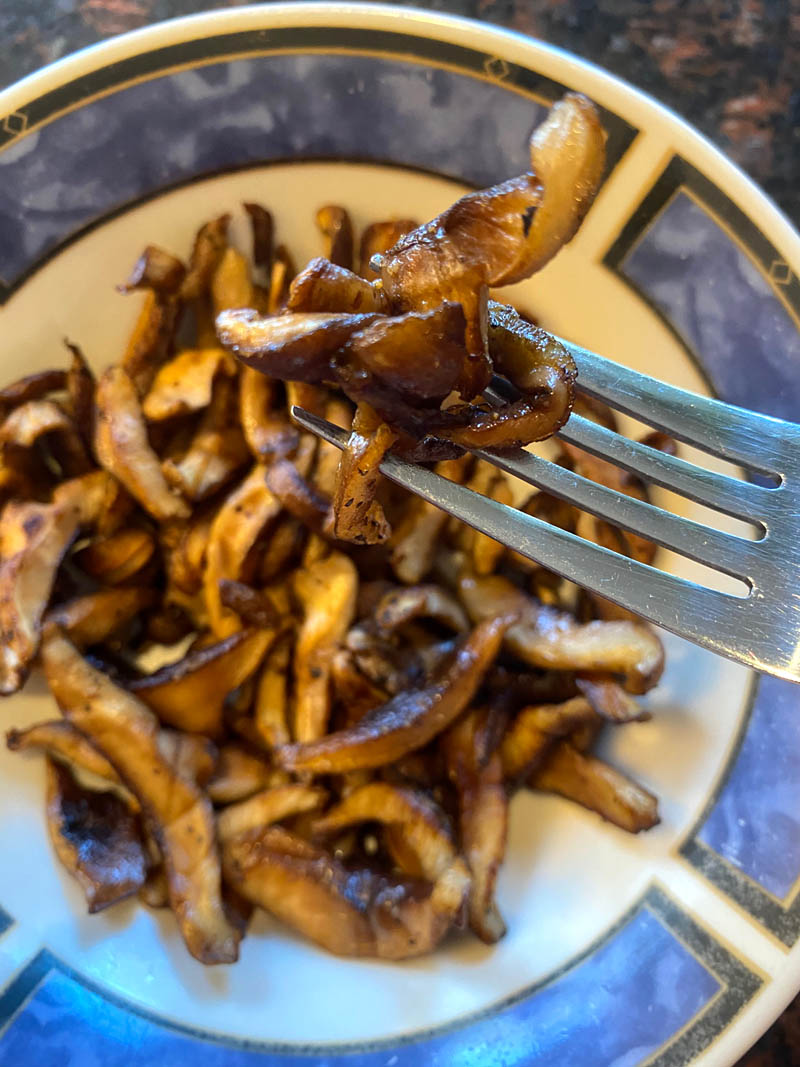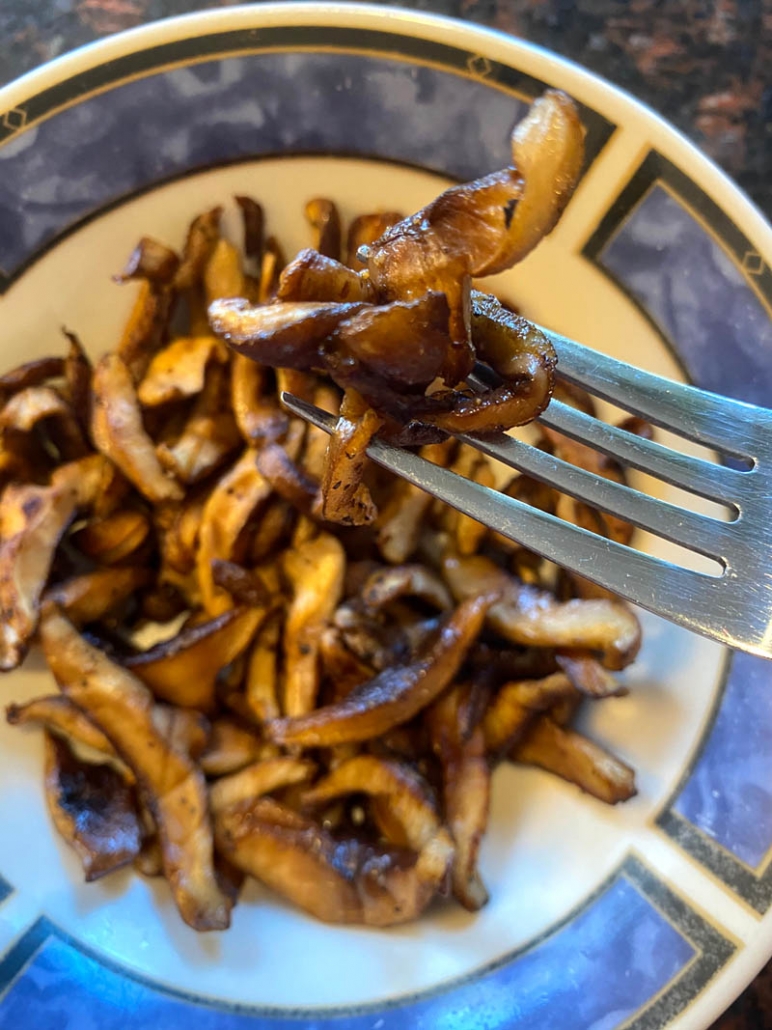 Shiitake mushrooms have amazing texture – they are so tender and juicy, like they just melt in your mouth. And shiitake mushroom taste is so deep and addictive, it just makes you want to reach for more and more! If you never tried shiitake mushrooms, you owe it to yourself to give them a try!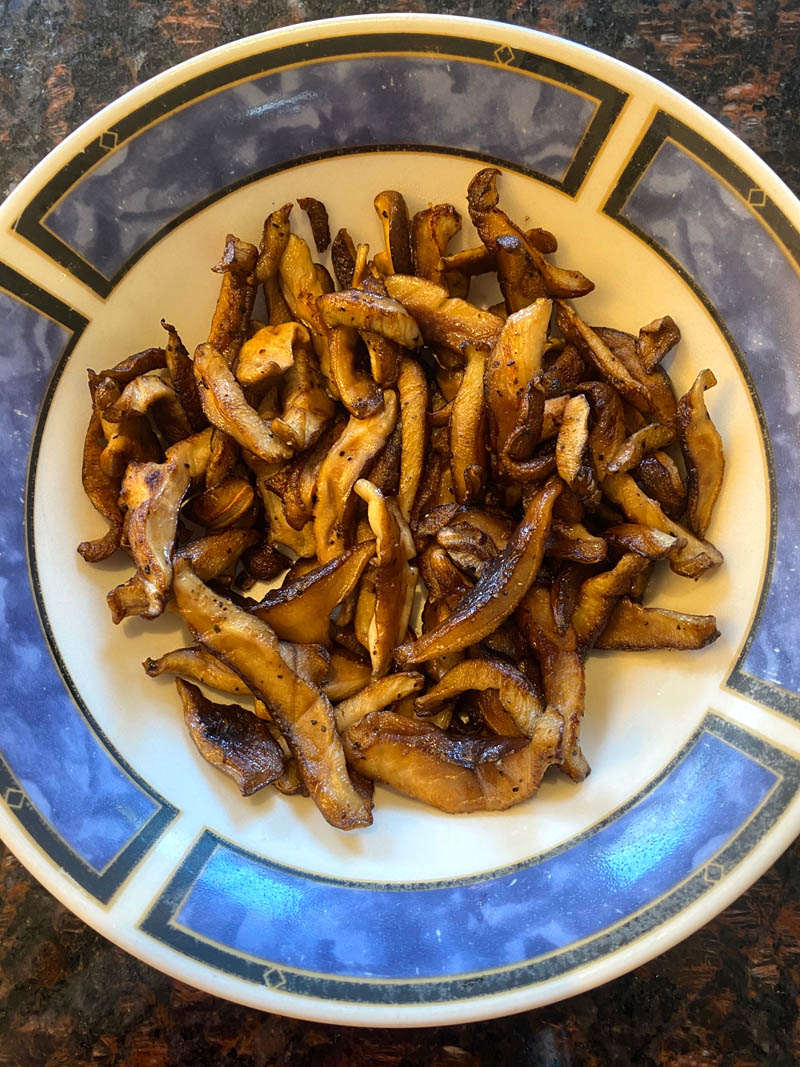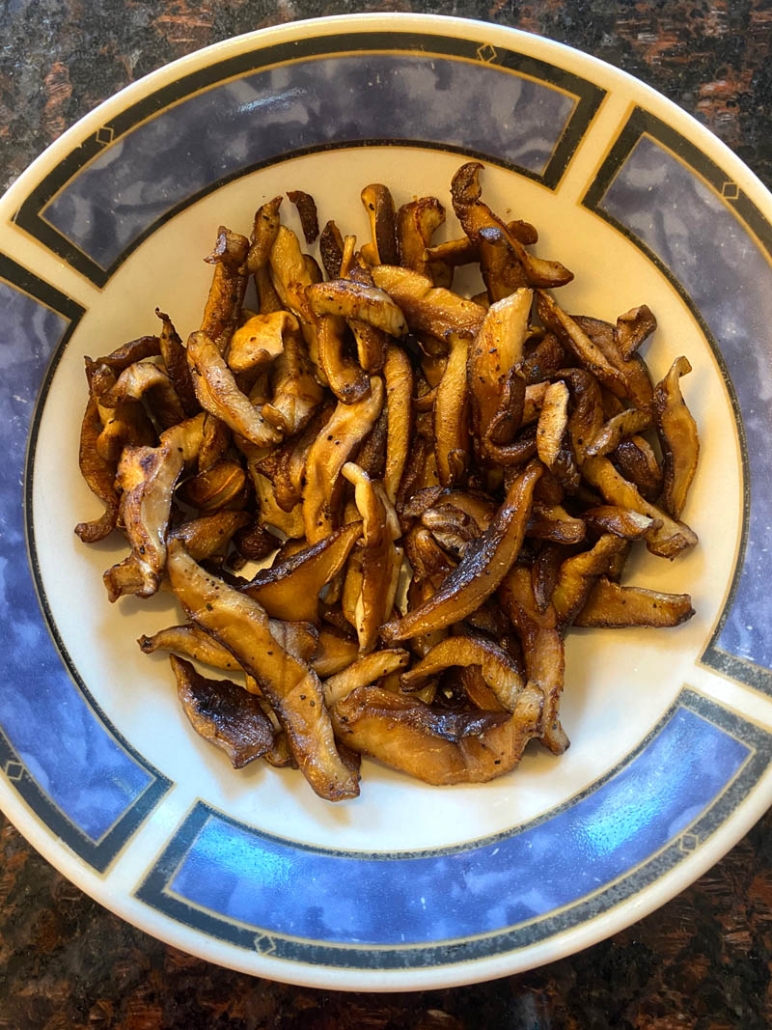 Sauteed Shiitake Mushrooms Recipe Ingredients
This recipe is very simple and uses very few ingredients:
Fresh sliced shiitake mushrooms
Olive oil (or any type of cooking oil or butter)
Seasonings (I like to use salt, pepper and garlic powder, but the exact seasonings are totally up to you!)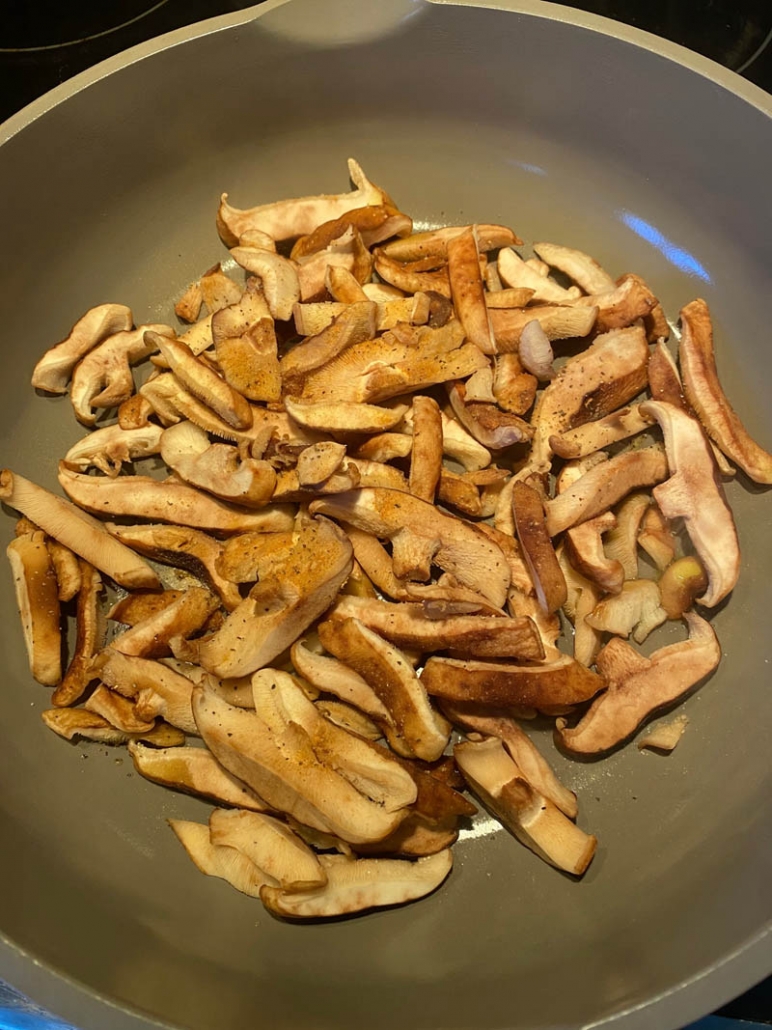 How To Cook Shiitake Mushrooms
Heat the oil in a large non-stick frying pan over medium-high heat. Add shiitake mushrooms and seasonings and cook, stirring every minute, for 5 minutes, or until shiitake mushrooms are tender. Remove cooked shiitake mushrooms from a frying pan into a serving dish and enjoy!
Shiitake Mushrooms FAQs
Where can I buy fresh shiitake mushrooms?
You can buy shiitake mushrooms in most large supermarkets! They are sold in the vegetable isle next to white button mushrooms and portobello mushrooms. Sometimes they are sold in convenient packages already pre-sliced, but if you don't see packaged shiitake mushrooms there is a good chance the store has them in the whole form and you can buy a bag of whole shiitake mushrooms and slice them yourself.
Are shiitake mushroom stems edible?
Shiitake mushroom stems are really tough (no matter how long you cook them), so I personally don't think they are edible. Shiitake stems are perfectly safe to eat but they just don't taste good :) The only practical use of shiitake mushroom stems is to use them for flavoring vegetable stock.
To make vegetable mushroom stock with shiitake stems, wash the stems and add them to a pot of water (along with other vegetables such as onion, carrots and celery) and simmer for 1 hour. After the stock is done, strain the mushroom stems and vegetables and discard them. You can also make vegetable stock with shiitake stems in the Instant Pot – just follow the same directions as my Instant Pot chicken stock and use mushroom stems instead of chicken :)
For creative uses of food scraps, also see my broccoli stems recipe and creative uses of food scraps and leftovers.
Do I need to wash shiitake mushrooms?
If you bought pre-sliced shiitake mushrooms in a package, they have already been cleaned and you don't need to wash them.
If you bought whole shiitake mushrooms, you will see that most of the dirt is on the stems. Since you don't need the stems for sauteed shiitake mushrooms recipe, cut off the stems first before washing the mushrooms and throw the stems out. If shiitake caps are really dirty, wash them in a colander under cold running water. If shiitake caps are pretty clean with just a few specks of dirt here and there, all you need to do is wipe off the dirt with a wet paper towel and skip the washing.
How do I slice shiitake mushrooms?
You only need to slice the shiitake caps. So first cut off the stems and discard, then clean the shiitake caps of visible dirt. Put shiitake caps on a cutting board and cut into slices using a good knife. That's all there is to it :)
Are shiitake mushrooms good for you?
Yes, shiitake mushrooms are very healthy! They are low in calories, high in protein and fiber and have low net carbs. They are also rich in vitamins and minerals: vitamins D and B6, copper, selenium, thiamin, riboflavin, niacin, folate, potassium, manganese, magnesium, iron and phosphorus, and they have anti-inflammatory properties. Shiitake mushrooms are a perfect addition to any healthy diet!
How To Store Sauteed Shiitake Mushrooms
How long do cooked mushrooms last in a fridge?
Sauteed shiitake mushrooms keep well in a refrigerator for up to 5 days. You can reheat them in a microwave before serving or just eat them cold.
Can you freeze cooked mushrooms?
You can also freeze cooked shiitake mushrooms in a ziploc bag and thaw when ready to eat.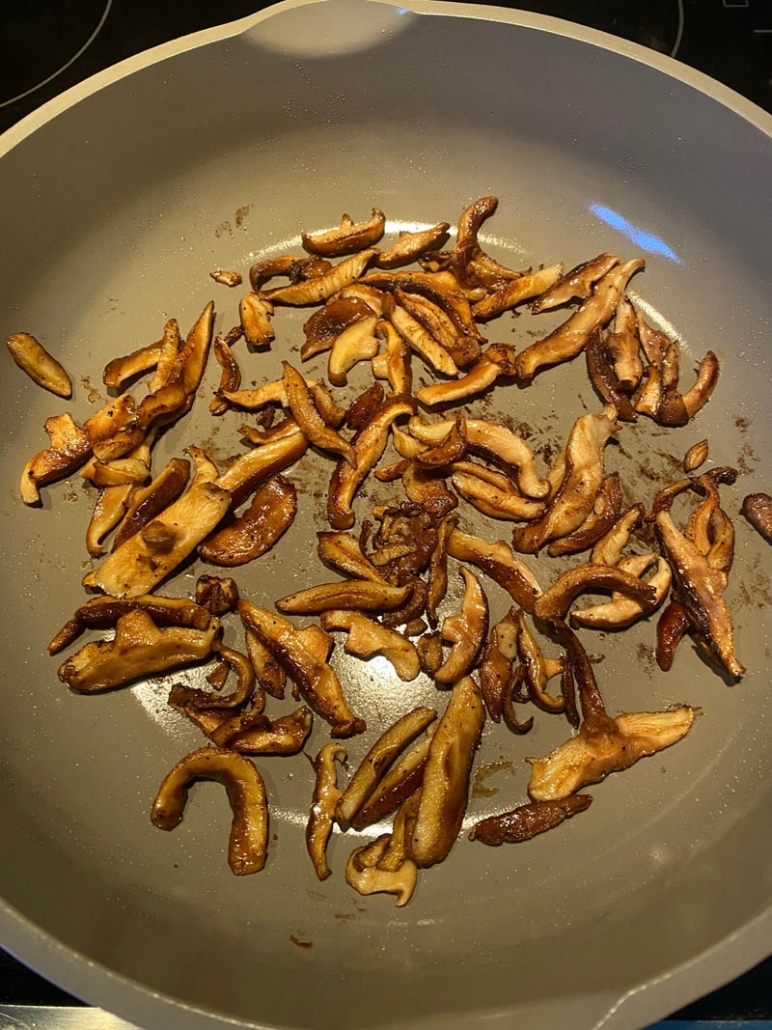 What To Serve With Shiitake Mushrooms
Sauteed shiitake mushrooms are very versatile and can be enjoyed many different ways! You can eat them as a side dish alongside meat and seafood, as a vegan main dish (since they are so filling), use them as part of meal prep combos, add them to rice and pasta dishes (try them as part of cilantro-lime rice and chicken pasta salad), or use them as a topping for sandwiches, burgers and steak!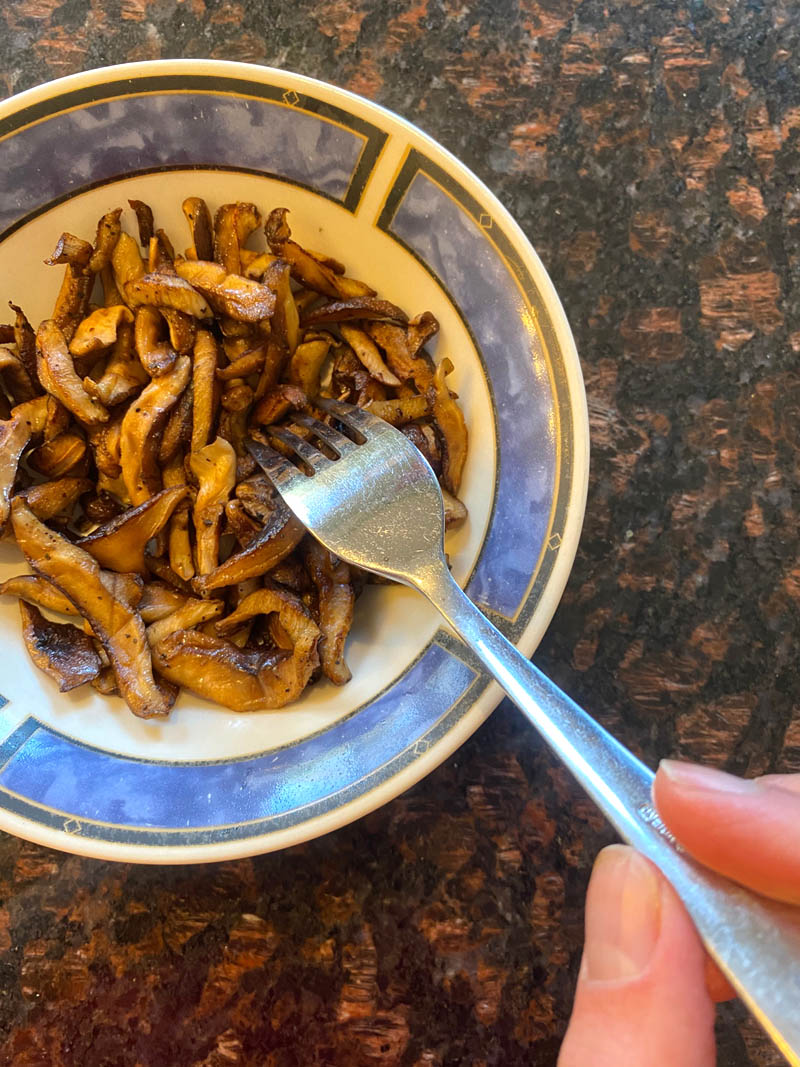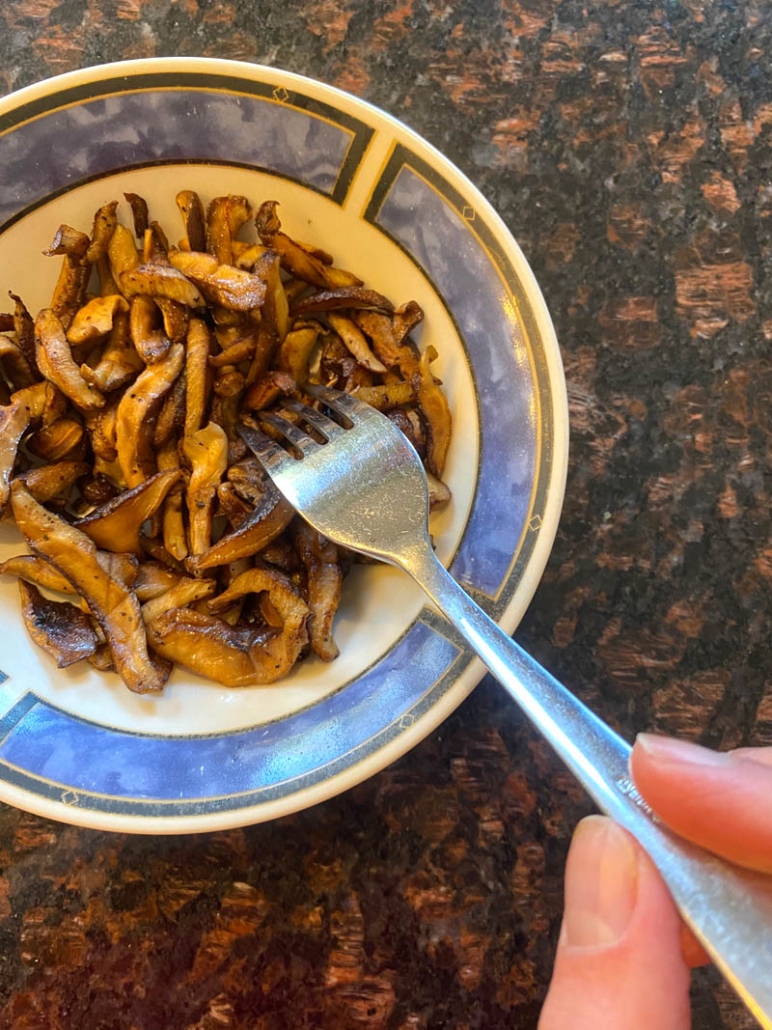 Other Easy Mushroom Recipes To Try
If you like sauteed shiitake mushrooms recipe, check out these other easy mushroom recipes:
Click Here To Pin This Recipe
Sauteed Shiitake Mushrooms
These sauteed shiitake mushrooms are amazing! This is the easiest way to cook shiitake mushrooms! Pan fried shiitake mushrooms are so easy to make and so delicious!
Recommended Kitchen Tools (click the links below to see the items used to make this recipe)
Instructions
Heat the oil in a non-stick frying pan over medium-high heat.

Add shiitake mushrooms, salt, pepper and garlic powder and stir until the mushrooms are coated with oil and seasonings.

Cook, stirring every minute, for 5 minutes, or until shiitake mushrooms are tender.
Nutrition
Calories:
102
kcal
|
Carbohydrates:
8
g
|
Protein:
3
g
|
Fat:
8
g
|
Saturated Fat:
1
g
|
Sodium:
301
mg
|
Potassium:
351
mg
|
Fiber:
3
g
|
Sugar:
3
g
|
Vitamin A:
1
IU
|
Vitamin C:
1
mg
|
Calcium:
3
mg
|
Iron:
1
mg
Save This Recipe
See also:
Save this for later on your social media:
Get Melanie's FREE Recipes In Your Inbox!
https://www.melaniecooks.com/wp-content/uploads/2010/09/shiitake_mushrooms_fried.jpg
1067
800
Melanie Mendelson
https://www.melaniecooks.com/wp-content/uploads/2015/11/logo-new2.png
Melanie Mendelson
2010-09-05 17:46:16
2021-05-05 11:18:13
Sauteed Shiitake Mushrooms Recipe