Roasted Broccoli Stems – How To Use Up Broccoli Stalks
This post may contain affiliate links (disclosure).
If you throw out broccoli stalks, it's like throwing money in the garbage! Broccoli stems are delicious roasted in the oven, seasoned with salt and pepper and a bit of Parmesan cheese! Once you make these amazing roasted broccoli stems you'll never throw them out ever again!
When most people buy broccoli, they end up eating the broccoli florets and discarding the stems. However, broccoli stems are not a food waste – they are completely edible and are, in fact, really tasty when cooked properly!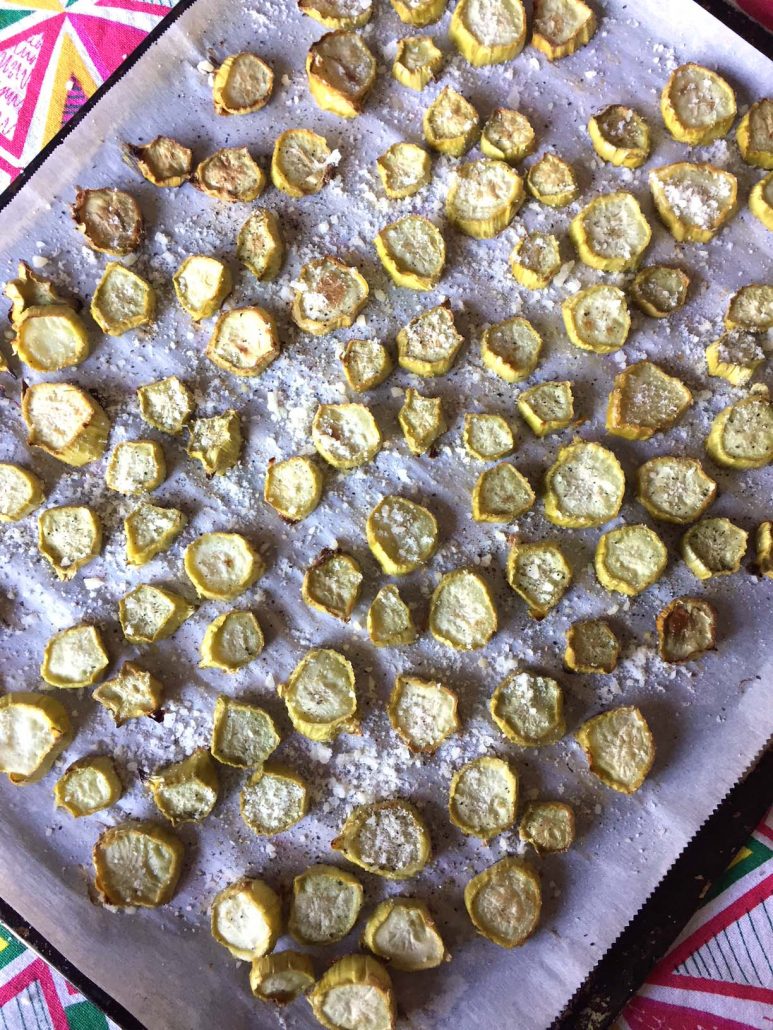 The reason why the broccoli stalks are usually discarded is because they are too tough compared to the broccoli florets. Yes, raw broccoli stalks are quite hard, but you don't need to eat them raw. When they are cooked through, they become as soft as the florets, they just need longer cooking time!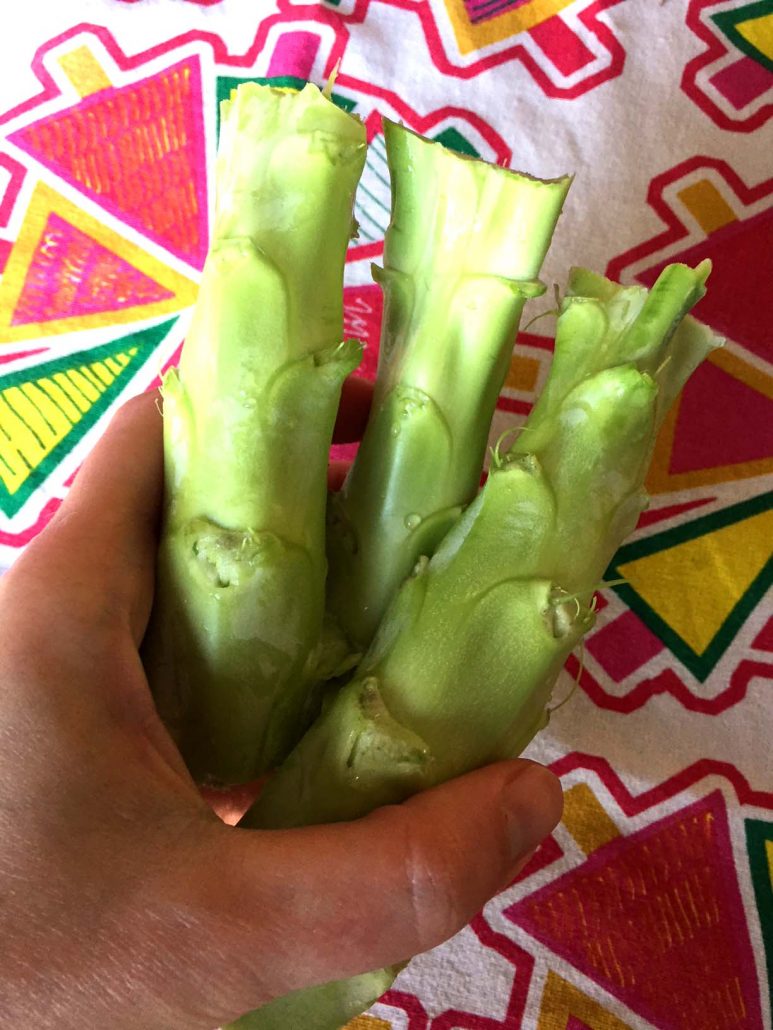 The secret to tasty and soft broccoli stalks is peeling them. You absolutely have to peel the broccoli stalks before you cook them, otherwise you'll be eating tough chewy skin and spitting it out! The tough outer layer of the broccoli stalks doesn't quite cook through no matter how long you cook it. Therefore, you need to remove the outer peel. How do you do it? Easy – just use a vegetable peeler! Peel the broccoli stalks the same way you peel the potatoes or cucumbers.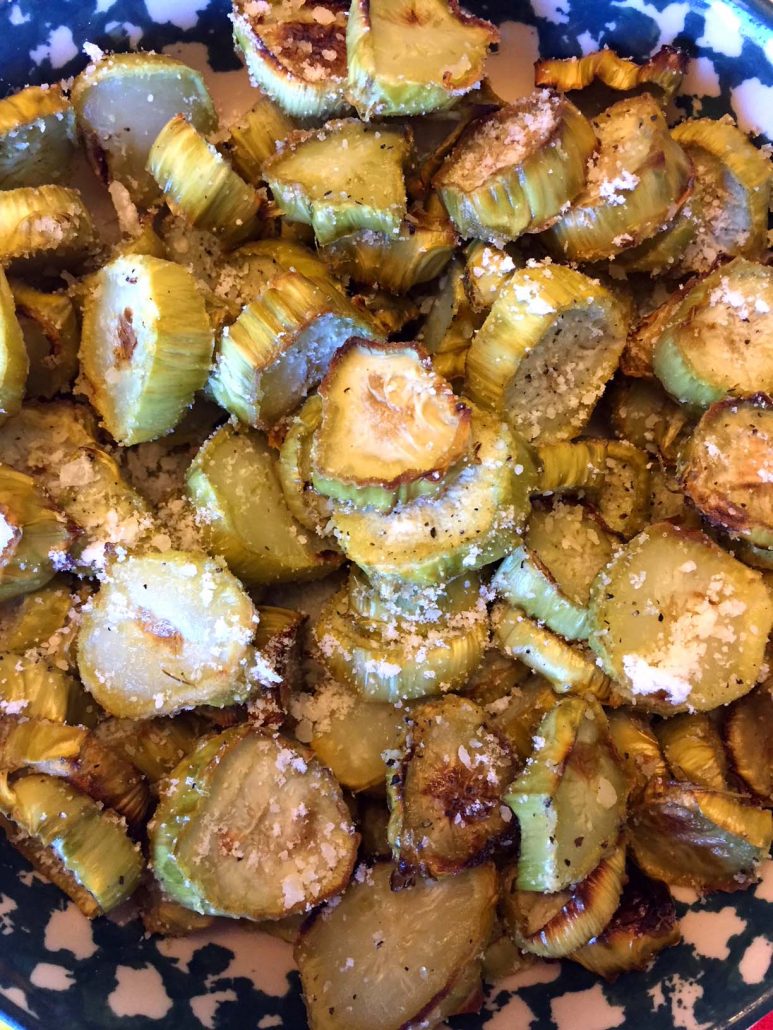 Roasted broccoli stems are so delicious and nutritious! When they are sliced into thin rounds and roasted, they kind of look like vegetable chips, so many people actually call them broccoli chips :) You can eat roasted broccoli chips as a healthy snack, as a side dish, or add it to other recipes such as stir-fries and casseroles. For more vegetable chips recipes, see homemade kale chips and zucchini chips recipe.
How To Make Roasted Broccoli Stems
To make roasted broccoli stems, first peel them with a vegetable peeler, then slice into thin rounds. Once you get to this point, roasts them the same way as roasted broccoli florets or any other roasted vegetables: toss in extra-virgin olive oil, put on a baking sheet in a single layer and bake in a 400F oven for about 35 minutes, or until soft and browned. The only difference is that baking time for broccoli stalks is longer than for broccoli florets. To see if the broccoli stems are done, just taste them – if they are soft enough to eat, they are ready!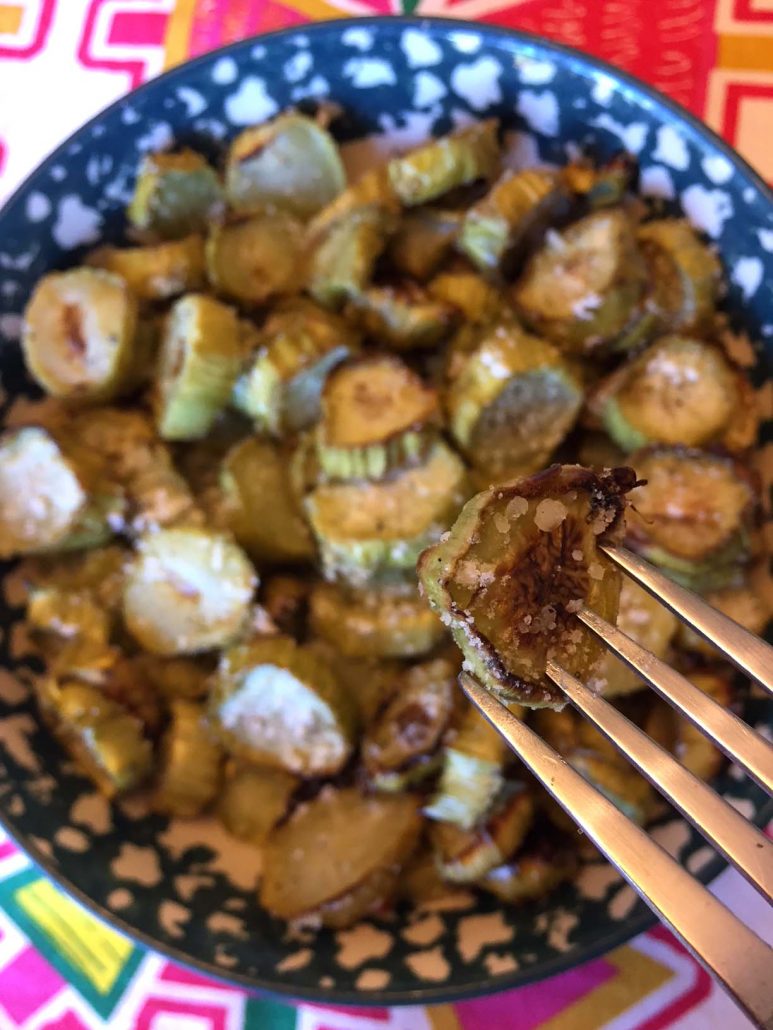 When you take them out of the oven, sprinkle them with your favorite seasonings and they are ready for you to eat. I love using garlic powder and Parmesan cheese on broccoli, they take it to the whole new level!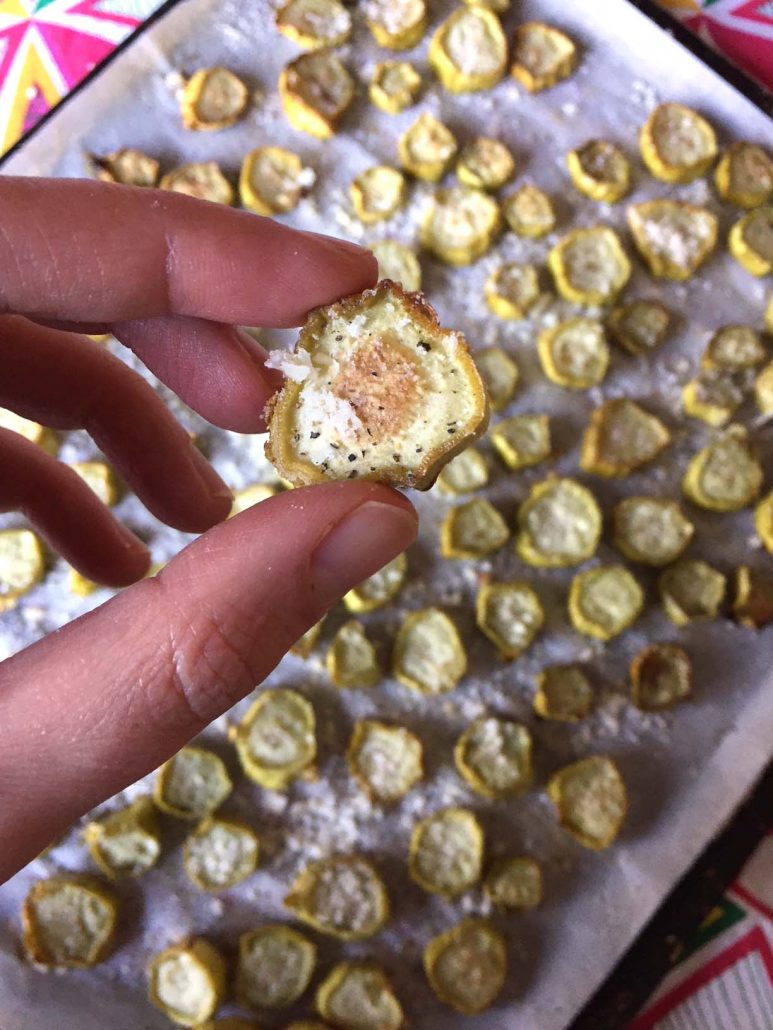 Click Here To Pin This Recipe
Roasted Broccoli Stems Recipe
Don't ever throw out the broccoli stems - they are delicious roasted! This amazing roasted broccoli stalks recipe is so easy to make, so healthy and tastes so good!
Ingredients
Broccoli stems

from 2 bunches broccoli

1

tbsp

extra-virgin olive oil
Salt

pepper and garlic powder to taste

Parmesan cheese for garnish

optional
Instructions
Preheat the oven to 400F. Line a baking sheet with parchment paper.

Peel the broccoli stalks with the vegetable peeler (just remove the tough outer layer of the broccoli stems).

Cut the broccoli stalks into 1/4-inch slices.

Toss the broccoli stem slices with olive oil, then put them on a baking sheet in a single layer.

Put the broccoli stem slices in the oven and bake for 35 minutes, or until soft and browned.

Remove roasted broccoli stalks from the oven and sprinkle with salt, pepper, garlic powder and Parmesan cheese to taste.
Save This Recipe
Save this for later on your social media:
Get Melanie's FREE Recipes In Your Inbox!
https://www.melaniecooks.com/wp-content/uploads/2017/10/broccoli_stems_roasted.jpg
1632
1224
Melanie Mendelson
https://www.melaniecooks.com/wp-content/uploads/2015/11/logo-new2.png
Melanie Mendelson
2017-11-07 09:09:05
2021-12-08 09:01:41
Roasted Broccoli Stems – How To Use Up Broccoli Stalks