Pickled Watermelon Rind Recipe
This post may contain affiliate links (disclosure).
STOP! Don't throw that watermelon rind away! You PAID for it! Follow this easy recipe, and make some crunchy, tasty, Pickled Watermelon Rind in no time flat!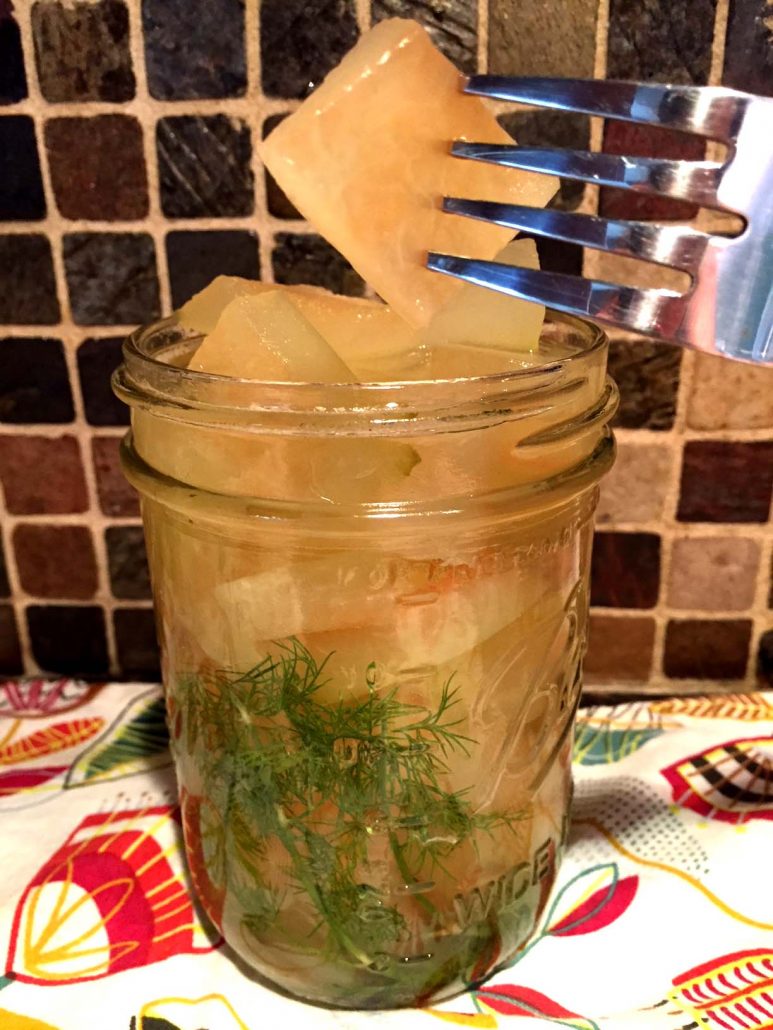 If you've been throwing out watermelon rind, you've been missing out on these amazing watermelon rind pickles! Turn trash into treasure and make something out of nothing :) This recipe is so easy and so delicious! I have several other recipes that turn kitchen scraps into something yummy – check out my food scraps recipes and you'll be amazed!
Pickled Watermelon Rind is a traditional dish, and a tasty one. It's a shame that so few people have sampled it — let alone tried to make it. Popular in the South, homemade pickled watermelon rind takes on a tart taste and a crunchy texture that's similar to pickled cucumbers. Recipes dating back to the Civil War have been found, but my recipe is sure a lot quicker and easier! (And it might even taste better!)
Traditional recipes for this dish are time consuming (in fact, the whole process can take several days). They also require canning procedures, which few people are equipped for these days. But now there's a much quicker way to prepare Pickled Watermelon Rind – just follow my simple recipe. It's perfect if you love pickles, don't have a lot of time to spend in the kitchen, and want to feel good about not wasting perfectly good food! It's almost like getting a jar of pickles for free!
After you've made a batch of Pickled Watermelon Rind, you'll ask yourself (just like I did) "Why have I never made these until now?" They are so good they are almost addictive. I love the idea of using a quick, simple pickling process to render something that's usually inedible into a delicious, tangy, and crunchy treat. And, one that's good for you, too!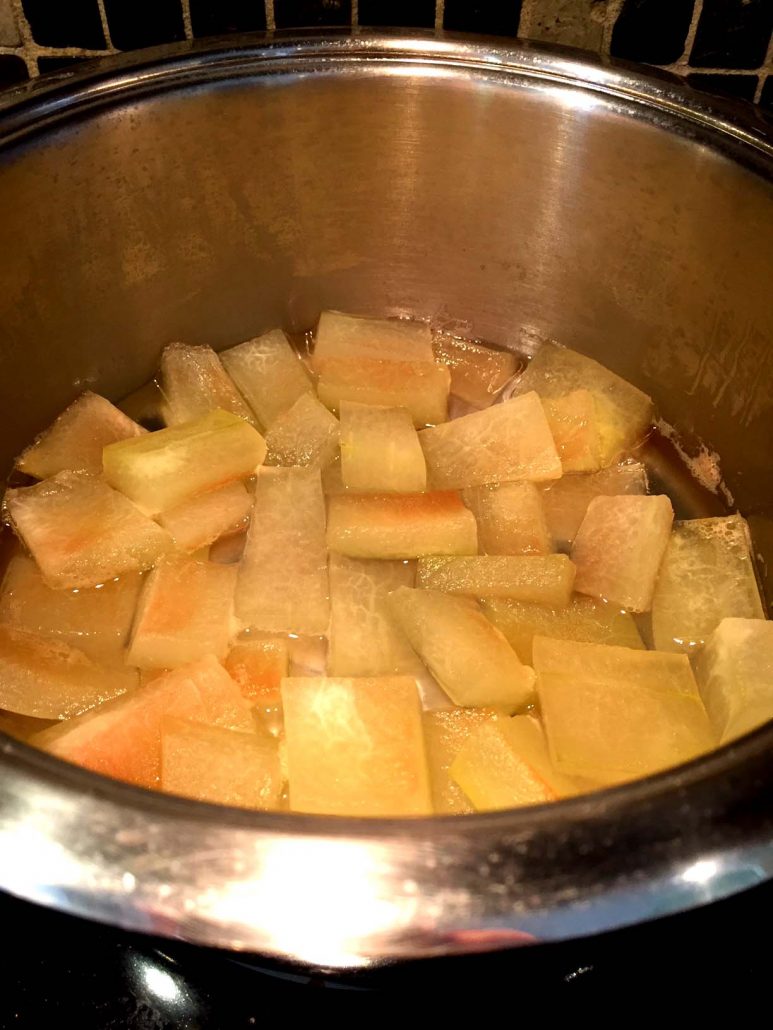 Pickled Watermelon Rind is high in vitamins B and C. Recent research also suggests that inside the rind are high amounts of citrulline, an amino acid that has many health benefits: it improves circulation, is vital to heart health, and helps with muscle soreness and low blood sugar. Plus, eating something you typically would have discarded cuts down on waste – good for the environment!
Tips: (1) Use a vegetable peeler to "peel" the watermelon. This is easier than using a knife. You don't have to peel all the way down to the white; a little green is fine, or even leaving a few wayward / missed slivers of nice green "peel." This adds a little hint of color as well. (2) For added color, you can leave a little of the red flesh on the rind, up to ¼ to ½ inch. (3) You can use plain white vinegar, rice wine vinegar or apple cider vinegar.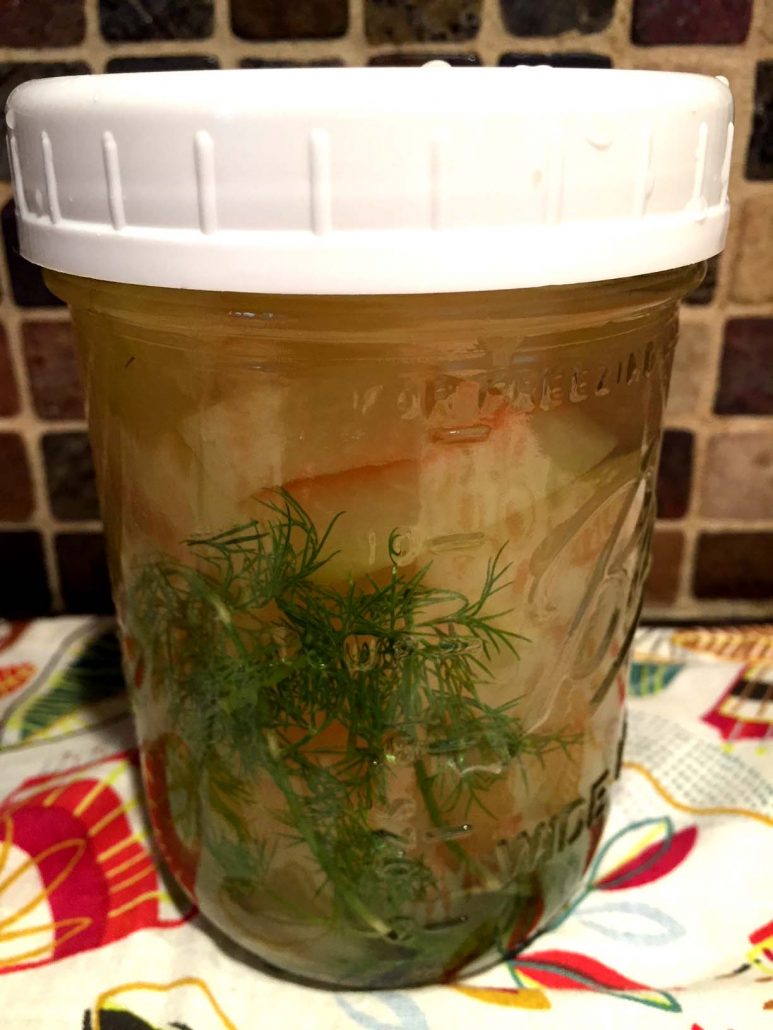 Pickled Watermelon Rind makes a great snack or side dish – try it with barbecue, grilled, or fried chicken. We also like it with smoked or pulled pork, or ham and biscuits. Serve it alongside Asian foods or with tacos. It's a versatile condiment that adds a really nice sweet, salty, vinegary bite to whatever it accompanies.
Pickled watermelon rind should last up to 2 weeks in the fridge, but chances are it will all be eaten well before then!
If you like pickled watermelon rind, you will also love these easy recipes:
Pickled Watermelon Slices – not just the rind, but the actual juicy red watermelon in the form of pickles. Wow!
Watermelon Jam – watermelon pickles in not the only "out of the box" use of watermelons :) How about watermelon jam? Yummmm!
Watermelon Popsicles – healthy treat without any added sugar! Kids and adults love these watermelon popsicles!
Watermelon Soup – yes, soup, Spanish gazpacho! This chilled watermelon soup is made in a blender with the addition of other fresh veggies and herbs and it's so refreshing!
Watermelon Feta Salad – such delicious combinations of sweet an savory! Red watermelon, white feta, green parsley – what a feast for your eyes and your stomach!
Click Here To Pin This Recipe
Pickled Watermelon Rind
These watermelon rind pickles are amazing! So crunchy and addictive! Once you try this recipe, you'll never throw out watermelon peels ever again!
Ingredients
4

cups

watermelon rind

cut into pieces, top skin layer removed

1 1/2

cups

water

1 1/2

cups

white vinegar

2

tbsp

sugar

1

tbsp

salt

1

bunch dill

optional
Recommended Kitchen Tools (click the links below to see the items used to make this recipe)
Instructions
Put watermelon rind, water, vinegar, sugar and salt in a pot and bring to a boil.

Reduce heat to simmer and cook for 15 minutes.

Add fresh dill to mason jars and put the watermelon rind and the cooking liquid in those jars.

Let cool and refrigerate.

Pickled watermelon rind will keep in a refrigerator for up to 2 weeks.
Save This Recipe
Save this for later on your social media:
Get Melanie's FREE Recipes In Your Inbox!
https://www.melaniecooks.com/wp-content/uploads/2018/09/pickled_watermelon_rind_best.jpg
1632
1224
Melanie Mendelson
https://www.melaniecooks.com/wp-content/uploads/2015/11/logo-new2.png
Melanie Mendelson
2018-09-25 09:58:03
2020-12-14 09:18:56
Pickled Watermelon Rind Recipe