Easy Homemade Refrigerator Garlic Dill Pickles Recipe
This post may contain affiliate links (disclosure).
These homemade garlic dill pickles produce an epic crunch! Just pour boiling salted water over the cucumbers, garlic and dill and the pickles are ready for crunching the next day!
You don't have to be living on the farm to make your own dill pickles :) Once you taste these crunchiest homemade garlic pickles, you'll totally be convinced that making your own pickles is so worth it!
This is the easiest dill pickle recipe ever! You don't need any special canning equipment or experience with the canning process, because we are not canning these pickles. We'll just make them and keep them in the refrigerator to be eaten :) These dill pickles can be kept in the refrigerator for several weeks, but I guarantee they won't last that long! They are super addictive and you'll crunch them all up in a day! Once you smell them, you'll just want to devour them all!
All you need to do to make these amazing crunchy garlic pickles is put the pickles in a glass jar together with pieces of garlic and dill weed, then pour salted water over them. Leave them on the counter for 12 hours and let the salted water do its magic. After that, the pickles are ready to be crunched!
Your pickles are as good as the cucumbers you use, so it's super important to select the right cucumbers. They have to be very small and hard, they are often found in ethnic supermarkets and are called "pickling cucumbers". If you can't find picking cucumbers, use Persian cucumbers – these small cucumbers are also found in ethnic stores and I've seen them quite often in large supermarkets. Just don't use those big soggy cucumbers with large seeds – they won't be crunchy! If you can't find pickling cucumbers or Persian cucumbers, the next best thing would be seedless English cucumbers (you'll just have to cut them into spears to fit in the jar).
The best dill to use for these pickles is the dill weed (the tall dill with the seed flower and thick stalks). These are sold in ethnic supermarkets. If you can't find dill weed, use regular bunch of fresh dill. And if your garlic turns purple, it's no big deal – it's just a chemical reaction with the salt and it's perfectly safe to eat :)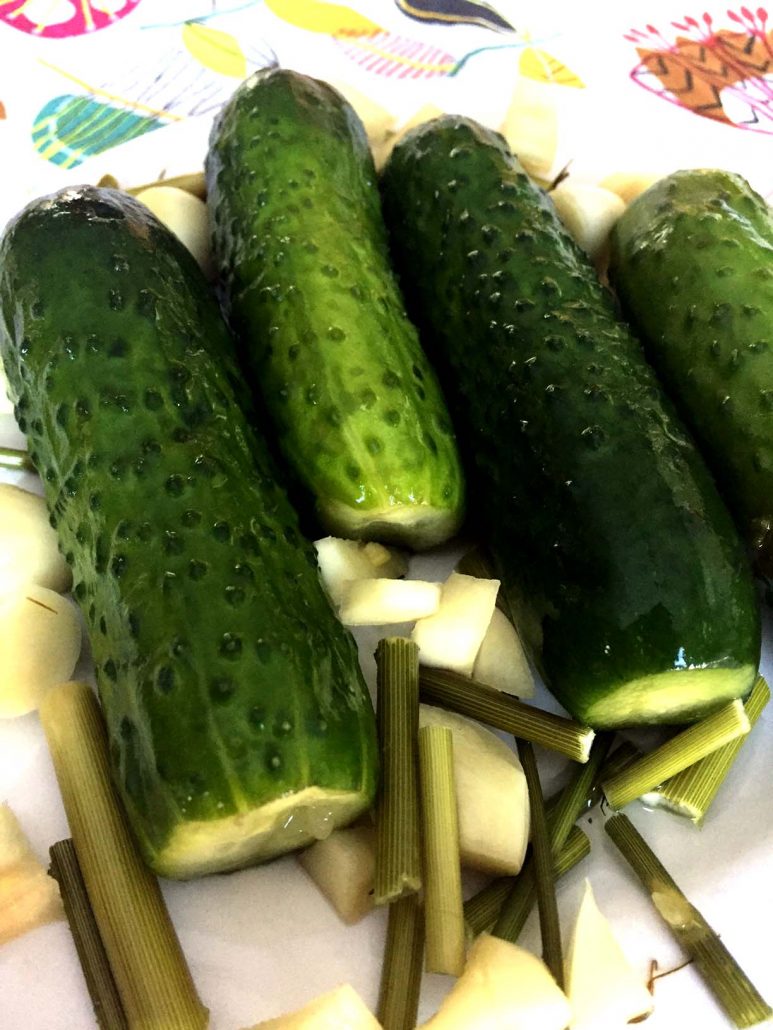 Click Here To Pin This Recipe
Easy Refrigerator Garlic Dill Pickles
These homemade garlic dill pickles are the crunchiest pickles ever! Super easy to make without any canning equipment! These pickles are so garlicky and the crunch is epic!
Ingredients
8

small cucumbers

pickling or Persian cucumbers - or as many as will fit in a jar

10

garlic cloves

cut in half

1

bunch dill weed

cut into 2-inch pieces

4

cups

boiling water

4

tsp

salt
Instructions
Prepare a quart-size glass jar with lid.

Cut the ends off the cucumbers and discard. This step is needed so the salt water permeates the cucumbers quickly.

Put approximately one-third of garlic pieces and dill on the bottom of the jar.

Put half of cucumbers in the jar.

Put half of the remaining garlic and dill on top of cucumbers.

Put the remaining cucumbers in the jar (stuff as many as can fit in the jar).

Add the remaining dill and garlic on top.

Add the salt to boiling water and stir to dissolve.

Pour just enough water in the jar to completely cover the cucumbers.

Close the jar with the lid.

Leave the jar on the counter for 12 hours.

Move the jar with pickles to the refrigerator. At this point, the pickles are ready to eat!
Save This Recipe
Save this for later on your social media:
Get Melanie's FREE Recipes In Your Inbox!
https://www.melaniecooks.com/wp-content/uploads/2017/03/pickles_homemade_crunchy.jpg
1632
1224
Melanie Mendelson
https://www.melaniecooks.com/wp-content/uploads/2015/11/logo-new2.png
Melanie Mendelson
2017-03-07 09:56:13
2021-12-08 09:08:57
Easy Homemade Refrigerator Garlic Dill Pickles Recipe