Easy Healthy Oven Roasted Broccoli Recipe
This post may contain affiliate links (disclosure).
Roasting is the best way of cooking broccoli ever! This delicious broccoli is tossed in olive oil and oven roasted to perfection – so healthy and tasty! Even broccoli haters will gobble it up!
Roasted broccoli is my favorite way of cooking broccoli – roasted broccoli really doesn't taste like a typical "health food". The roasting process brings out a deep delicious flavor out of any vegetable, but this phenomenon is especially pronounced with broccoli. After it comes out of the oven, roasted broccoli tastes so deep, so complex, so delicious. Once you try it, I know what you'll say – broccoli was always meant for roasting. Period.
In addition to the roasting process itself, I use another amazing flavoring on this broccoli – olive oil. Olive oil serves two purposes in this recipe – (1) to help the roasting process (2) to add delicious flavor. Tossing the broccoli in oil prior to putting it in the oven is what distinguishes baked cauliflower from roasted. No oil = baked, tossed in oil = roasted. It's as simple as that :)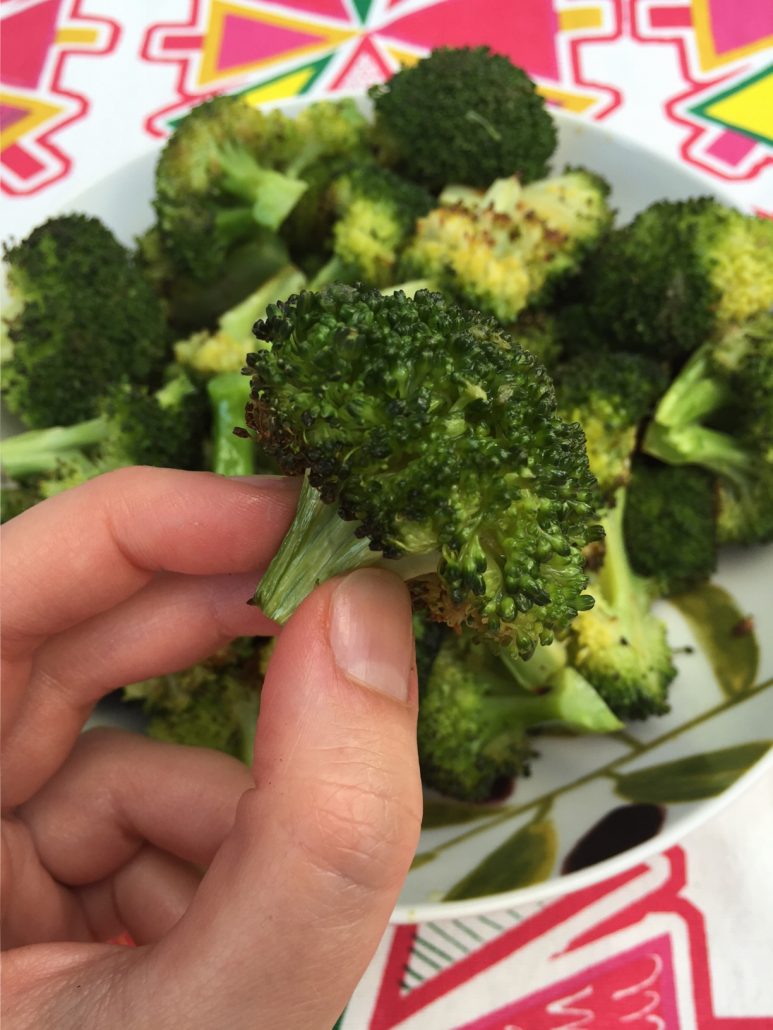 Believe it or not, olive oil also helps your body to absorb the vitamins in the broccoli! So not only broccoli tastes better when seasoned with olive oil, but it's also better for you this way :) Olive oil and broccoli taste amazing together, you'll love it!
In addition to olive oil, I season roasted broccoli with the simplest seasonings – salt and pepper. You can also sprinkle it with a little powdered garlic if you'd like – it's delicious with broccoli! Parmesan cheese goes really well with it too :)
When adding salt to roasted broccoli, always make sure you add the salt AFTER roasting, not before. Salt draws the water out of vegetables, so salting it before roasting would make the broccoli soggy. First roast, then salt – that's the rule I use for roasting any type of vegetables.
Roasted broccoli can be served either warm or cold, and keeps well for several days in the refrigerator. You can serve it as a simple side dish, eat it as a snack or add to salads. Whichever way you serve the roasted broccoli, it's delicious!
Click Here To Pin This Recipe
Easy Healthy Oven Roasted Broccoli Recipe
Roasting is the best way of cooking broccoli! Broccoli is tossed with olive oil, roasted in the oven and seasoned with salt and pepper - so healthy and tasty! Even those people who don't like broccoli will like this version!
Instructions
Preheat oven to 425F. Line the baking sheet with parchment paper.

Cut broccoli into florets. Put broccoli florets in a bowl and drizzle with olive oil. Mix everything with your hands so the broccoli is coated with oil.

Put the broccoli on a baking sheet. Put it in the oven and bake for 20 minutes.

Remove from the oven and sprinkle with salt and pepper.
Save This Recipe
Save this for later on your social media:
Get Melanie's FREE Recipes In Your Inbox!
https://www.melaniecooks.com/wp-content/uploads/2010/11/roasted_broccoli_recipe.jpg
1632
1224
Melanie Mendelson
https://www.melaniecooks.com/wp-content/uploads/2015/11/logo-new2.png
Melanie Mendelson
2010-11-03 19:11:07
2021-12-08 09:18:02
Easy Healthy Oven Roasted Broccoli Recipe