Sauteed Mushrooms And Onions Recipe
This post may contain affiliate links (disclosure).
These sauteed mushrooms and onions are so easy to make and so delicious! Mushrooms are really filling and so good for you!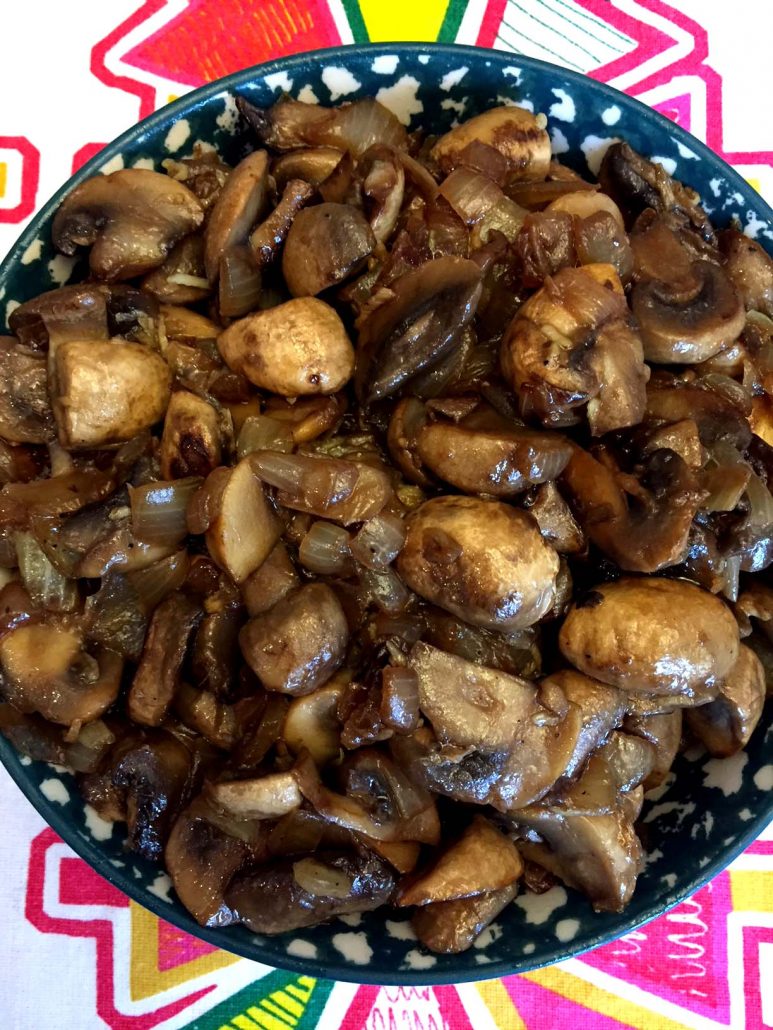 These sauteed mushrooms and onions are very versatile. They can be eaten as a healthy side dish, or can be turned into a main dish for a meatless dinner! You can also add them to stir-fries, pasta dishes or salads – the possibilities are endless!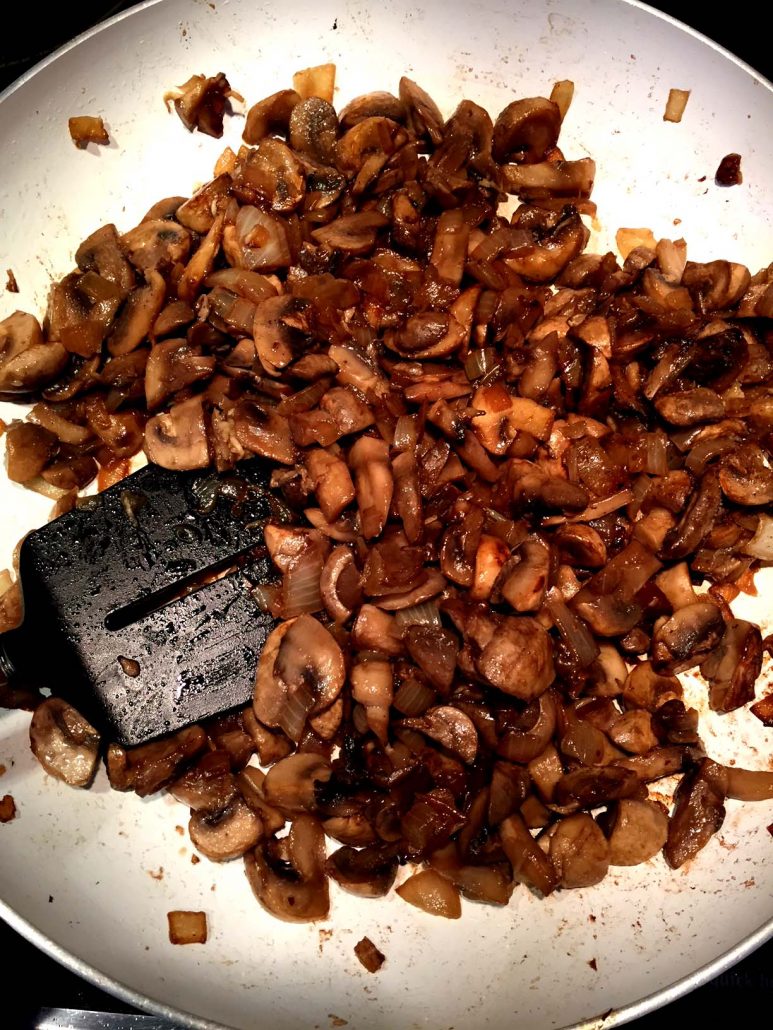 Mushrooms are extremely filling and can easily be used as a meat replacement. With all the protein and fiber in them, mushrooms can leave you feeling totally stuffed! You can serve these sauteed mushrooms and onions over rice or quinoa for a complete vegan lunch or dinner!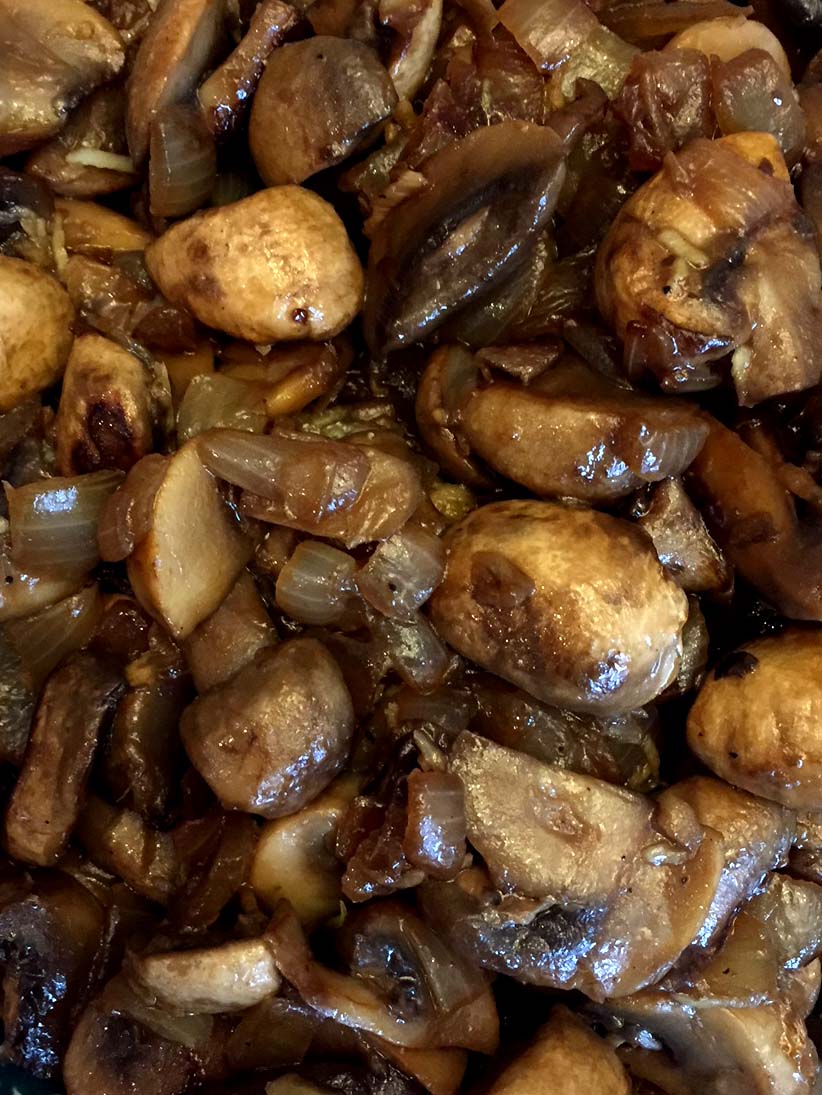 Making sauteed mushrooms and onions is super easy. Just pour a little oil on a frying pan, add sliced mushrooms and onions at the same time and cook, stirring occasionally, for 5 minutes. Season with salt and pepper and enjoy!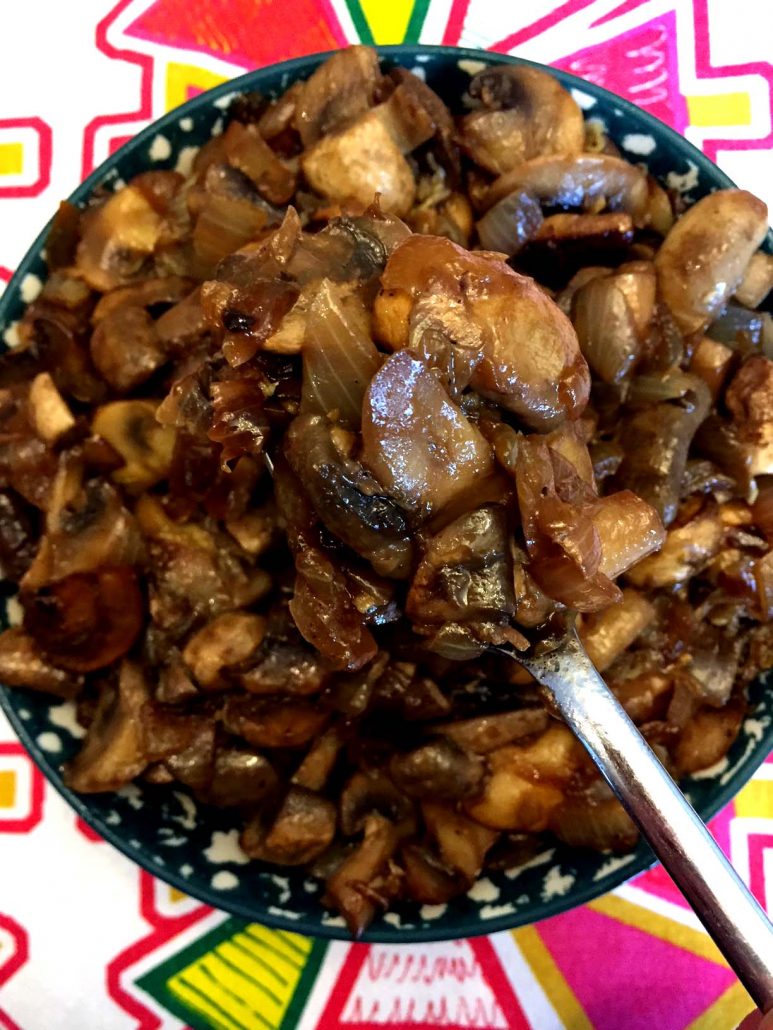 You can use any type of mushrooms for this recipe. On my pictures I used the most common simple white button mushrooms. You can also use portobello mushrooms, shiitake mushrooms or any other mushrooms you have on hand. Just wash the mushrooms, cut into pieces and they are good to go to be pan-fried with onions and a little oil!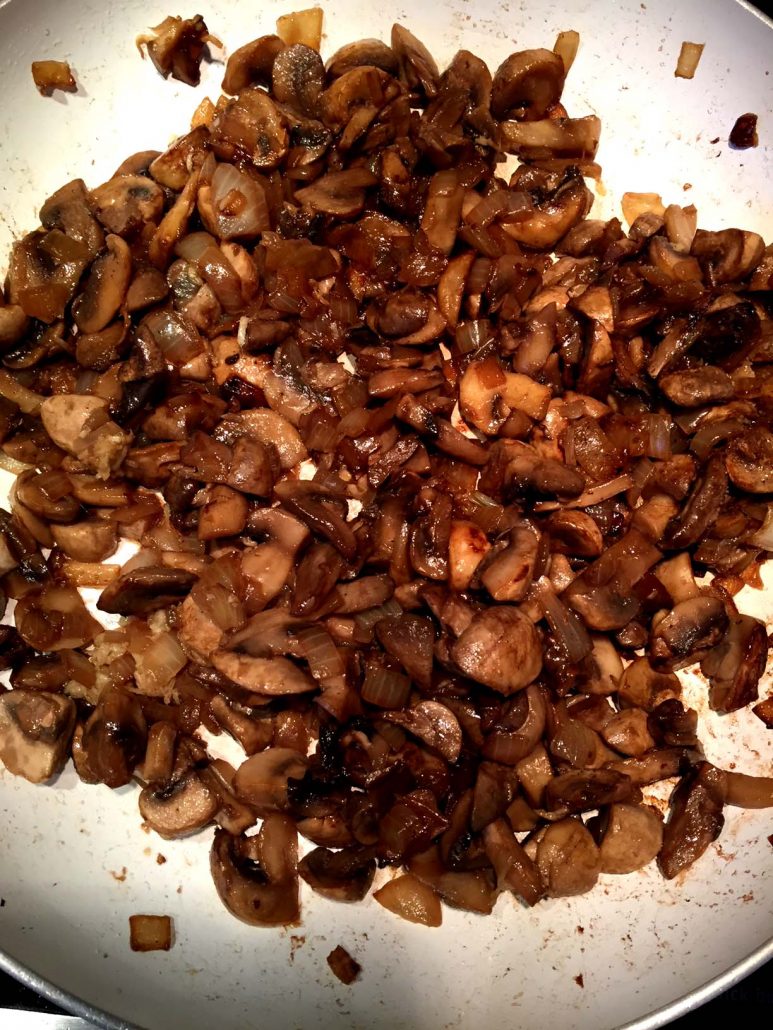 When buying white button mushrooms, I avoid the pre-sliced ones and buy them whole. I find packaged pre-sliced mushrooms to be mushy and spoiled most of the time, even if they are before their expiration date. Once the mushroom is sliced, it goes bad really quickly, and sitting on the store shelf for days (or weeks) doesn't help!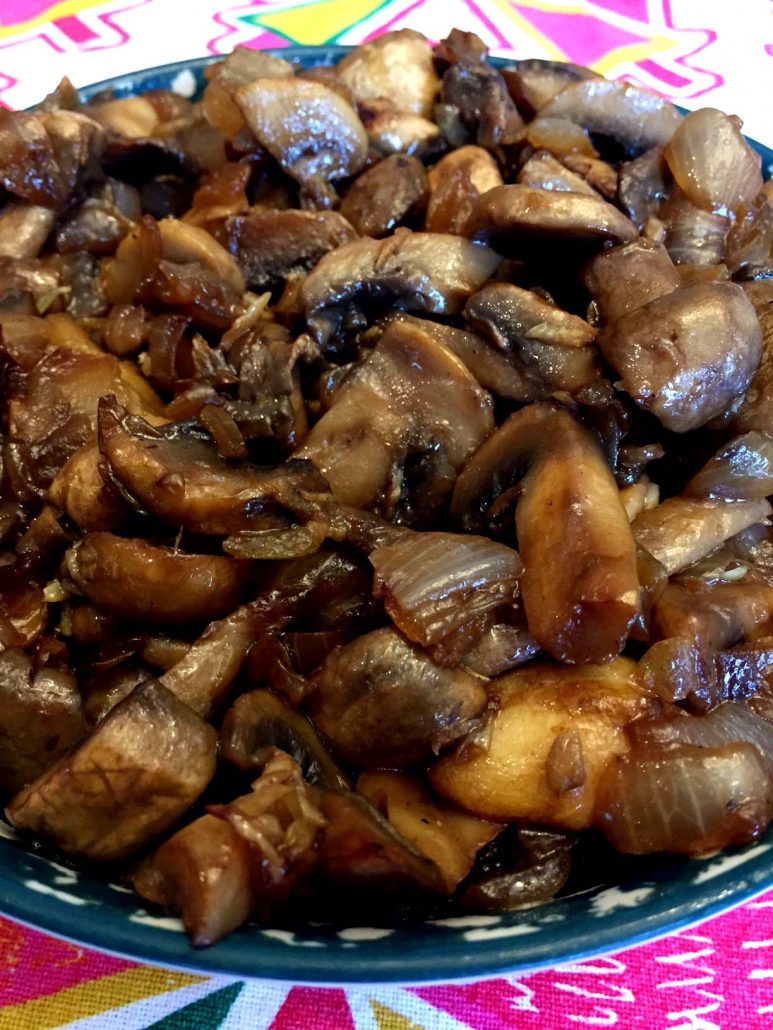 Since mushrooms are so soft, slicing them is really easy and takes less then a minute. The only real work is to wash them, as whole mushrooms usually have dirt on them. I just put mushrooms in a colander and wash them under cold running water. Once the mushrooms are clean, I just cut them into pieces. If the mushrooms still have roots attached, cut off the root and discard. Do not discard the stems! The stems are edible. Just chop up the mushrooms, both caps and stems, and fry them to make them soft, browned and yummy!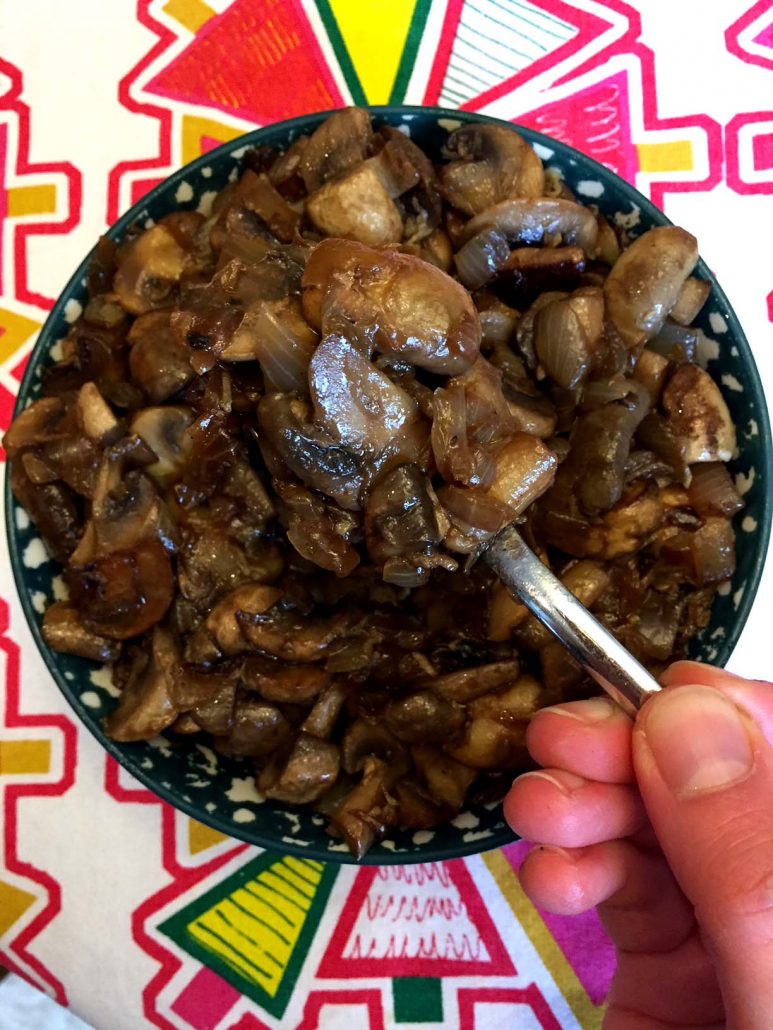 If you like these sauteed mushrooms and onions, you will love these other easy recipes:
Best Ever Stuffed Mushrooms – so easy to make and so delicious! This stuffed mushrooms appetizer is a hit at every party!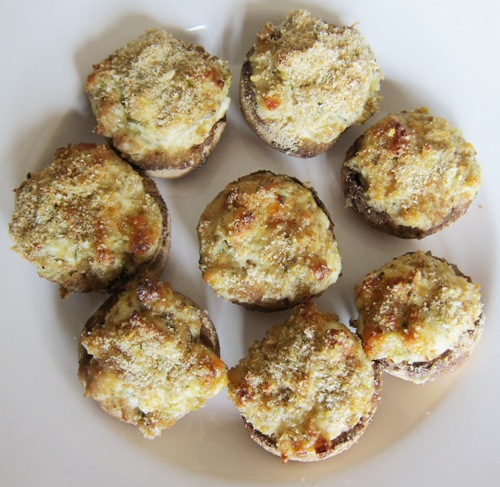 Portobello Mushroom Pizza – use the giant portobello mushroom cap as a pizza crust for carbless pizza! So clever!
Sauteed Peppers And Onions – taste just like Chipotle! I like to make a huge batch of these and eat throughout the week!
Simple Beans And Onions – made from scratch pinto beans are cooked with onions, so delicious!
Tomato, Cucumber and Avocado Salad – so colorful, fresh, healthy and delicious!
Click Here To Pin This Recipe
Sauteed Mushrooms And Onions Recipe
These sauteed mushrooms and onions taste amazing! So easy to make - just pan-fry mushrooms and onions together in a little oil and season with salt and pepper. You'll love these mushrooms!
Instructions
Heat the oil in a large non-stick frying pan over medium-high heat.

Add mushroom and onion slices to the frying pan. Cook, stirring occasionally, for 5 minutes, or until tender, browned and cooked through.

Seasoned sauteed mushrooms and onions with salt and pepper to taste.
Save This Recipe
Save this for later on your social media:
Get Melanie's FREE Recipes In Your Inbox!
https://www.melaniecooks.com/wp-content/uploads/2018/01/fried_mushrooms_recipe.jpg
1632
1224
Melanie Mendelson
https://www.melaniecooks.com/wp-content/uploads/2015/11/logo-new2.png
Melanie Mendelson
2018-02-04 07:02:27
2021-12-08 07:53:15
Sauteed Mushrooms And Onions Recipe