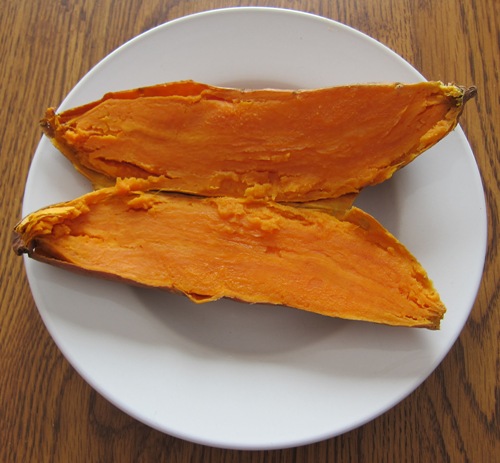 Did you know that you can cook sweet potatoes in a microwave? If you have sweet potatoes in your pantry, keep in mind that you always have an instant side dish – microwaved sweet potato! Microwaved sweet potatoes have great taste and texture similar to a baked sweet potato – they are soft, sweet and piping hot, and they are ready to eat in 5 minutes. Split the microwaved sweet potato in half, top it with some butter and sprinkle with brown sugar – yum!
Microwaving a sweet potato is really easy – all you need to do is pierce the sweet potato with a fork, wrap it in a paper towel and microwave on High for 5 minutes. This microwave baked sweet potato recipe is a true find for a busy cook!
Recipe: How To Cook Sweet Potatoes In A Microwave
Cooking time: 5 minutes
Instructions For Microwaving A Sweet Potato
Prick the sweet potato with a fork. These little holes will allow the steam to escape while the potato is cooking – this is done to prevent the sweet potato from exploding and making a mess in your microwave :)
Wrap the sweet potato in a paper towel.
Put the wrapped sweet potato in a microwave and cook for 5 minutes.
Let the sweet potato stand for 2 minutes, as it will be extremely hot.
Carefully remove cooked sweet potato from the microwave and unwrap from the paper towel.
Cut the sweet potato in half and serve.
You can microwave more than one sweet potato at a time – just add 4 minutes for each additional potato. For example, to cook two sweet potatoes will take 9 minutes and three sweet potatoes will take 13 minutes.
Microwaved sweet potatoes can be topped with butter, brown sugar, maple syrup and apple sauce – any of these toppings go really well with sweet potatoes and enhance their taste. Sweet potatoes are usually pretty big, so one potato can be enough for two people as a side dish – each person gets one half of the big sweet potato.
Here are some pictures of microwaving a sweet potato –
Start with the unpeeled sweet potato:

Pierce the sweet potato skin with a fork, then wrap the sweet potato in a paper towel:

Put the sweet potato in a microwave and cook for 5 minutes:
Enjoy this super easy and tasty microwave baked sweet potato recipe! For more microwave recipes, check out microwave baked potato recipe and how to cook corn in a microwave.
To make other yummy things to cook with sweet potatoes, check out how to make mashed sweet potatoes, how to make sweet potato shepherd's pie and how to make stuffed sweet potato.
Save this for later on your social media:
Get Melanie's FREE Recipes In Your Inbox!
https://www.melaniecooks.com/wp-content/uploads/2013/02/microwaved-sweet-potato-yam4.jpg
463
500
Melanie Mendelson
https://www.melaniecooks.com/wp-content/uploads/2015/11/logo-new2.png
Melanie Mendelson
2013-03-01 06:05:24
2018-03-09 12:41:21
How To Cook Sweet Potatoes In A Microwave