How To Cook Rice In A Microwave
This post may contain affiliate links (disclosure).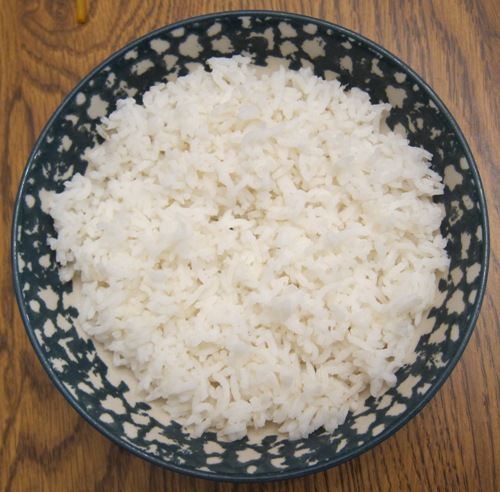 Did you know that you can cook rice in a microwave? If you don't own a rice cooker, but want an easy way of cooking rice, use your microwave!
Cooking rice in a microwave is easier than cooking it the traditional way in the pot on the stove. When you use the microwave, you don't need to watch the pot and worry about burning and sticking! You will no longer have to deal with the rice sticking to the bottom of the pot! You also don't need to take the rice out of the microwave right away – if you leave it there, nothing will happen – unlike leaving the pot of rice on the stove burner :)
Recipe: How To Cook Rice In A Microwave
Ingredients
1 cup white rice
2 cups water
1/8 tsp salt
Instructions
Put the rice in a microwave-safe bowl (use a medium-size bowl – don't use the bowl that's too small – you don't want the water to overflow when it boils).
Add water and salt to the rice.
Put the bowl in a microwave and microwave on High for 5 minutes.
Loosely cover the bowl (you can use a lid or plastic wrap). Don't cover it tight – you need an opening to allow steam to escape.
Microwave on Low for 15 minutes.
Remove the rice from the microwave and fluff with a fork.
That's all there is to cooking rice in a microwave! If you are normally cooking rice on the stove, try the microwave method and you'll never go back to using the stove for cooking rice.
Also see: how to cook rice in a rice cooker.
Save this for later on your social media:
Get Melanie's FREE Recipes In Your Inbox!
https://www.melaniecooks.com/wp-content/uploads/2012/11/cook-rice-in-microwave.jpg
492
500
Melanie Mendelson
https://www.melaniecooks.com/wp-content/uploads/2015/11/logo-new2.png
Melanie Mendelson
2012-12-07 07:12:35
2012-11-23 13:32:18
How To Cook Rice In A Microwave