How To Cook Collard Greens The Healthy Way
This post may contain affiliate links (disclosure).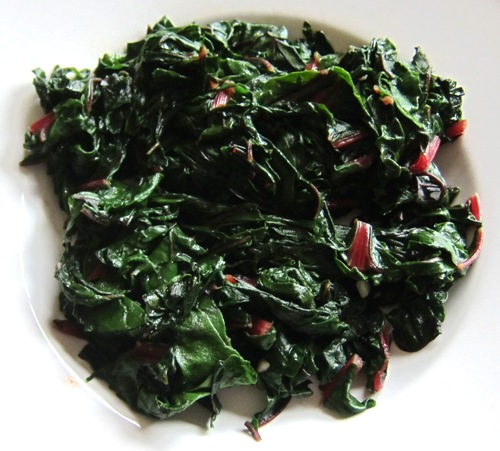 All traditional collard green recipes advise boiling collard greens in a pot of water. Boiling collard greens reduces their health benefits – most of the vitamins and nutrients end up in a water that turns green and gets drained away. In addition, many classic collard green recipes add bacon or ham to collard greens after boiling them – and that certainly turns healthy collard greens into something unhealthy.
To cook collard greens the healthy way, do not boil them – just saute them in a pan. This way, no nutrients are lost during cooking. And of course, don't add the bacon!
In this healthy collard greens recipe, the collard greens are cooked in a frying pan with olive oil and garlic. This recipe is very easy – no messy boiling to deal with!
Recipe: How To Cook Collard Greens The Healthy Way
Cooking time: 15 minute(s)
Ingredients
1 bunch collard greens, rinsed and sliced
2 garlic cloves, minced
1 tbsp olive oil
Instructions
Heat the oil in a non-stick frying pan over medium-high heat.
Put the collard greens on a frying pan and stir. Reduce heat to medium. Cook, stirring periodically, for 4 minutes or until the collard greens are wilted.
Reduce heat to the lowest setting and cover. Cook for 5 minutes. Stir and cover again. Cook for another 5 minutes.
Add minced garlic and stir. Cook for 1 minute.
Remove collard greens from heat and stir.
Save this for later on your social media:
Get Melanie's FREE Recipes In Your Inbox!
https://www.melaniecooks.com/wp-content/uploads/2012/06/collard-greens.jpg
451
500
Melanie Mendelson
https://www.melaniecooks.com/wp-content/uploads/2015/11/logo-new2.png
Melanie Mendelson
2012-07-14 10:34:37
2019-10-24 07:23:06
How To Cook Collard Greens The Healthy Way