This is a sponsored post written by me on behalf of Breyers. All opinions are 100% mine.

Creamy cold ice cream, warm sticky roasted figs, crunchy toasted hazelnuts – you have found a dessert euphoria! This better-than-restaurant dessert is made in 10 minutes from start to finish – and will disappear in less than 60 seconds!
Last week I took my 3 kids to a local ice cream shop and ended up spending a whopping $14 on their ice cream – that's quite a lot of money for a little treat! However, yesterday I got the whole tub of Breyers ice cream that costs $3.99 and is enough to feed 10! I love Breyers ice cream – it tastes so smooth, so creamy, so delicious – even better than the one in an ice cream shop! We just had an awesome ice cream feast in our own backyard – so fun! Avoiding the crowds, saving money and enjoying the yummy cold ice cream on a hot summer day is a surefire way to put me in a fantastic mood!
Breyers is celebrating its 150th birthday this year! Breyers was founded in Philadelphia in 1866 when William A. Breyer hand-cranked his first gallon of ice cream, which featured fresh fruits and nuts, and sold it to his neighbors. Quality ice cream that people love – that's a timeless favorite that is going strong for centuries! To celebrate this amazing milestone birthday, Breyers has partnered with celebrity chef Curtis Stone and his wife, actress Lindsay Price Stone, to create 12 recipes featuring Breyers Natural Vanilla ice cream. The recipes are inspired by every month of the year, to give families a way to celebrate birthdays and special occasions with Breyers all year long.
I was super excited to try out the Spice Roasted Figs with Hazelnuts and Vanilla Ice Cream recipe, featuring Breyers Natural Vanilla ice cream – yum! Breyers Natural Vanilla is made with fresh cream, milk and sugar – that's why it tastes so awesome! Breyers only sources milk and cream from cows not treated with artificial growth hormones*, and all Breyers vanilla is real and from sustainably farmed, Rainforest Alliance Certified™ vanilla beans! No wonder why Breyers Natural Vanilla is America's number 1 vanilla ice cream!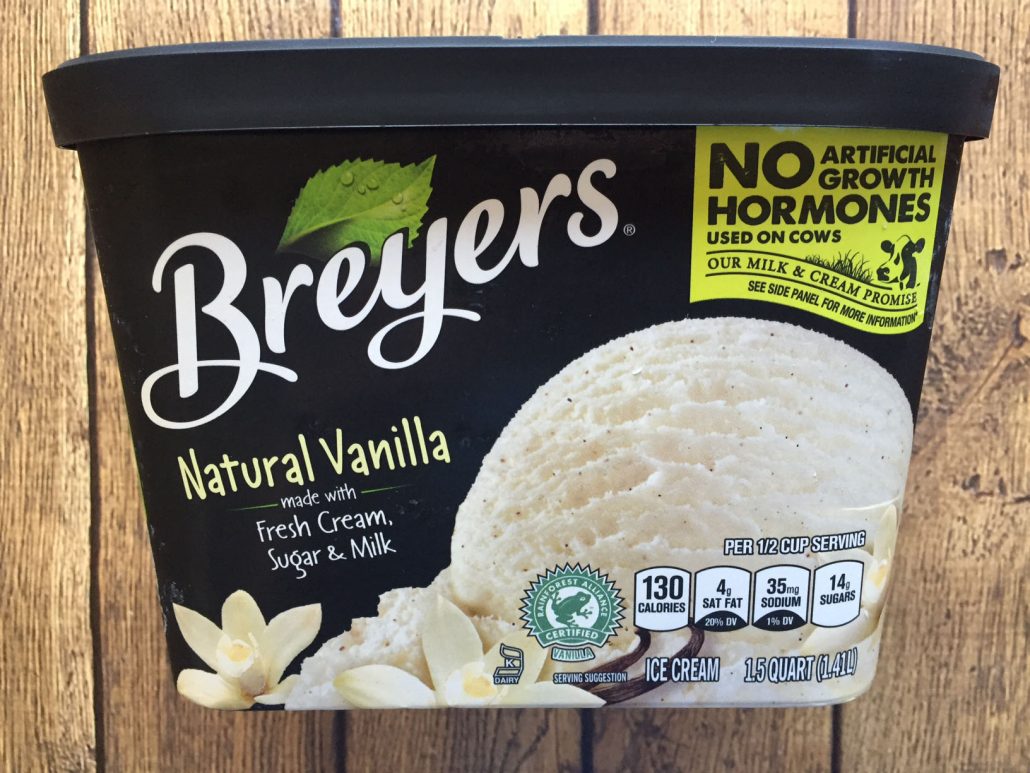 The season for fresh figs is very short, but when you see them in the store and are wondering what to do with them, just remember – they are amazing roasted over ice cream! Roasting figs is very easy and takes less than 5 minutes! All you need to do is cut the figs in half, dip in a sugar and spice mixture, and broil for 4 minutes – and you'll get caramelized spiced figs, yum!
Here are the freshly roasted figs, straight out of the oven:
You can make these roasted figs ahead if you'd like and refrigerate them. When ready to serve, just warm the roasted figs in a microwave! This dessert is impressive enough to serve to company, everyone will think you are a fancy chef!
The recipe calls for blanched hazelnuts – blanched means skinless. Blanched hazelnuts are often available at the store under the name "White Hazelnuts" – they are white because their skin is removed :) To peel hazelnuts yourself, toast them in pre-heated 350F oven for 15 minutes, then remove them, put them in a dish towel and rub together – the skins will come right off. Or you can just serve them with a skin on – either way, they are delicious!
If your hazelnuts aren't toasted already, you can toast them alongside the figs – the figs will go on the top shelf under the broiler, while the hazelnuts can go on the bottom shelf on a baking sheet – they'll be ready in 4 minutes, just like the figs!
Ice Cream Dessert Recipe With Roasted Figs And Hazelnuts
Warm roasted figs are amazing served over ice cream! Add the hazelnut crunch, and this ice cream dessert is simply perfect!
Author:
Melanie Mendelson
Ingredients
2 tbs. sugar
½ tsp ground cinnamon
½ tsp ground ginger
⅛ tsp ground cloves
8 ripe fresh figs
1⅓ cups Breyers® Natural Vanilla Ice Cream
¼ cup blanched hazelnuts, toasted, coarsely chopped
Instructions
Position broiler rack 6 inches from heat source and preheat broiler. Line a large baking sheet with aluminum foil.
Mix sugar and spices in a small bowl. Dip figs one at a time, cut side down, in a sugar and spice mixture to coat. Then dip the figs a second time in sugar and spice mixture. Put dipped figs on a baking sheet cut side up, and distribute evenly so the figs are not touching. Put the figs in the oven. Broil figs, watching closely, for about 4 minutes, or until sugar melts and begins to caramelize and figs soften slightly and begin to ooze their juice.
Divide roasted figs among 4 bowls. Spoon ⅓ cup of Breyers® Natural Vanilla Ice Cream into each bowl and sprinkle with hazelnuts.
*Disclaimer: Suppliers of other ingredients such as cookies, candies & sauces may not be able to make this pledge. The FDA states that no significant difference has been shown between dairy derived from rBST-treated and non-rBST treated cows.
Breyers On Facebook | Breyers On Pinterest | Breyers On Twitter
https://www.melaniecooks.com/wp-content/uploads/2016/07/icecream-figs-hazelnuts.jpg
1632
1224
Melanie Mendelson
https://www.melaniecooks.com/wp-content/uploads/2015/11/logo-new2.png
Melanie Mendelson
2016-08-12 09:25:55
2018-09-04 13:08:31
Easy Ice Cream Dessert Recipe With Warm Roasted Figs And Hazelnuts