Easy Cinnamon Roll Cake Recipe
This post may contain affiliate links (disclosure).
This mouthwatering cinnamon roll cake smells and tastes amazing! Get the taste of a bakery-style cinnamon roll in a quick and easy cake recipe!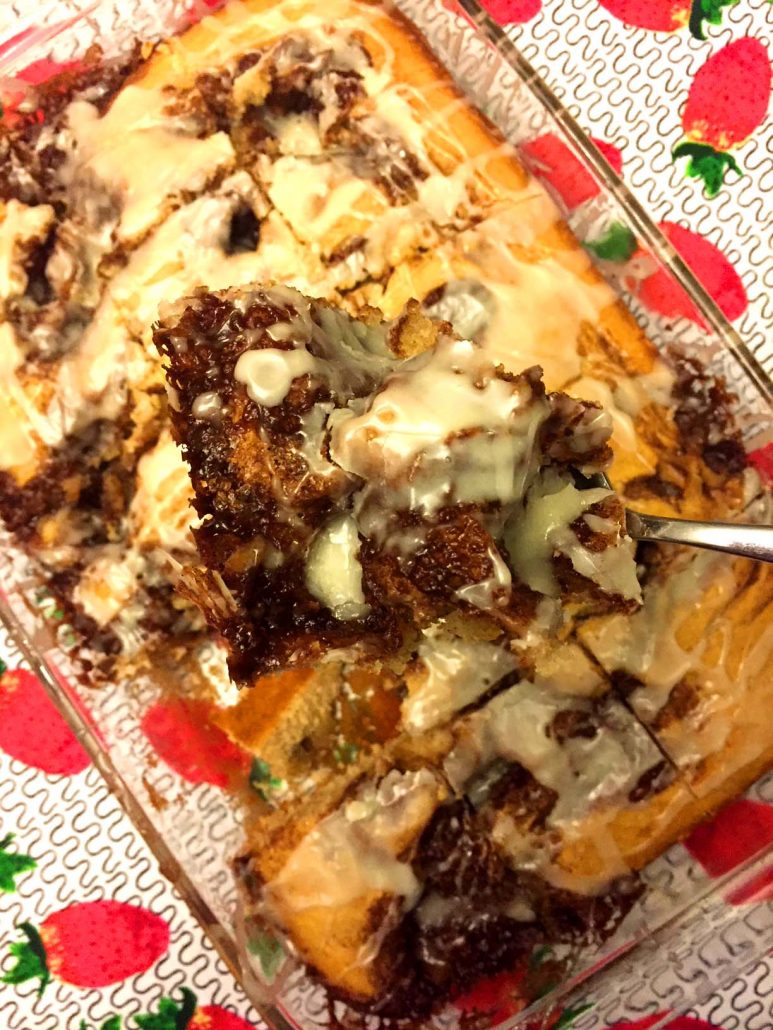 Do you love cinnamon rolls as much as I do? If you are a cinnamon lover, you will go crazy for this easy cinnamon roll cake!
If you ever made classic yeast cinnamon rolls, you know that they are pretty labor-intensive. You have to knead the dough, wait for it to rise for hours, shape the dough into rolls, wait for them to rise again and then bake the cinnamon rolls and glaze them. So what do you do if you have a craving for a good homemade cinnamon roll but don't have the time to dedicate to making the yeast dough? Make this quick and easy cinnamon roll cake!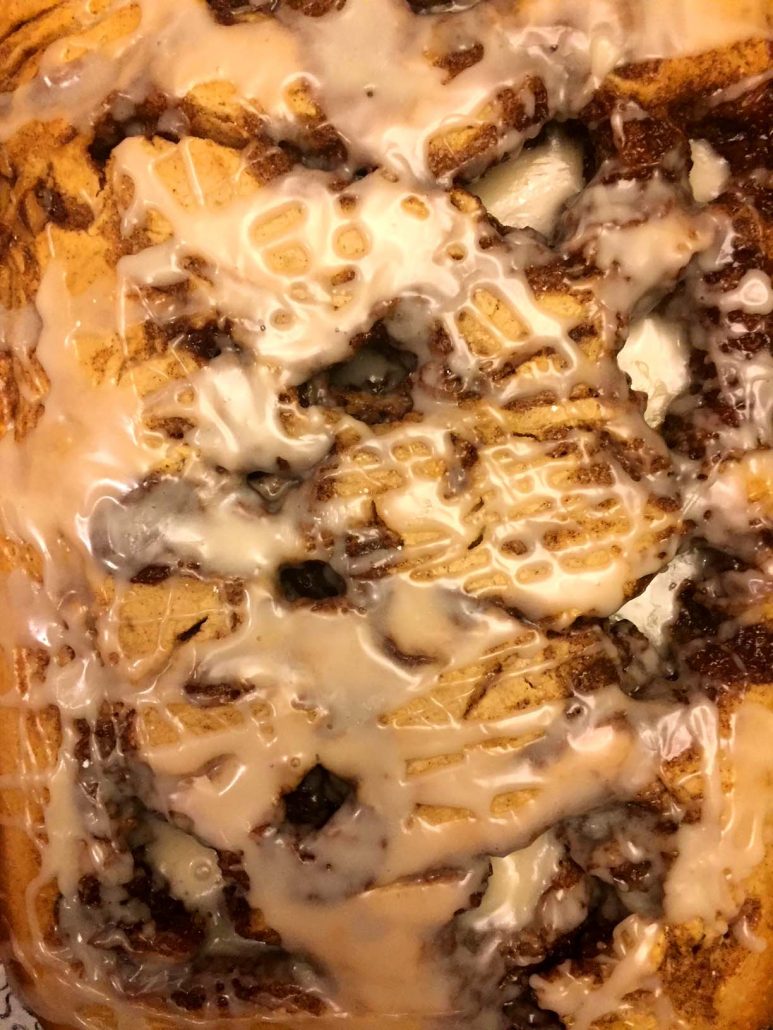 By the way, I also have a shortcut for classic cinnamon rolls – use a bread machine to make the dough! If you own a bread machine, check out my bread machine cinnamon rolls recipe.
This cinnamon roll cake has amazing cinnamon sugar swirls and white glaze, just like traditional cinnamon rolls! It is baked in a cake pan then cut into individual cinnamon roll squares! Grab a piece and enjoy the intense cinnamon sugar taste in your mouth!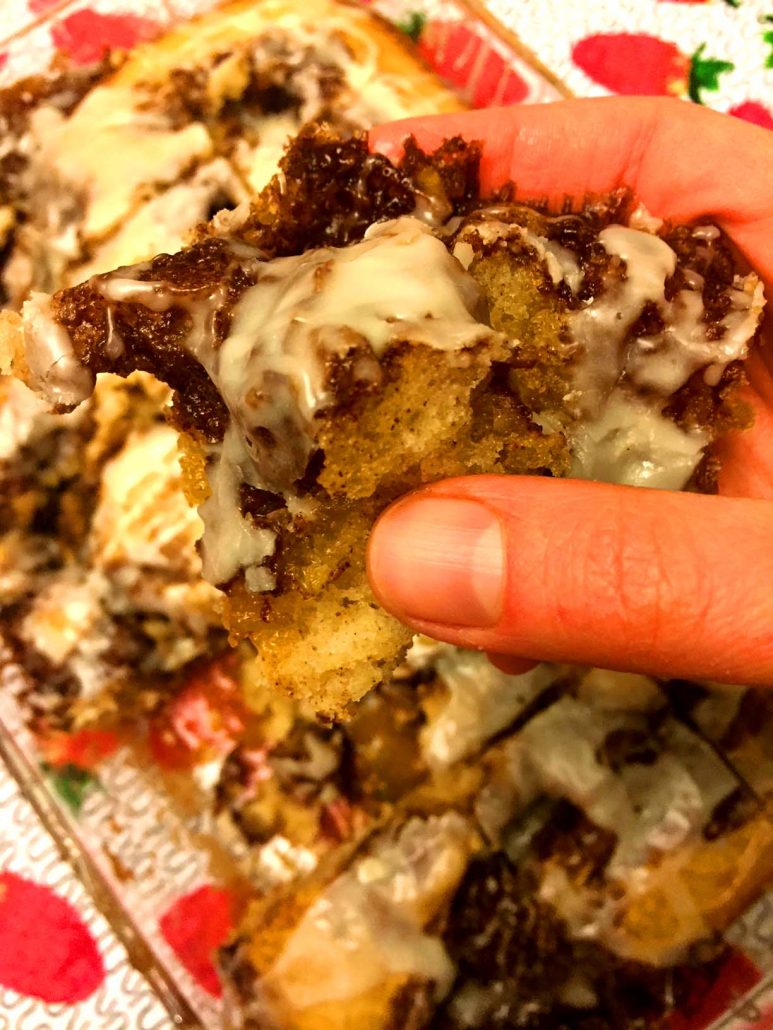 This recipe makes a huge 9×13 cinnamon roll cake and it disappears immediately! Everyone loves cinnamon rolls!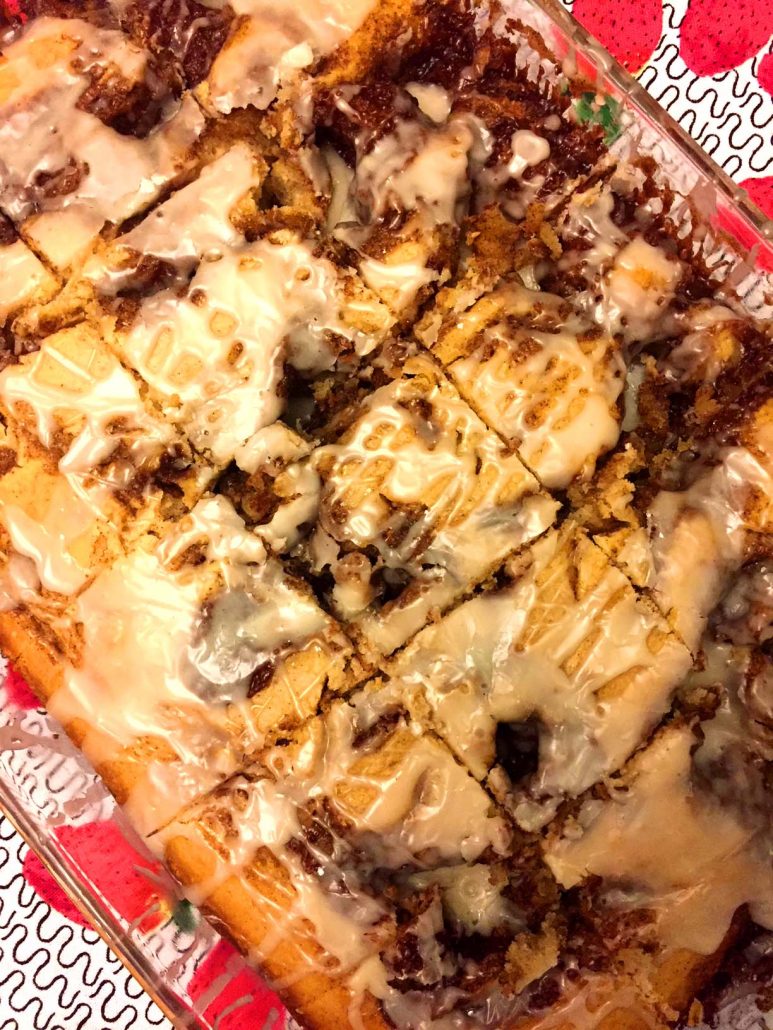 How To Make Cinnamon Roll Cake
The cinnamon roll cake recipe consists of 3 parts: (1) cake itself (2) cinnamon swirls topping (3) icing.
Step 1: Make the cake batter
The cinnamon cake is an easy one-bowl recipe – just mix the flour, sugar, salt, cinnamon, baking powder, milk, eggs, butter and vanilla in own bowl and pour into a greased rectangular 9×13 inch baking pan.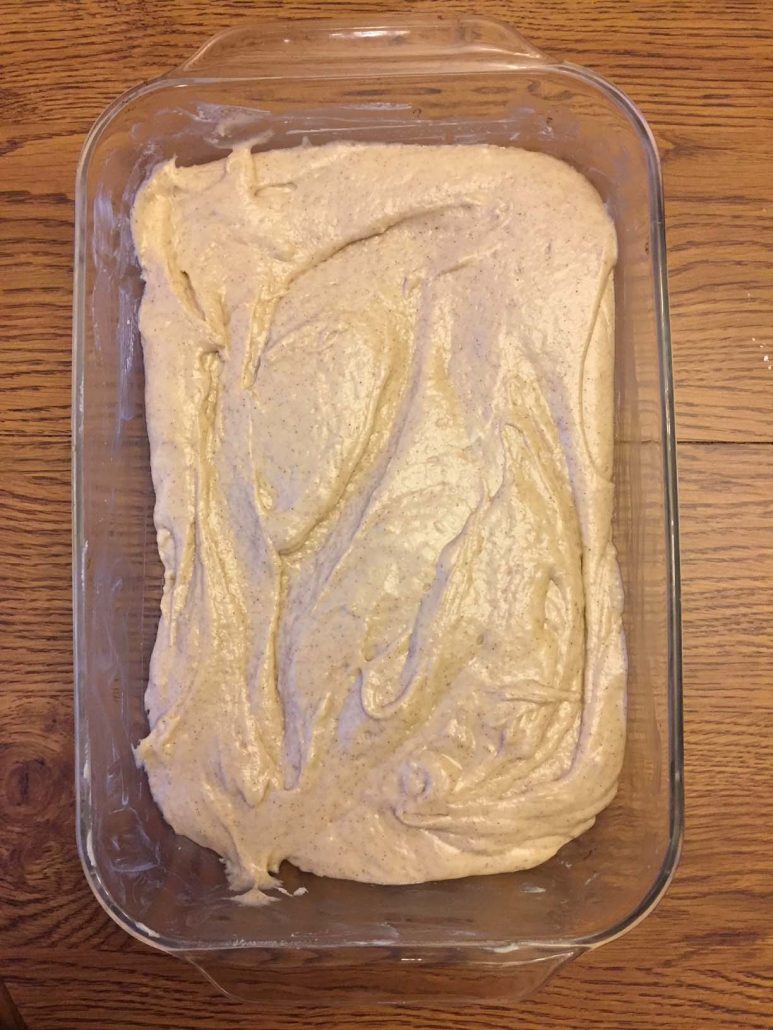 Step 2: Make the cinnamon swirls topping batter
Mix butter, cinnamon, brown sugar and flour in a bowl to make the cinnamon swirl topping.
Step 3: Drop the cinnamon topping on the cake
Using a tablespoon, drop the topping on the cake.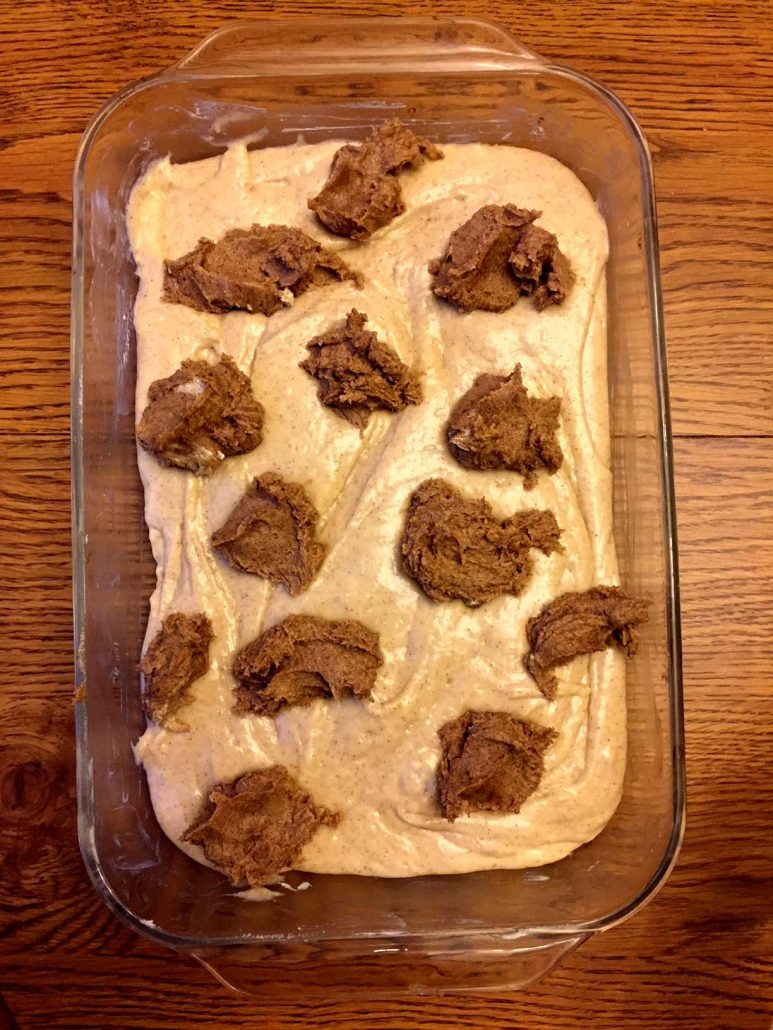 Step 4: Swirl the cinnamon topping
Using a knife, swirl the cinnamon topping throughout the cake batter.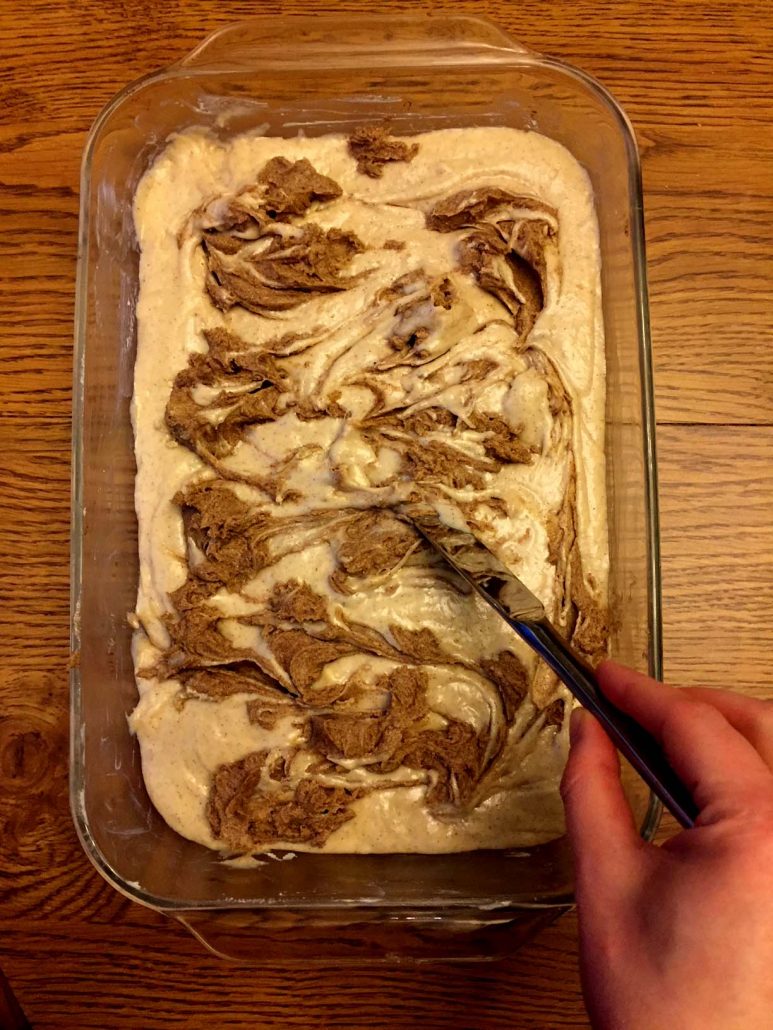 Step 5: Bake the cake
Bake the cinnamon roll cake for 40 minutes at 350F.
Step 6: Make the glaze
While the cake is baking, make the glaze by mixing powdered sugar with milk and vanilla.
Step 7: Glaze the cake
Pour the glaze on a cinnamon roll cake, while it's still hot and fresh out of the oven.
If you like cinnamon roll cake, you will also love these other easy and delicious recipes:
Apple Cinnamon Bread – this sweet bread has real apple pieces and a huge burst of cinnamon flavor! Apples and cinnamon go so well together!
Cinnamon Raisin Bread For The Bread Machine – amazing bakery-style cinnamon raisin bread recipe!
Cinnamon Rolls Bread Machine Recipe – homemade cinnamon rolls, they smell and taste so good!
Amish Baked Oatmeal – all cinnamon lovers will appreciate an extra teaspoon of cinnamon added!
Baked Cinnamon French Toast – mmmm, this baked french toast casserole looks so impressive and tastes amazing!
Click Here To Pin This Recipe
Easy Cinnamon Roll Cake Recipe
This cinnamon roll cake is amazing! Taste like a moist cinnamon roll, so full of flavor! Super easy to make, satisfy your cinnamon roll craving today!
Instructions
Preheat the oven to 350F. Spray a 9x13 inch baking dish with cooking spray.
Make the cake batter
Put the eggs, milk, vanilla, melted butter and sugar in a bowl and mix until combined. Add the flour, salt, cinnamon and baking powder and mix until combined. Pour the batter into the baking dish.
Make the topping
Put butter, brown sugar, flour and cinnamon in a bowl and mix until combined.
Add the topping to cake
Drop the topping evenly on top of the cake batter by a tablespoon. Use a knife to swirl the topping throughout the cake.
Bake the cake
Put the cinnamon roll cake in the oven and bake for 40 minutes.
Glaze the cake
Mix the powdered sugar, milk and vanilla to make the glaze. Drizzle the glaze over the warm cinnamon roll cake.
Save This Recipe
Save this for later on your social media:
Get Melanie's FREE Recipes In Your Inbox!
https://www.melaniecooks.com/wp-content/uploads/2018/02/cinnamon_roll_cake_recipe_best.jpg
1632
1224
Melanie Mendelson
https://www.melaniecooks.com/wp-content/uploads/2015/11/logo-new2.png
Melanie Mendelson
2018-02-16 07:16:56
2021-12-08 07:52:41
Easy Cinnamon Roll Cake Recipe