Perfect Oven Roasted Baked Cornish Hens Recipe
This post may contain affiliate links (disclosure).
These oven roasted Cornish hens are so festive and delicious! Perfect crispy spiced golden-brown skin and juicy succulent meat – this is the only recipe for Cornish game hens you'll ever need!
Cornish game hens are miniature chickens that are perfect for entertaining! There is something about these little game hens that makes them look so much more impressive than the plain regular roast chicken :) Especially when the Cornish hens are perfectly roasted and browned, everybody's mouth will water when they see them on a platter, so delicious!
Baking Cornish hens in the oven is really easy. All you need to do to make perfectly roasted Cornish hens is rub them with melted butter and spices and bake in the oven for 1 hour at 400F – doesn't get easier than that!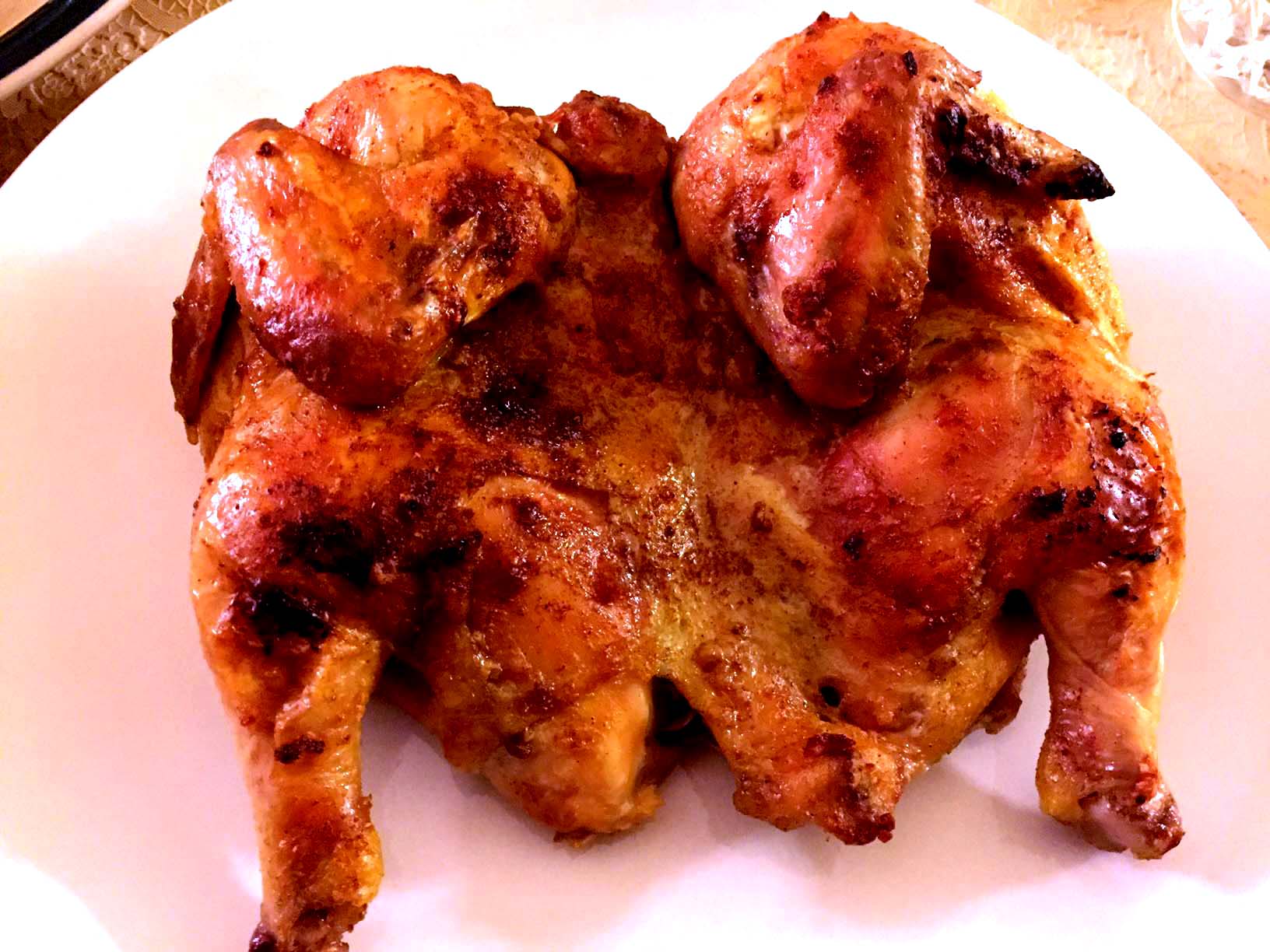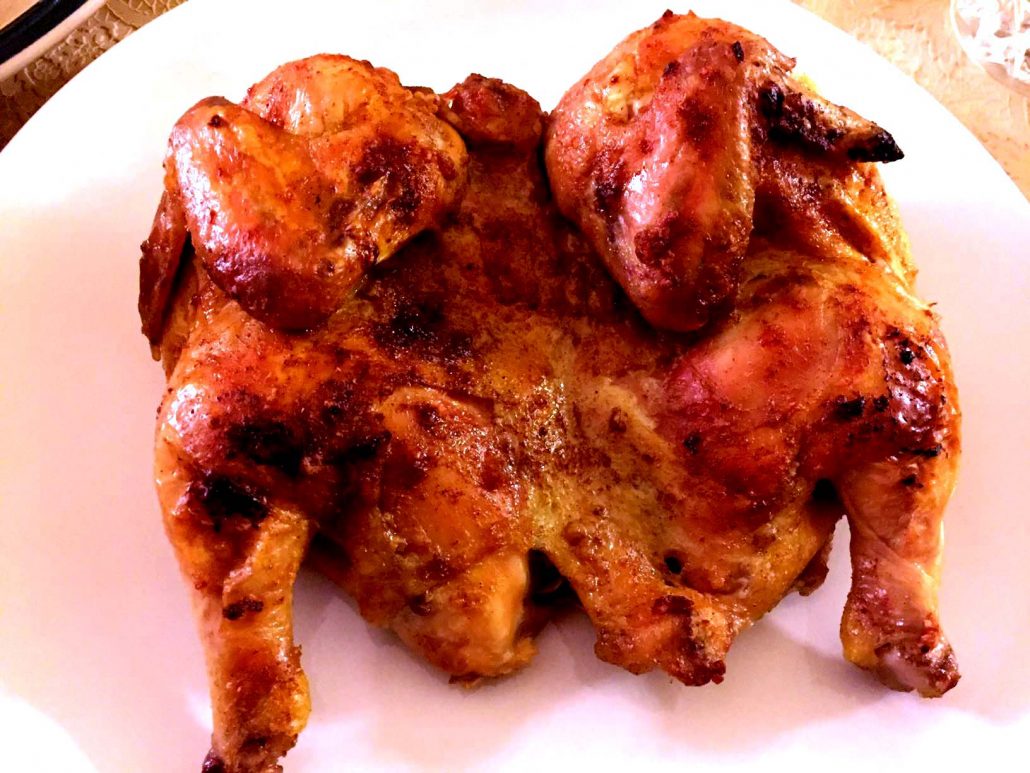 There are many recipes for baked Cornish hens that make things much more complicated then they need to be. For example, they require you to change the oven temperature throughout the baking process or make you constantly baste the birds with their juices. Basting is way too much work – having to open the oven, take out the Cornish hens, baste them, put them back in – that defeats the whole purpose of the oven being the lazy cooking method. If I'm baking something in the oven, I don't want to have to deal with it until it's completely cooked and ready to come out for good!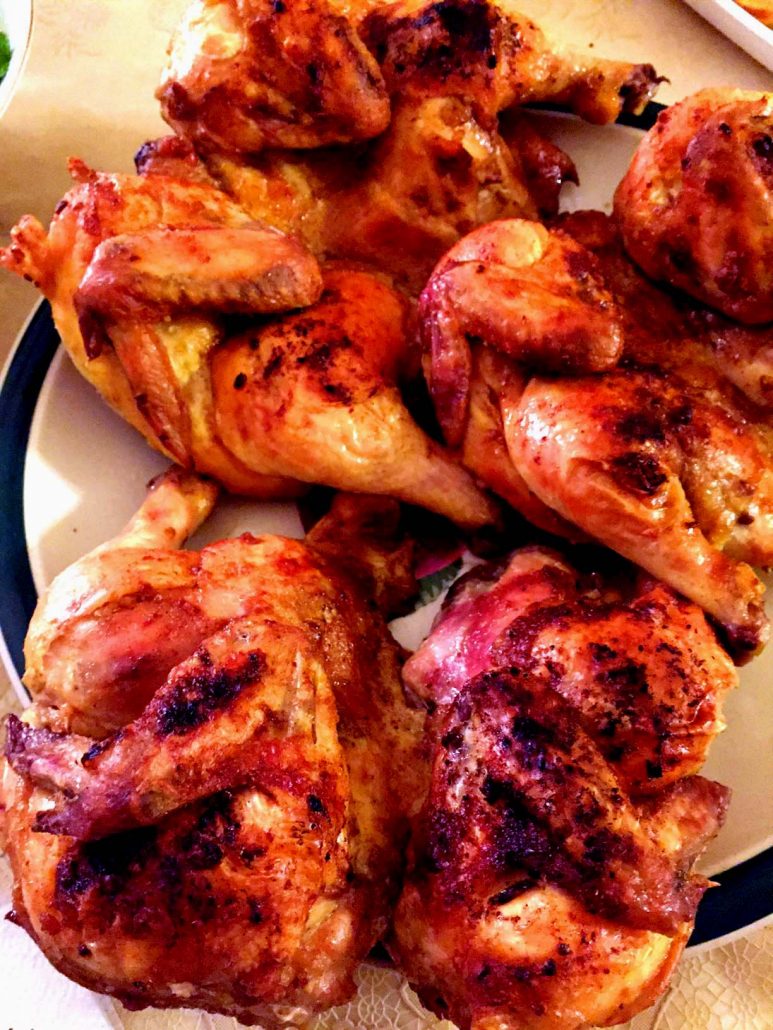 A great news is that this roasted Cornish hens recipe doesn't require basting or messing with the oven in any way. Just put the Cornish hens in the oven, set the timer for 1 hour and then when the timer beeps you'll take out perfectly crispy browned juicy birds! By the way, I also have a really easy roast turkey recipe that doesn't require basting and makes a perfect turkey every time with virtually zero effort – check out my perfect roasted turkey recipe.
How can you get away without basting the Cornish hens? Easy – just rub them with melted butter before putting them in the oven! Melted butter keeps them moist and also makes the skin brown beautifully!
Another thing that makes these oven roasted Cornish hens so amazing is the homemade spice mix. The Cornish hens are rubbed with a mixture of Italian herbs, garlic powder, onion powder, paprika, salt and pepper. There is something about homemade spice mixes that makes them so much more flavorful that ready-made! For another awesome spice mix recipe, check out my homemade taco seasoning recipe – once you try it, you'll never want to use store-bought!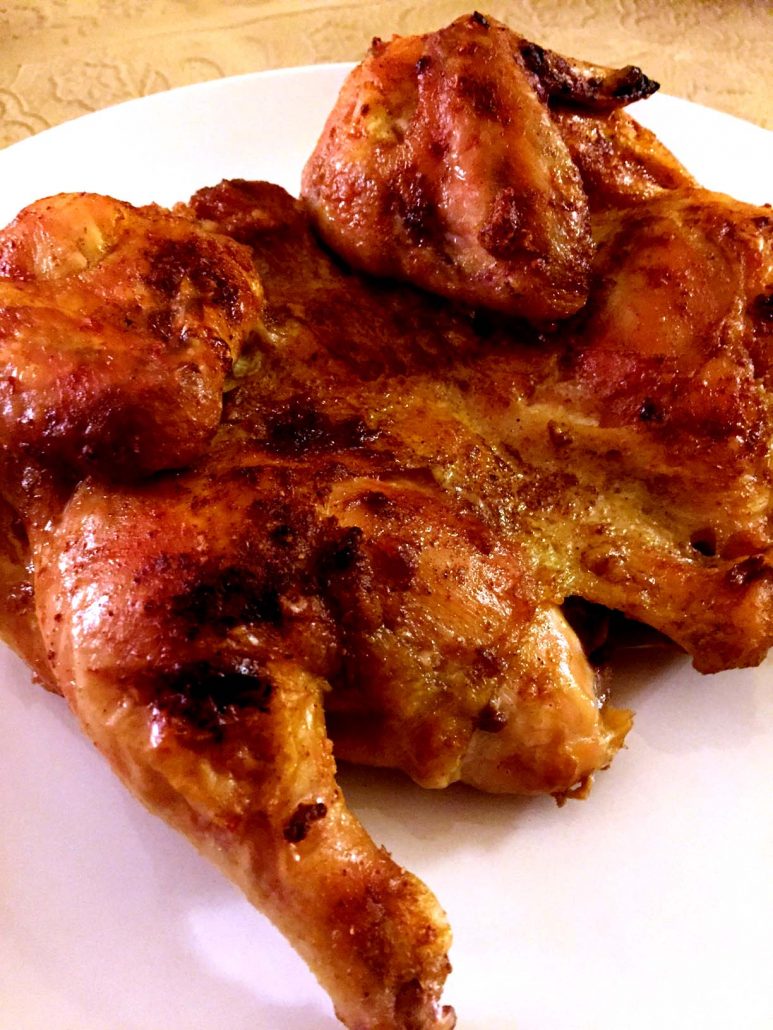 If you like these easy roasted Cornish hens recipe, you will also love these recipes:
Cranberry Roasted Brussels Sprouts – my favorite way of cooking brussels sprouts, these make a perfect side dish to go with Cornish hens!
Two Roasted Chickens – how to roast two chicken with potatoes at the same time, can use Cornish hens in that recipe instead of chickens!
Rainbow Roasted Vegetables – a platter of colorful roasted vegetables, their presentation is amazing, can roast at the same time as Cornish hens!
Best Ever Roasted Potatoes – the crispiest roasted potatoes, so golden brown and simply perfect!
Pomegranate Fruit Salad – so festive and colorful, perfect for any holiday gatherings!
Click Here To Pin This Recipe
Perfect Baked Cornish Hens Recipe
These amazing Cornish hens are rubbed with spices then baked in the oven to perfection! Their skin is so golden brown and crispy and the meat is so juicy! This is the only Cornish hens recipe you'll ever need!
Instructions
Preheat the oven to 400F. Line a baking sheet or pan with parchment paper or foil.

Make a spice mix - put salt, black pepper, garlic powder, onion powder, Italian herbs seasoning and paprika in a cup and mix until combined.

Rub the melted butter all over the Cornish hens.

Sprinkle the Cornish hens with the spice mix and rub it all over the Cornish hens so it's evenly distributed.

Put the Cornish hens on the baking sheet breast side up.

Put the Cornish hens in the oven and bake for 1 hour.
Save This Recipe
Save this for later on your social media:
Get Melanie's FREE Recipes In Your Inbox!
https://www.melaniecooks.com/wp-content/uploads/2017/12/cornish_hens_recipe.jpg
1224
1632
Melanie Mendelson
https://www.melaniecooks.com/wp-content/uploads/2015/11/logo-new2.png
Melanie Mendelson
2018-01-09 07:07:32
2021-12-08 07:54:38
Perfect Oven Roasted Baked Cornish Hens Recipe