Calling all Nutella lovers! This homemade Chocolate Hazelnut Spread tastes amazing and is actually good for you! This healthy Nutella alternative recipe is raw, all-natural, gluten-free, dairy-free, vegan and free from refined sugar – a delicious addition to your healthy diet!
How could something so delicious also be good for you? This homemade Nutella-like Chocolate Hazelnut spread is made with just 4 ingredients – hazelnuts, cocoa powder, oil and maple syrup. This amazing superfood is full of vitamins and antioxidants – and the taste that rivals the store-bought Nutella from the can!
If you have gone completely sugar-free and don't consume even natural sugars like honey and maple syrup, don't worry – you can still have this homemade Nutella version with a very easy substitution. Simply substitute the maple syrup with liquid Stevia and increase the amount of oil by 2 tbsp, making this Nutella-inspired Chocolate Hazelnut spread completely sugar-free!
Unlike store-bought Nutella that includes cow's milk, this homemade version is completely dairy-free and vegan. So if you are on a vegan diet and miss Nutella, you must make this homemade vegan Nutella-like spread – you'll love it!
This all-natural goodness is creamy, spreadable and smooth – mouthwatering! Just eat it the same way you eat Nutella – spread it on toast, waffles, pancakes, use in dessert recipes, dip fruits in it, or just eat it with a spoon :)
Another great feature of this homemade healthy Chocolate Hazelnut spread is that it actually makes you full! When I eat store-bought Nutella for breakfast by spreading it on toast, I'm hungry an hour later. When I spread the homemade version of Nutella on toast for breakfast, I'm full until lunch! This is because the first (main) ingredient of the store-bought Nutella is sugar :) Here's the store-bought Nutella ingredient list: sugar, vegetable oil, hazelnuts (13%), cocoa powder (7.4%), non-fat milk solids, emulsifier (soy lecithin), flavour (vanillin). Yes, hazelnuts compose only 13% of the product :) My healthy homemade Nutella version is mostly hazelnuts (LOTS of protein that actually makes you full), flavored with cocoa powder, maple syrup and a little oil – so yummy and healthy!
How To Make Homemade Vegan Healthy Version Of Nutella
It's actually extremely easy! All you need is a food processor. Just put the 4 simple ingredients in, and the food processor will do all the work!
Step 1: Put hazelnuts in a food processor fitted with a steel blade
If you are not a fan of hazelnut skins, you can buy the hazelnuts that are already peeled (blanched). They are sold under the names "white hazelnuts" or "blanched hazelnuts". Or if you'd like, you can take the skins off by roasting the hazelnuts in a 350F oven for 15 minutes, then rubbing them together in a dish towel (the skins will come off). Or skip the hassle and just use the ones with skins!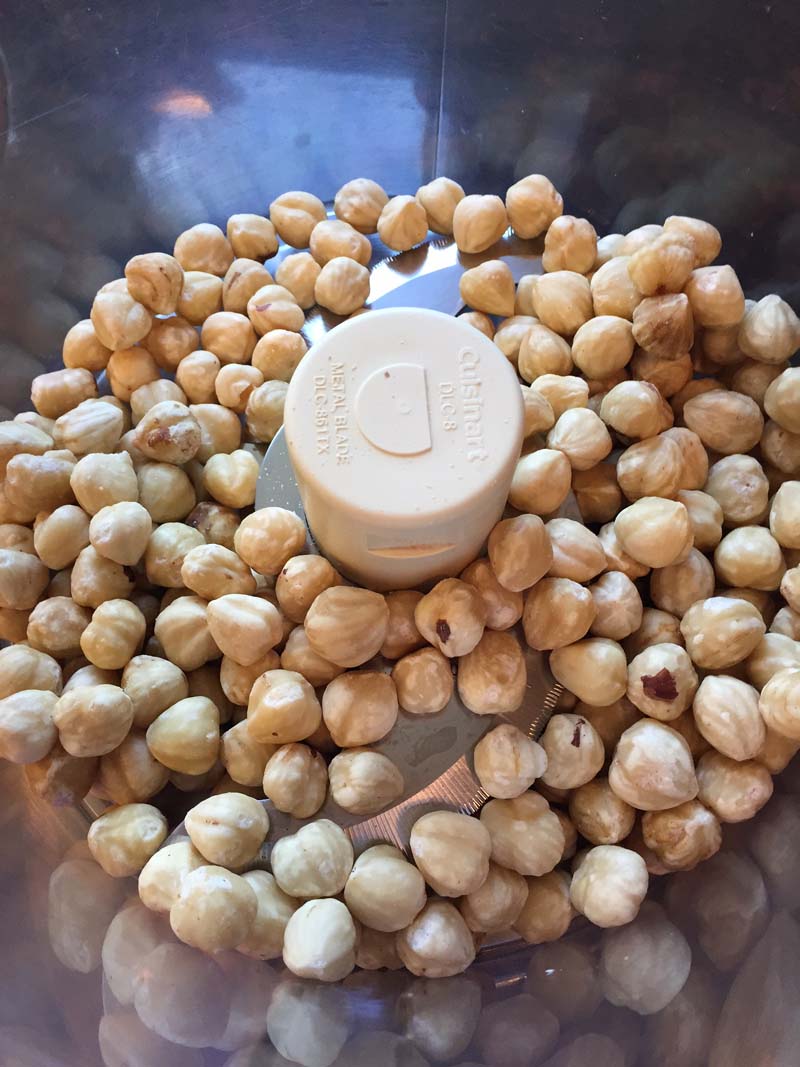 Step 2: Add the cocoa powder, maple syrup and oil
You can use any type of oil with mild flavor – I used canola oil.
If you prefer a sugar-free version, substitute the maple syrup with liquid Stevia (a little Stevia goes a long way, all you need is 1/3 tsp of Stevia) and increase the amount of oil by 2 tbsp.
Step 3: Process for 2 minutes to pulverize
Process for 2 minutes first until pulverized, then scrape down the sides of the bowl.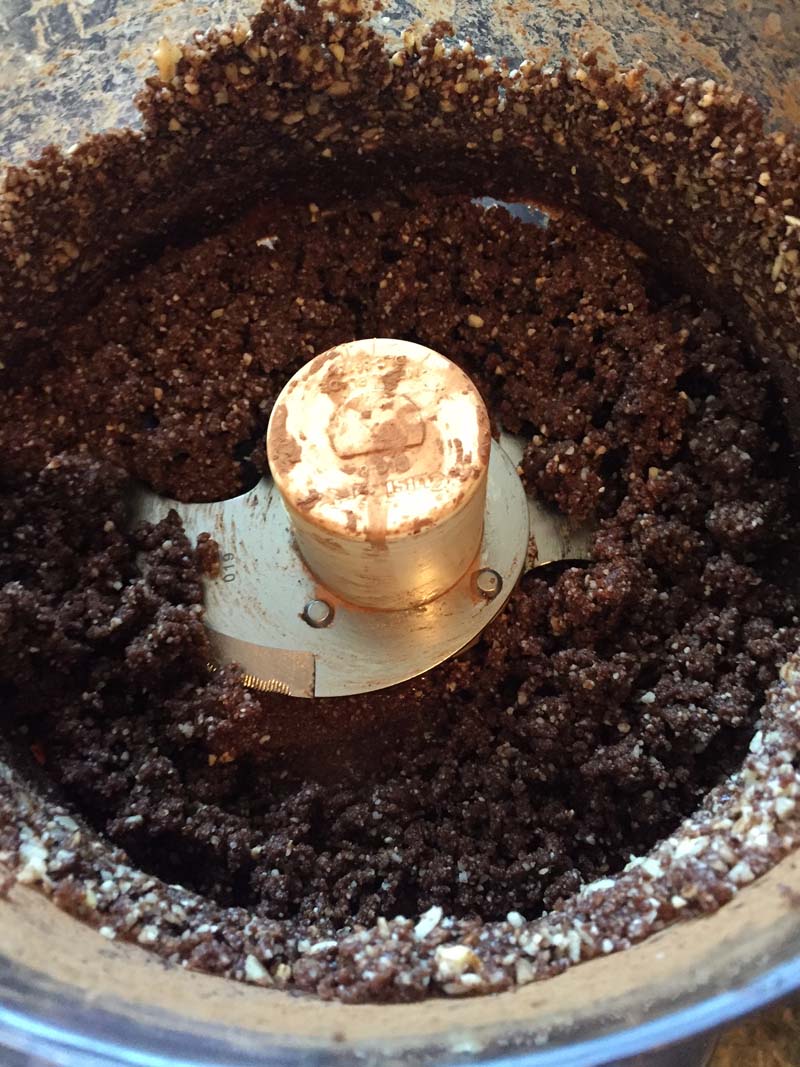 Step 4: Process in 5 minute increments until smooth
It will take 15-20 minutes for the homemade Nutella-like spread to become smooth. Every 5 minutes, turn off the food processor for 30 seconds, scraping down the sides if needed, then restart.
When the healthy Nutella version is almost ready, it will turn into a ball: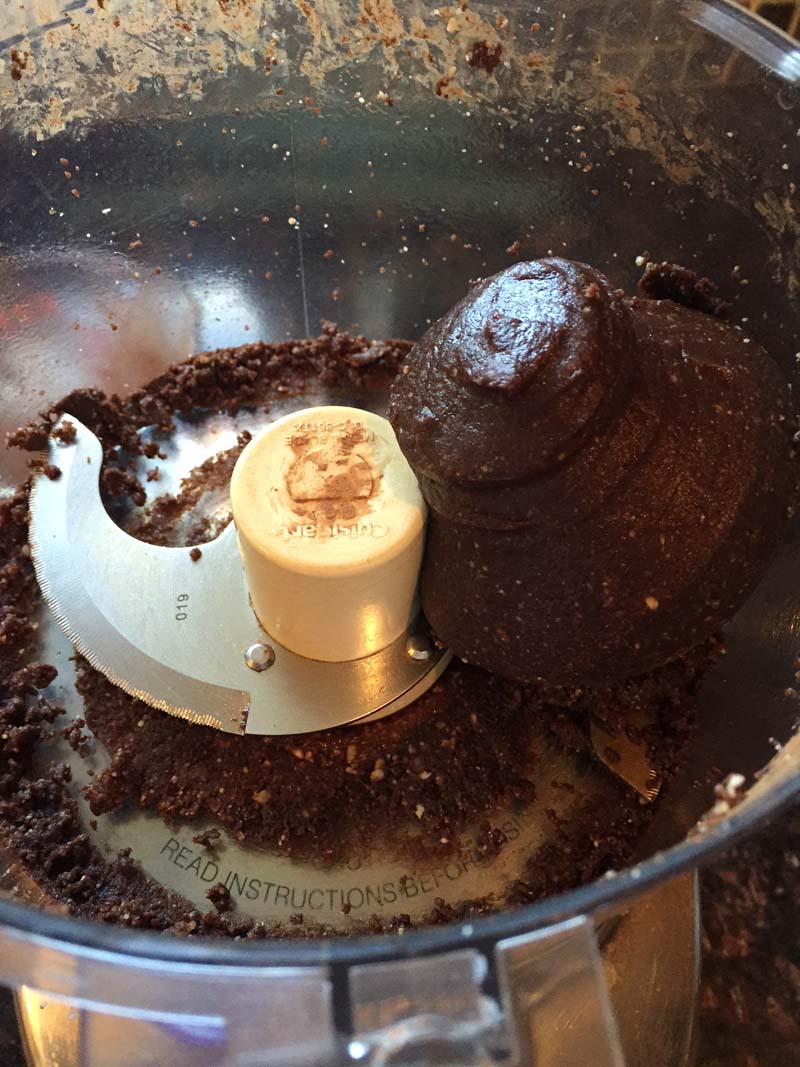 Enjoy the deliciousness!
If you refrigerate this homemade Chocolate Hazelnut spread, it will become hard. To soften it, just microwave it for 10 seconds and it will become spreadable again. Enjoy!

Healthy Chocolate Hazelnut Spread For Nutella Lovers
If you like Nutella, you are going to love this mouthwatering homemade chocolate hazelnut spread! This homemade healthy Nutella version is vegan, gluten-free, dairy-free and free of refined sugar. This all-natural deliciousness is actually good for you!
Ingredients
2 cups hazelnuts
4 tbsp cocoa powder
⅓ cup maple syrup
2 tbsp canola oil
Instructions
Put hazelnuts in a food processor fitted with the steel blade. Add the oil, cocoa powder and maple syrup.
Process for 2 minutes, then stop the food processor and scrape down the sides.
Start the food processor again and process in 5-minute increments (with stopping for 30 seconds every 5 minutes), until the mixture is smooth (about 15-20 minutes total).
Notes
Sugar-free version: substitute the maple syrup with ⅓ tsp of liquid Stevia and increase the amount of oil to 4 tbsp.
Like this Healthy Homemade Chocolate Hazelnut Spread recipe? PIN the image below on Pinterest to save it for later!
Save this for later on your social media:
Get Melanie's FREE Recipes In Your Inbox!
https://www.melaniecooks.com/wp-content/uploads/2016/07/healthy_nutella_recipe.jpg
1067
800
Melanie Mendelson
https://www.melaniecooks.com/wp-content/uploads/2015/11/logo-new2.png
Melanie Mendelson
2016-07-29 08:41:10
2019-10-01 12:21:22
Healthy Homemade Nutella-like Chocolate Hazelnut Spread (Vegan, Raw, Gluten-Free)