Grilled Eggplant Panini Sandwich Recipe
This post may contain affiliate links (disclosure).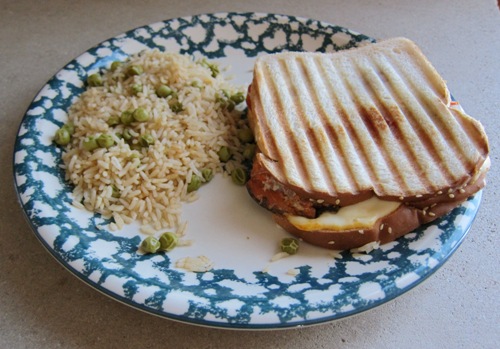 Grilled eggplant panini is a very tasty sandwich recipe. Instead of the typical meat, this vegetarian sandwich recipe uses a slice of roasted eggplant.
To make the grilled eggplant panini sandwich, put the slice of cheese on a bread, add grilled or roasted eggplant, add another slice of cheese and top with another slice of bread, then cook on a hot panini sandwich press. If you don't own a panini press, you can just cook the sandwich on a hot frying pan on both sides.
This grilled eggplant panini sandwich is so tasty and filling that you won't miss the meat! This eggplant sandwich is a perfect summer recipe when yummy eggplants are in season. On the picture above, I served the grilled eggplant sandwich with the side dish of rice with green peas.
Grilled Eggplant Panini Sandwich Recipe
Ingredients
Eggplant
Cheese
Bread
Honey mustard
Salt and pepper
Instructions How To Make Grilled Eggplant Panini Sandwich
You can use the grill or the oven to cook the eggplant. If using the grill, preheat the grill. If using the oven, preheat the oven to 450F.
Peel the eggplant and cut into slices.
If grilling, cook the eggplant on a grill until tender.
If using the oven, line the baking sheet with parchment paper and put in the oven. Bake for 30 minutes.
Sprinkle cooked eggplant with salt and pepper to taste.
Spread the bread slices with honey mustard.
Put a slice of cheese on a bread.
Put a slice of eggplant on top of the cheese.
Put the second slice of cheese on top of the eggplant.
Put a slice of bread on top of the cheese. You will have eggplant sandwiched between 2 slices of cheese and 2 slices of bread.
Preheat the panini press. Cook the grilled eggplant sandwiches in the panini press for 1 minute or until the sandwich is golden and cheese is melted.
Enjoy this yummy grilled eggplant panini sandwich! For more tasty eggplant recipes, check out vegetarian eggplant lasagna, baba ganoush eggplant spread recipe and eggplant caviar salad recipe.
Save this for later on your social media:
Get Melanie's FREE Recipes In Your Inbox!
https://www.melaniecooks.com/wp-content/uploads/2013/03/grilled-eggplant-panini.jpg
349
500
Melanie Mendelson
https://www.melaniecooks.com/wp-content/uploads/2015/11/logo-new2.png
Melanie Mendelson
2013-04-01 06:45:18
2013-07-09 15:52:17
Grilled Eggplant Panini Sandwich Recipe