This is a sponsored post written by me on behalf of Sargento® Cheese. All opinions are 100% mine.
This apple cranberry grilled cheese sandwich will appeal to all your senses! Sweet, sour, crunchy, warm, gooey, stretchy, melty – AMAZING!
I love all things cheese. Just give me cheese and I'm a happy camper. And believe me – this particular grilled cheese combo elevates the cheese to the whole new level. Sweet and sour cranberry sauce, crunchy juicy apple, golden-brown crispy crust and gooey stretchy melted cheese – can't get any better than that!
Your grilled cheese sandwich is just as good as the cheese that goes into it. For this mouthwatering grilled cheese I used Sargento® Natural Swiss Cheese. Here's the picture of my stash of Sargento® Natural Cheese slices – I've got Sharp Chedar, Pepper Jack, Swiss and Provolone – mmmm! Guess how quickly I can eat them all up? ;)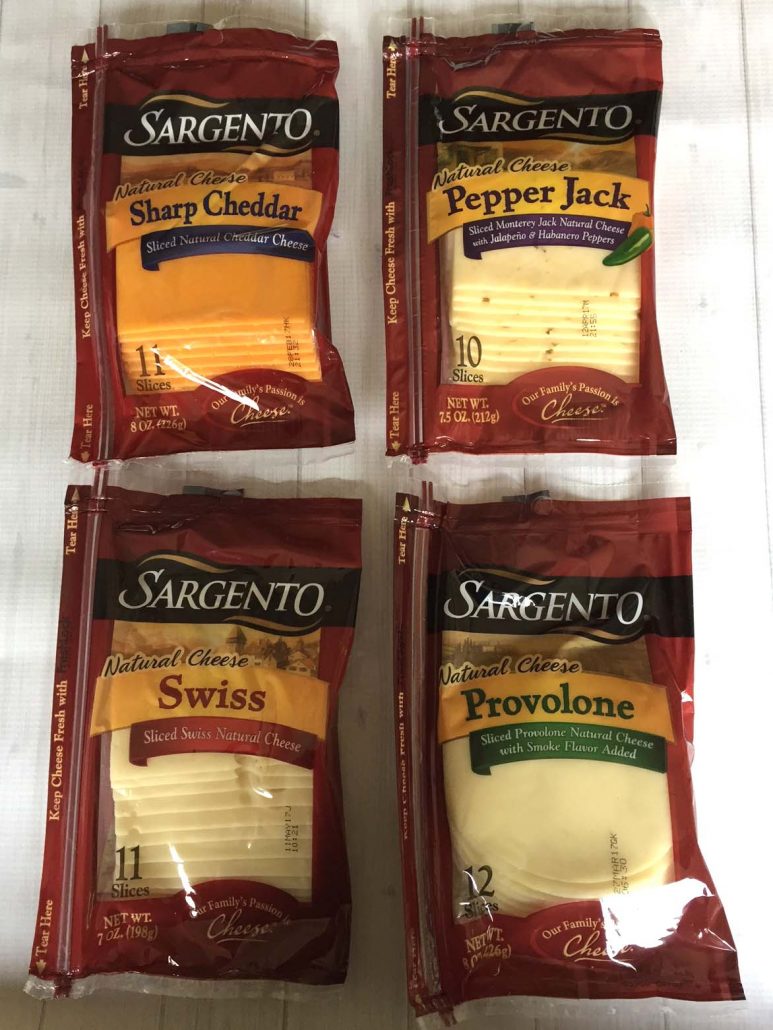 Sargento® Natural Swiss cheese is a perfect cheese to go with the cranberry and apple flavors! If you never tried this combo before, I guarantee it will become your favorite! Nothing like looking through the holes in the slice of Swiss and smelling it in anticipation :)
Sargento® cheese tastes amazing because it's a 100% natural cheese – the real thing, not some processed imitation. Did you know that Pasteurized Process Cheese Food (PPCF), sometimes known as American singles, is only required to contain 51% real cheese? I wonder what are the other 49%? Yikes!
A true cheese lover won't take anything less than the real thing! Sargento® Natural cheese doesn't settle for a measly 51% – it gives you the whole 100%. Sargento® Slices are 100% real, natural cheese, and their taste definitely shows it!
How To Make Apple Cranberry Grilled Cheese Sandwich
Step 1: Butter The Bread Slices
Step 2: Add a slice of cheese
First, put the bread on a plate buttered side down. Then put a slice of cheese on that bread.
Step 3: Spread with cranberry sauce
Step 4: Add apple slices
Step 5: Add another slice of cheese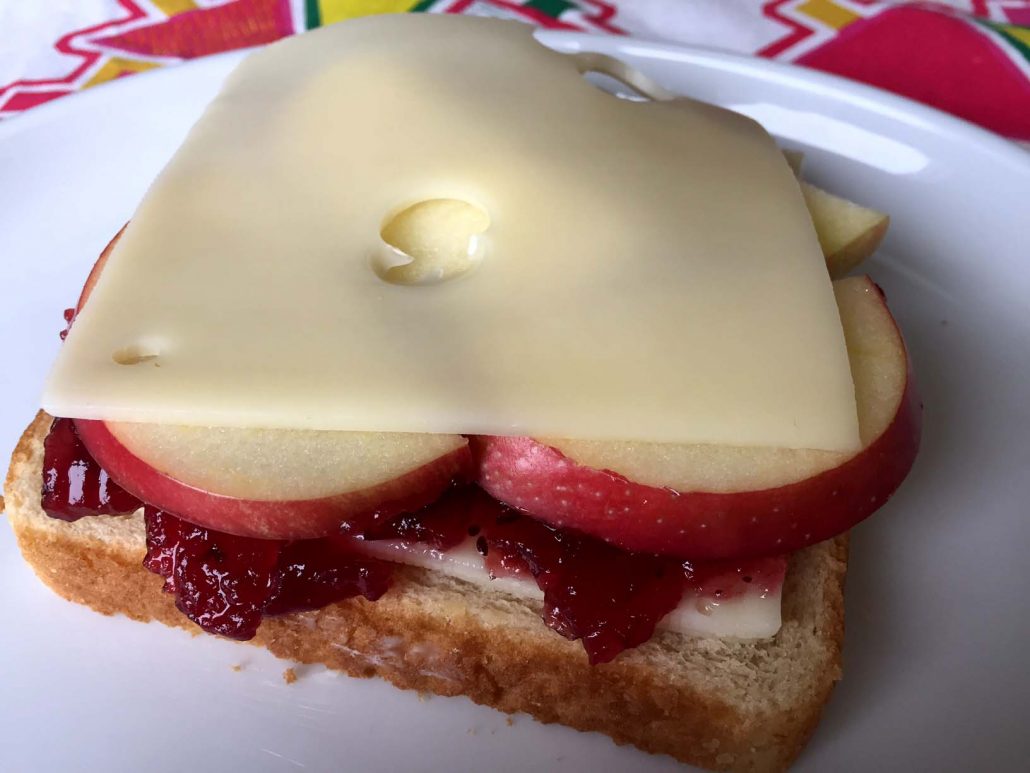 Step 6: Top with another bread slice (buttered side up).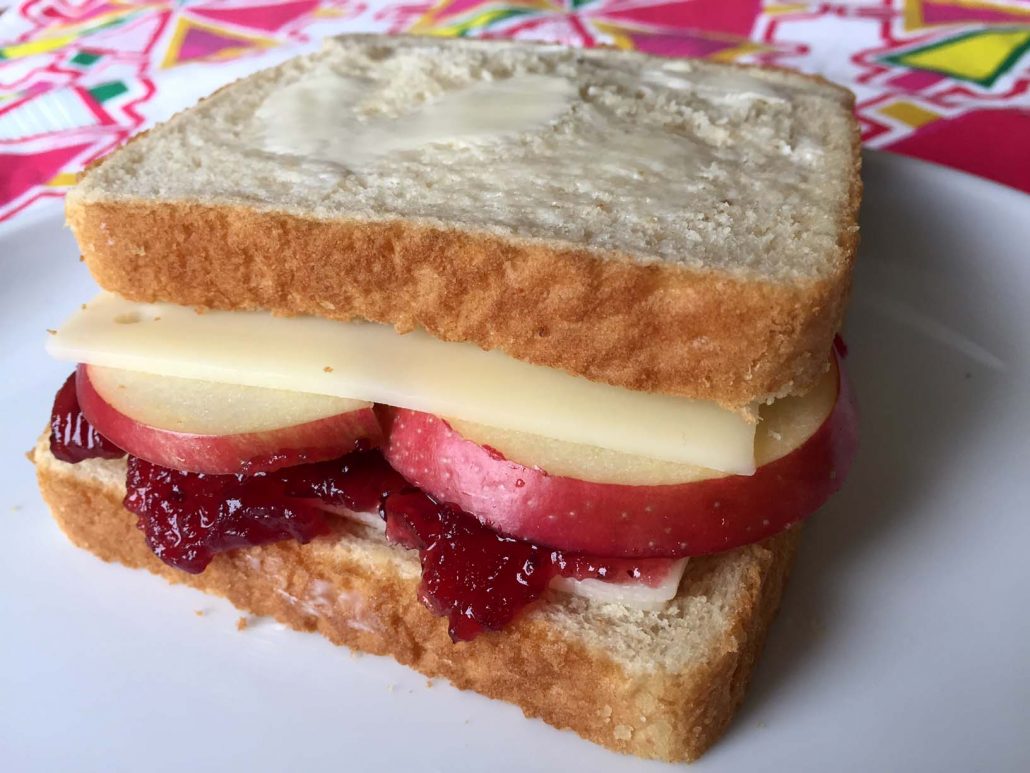 Step 7: Grill The Sandwich
Cook on pre-heated non-stick frying pan for 3 minutes per side, or until cheese is fully melted.
Enjoy this mouthwatering grilled cheese! Yummy, gooey, warm, stretchy, crispy, brown – you just gotta make this today!
Apple Cranberry Grilled Cheese Sandwich Recipe
This apple cranberry grilled cheese sandwich is simply amazing! Gooey stretchy hot melted cheese, crispy apple and sweet and sour cranberry, all nested between two slices of warm and crispy browned bread - yummy yum yum!
Author:
MelanieMendelson.com
Ingredients
8 slices bread
4 tbsp butter, at room temperature
8 slices cheese
4 tbsp cranberry sauce
2 apples, sliced into thin slices
Instructions
Spread the bread slices with butter.
Put 4 bread slices on a plate buttered side down.
Top with a slice of cheese.
Spread the cranberry sauce on top of the cheese.
Put the apple slices on top of cranberry sauce in a single layer.
Top with another slice of cheese.
Top with the 2nd slice of bread (buttered side up).
Preheat 2 large non-stick frying pans (or griddle) over medium heat.
Put the sandwiches on the frying pans (2 sandwiches per pan).
Cook on one side for 3 minutes (or until the bottom cheese melts).
Very carefully flip the sandwiches over.
Cook on another side for 3 minutes (or until the cheese fully melts).
Remove the grilled cheese sandwiches from heat and serve immediately.
Sponsored by Sargento® Sliced Cheese | Instagram | Facebook
https://www.melaniecooks.com/wp-content/uploads/2016/10/grilled_cheese_yum.jpg
1632
1224
Melanie Mendelson
https://www.melaniecooks.com/wp-content/uploads/2015/11/logo-new2.png
Melanie Mendelson
2016-10-26 08:45:34
2016-12-01 14:20:06
Apple Cranberry Grilled Cheese Sandwich Recipe