How To Make Shredded Barbecue BBQ Chicken Sandwich – Easy Recipe
This post may contain affiliate links (disclosure).
When people think of using leftover roast chicken, the first thing that usually comes to mind is a chicken salad. But here's another excellent way to turn leftover roast chicken into a yummy lunch the next day – make a shredded BBQ barbecue chicken sandwich.
The shredded BBQ chicken sandwich recipe is very easy. You only need 3 ingredients of the shredded barbecue chicken sandwich recipe:
Cooked chicken meat
Barbecue BBQ sauce
Bun
Shredded BBQ Barbecue Chicken Sandwich Recipe
Preparation time: 10 minute(s)
Step 1 of Making Shredded Barbecue Chicken sandwich: Shred the chicken

You can shred the chicken with a knife or with a food processor fitted with a slicing disk. I don't like doing extra work, so I always use the food processor.
If you use the food processor to shred the chicken, make sure you use the top round slicing disk. Don't use the usual blade that goes inside the food processor – it will turn the chicken into crumbs instead of shreds! Load the slicing disk in the food processor, put the chicken in the top feeding tube and turn on the food processor.
Here's the secret that will make the slicing blade produce shreds instead of slices: don't press on the chicken – let the gravity do the work. This way the chicken will be shredded just the right way.
Step 2 Of Making Shredded Barbecue Chicken Sandwich: Add The BBQ Sauce
Put the shredded chicken in a microwave-safe dish. Mix the shredded chicken with a bottled BBQ sauce or homemade BBQ sauce.
Step 3 Of Making Shredded Barbecue Chicken Sandwich: Warm In A Microwave
Put the chicken and BBQ sauce mixture in a microwave and warm until the shredded barbeque chicken is piping hot.
Step 4 Of Making Shredded Barbeque Chicken Sandwich: Put BBQ Chicken On A Bun
Spoon the piping hot shredded BBQ Chicken on a bottom part of a sandwich bun, then put the top bun on top.
Now bite into that succulent shredded BBQ chicken sandwich and taste the juicy BBQ sauce!
Here's the picture of the shredded barbecue chicken sandwich served with the sweet potato fries: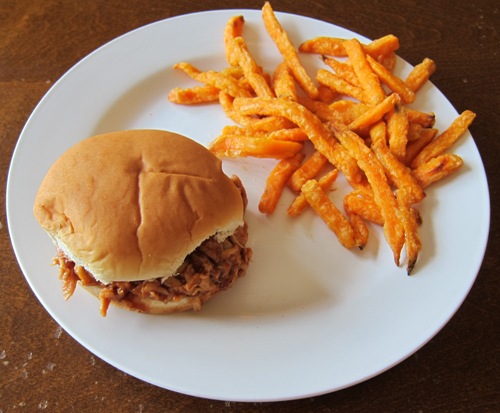 Save this for later on your social media:
Get Melanie's FREE Recipes In Your Inbox!
https://www.melaniecooks.com/wp-content/uploads/2015/04/bbq-chicken-sandwich.jpg
370
500
Melanie Mendelson
https://www.melaniecooks.com/wp-content/uploads/2015/11/logo-new2.png
Melanie Mendelson
2011-09-13 10:33:05
2011-09-30 12:26:40
How To Make Shredded Barbecue BBQ Chicken Sandwich – Easy Recipe