Sweet Potato Fries From Costco – Crispy Oven Baked Fries
This post may contain affiliate links (disclosure).
I'm pretty indifferent to regular fries, but I really like sweet potato fries. I know how to make sweet potato fries from scratch, but sweet potato fries from scratch requires too much potato cutting. Sweet potatoes are very hard when raw, and I'm usually too lazy to struggle with cutting them into the shape of french fries. So if I'm craving some sweet potato fries, I go for the easiest route – store-bought sweet potato fries. Before I used to by the sweet potato fries at Trader Joe's and Whole Foods, but recently I saw huge bags of sweet potato fries at Costco that are dramatically cheaper. So sweet potato fries from Costco it is!
Here's the picture of the sweet potato fries that are sold in Costco. It's a 4 lb package, and the brand is Russet House. Don't let the large package size stop you – these sweet potato fries get eaten really quickly! The package is resealable, so you just stash it in your freezer and cook those sweet potato fries as needed – you'll always have an instant side dish!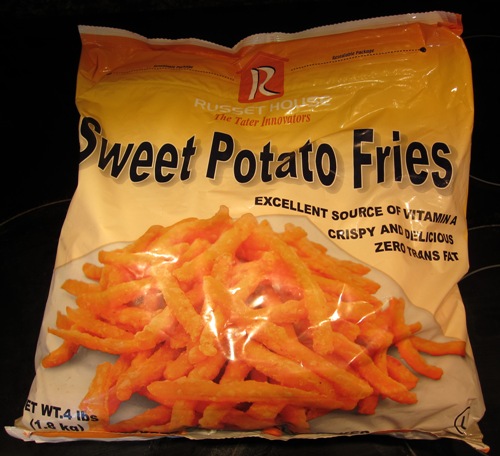 Here's the nutrition information: serving size 3 oz (approximately 15 fries), 170 calories, 7 g fat, 1 g saturated fat, zero trans fat, zero cholesterol, 340 mg potassium, 24 g total carbohydrates, 2 g fiber, 6 g sugar, 2 g protein, 130% vitamin A, 17% vitamin C, 2% calcium, 2% iron. Sweet potato fries are healthier than regular potato fries – sweet potatoes are more nutritious and are a great source of vitamin A and potassium!
I always bake the sweet potato fries in the oven – no deep frying for me :) The secret to crispy oven baked sweet potato fries is that you must do the following three things:
1) Set the oven temperature to 450F
2) Fully preheat the oven before putting the fries in.
3) Don't let the fries touch each other on the baking sheet (if they don't fit, use 2 baking sheets
For some reason, the packages on most frozen fries recommend 425F as the oven temperature, but that temperature produces soggy fries. I always cook mine at 450F and the fries are crispy. Also, the package recommends turning the fries halfway through cooking time, but I never do that – imagine turning each french fry – what a hassle :)
To prepare the sweet potato fries, preheat the oven to 450F. Line a baking sheet with parchment paper or foil. I prefer to use parchment paper, but as you can see on the above picture I used foil – that's because I happened to run out of parchment paper :) Put the fries on top in a single layer and make sure they are not touching.
Put in the oven and bake for 20-25 minutes, or until the sweet potato fries are crispy. Serve sweet potato fries immediately, while they are still hot!
On this picture, I served the sweet potato fries with grilled turkey and cheese panini sandwich! What a hot and yummy meal!
Save this for later on your social media:
Get Melanie's FREE Recipes In Your Inbox!
https://www.melaniecooks.com/wp-content/uploads/2011/05/sweet-potato-fries-costco.jpg
456
500
Melanie Mendelson
https://www.melaniecooks.com/wp-content/uploads/2015/11/logo-new2.png
Melanie Mendelson
2011-05-09 12:39:21
2013-03-05 19:20:58
Sweet Potato Fries From Costco – Crispy Oven Baked Fries