Easy Banana Bread Muffins Recipe
This post may contain affiliate links (disclosure).
Got some overripe bananas? I have a great use for them: banana bread muffins! These delicious breakfast muffins are basically a banana bread in a muffin form. This easy recipe combines fresh ripe bananas with butter, sugar, egg and flour to bake into an amazing-smelling tender and moist banana muffin – what a great way to start your day!
If you ever throw out bananas that have turned splotchy brown, you must print out this recipe, Pin it and save it to your phone! By not using up those bananas, you are missing out on such delicious breakfast. Who needs to eat boring cereal for breakfast when you can have freshly baked homemade banana bread muffins? Instead of going to waste, these overripe bananas can be turned into gourmet muffins – with very little effort!
Even if you don't normally bake, it is very easy to make banana bread muffins. Everything is mixed in one dish, and if you don't own a mixer you can just use the fork to whisk all the ingredients :) This recipe is virtually foolproof, and even the novice cook can make these muffins with ease.
After you taste these banana bread muffins, you will buy too many bananas next time you go to the grocery store, just so you can have an excuse to make another batch of these tasty muffins – someone's got to use up those overripe bananas, you know ;) This recipe makes 12 huge bakery-style banana bread muffins. Their texture is moist and tender, and the taste is sweet, rich and full of banana flavor!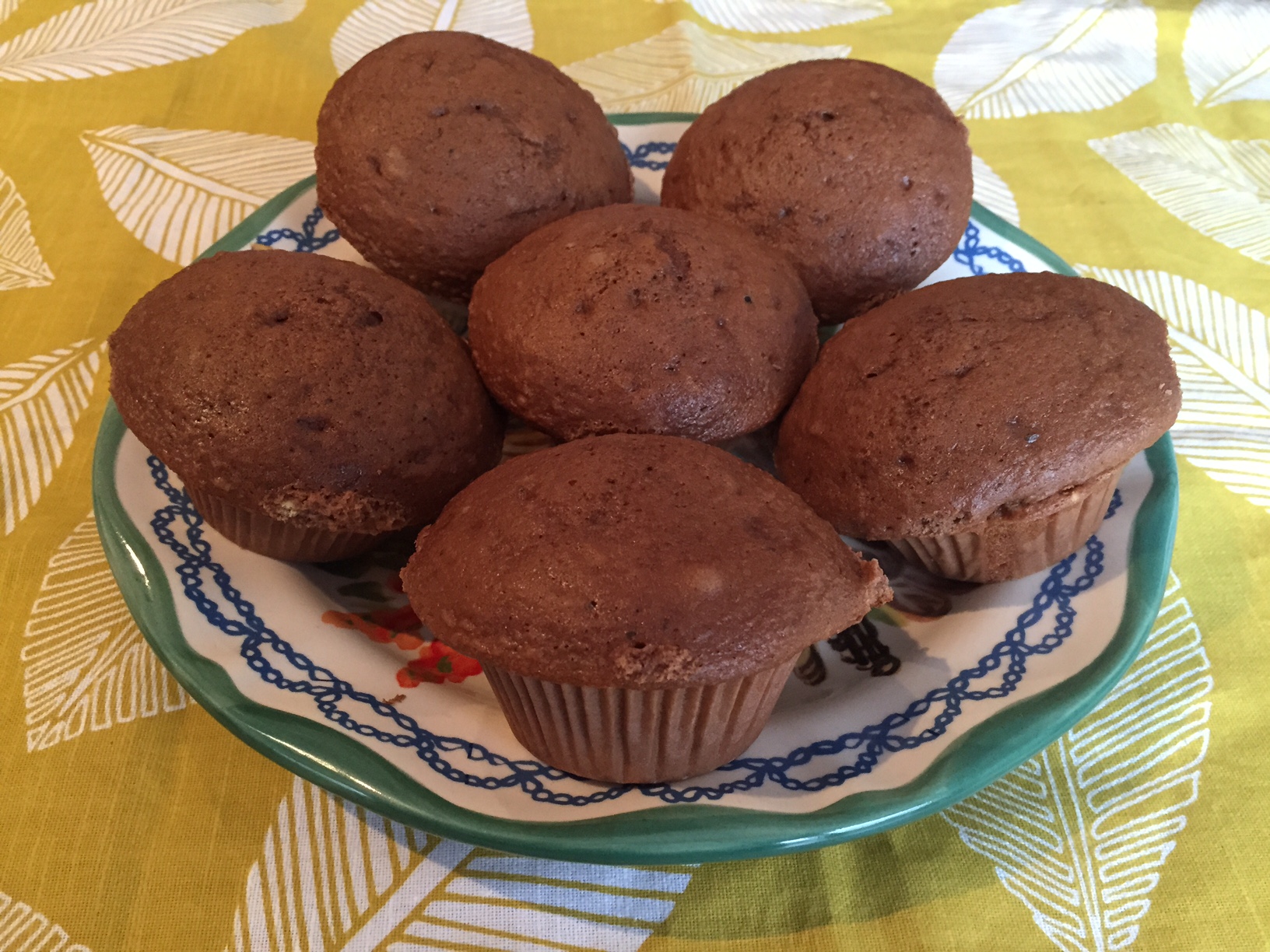 These delicious muffins have an amazing deep banana taste! This easy recipe uses up the whole 3 bananas! I've seen some banana muffin recipes that use just 1 banana – what kind of banana muffin is that? My recipe is the real deal – with 3 bananas in a batch of 12 muffins I guarantee you'll get that banana flavor that you are looking for!
Did you know that you can easily freeze muffins to enjoy them for breakfast every morning? To freeze these banana bread muffins, just take them out of the muffin tin, put on a plate in a freezer for 1 hour, then transfer to large freezer bag. Thaw the muffins overnight on the counter, and they'll be ready for you for breakfast!
Click Here To Pin This Recipe
Easy Banana Bread Muffins Recipe
These amazing banana bread muffins are a great way to use up overripe bananas! The texture of these muffins is soft and moist, and the flavor is rich and sweet!
Instructions
Preheat the oven to 350F.

Spray a non-stick muffin tin (12 regular size muffins) with a cooking spray, or line with paper baking cups.

Put the butter in a microwave-safe dish, and cook in a microwave on Low (or Defrost) for 2 minutes, or until melted.

Put bananas in a large bowl and mash them with a fork.

Add the egg and sugar to the bananas and mix until smooth.

Add butter to the banana mixture and mix until smooth.

Add flour to the banana mixture and sprinkle with baking powder, baking soda and salt.

Mix the dry ingredients with banana mixture until smooth.

Divide the muffin mixture between the 12 muffin cups.

Put in the oven and bake for 25 minutes.

Let the banana bread muffins cool for 20 minute before removing from the muffin tin.
Save This Recipe
Save this for later on your social media:
Get Melanie's FREE Recipes In Your Inbox!
https://www.melaniecooks.com/wp-content/uploads/2015/12/banana_muffins_recipe2.jpg
1632
1224
Melanie Mendelson
https://www.melaniecooks.com/wp-content/uploads/2015/11/logo-new2.png
Melanie Mendelson
2015-12-29 11:06:24
2021-12-08 09:13:32
Easy Banana Bread Muffins Recipe