Air Fryer Frozen Pancakes
This post may contain affiliate links (disclosure).
Skip the morning mess and frustration by serving these Air Fryer Frozen Pancakes. They're easy to prepare and will leave you and your loved ones satisfied with the breakfast.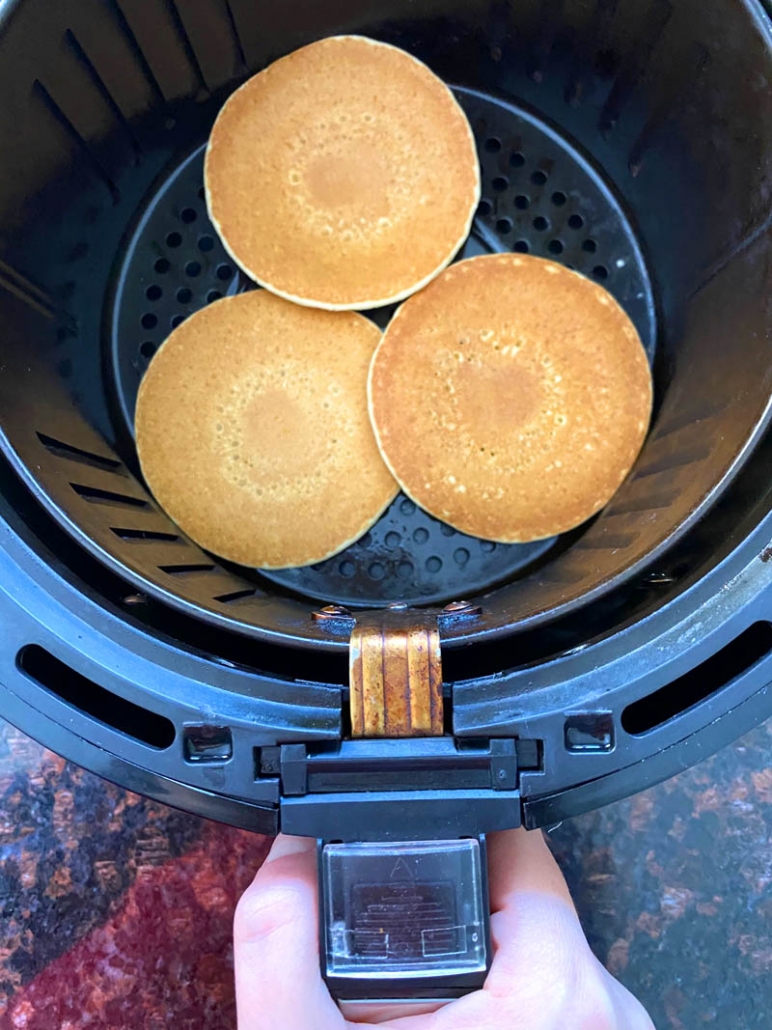 Frozen Pancakes In The Air Fryer
Do you feel stressed every morning when it's time to prepare breakfast for the family? You may not want to make a mess, but find yourself dirtying lots of dishes while preparing assorted breakfast foods. If you're looking for a way to save time yet still provide a delicious meal, try these air fryer frozen pancakes.
Use your air fryer to your advantage by preparing the pancakes in minutes instead of taking the longer route of making them from scratch. These pancakes come out soft, fluffy, and hot, making them undeniably good. They're the perfect breakfast comfort food to have with a side of eggs and your favorite breakfast meat, such as sausage or bacon.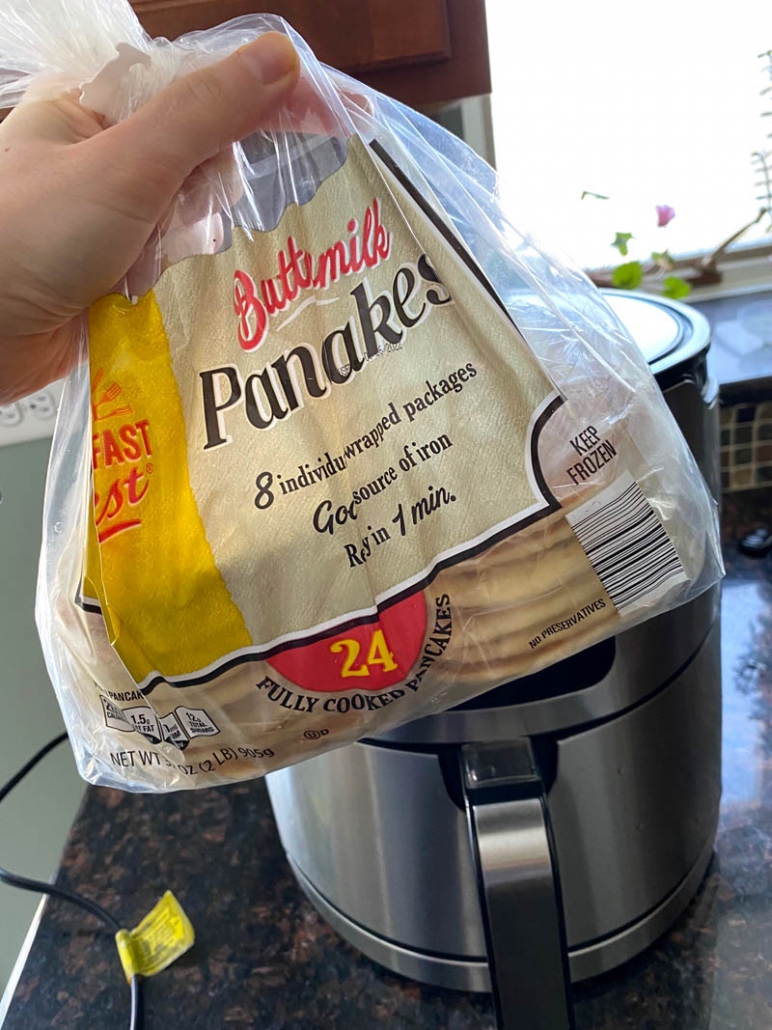 And if you do make pancakes from scratch, make a double-batch and freeze them for later! Then when ready to eat, reheat them in the air fryer straight from frozen :) Check out my tried-and-true pancake recipes for chocolate chip pancakes and marshmallow pancakes, and if you are on a healthy diet and want to have your pancakes, check out keto blueberry pancakes and coconut flour pancakes.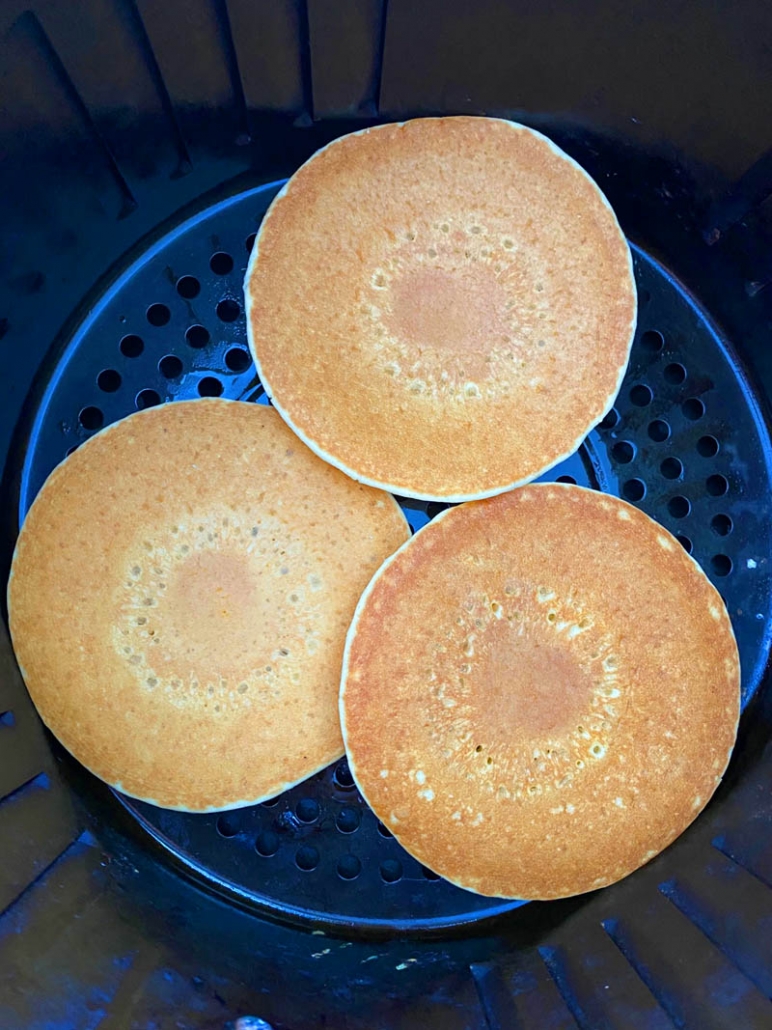 Air Fryer Frozen Pancakes Make Breakfast Easy
The benefits of preparing the air fryer frozen pancakes are incredible. You can have these pancakes hot, fresh, and ready for loved ones in four minutes. If it normally takes you 30 minutes or more to prepare breakfast for the family, you'll love how simple it is to make this meal for your loved ones.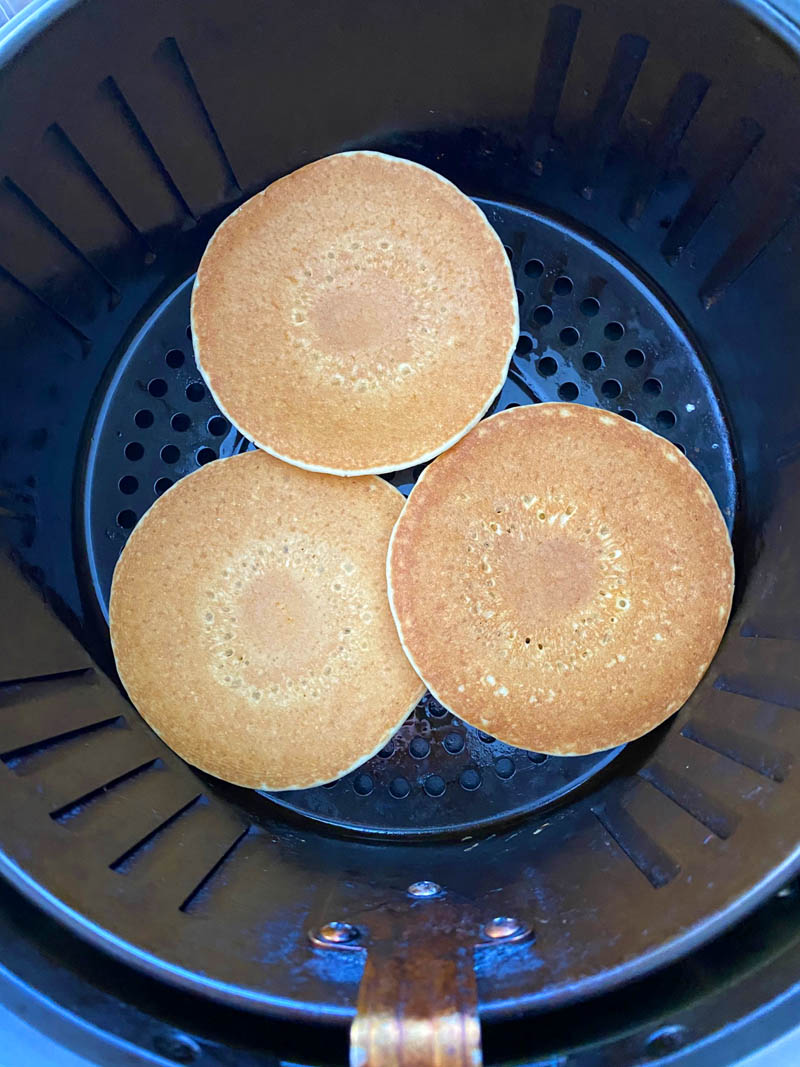 Not only is it fast, but you can completely customize breakfast each day by offering different types of pancakes and syrups. Chocolate chip, strawberry, and blueberry pancakes are just a few of the many types available in the freezer section at the grocery store. You can also offer traditional maple syrup, blueberry syrup, and even powdered sugar for loved ones to spread over the pancakes.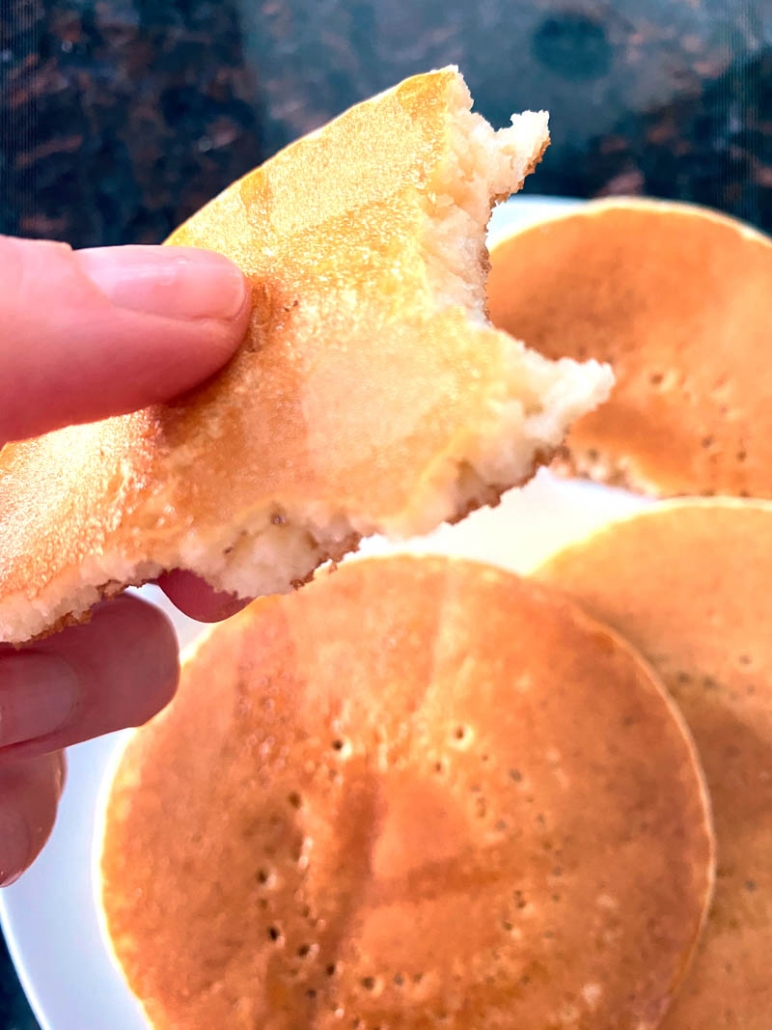 If you're a vegetarian looking for simple meatless breakfast meals to make, this is perfect for you. You can make the air fryer frozen pancakes and then add butter, powdered sugar, or syrup to them before eating them.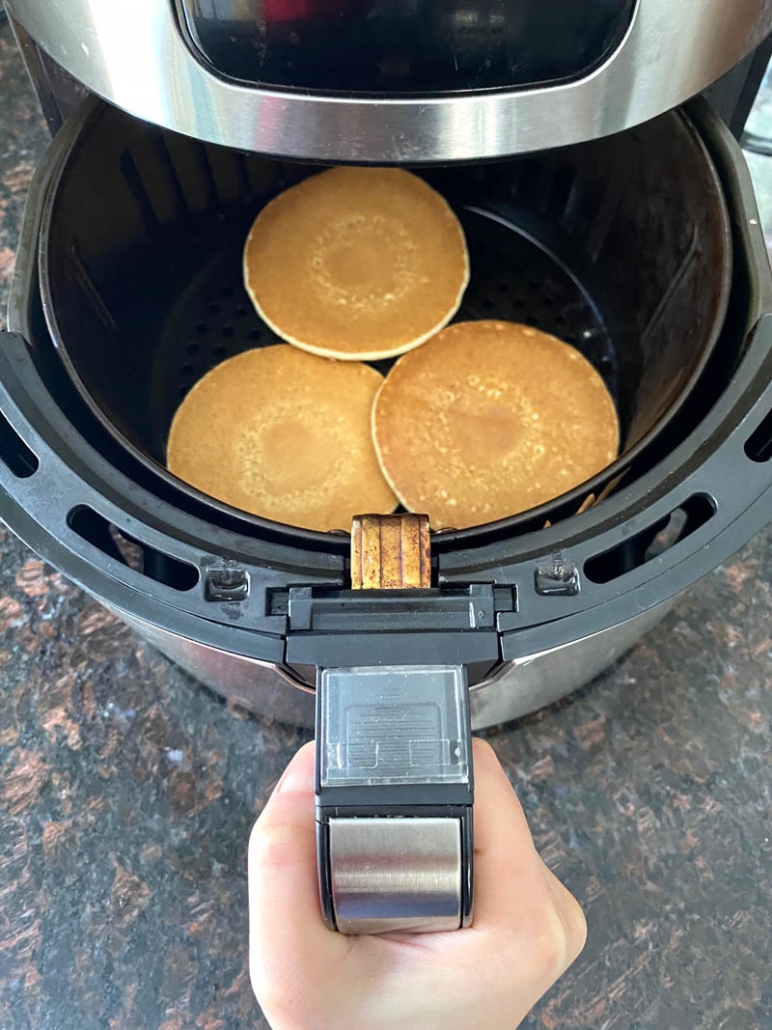 Cooking Frozen Pancakes in the Air Fryer
Preparing the air fryer frozen pancakes is as easy as it gets. You'd only need to remove the pancakes from the packaging, place them in the air fryer, set the timer for four minutes, and allow them to get hot. It doesn't take long at all to have these pancakes ready for serving.
What to Do With Any Leftovers
You might not need to store leftovers. It's better to use the number of pancakes needed because it's so easy to prepare them. However, if you do end up with any leftover air fryer frozen pancakes, put them in a zipper-sealed food storage bag or airtight container and put them in the fridge. You can always reheat the pancakes in the air fryer when you're ready to eat them.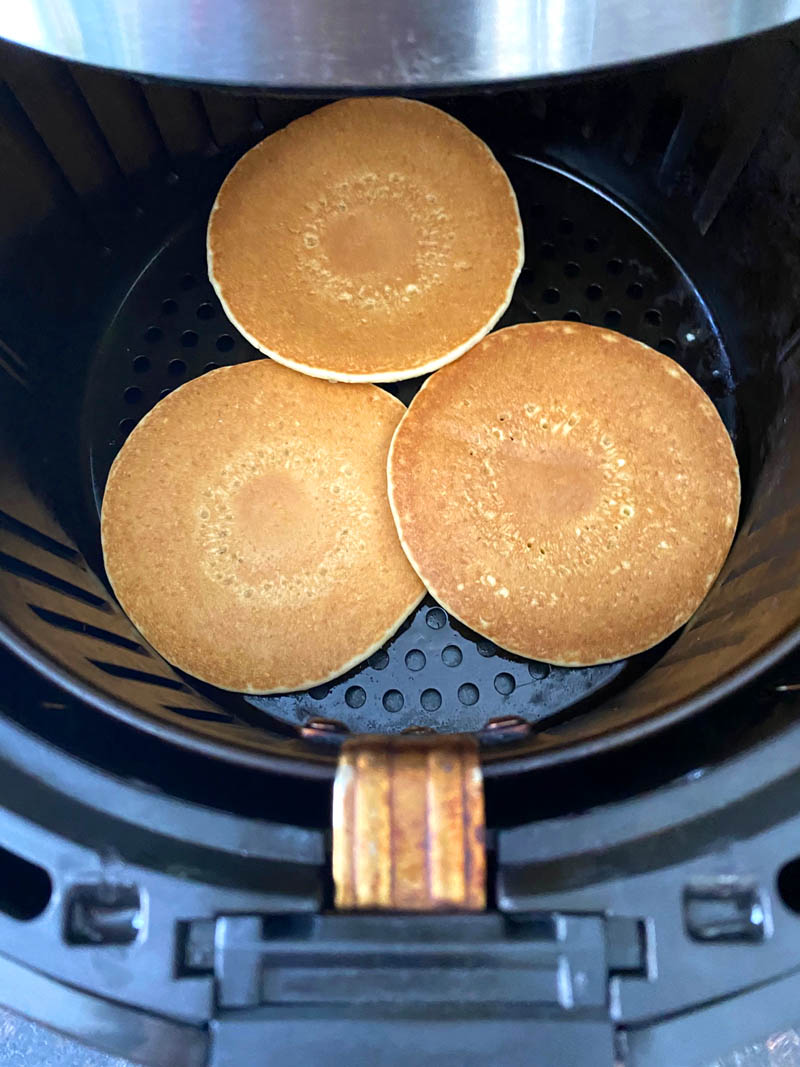 Frozen Pancakes Serving Suggestions
If you're not sure how many pancakes to serve, consider providing each person with two to three pancakes. You may serve fewer air fryer frozen pancakes if you're planning to offer meat or eggs with them because they'll surely fill you up fast, curbing your hunger until lunchtime.
Check out these recipes to serve with pancakes:
Click Here To Pin This Recipe
Air Fryer Frozen Pancakes
These air fryer frozen pancakes are amazing! Just put frozen pancakes in the air fryer and it will reheat them to perfection - straight from frozen!
Recommended Kitchen Tools (click the links below to see the items used to make this recipe)
Instructions
Put frozen pancakes in the air fryer in a single layer.

Cook at 250F for 4 minutes.
Save This Recipe
Save this for later on your social media:
Get Melanie's FREE Recipes In Your Inbox!
https://www.melaniecooks.com/wp-content/uploads/2021/02/reheat_frozen_pancakes_air_fryer.jpg
1067
800
Melanie Mendelson
https://www.melaniecooks.com/wp-content/uploads/2015/11/logo-new2.png
Melanie Mendelson
2021-05-02 07:42:15
2021-06-08 20:29:13
Air Fryer Frozen Pancakes