Eggo Mini Pancakes At Costco
This post may contain affiliate links (disclosure).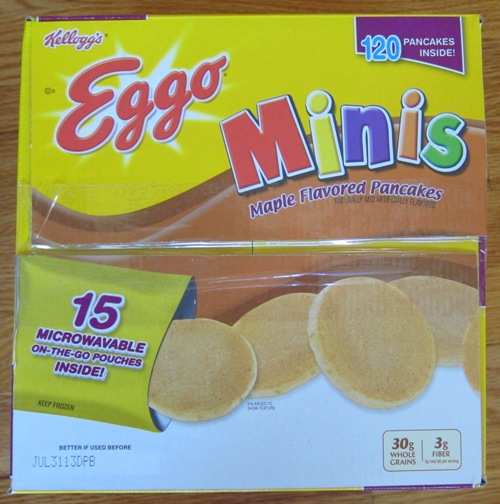 I bought these Eggo Mini Pancakes at Costco, and the kids really loved them! Eggo Mini pancakes are very small, about the size of a silver dollar. A plate full of those cute tiny pancakes makes such a yummy breakfast!
The Costco package of "Kellogg's Eggo Minis" Maple Flavored Pancakes is a box that includes 120 mini pancakes. The maple flavor is very subtle – they just taste like regular yummy small pancakes. Inside the box, there are 15 microwavable plastic pouches. Each pouch is a perfect convenient serving of mini pancakes, with the 8 Eggo Mini Pancakes inside each pouch.
And believe it or not, these Eggo Mini Pancakes from Costco are pretty healthy! They are made out of whole wheat, so they include 30 grams whole grains and 3 grams of fiber per serving! They taste like regular pancakes, I would never guess they were whole wheat pancakes.
Here's the nutritional information of Eggo Mini Pancakes: serving size 1 pouch (8 pancakes), 200 calories, 5 grams of fat, 1 gram of saturated fat, zero trans fat, 10 mg cholesterol, 300 mg sodium, 150 mg potassium, 34 grams total carb, 3 grams of fiber, 10 grams of sugar, 4 grams of protein, 10% vitamin A, 6% calcium, 15% iron. That's really healthy for store-bought frozen pancakes!
Heating these pancakes is really easy. Here are the microwave cooking instructions for Eggo Mini Pancakes: place 1 pouch of pancakes in a microwave and heat on High for 45 seconds. That's all there is to it :) Then carefully open the pouch with the scissors and put the mini pancakes on the plate.
If you prefer, you can also cook these Eggo Mini Pancakes without the plastic pouch. Simply cut the pouch, remove frozen pancakes, arrange them on a plate in a single layer and microwave for 1 minute. Eggo Mini pancakes are delicious served with maple syrup or apple sauce.
Here's the picture of the individual pouch of Eggo Mini Pancakes from Costco: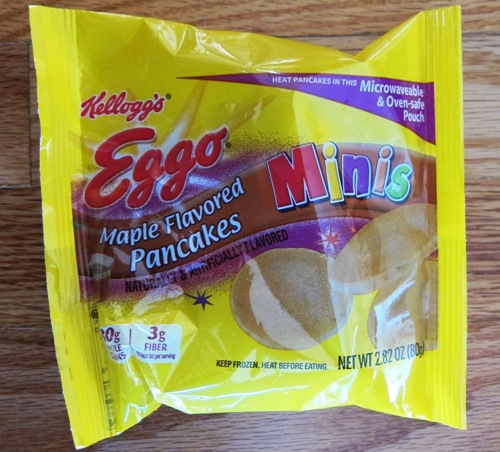 And here are the cooked Eggo Mini Pancakes on a plate. This pouch had a surprise – an extra pancakes, so I had 9 pancakes instead of 8 :)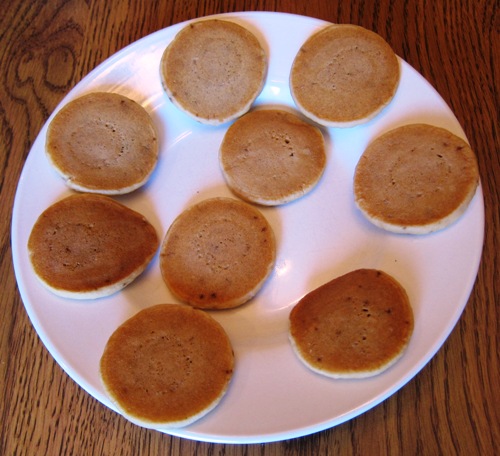 If you like pancakes as much as I do and want to make homemade pancakes, check out my yummy pancake recipes: easy blueberry pancakes recipe, easy strawberry pancakes recipe and cheese pancakes recipe.
Save this for later on your social media:
Get Melanie's FREE Recipes In Your Inbox!
https://www.melaniecooks.com/wp-content/uploads/2012/10/eggo-mini-pancakes2.jpg
452
500
Melanie Mendelson
https://www.melaniecooks.com/wp-content/uploads/2015/11/logo-new2.png
Melanie Mendelson
2012-11-30 05:50:06
2012-11-17 13:53:14
Eggo Mini Pancakes At Costco