Easy DYI Fruit Basket Homemade Gift Idea
This post may contain affiliate links (disclosure).
Homemade fruit basket makes a universal gift and is very easy to make! Get a basket from a dollar store, fill it with fruits, wrap with saran wrap and stick a bow on top – your gift fruit basket is ready!
Have you seen the prices of the gift fruit baskets from the specialized gift stores? They have the nerve to sell those fruit baskets for $50 or more – outrageous! You can easily make a perfect fruit basket at home for around 5 bucks, and it will take you less than 5 minutes :)
To get an empty basket for your DYI fruit basket, go to a dollar store. Dollar stores often have the simple wicker baskets in stock for a dollar each! If your dollar store doesn't have the baskets, the next cheapest place to get them would be a craft store.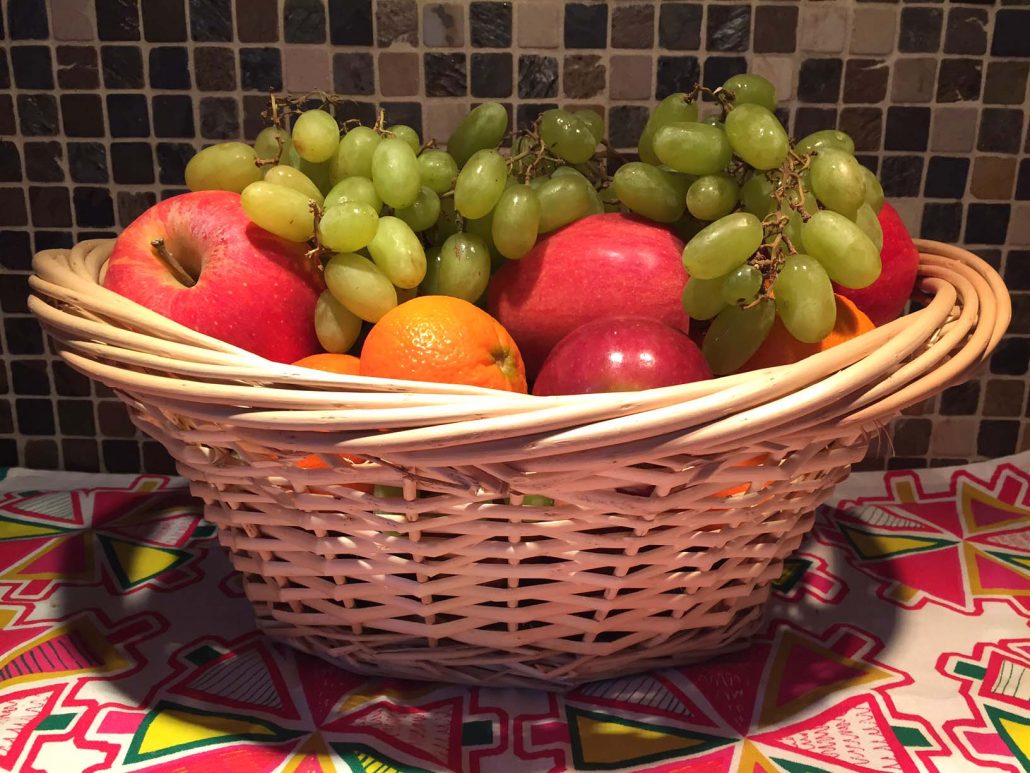 Making a fruit basket yourself is very easy. I have this simple 123 formula for fruit baskets: (1) fill basket with fruit, (2) wrap with plastic wrap, (3) add bow on top. That's all there is to it :) The whole process will take less than 5 minutes, and you'll have an awesome homemade fruit basket to give as a gift! For another awesome homemade gift idea, check out my homemade chocolate chip cookie mix in a jar :)
Instructions How To Make A Fruit Basket At Home
Step 1: Put Fruits In A Basket
Use sturdy fruits that don't get damaged easily and don't release juices. For the simplest basket, I like to use apples, oranges and grapes. You can use different color apples to make it more interesting. Or you can also include tropical fruits like mango or kiwi. Just don't add any soft berries as they would release their juice and turn your basket into a mess!
Put the hard fruits on the bottom and softer fruits on top. If you are including grapes, they always go on top, so they don't get squashed!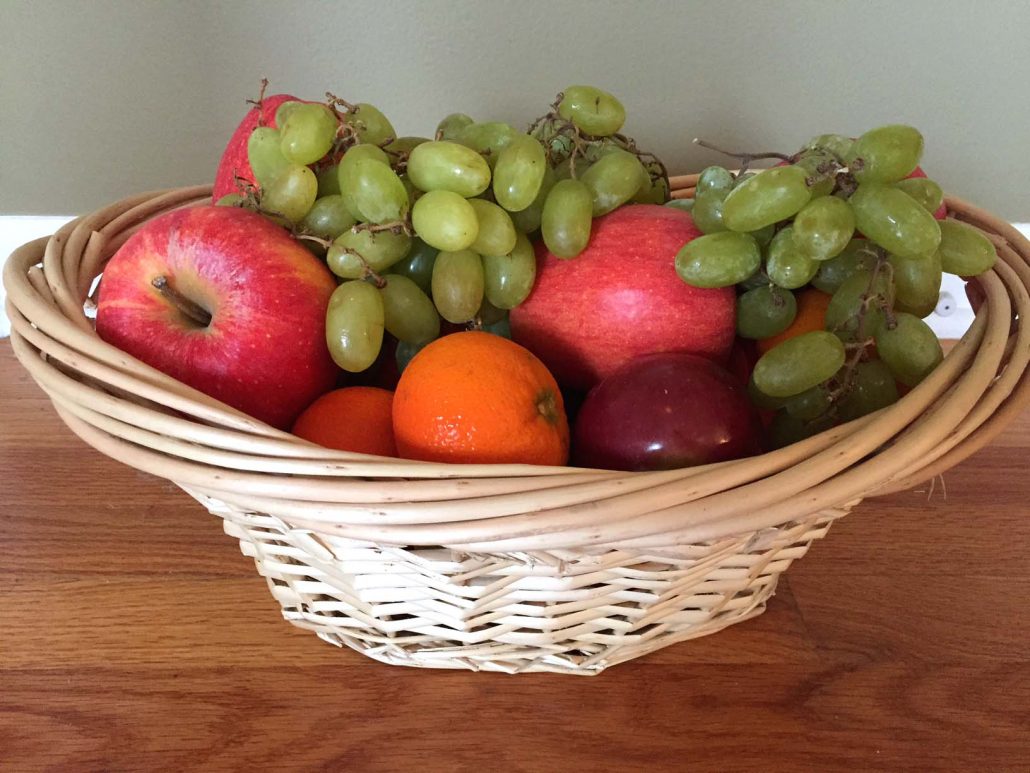 Step 2: Wrap With Plastic Wrap
Wrap the plastic wrap around the basket and the fruits, going all the way under the basket, on top of the basket and on the sides of the basket.
The plastic wrap will keep the fruits from falling out when the basket is transported, and will also make the basket look more finished.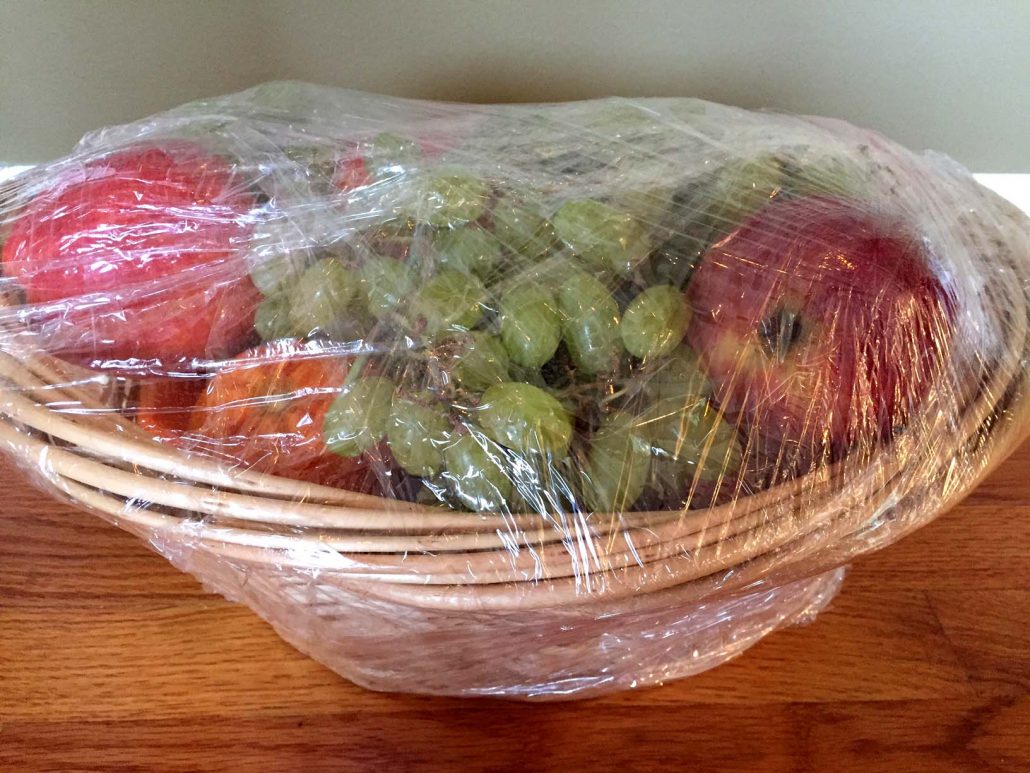 Step 3: Add A Bow On Top
Just put a simple stick-on gift bow on top and you are done! Another alternative would be to tie a ribbon around the basket and attach the card to the ribbon. Bow or ribbon really gives the fruit basket that finished look everyone is striving for in a gift.
Click Here To Pin This Recipe
Homemade Fruit Basket
This homemade fruit basket takes less than 5 minutes to assemble and will make a great gift!
Ingredients
1

lb

apples

1

lb

oranges

1

lb

grapes
Instructions
Put the apples and oranges in a basket.

Put the grapes on top.

Wrap the plastic wrap around the fruits and the basket.

Put the stick-on bow on top for decoration.
Save This Recipe
Save this for later on your social media:
Get Melanie's FREE Recipes In Your Inbox!
https://www.melaniecooks.com/wp-content/uploads/2016/11/fruit_basket_how_to_make.jpg
1632
1224
Melanie Mendelson
https://www.melaniecooks.com/wp-content/uploads/2015/11/logo-new2.png
Melanie Mendelson
2016-11-04 12:07:40
2021-12-08 09:10:15
Easy DYI Fruit Basket Homemade Gift Idea