How To Make California Rolls Step By Step
This post may contain affiliate links (disclosure).
Are you a big fan of California sushi rolls? Do you love to eat the California rolls, but don't have the money to spend getting sushi at Japanese restaurants? You can still have your roll and eat it too, even on a budget :) Your solution is to make California rolls at home by following this easy California rolls recipe!
Yes, you can make these yummy rolls yourself easily if you follow my simple step-by-step instructions how to make california rolls below. All you need to do in order to make california rolls is put the cooked rice, crab, avocado and cucumber on a sheet of seaweed and roll into a roll. After you roll it, cut it into pieces with a sharp knife and your homemade california roll is ready. The best thing is that when you make california rolls at home, it's 3 times cheaper than buying them at a restaurant!
Recipe How To Make California Rolls
Preparation time: 5 minutes
California Rolls Ingredients
Short-grain White Rice
Crab Meat (imitation or real)
Cucumber, cut into long thin slices
Mashed Avocado
Nori (seaweed wrap, found in the ethnic isle)
Instructions How To Make California Rolls
Cook the rice (I always use the rice cooker). You must cook the rice on the same day as making your california rolls. Don't refrigerate the rice, or it will get dry. The rice for the California rolls should be freshly cooked and sticky.
Spread the rice on the nori. Leave one end of the nori (1 inch strip) uncovered. The layer of rice should be thin, so the nori shows through.
Put the avocado, cucumber and crab on top of rice.
Moisten the uncovered strip of the nori with some water (just use your finger dipped in the water). Roll into a tight roll. Start rolling from the side that contains the filling (the opposite side to the uncovered strip). The moistened uncovered strip should act as a "tape" that holds the roll together.
Put the roll on the plate so the seam is on the bottom of the roll. Cut the big California roll into pieces.
Here are the step-by-step pictures of how to make California rolls sushi at home.
Step 1 Of How To Make California Rolls:
Layer the California rolls ingredients on a sheet of nori as illustrated below: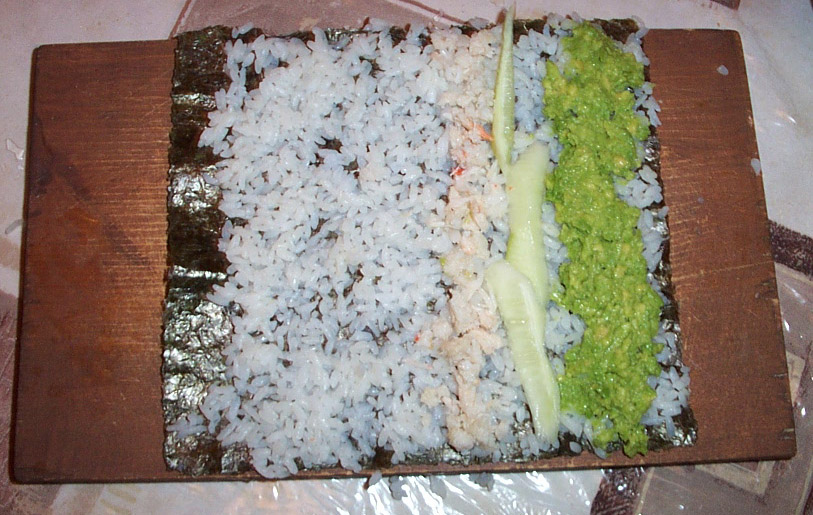 Step 2 Of How To Make California Rolls:
Roll the nori into a tight roll.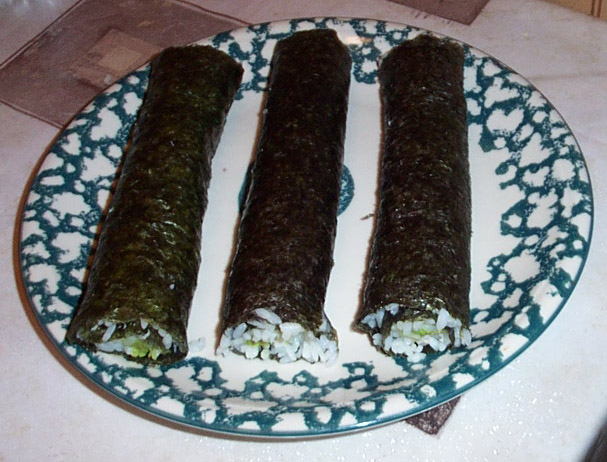 Step 3 Of How To Make California Rolls:
Cut the big California roll into pieces.
Enjoy your homemade california rolls with some wasabi and ginger! :) Also, check out these great side dishes for the California rolls: edamame and seaweed salad.
Save this for later on your social media:
Get Melanie's FREE Recipes In Your Inbox!
https://www.melaniecooks.com/wp-content/uploads/2008/05/californiarolls3.jpg
524
527
Melanie Mendelson
https://www.melaniecooks.com/wp-content/uploads/2015/11/logo-new2.png
Melanie Mendelson
2008-05-07 06:00:37
2013-11-13 13:07:22
How To Make California Rolls Step By Step