Air Fryer Frozen Shrimp Tempura
This post may contain affiliate links (disclosure).
Crunchy and delicious, this super easy Air Fry Shrimp Tempura only takes 8 minutes to cook up! No need to preheat the oven or defrost the shrimp, simply turn on the air fryer and place the frozen tempura shrimp in the air fryer and you're one step closer to some crunchy, perfectly cooked shrimp.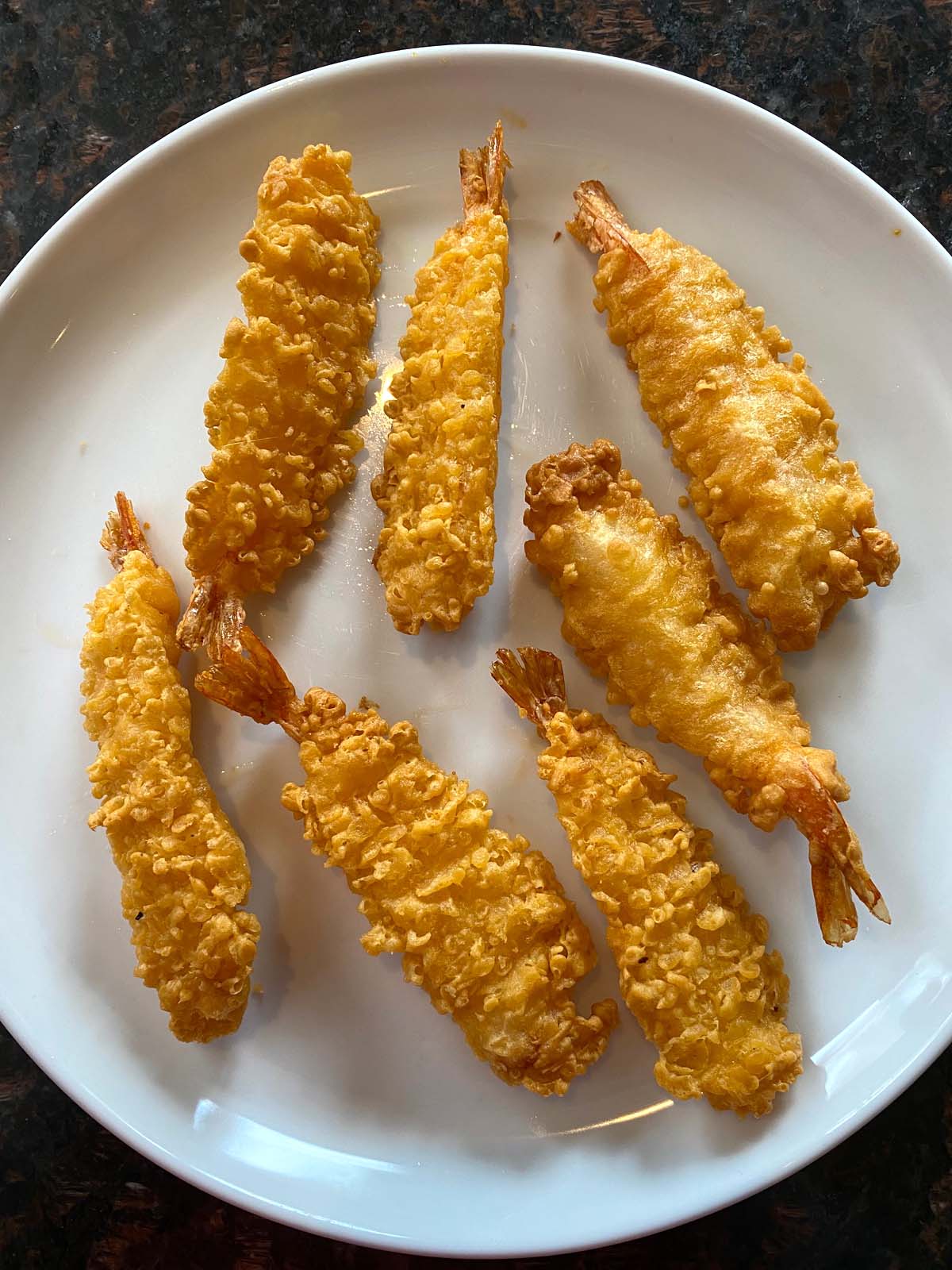 Do you need a quick meal for lunch or dinner and don't want to slave in the kitchen? You'll absolutely love how easy it is to have meal-to-table with this simple dish using ready to cook shrimp.
You can also use this for a quick snack or appetizer. Plus, the kids will love them!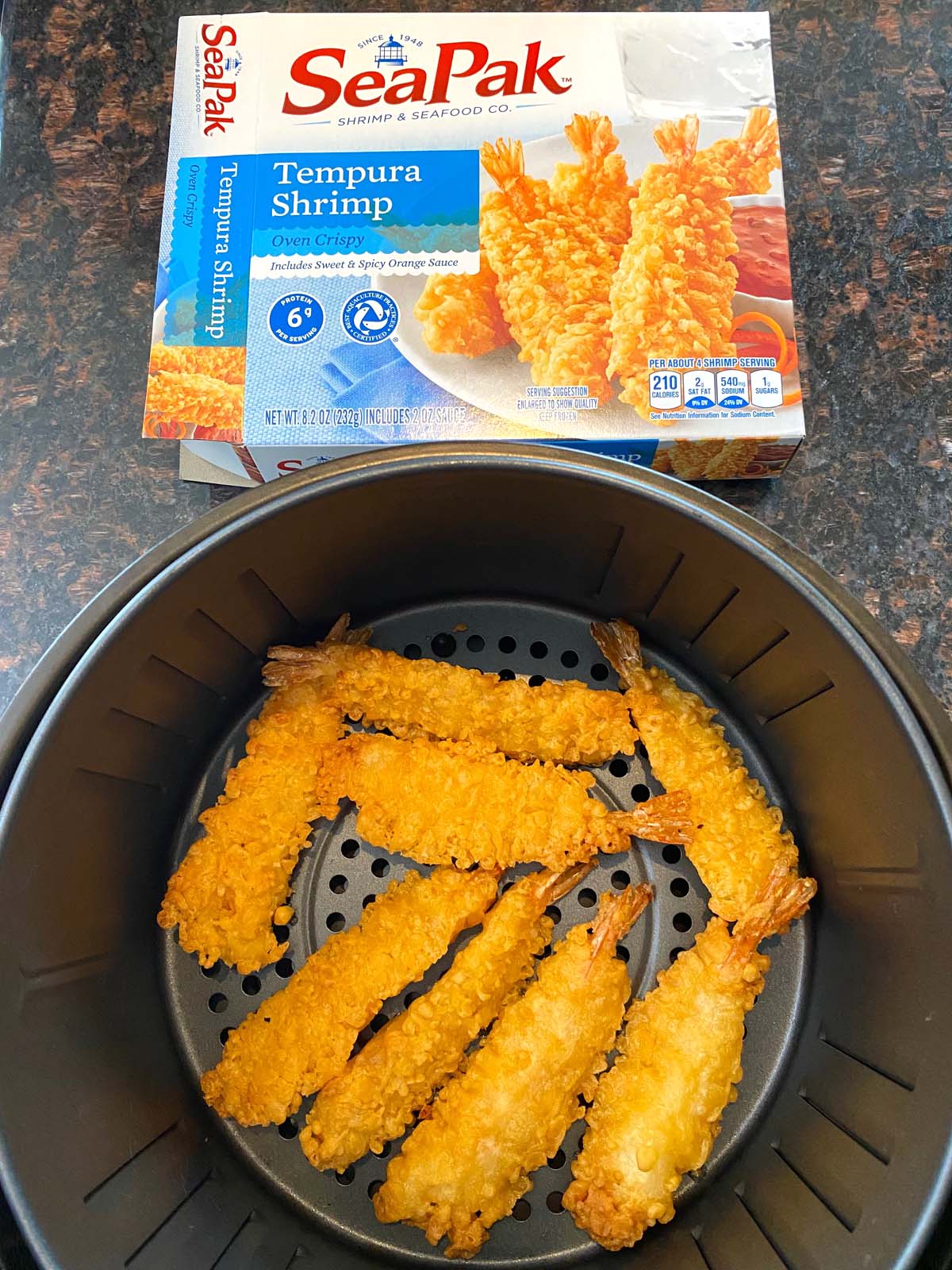 Air Fryer Tempura Shrimp
If you love seafood as much as I do, having a quick and easy shrimp recipe on hand makes life that much easier. Plus, air frying is the best way to get the best results with little hassle.
I've grown more fond of using the air fryer for cooking meals. It's less hassle to just turn on the fryer and load the basket. Not all meals need to go through the process of preheating and warming up the house for just a few minutes of cooking time.
So air fry frozen tempura shrimp and gobble up all the crispy goodness it has to offer in under ten minutes!
What Is Tempura?
Simply put, it is a Japanese-inspired cooking method of battering seafood and vegetables in a batter and deep-frying.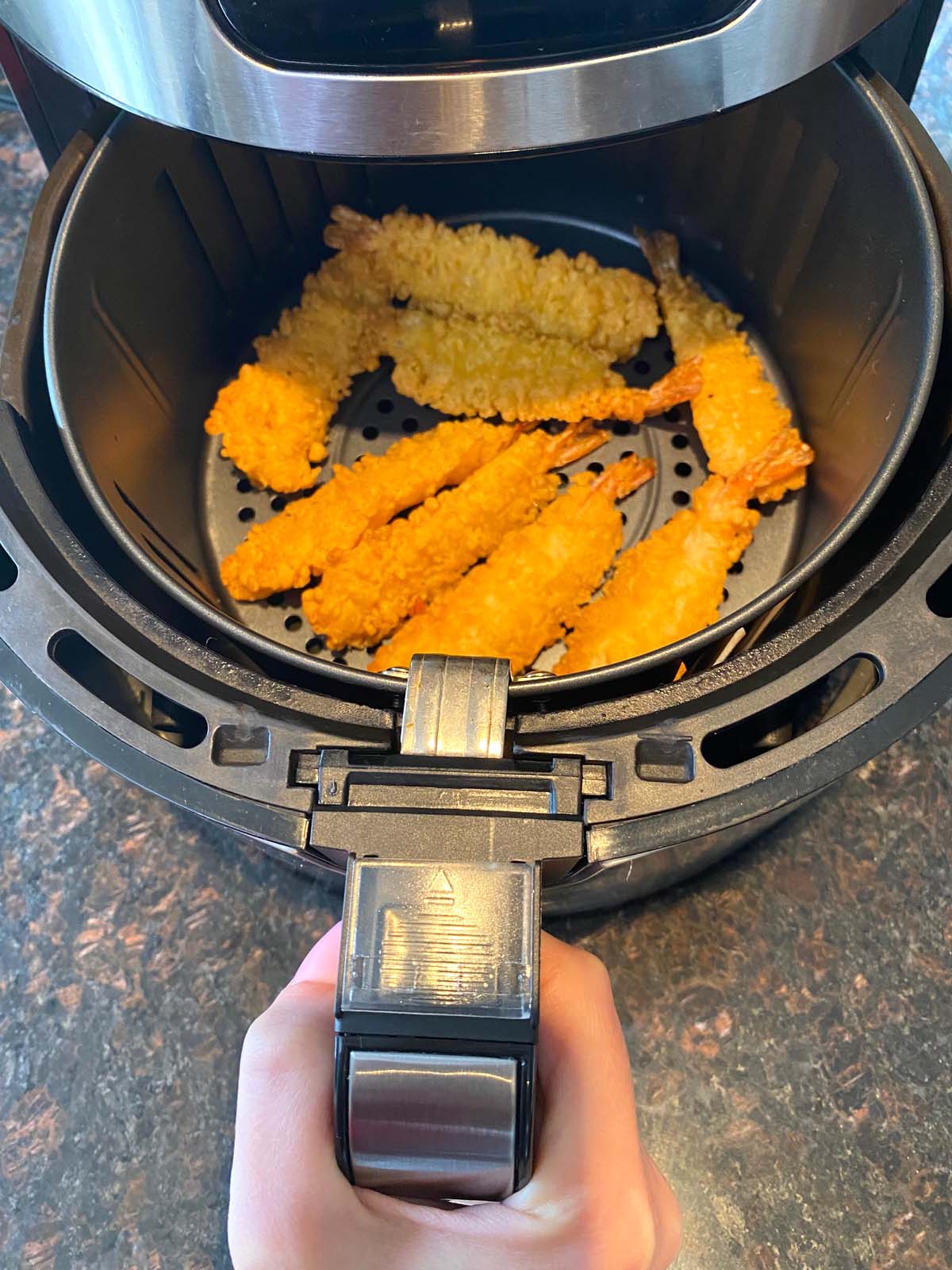 Can you air fry shrimp tempura?
Absolutely! You'll find that the air fryer is perfect for cooking frozen foods, just like this air-fried tempura shrimp.
What frozen shrimp tempura is best?
My favorite brand, and the one I use for this recipe, is SeaPak. They have really great breading using panko and it comes with an orange sauce that's great for dipping.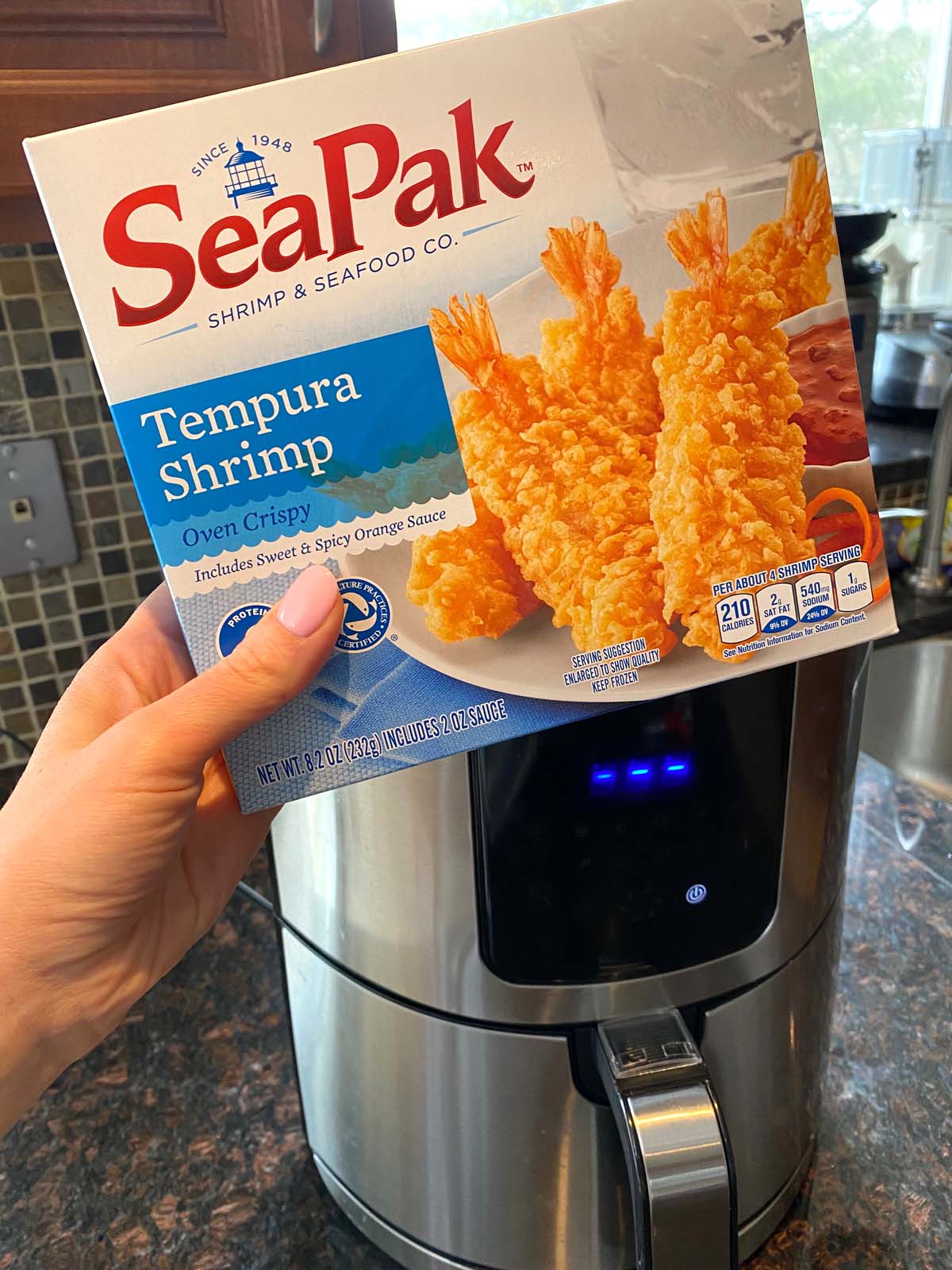 How long do I cook frozen shrimp tempura in the air fryer?
Cooking the shrimp tempura from frozen only takes about 8 minutes to cook.
Should I thaw shrimp before cooking in air fryer?
No! For best results cook the frozen tempura shrimp from frozen. Defrosting will change the texture and the batter will not crisp the same. It will also likely become quite messy in the air fryer. Frozen should be cooked from frozen.
How to make Air Fryer Frozen Shrimp Tempura
Remove the air-fryer basket and place a single layer of shrimp on the bottom.

Set the temperature to 390°F and place the basket back.
Cook for 8 minutes and remove the Seapak tempura shrimp from the air fryer.

Warm the sauce that comes with the Seapak brand in warm water and use for dipping. Or, try this Sweet and Spicy Sauce

What to serve with Shrimp Tempura
This simple shrimp tempura is a quick and easy way to have a meal in minutes and is so crispy and juicy. You'll love having this seafood recipe for the air fryer on hand.
Try pairing these crunchy shrimp with some of my favorite sides:
More Shrimp Recipes
Seafood lovers, if you loved this super simple air fryer dish then you must try some of these other easy shrimp recipes. They're full of the best flavor and come together quickly.
Click Here To Pin This Recipe
Air Fryer Frozen Shrimp Tempura
Crunchy and delicious, this super easy Air Fryer Shrimp Tempura only takes 8 minutes to cook up! It's a quick way to have a snack, lunch, appetizer, or dinner ready in no time.
Ingredients
1

box

frozen shrimp tempura
Recommended Kitchen Tools (click the links below to see the items used to make this recipe)
Instructions
Place frozen shrimp tempura in a single layer in the air fryer basket.

Set the air fryer to 390 and set time for 8 minutes.

Place basket back in air fryer and press start. Remove shrimp from basket and serve immediatly.
Save This Recipe
See also:
Save this for later on your social media:
Get Melanie's FREE Recipes In Your Inbox!
https://www.melaniecooks.com/wp-content/uploads/2022/03/Air-Fryer-Frozen-Shrimp-Tempura-8.jpg
1600
1200
Melanie Mendelson
https://www.melaniecooks.com/wp-content/uploads/2015/11/logo-new2.png
Melanie Mendelson
2022-06-26 07:53:13
2022-06-06 13:55:04
Air Fryer Frozen Shrimp Tempura