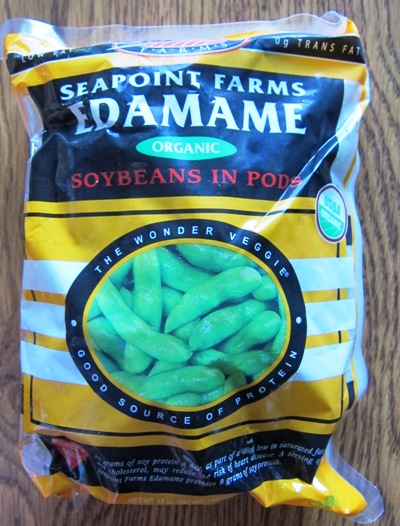 If you like edamame, you need to get this organic frozen edamame from Costco. I always get edamame for an appetizer at Asian restaurants like Benihana and Stir Crazy, and now I can have my edamame fix at home :)
Costco sell a huge package of frozen organic edamame of Seapoint Farms brand. The Costco package is 3.5 lbs, and inside of this huge package are 4 smaller bags. Each smaller bag of edamame is 14 oz, which is enough edamame for an appetizer for 2 to 3 people.
Edamame is a soy bean, and here's how to pronounce edamame: "ed-ah-MAH-may". If you are wondering how to eat edamame, here's how you do it. The shells of edamame are not edible, you should only eat the beans that are inside. To eat edamame, crack the edamame pod open by pressing on it with your fingers, then bring the open pod of edamame close to your mouth, then grab the edamame beans with your teeth into your mouth :) Throw the edamame shell out – just have an empty bowl on the table for the edamame shells. Now you know how to eat edamame – try it out, it's so yummy!
Edamame is very healthy and nutritious, as it is a complete protein, great source of fiber, protein, amino acids and vitamins. Here's the nutritional information for Costco Seapoint Farms edamame: serving size 1/2 cup, 100 calories, 3 grams of fat, zero saturated fat, zero trans fat, zero cholesterol, 30 mg sodium, 9 grams total carb, 4 grams of fiber, 1 gram of sugar, 8 grams of protein, 10% Vitamin A, 4% Calcium, 10% Vitamin C and 8% Iron. The only ingredient is organic soybeans – no chemicals or preservatives!
There are two ways to cook frozen edamame – boil it in a pot or cook in a microwave. To cook edamame on the stove, bring a pot of water to a boil, add edamame, return to a boil and cook 4-5 minutes. Drain and rinse until cold running water. To cook edamame in a microwave, take the frozen edamame out of the bag, put it in a microwave-safe dish, cover with plastic wrap and microwave on High for 3 to 4 minutes.
I always cook this frozen edamame from Costco in a microwave, and it turns out delicious. Cooking edamame in a microwave is just so much easier than dealing with a pot with boiling water :)
Here's cooked edamame from Costco in a bowl: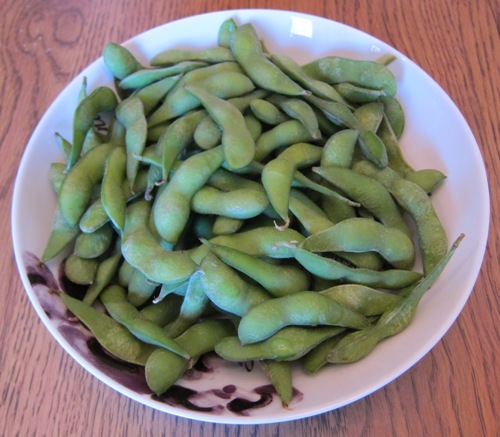 If you like edamame, chances are that you also like seaweed salad. Did you know that Costco carries an excellent seaweed salad? Check out Costco seaweed salad and also Costco seaweed snacks – yum!
Save this for later on your social media:
Get Melanie's FREE Recipes In Your Inbox!
https://www.melaniecooks.com/wp-content/uploads/2012/08/costco-edamame.jpg
526
400
Melanie Mendelson
https://www.melaniecooks.com/wp-content/uploads/2015/11/logo-new2.png
Melanie Mendelson
2012-11-24 07:41:28
2012-11-15 21:24:41
Organic Frozen Edamame From Costco