Air Fryer Frozen Seapak Clam Strips
This post may contain affiliate links (disclosure).
It is SO EASY to make Air Fryer Frozen Seapak Clam Strips any time of day! Just like most air fryer recipes, it's as easy as placing them in the basket and letting the convection work its magic. You'll get crispy, crunchy clam strips cooked perfectly every time!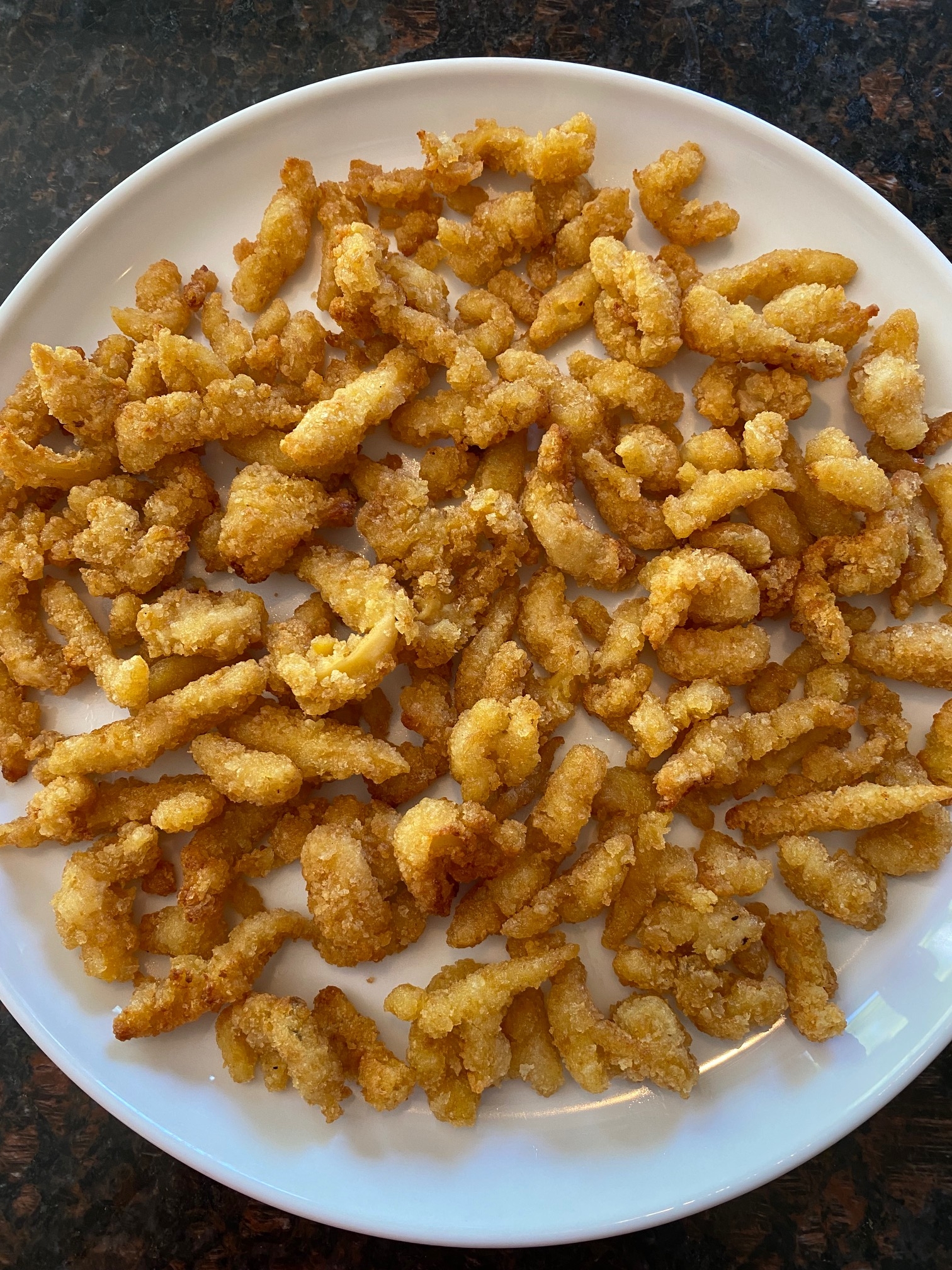 If you need a quick appetizer or are just craving something crunchy, these breaded clam strips take less than 10 minutes to air fry. You'll have a tasty snack in no time. You must try them hot and spicy with my homemade buffalo sauce!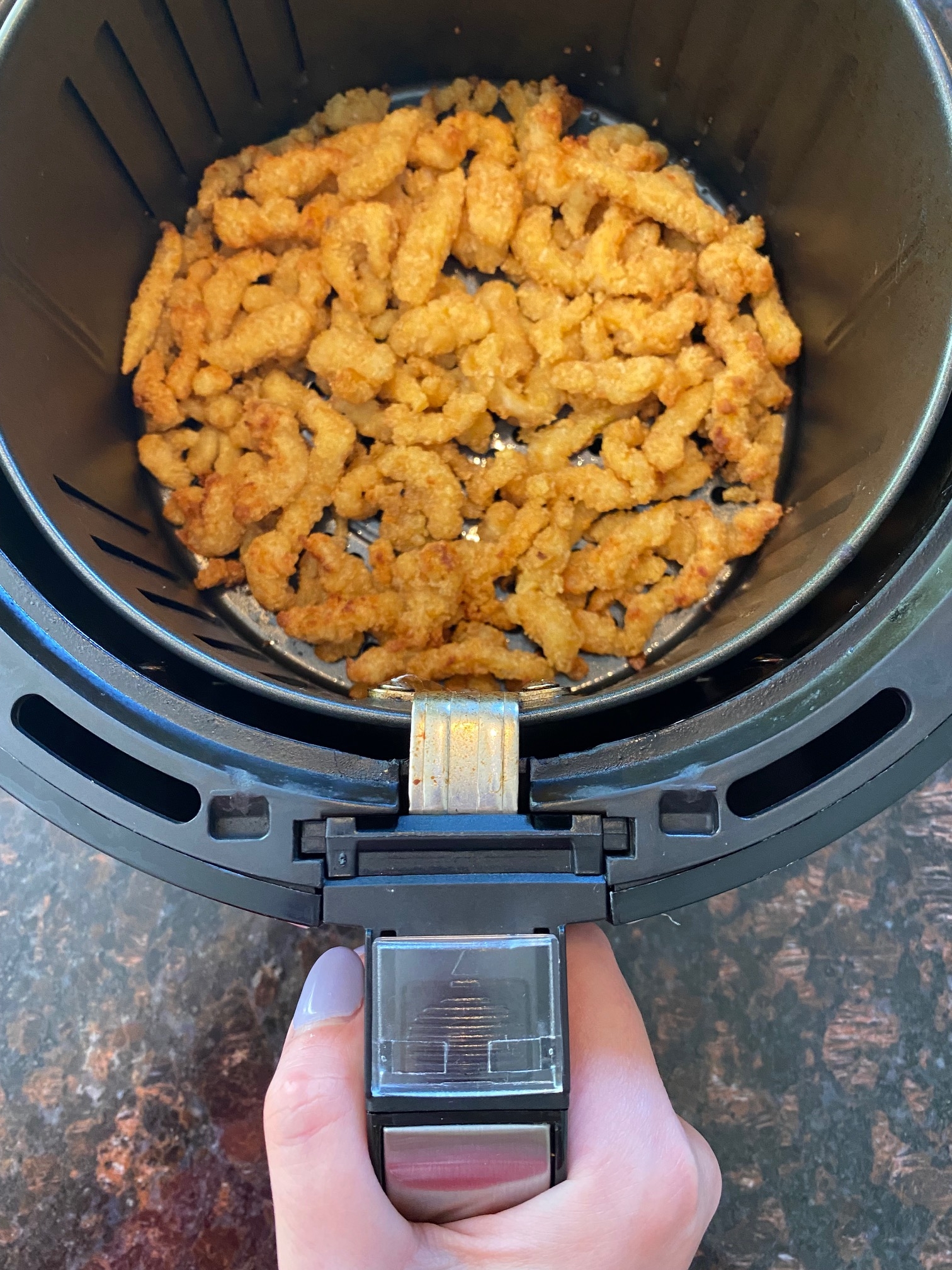 Having a quick snacking option is so easy when you utilize your air fryer, especially when you cook prepackaged frozen goods like this clam strip recipe. If you like how easy and quick it is to air fryer frozen foods, then you'll also enjoy my air fryer pizza puffs or mini wontons.
Why you'll love Air Fryer Clam Strips from Frozen
They cook up crispy and tender – Using an air fryer to cook these frozen seapak clam strips cooks up just as crispy if you were to fry or oven bake them.
Great for snacking – Need a quick afterschool snack or just craving seafood? You'll love learning how to make clam strips in the air fryer from frozen for something quick and tasty to munch on.
Ready in no time – It takes less than 10 minutes to air fry clam strips from frozen. That's nothing in comparison to frying and baking. Plus there's no need to wait for the air fryer to warm up.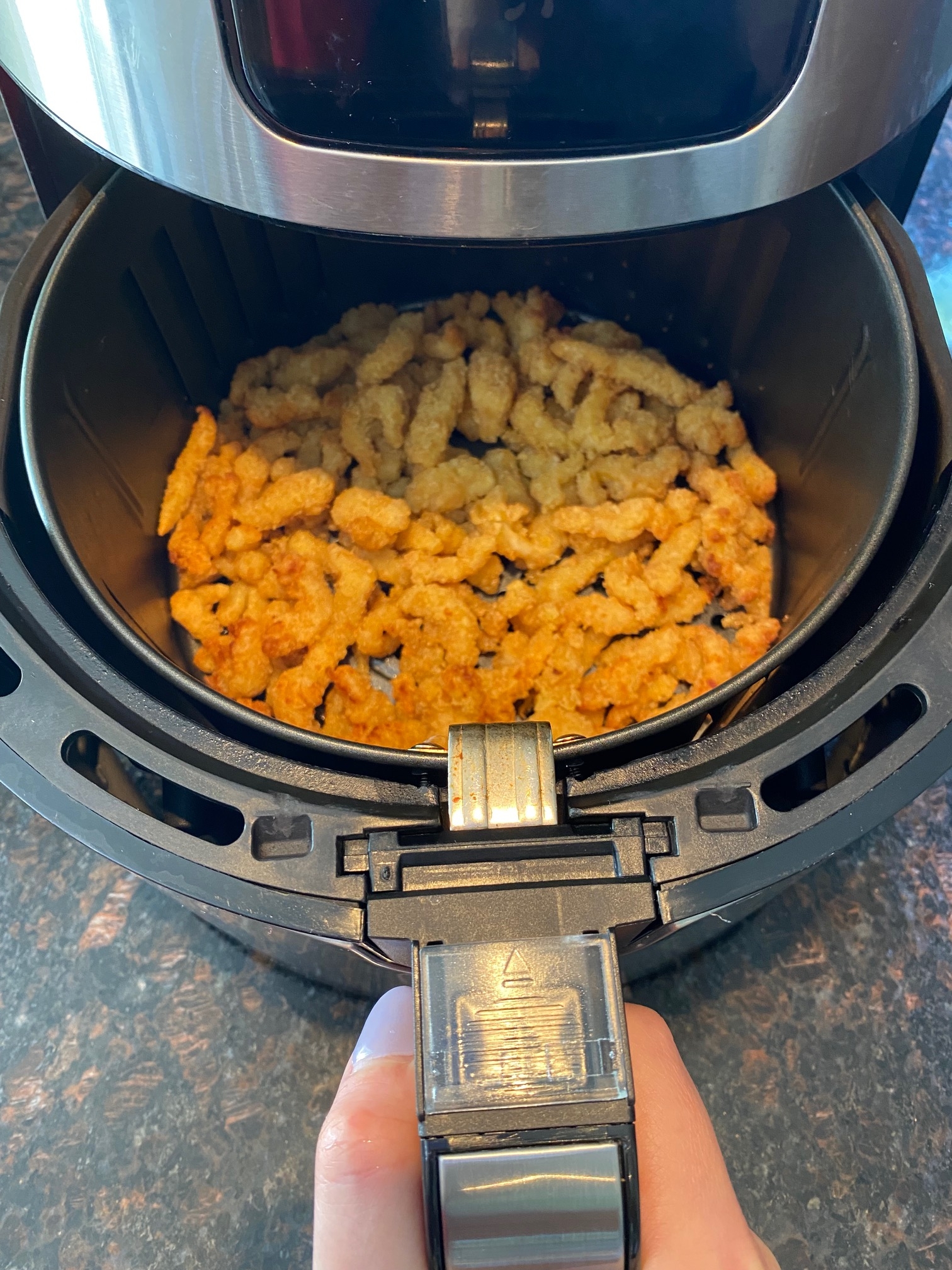 Ingredients
I love Seapak Clam Strips and prefer them over other brands, but feel free to use whichever frozen clam strips you'd like. They should all cook up the same. That's all you need, a box of clam strips and an air fryer. You could sprinkle some cajun seasoning or seasoned salt on top for a pop of flavor.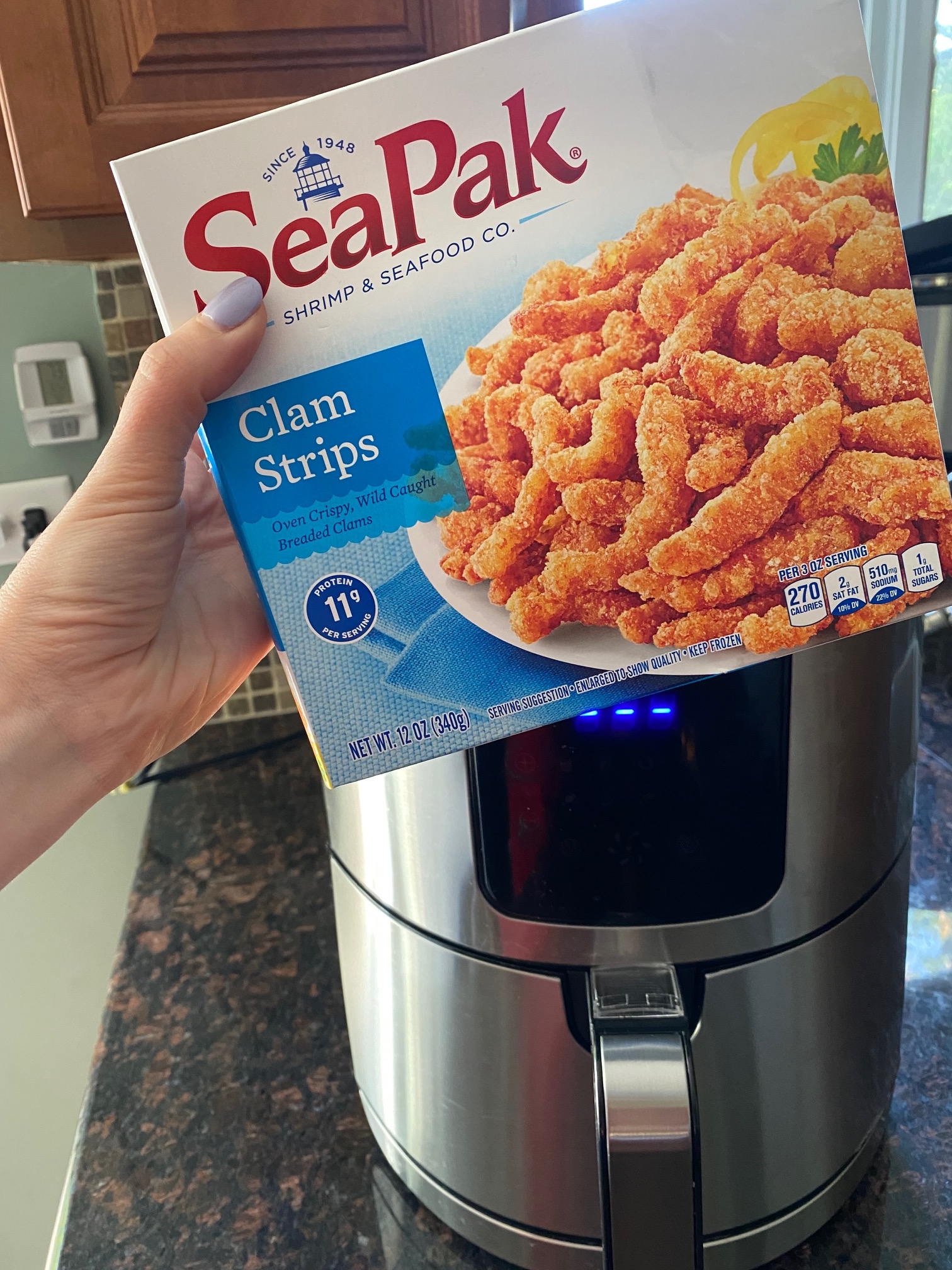 How to cook frozen clam strips in air fryer
This family-friendly appetizer comes together in minutes and is so tender and crispy. Clam strips are perfectly cooked in the air fryer for you to enjoy in no time at all.
Step 1: Add the clam strips to the basket and place it in the air fryer machine. Set the temperature to 400F and timer for 9 minutes.
Step 2: Halfway through remove the basket and give the clam strips a quick toss, return and finish cooking. Enjoy crispy clam strips as an appetizer, snack, sandwich, or on salad. Yum!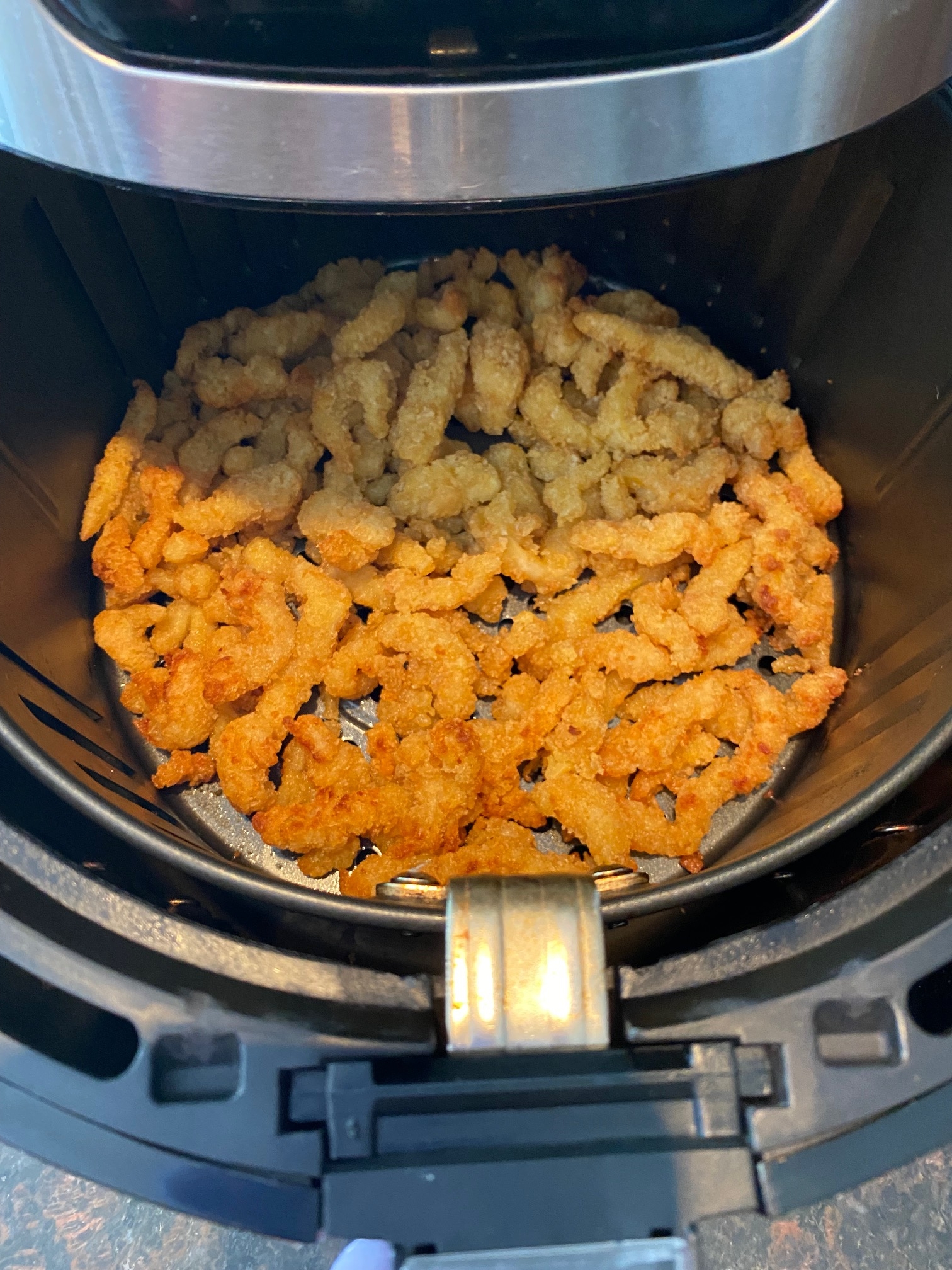 Tips for air frying clam strips
Cook from frozen – Do not thaw the clam strips first. They are meant to be cooked from frozen whether in the air fryer, in oil, or baked.
Shake the basket – Halfway through cooking toss the clam strips in the air fryer basket so they cook evenly. They'll all be perfectly crispy you won't have any soft spots.
Add seasonings – If you want to take it up a notch, sprinkle your favorite seasonings on the clam strips before or after cooking. Old bay or cajun seasonings would be perfect to go with them.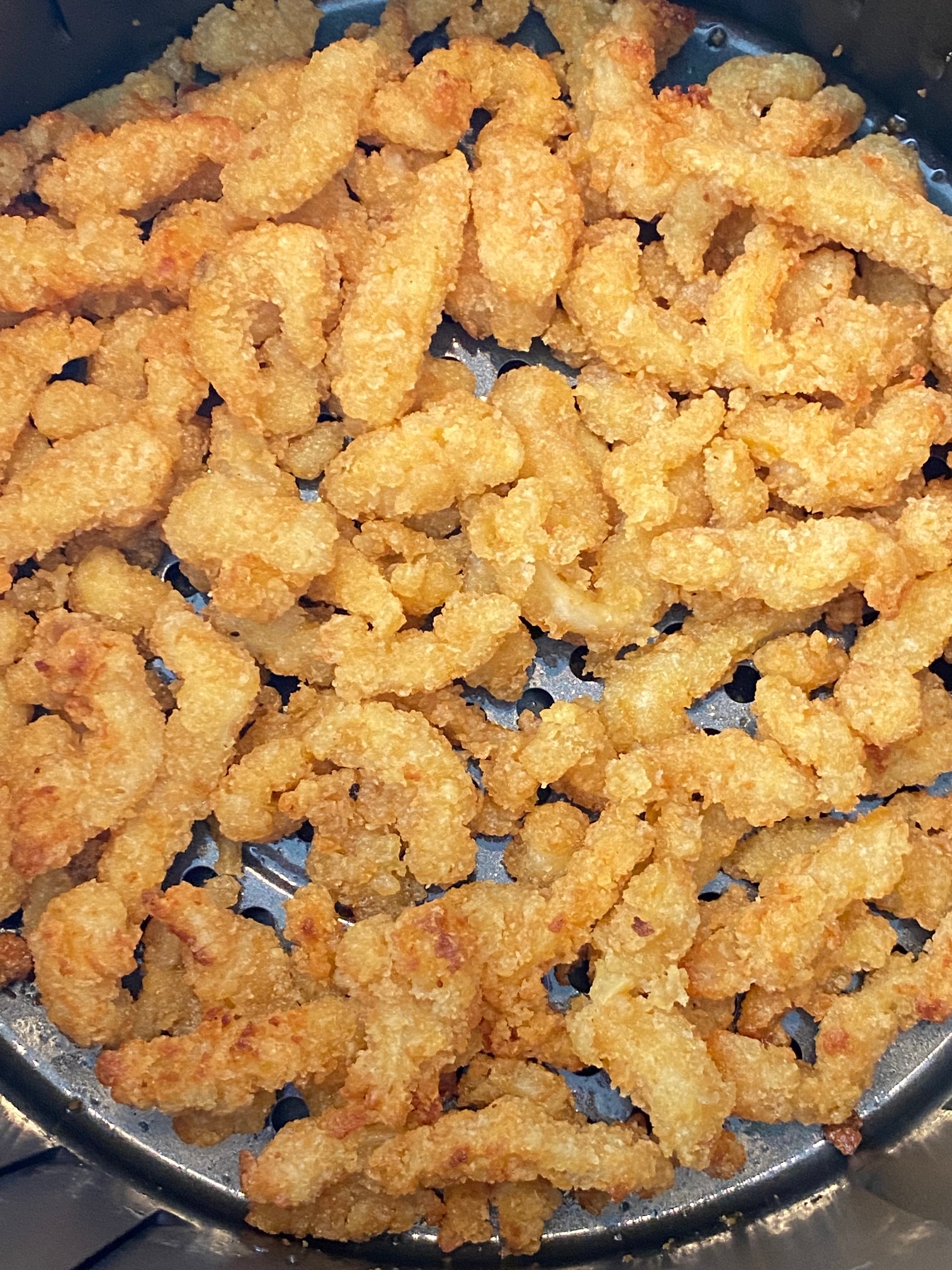 Can you cook frozen clam strips in the air fryer?
Yes, you can cook clam strips from frozen in the air fryer with the temperature set to 400F for 9 minutes, shaking the basket halfway through.
Should you defrost frozen clam strips before cooking?
No! Air fry frozen clam strips from frozen. Do not thaw first.
How long do you cook frozen seapak clam strips in the air fryer?
Cook frozen clam strips in the air fryer for 9 minutes. They will be crispy on the outside and tender on the inside.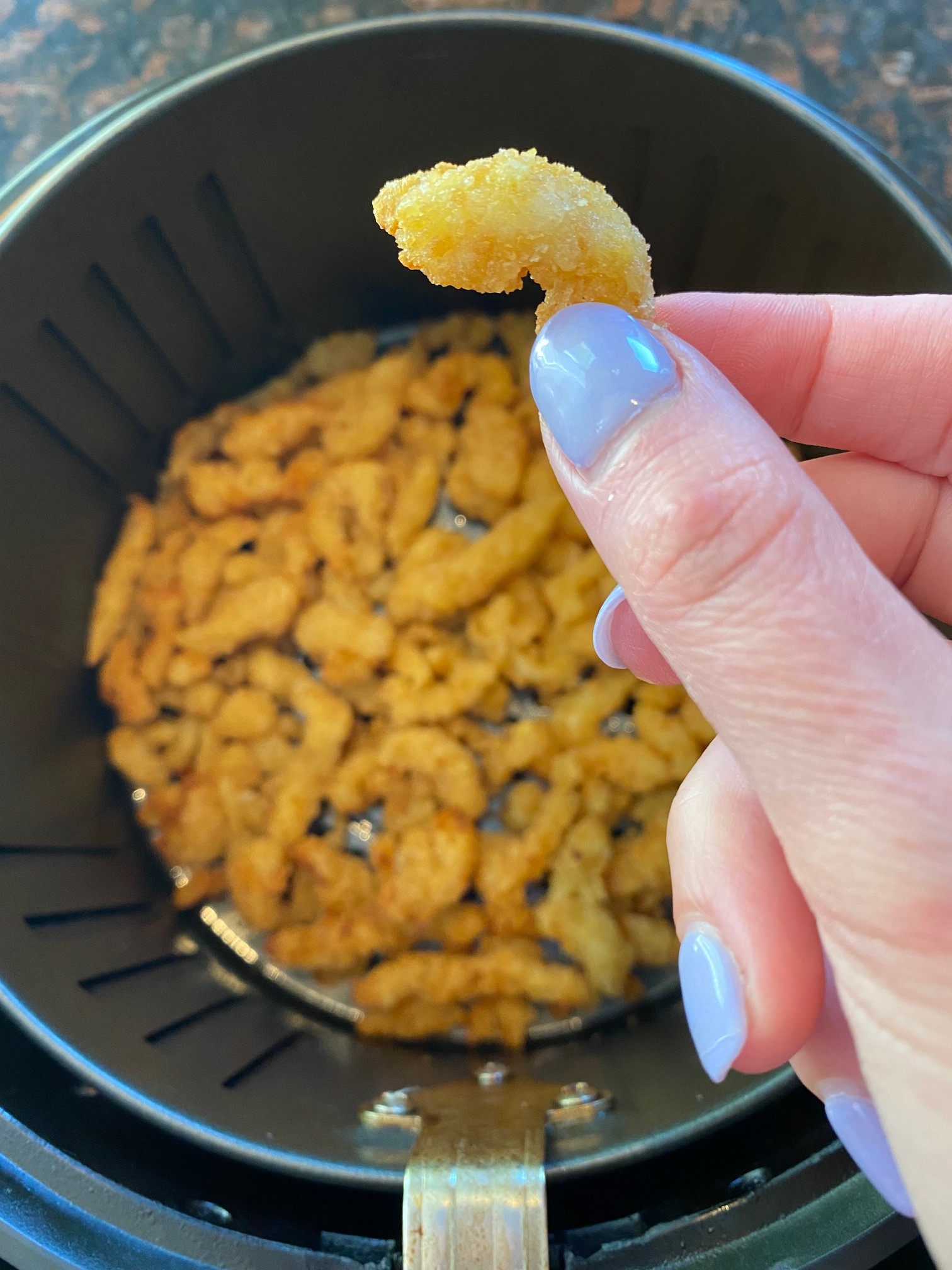 What to serve clam strips with
You can enjoy air-fried clam strips by themselves, with a dip, or as another meal.
With sauce – Dip these tasty crispy clam strips in cocktail sauce or tarter sauce.
As a sandwich – Make a clam strip po' boy by adding them to a sub roll and top with a remoulade sauce or aioli, lettuce, and tomato.
On a salad – Mix up your favorite greens and toppings then add the clam strips on top.
Storage
Because these are so easy to make fresh I don't recommend saving leftovers. Make less at a time and just cook them when you're ready to eat.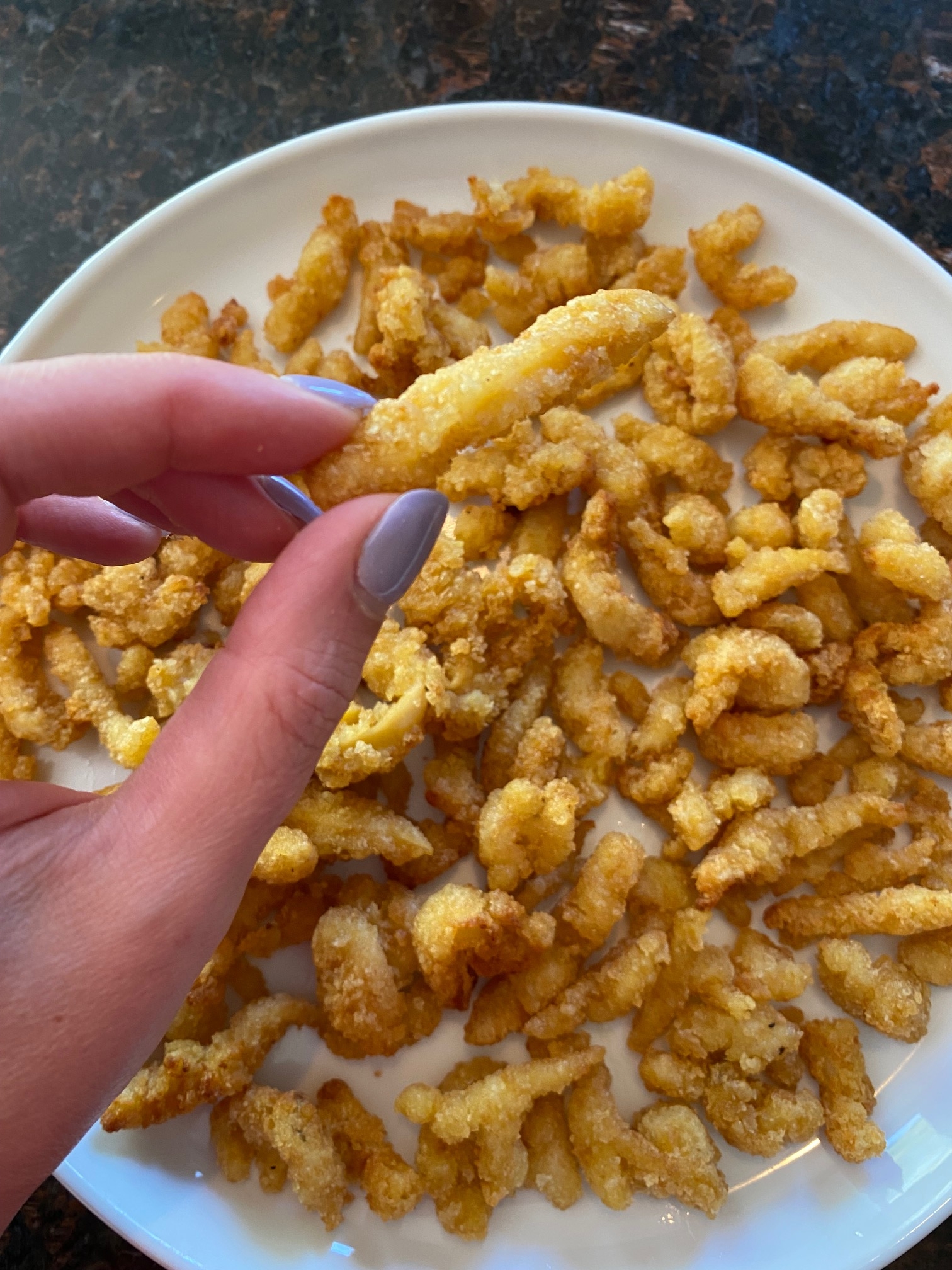 More Appetizer Recipes
Click Here To Pin This Recipe
Air Fryer Frozen Seapak Clam Strips
Air Fryer Frozen Seapak Clam Strips cooks up perfectly crispy and heated through for a tasty appetizer or snack in just 10 minutes!
Recommended Kitchen Tools (click the links below to see the items used to make this recipe)
Instructions
Add clamstrips to the air fryer basket and place inside machine. Set temperature to 400F for 9 minutes.

Halfway through cooking, remove the basket and shake it to toss around the clam strips. Return the basket to finish cooking. Enjoy!
Nutrition
Calories:
230
kcal
|
Carbohydrates:
26
g
|
Protein:
9
g
|
Fat:
10
g
|
Saturated Fat:
2
g
|
Cholesterol:
10
mg
|
Sodium:
330
mg
|
Fiber:
4
g
Save This Recipe
See also:
Save this for later on your social media:
Get Melanie's FREE Recipes In Your Inbox!
https://www.melaniecooks.com/wp-content/uploads/2022/05/Air-Fryer-Frozen-Clam-Strips-7-rotated.jpg
2016
1512
Melanie Mendelson
https://www.melaniecooks.com/wp-content/uploads/2015/11/logo-new2.png
Melanie Mendelson
2023-01-13 07:22:52
2022-11-13 14:52:48
Air Fryer Frozen Seapak Clam Strips