Air Fryer Frozen Spanakopita
This post may contain affiliate links (disclosure).
This air fryer frozen spanakopita is amazing! Perfectly browned and crispy flaky pastry on the outside, delicious spinach feta filling on the inside – so mouthwatering! Air fryer is the best way to cook frozen spanakopita appetizers!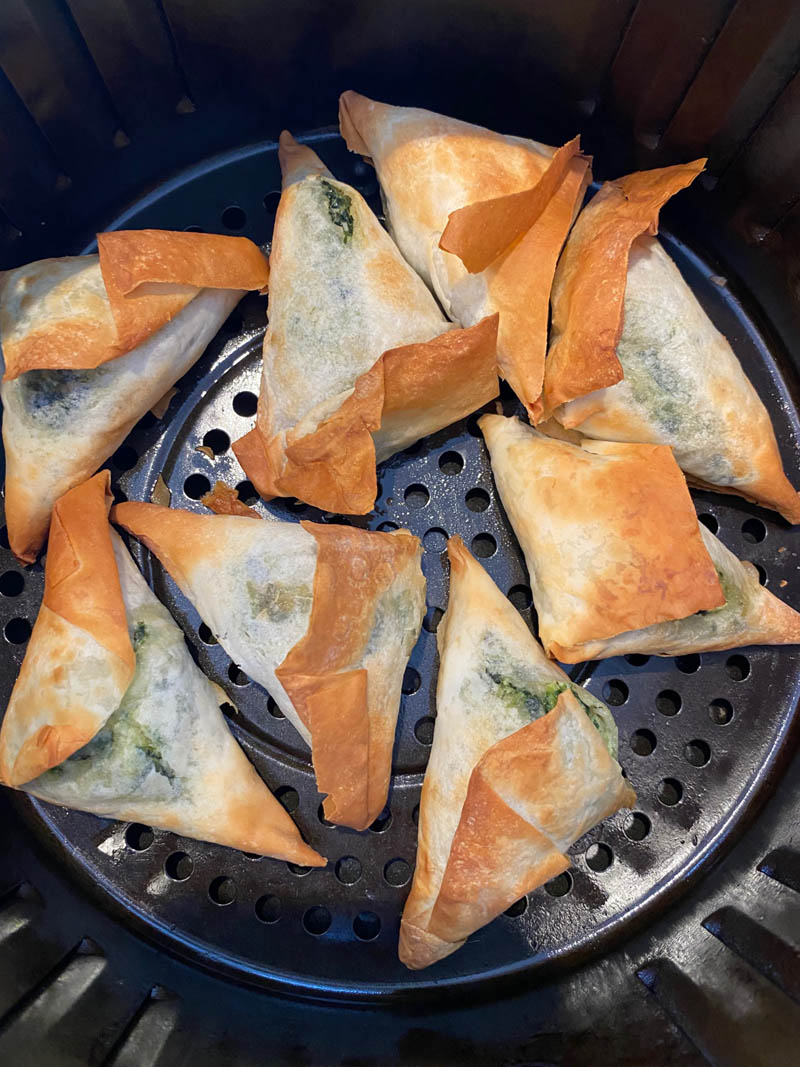 Is there anything an air fryer can't do? Well honestly, I've actually been obsessed with my air fryer lately, and have been utilizing it to its maximum potential, trying all sorts of different recipes and foods.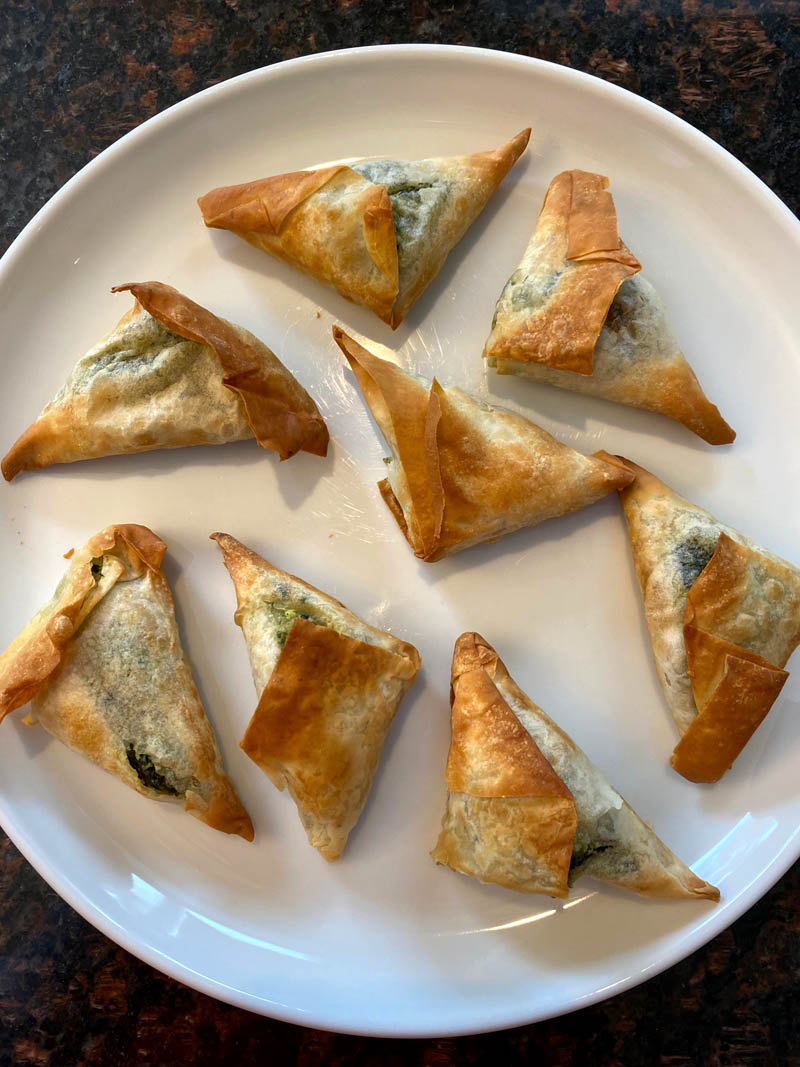 And then, I discovered these super flavourful creamy and salty things called Spanakopita. If you already knew about them, great! I got a pack of them on my last trip to the supermarket, tried air frying them and was amazed at what a big success they turned out to be!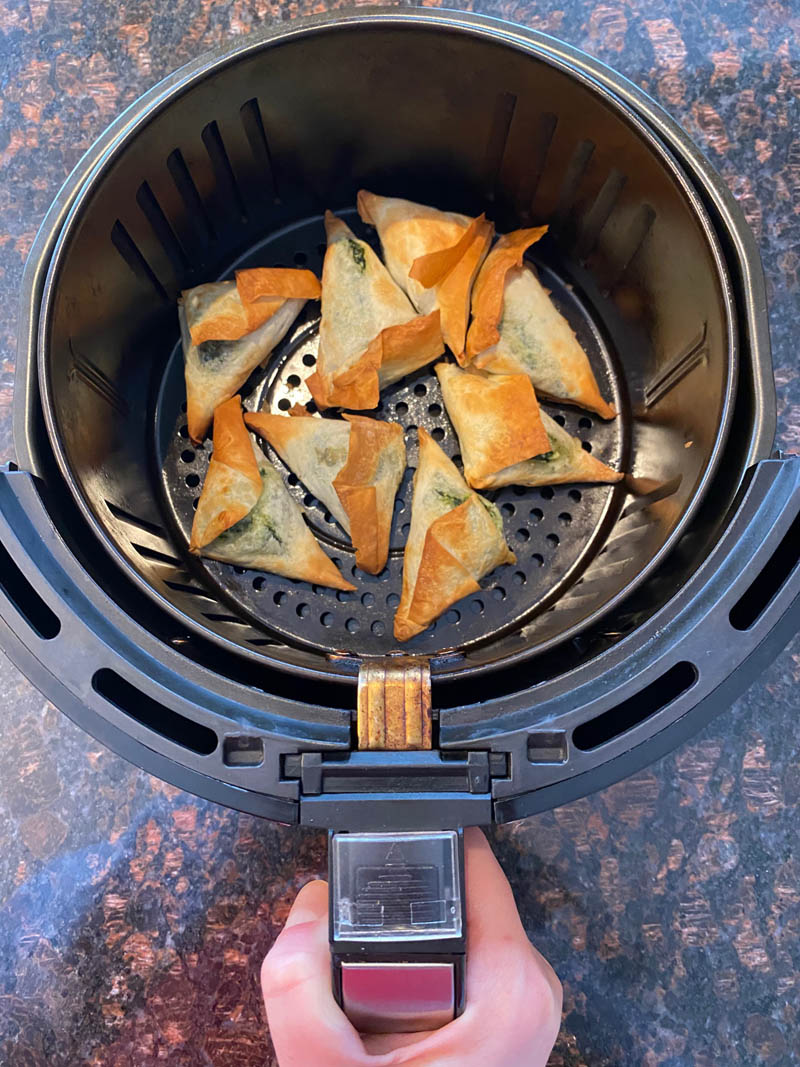 Ready to go ahead and try these? Give this a quick read before you take those taste buds for a ride!
Can I Make Spanakopita From Scratch?
Oh yes you can! If you don't mind spending some extra time in the kitchen that is. Spanakopita is made with phillo dough, spinach, feta, cream cheese and ricotta. So basically to make spanakopita from scratch, you stuff store-bought phillo dough with chopped spinach and a mixture of feta cheese, cream cheese and ricotta. You can also use puff pastry instead of phillo dough.
Making the Spanakopita yourself can be a tad bit time consuming, so if you're like me and prefer to get your meals (and snacks) done quickly, using the frozen spanakopita is probably your best bet :)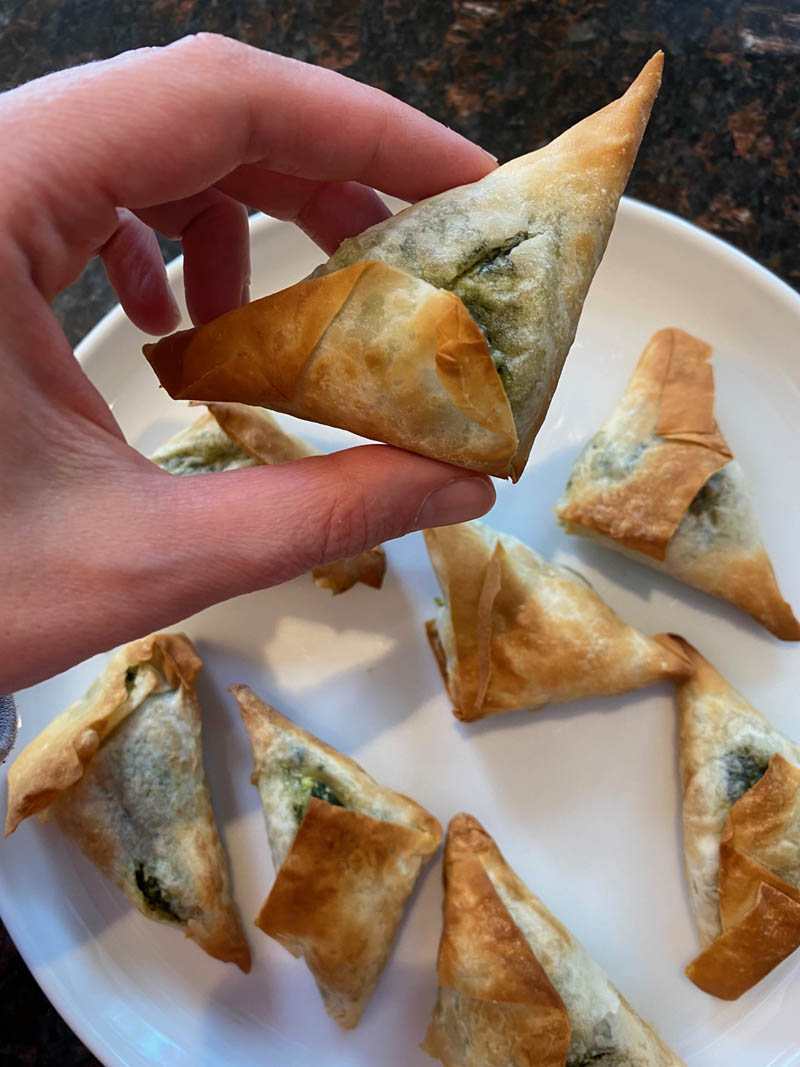 Do I Need to Defrost the Frozen Spanakopita?
If you're air frying anything frozen for the first time, you might have this question pop up in your mind. Guess what? No! That's actually the best part about the air fryer. All you'll need to do is place the frozen Spanakopita in the air fryer basket directly as you get it out from the freezer, and air fry it! Easy right?
If you're thawing it before you put it in the air fryer, remember that you'll not need 10 minutes of cooking time to get it crisp. You'll probably just need to get it out within 5 minutes, or you might risk burning the crispy pastry.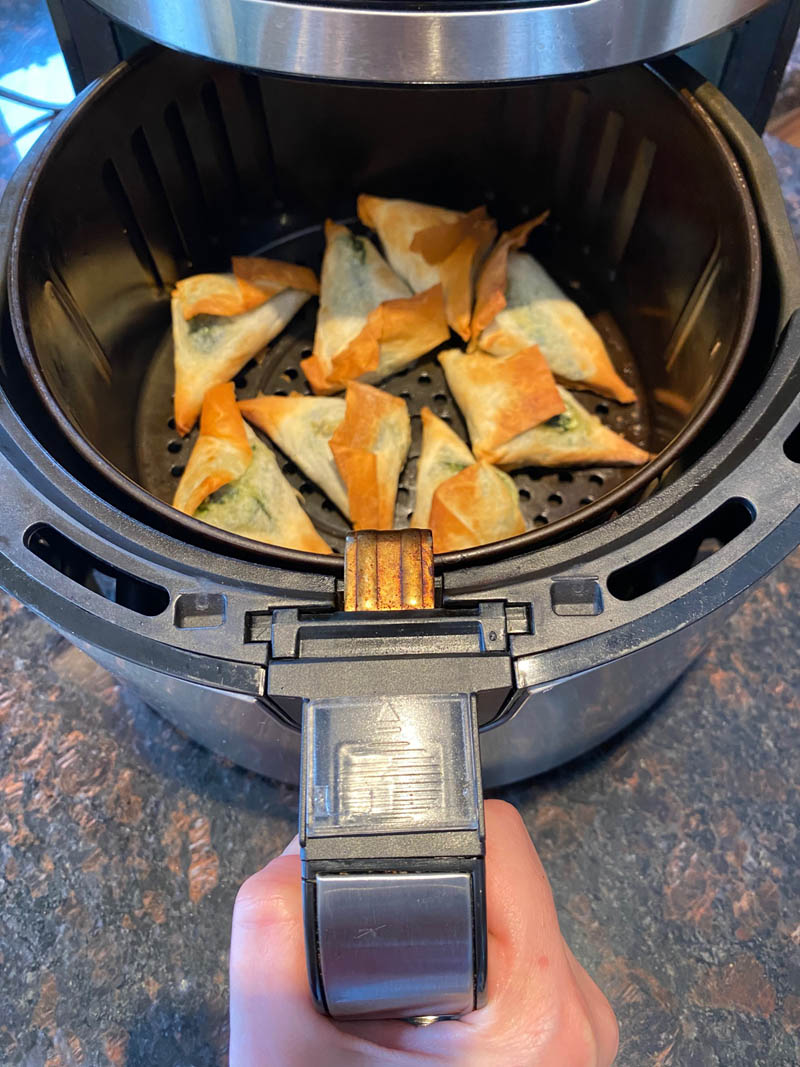 Can I Reheat the Spanakopita Leftovers?
Yes, you can do that too. If you've made a bit too much to get done with in a day, and have some leftovers you want to dig into the next day, you could do that too. Just remember to carefully store the leftovers in an airtight container and pop it in the refrigerator.
The next day, you'll just need to pop them in your preheated air fryer for a couple of minutes until they become nice and crispy once again.
Serving Ideas & Suggestions
Enjoyed this famous Greek appetizer? Looking for some other fun foods and mains to team it up with? Here are a few ideas to get you going.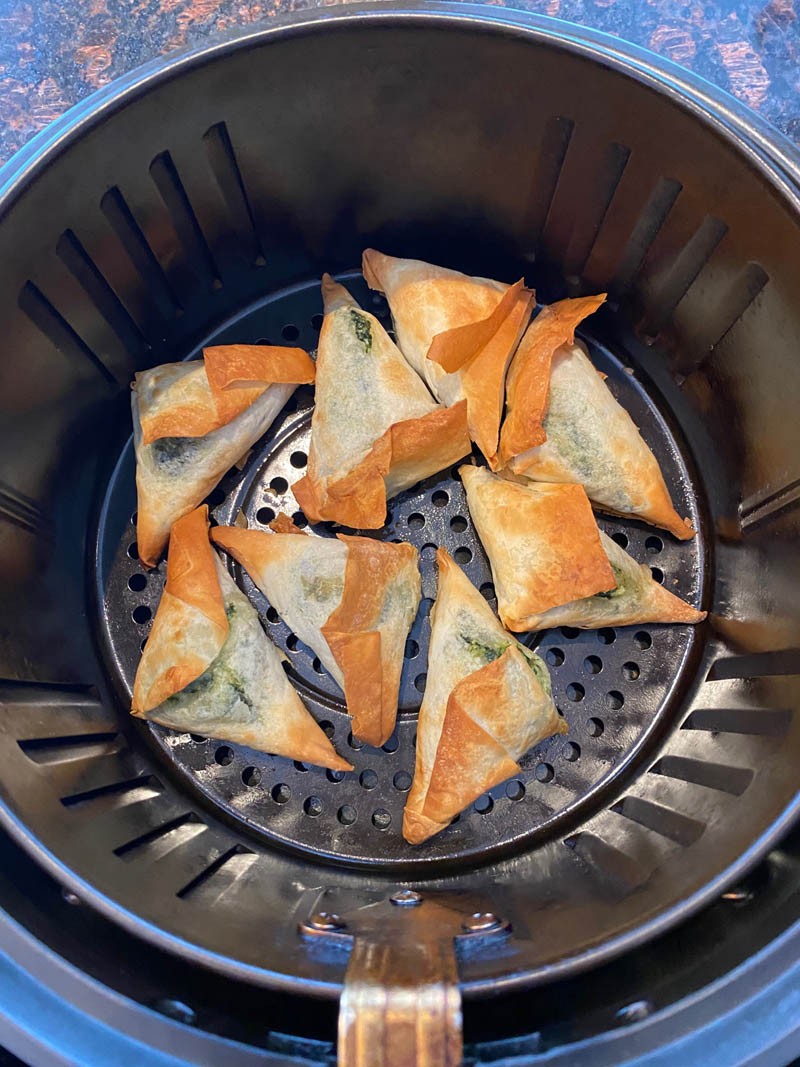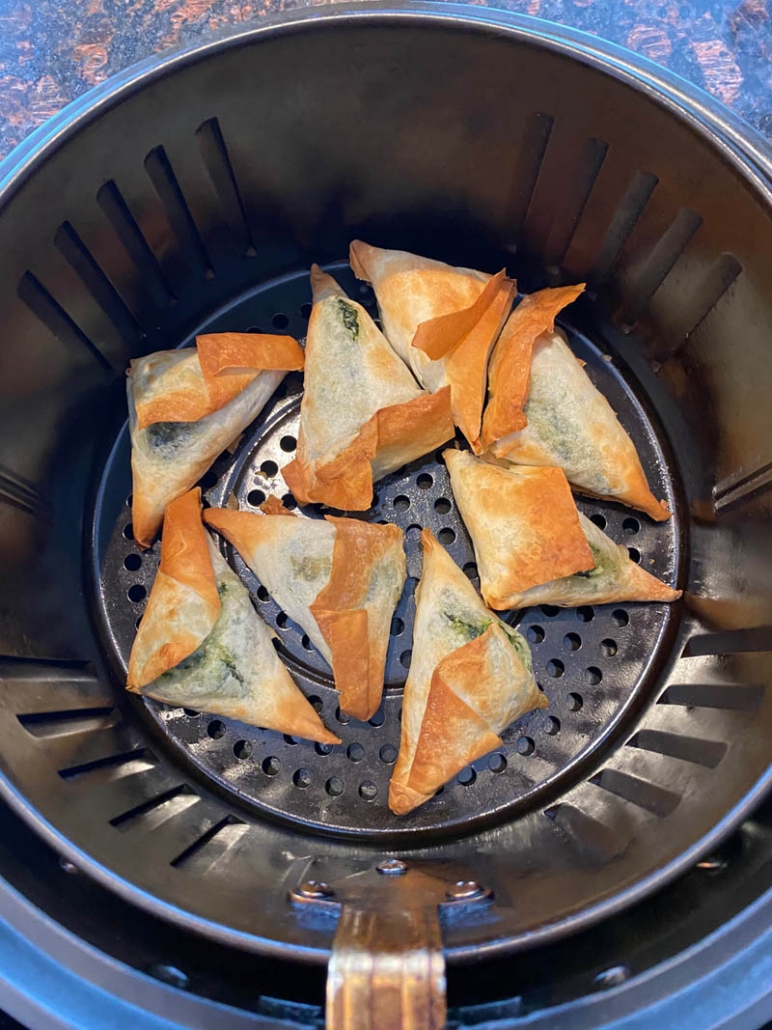 If you liked air fryer frozen spanakopita, you will also love these easy air fryer recipes:
Click Here To Pin This Recipe
Air Fryer Frozen Spanakopita
This air fryer frozen spanakopita is amazing! Just put a package of frozen spanakopita in the air fryer and it will cook it to perfection! Air fried spanakopita is so crispy and delicious, you'll love it!
Recommended Kitchen Tools (click the links below to see the items used to make this recipe)
Instructions
Spray the air fryer basket with a non-stick cooking spray.

Put frozen spanakopita in the air fryer basket in a single layer.

Cook frozen spanakopita in the air fryer at 350F for 11 minutes, flipping them over halfway through the cooking time.
Save This Recipe
See also:
Save this for later on your social media:
Get Melanie's FREE Recipes In Your Inbox!
https://www.melaniecooks.com/wp-content/uploads/2021/02/spanakopita_appetizer_air_fryer.jpg
1067
800
Melanie Mendelson
https://www.melaniecooks.com/wp-content/uploads/2015/11/logo-new2.png
Melanie Mendelson
2021-06-10 07:44:38
2021-06-08 20:28:49
Air Fryer Frozen Spanakopita