Air Fryer Roasted Bell Peppers
This post may contain affiliate links (disclosure).
These air fryer bell peppers have the perfect charred edges and tons of flavor. Enjoy these roasted bell peppers as a side dish or even with your favorite dip for a healthy, delicious treat.
Healthy Air Fryer Bell Peppers
These air fryer roasted bell peppers are the perfect low carb hack to replace tortilla chips when eating a quick snack of 'chips' and dip. You can even serve it as a quick and healthy side dish to any kind of protein you want.
It's a great way to incorporate more veggies into your daily diet!
Simply made with a drizzle of olive oil and a dash of salt and pepper, these air fryer peppers are rich in vitamins (specifically vitamin C), low in calories, and high in fiber.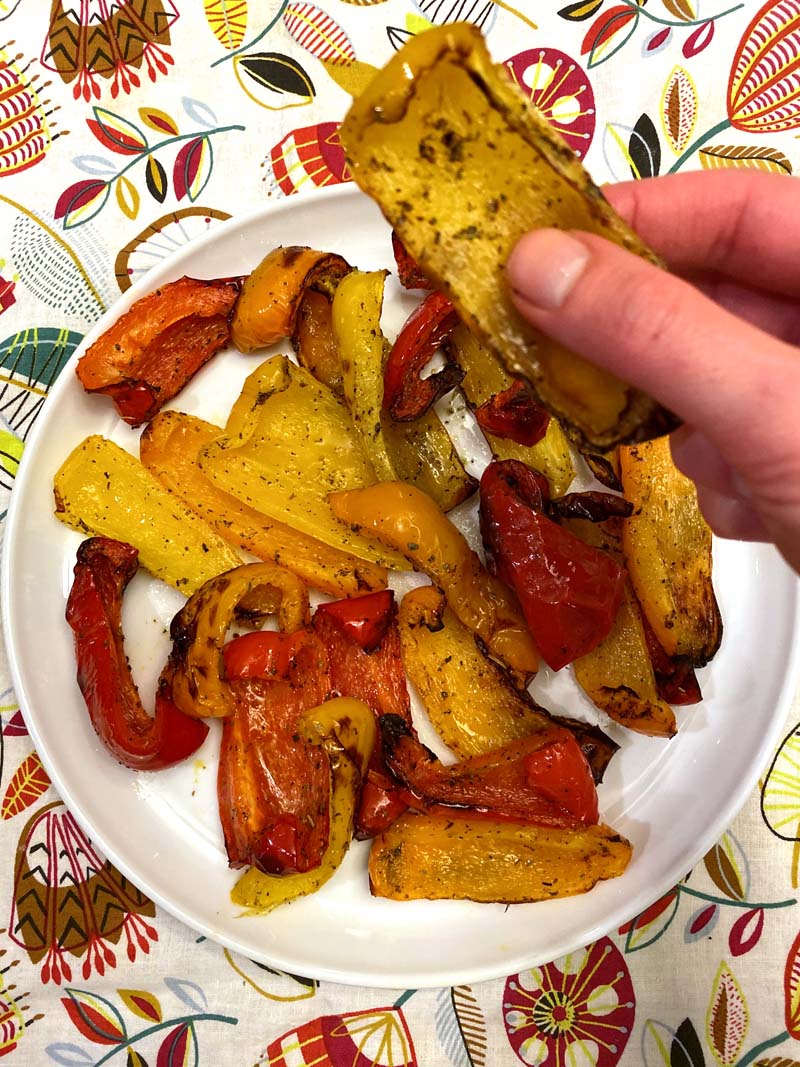 Pick Your Favorite Bell Pepper Color
When people cook bell peppers and see the skin of the pepper sometimes turn black, they automatically think they have burned it. Contrary to popular belief, however, that's exactly what you want. Nothing beats that charred, smokey skin on a bell pepper – that's where all the flavor is!
There are also so many eye-catching color options when it comes to bell peppers which definitely affects the taste. The colors you most likely will come in contact with are red, yellow, orange, and green.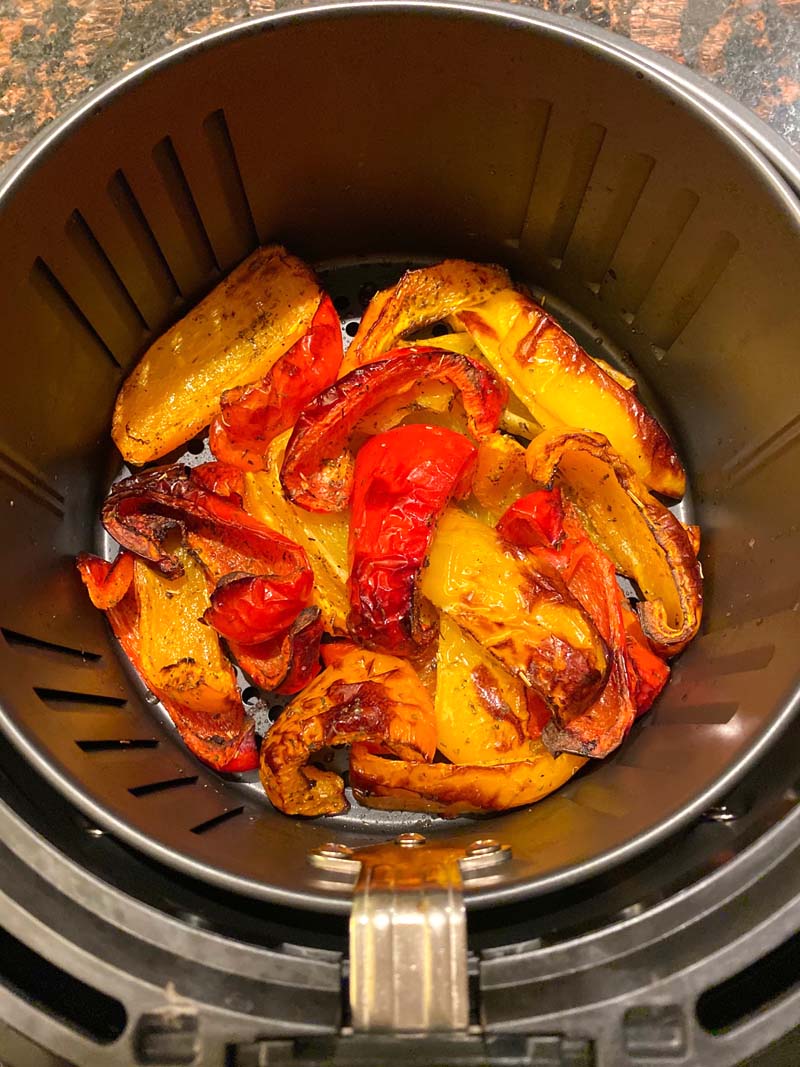 Green peppers are known to be less ripe with a slightly bitter flavor, while the red bell peppers tend to have a sweeter flavor profile. For this recipe, we will be using red, orange and yellow bell peppers.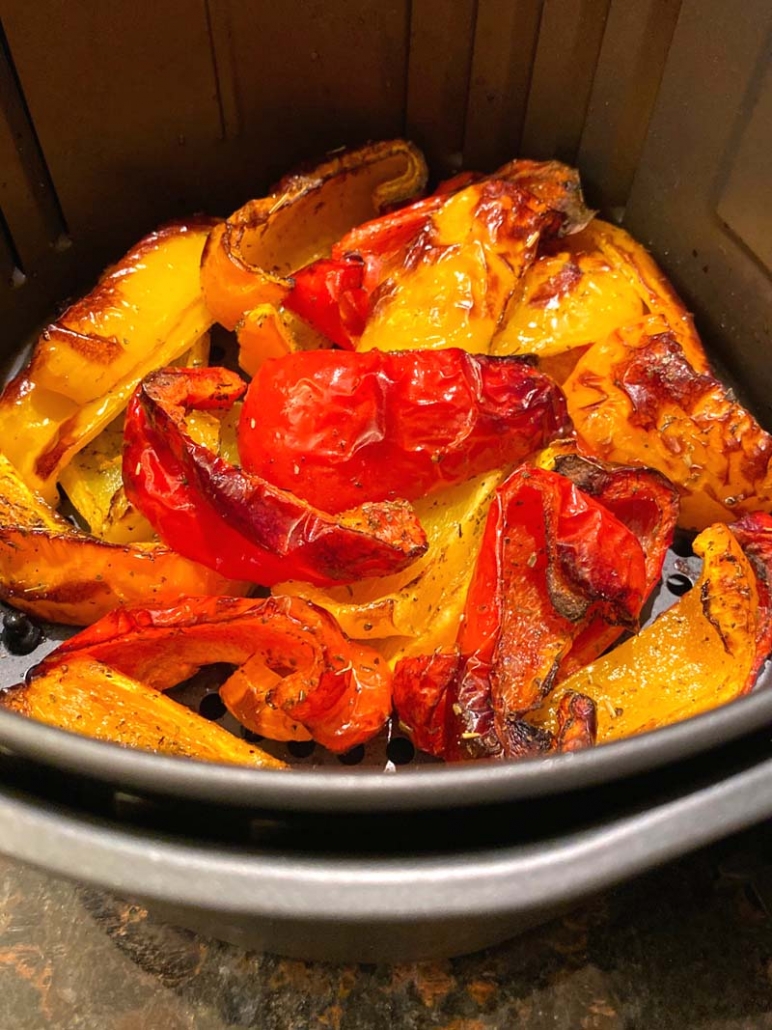 By the way, if you happen to not have an air fryer on hand, that's okay!
There are two other ways you can quickly make some bell peppers that are also delicious. If you have an Instant Pot, you can follow this recipe to make Instant Pot Bell Peppers for a quick side dish. If not, you can always just use your oven and make these Oven Roasted Bell Peppers in a 450-degree oven for 20 minutes.
How To Roast Peppers In The Air Fryer
This is one of the easiest (and quickest) ways to make roasted bell peppers! Generally, this is my preferred method.
First, cut each of the bell peppers in half. Cut off the stem and then scoop out and discard the seeds. Take each halved bell pepper and cut in half again lengthwise.
Place in a bowl and toss bell pepper pieces with some olive oil, salt, and pepper to taste. If you are looking to spice things up a bit, sprinkle on some cayenne pepper for a kick of heat.
Put the bell peppers in the air fryer basket and cook at 400F for 13 minutes.
To make sure they get roasted on all sides, pull the air fryer basket out halfway through and give it a shake.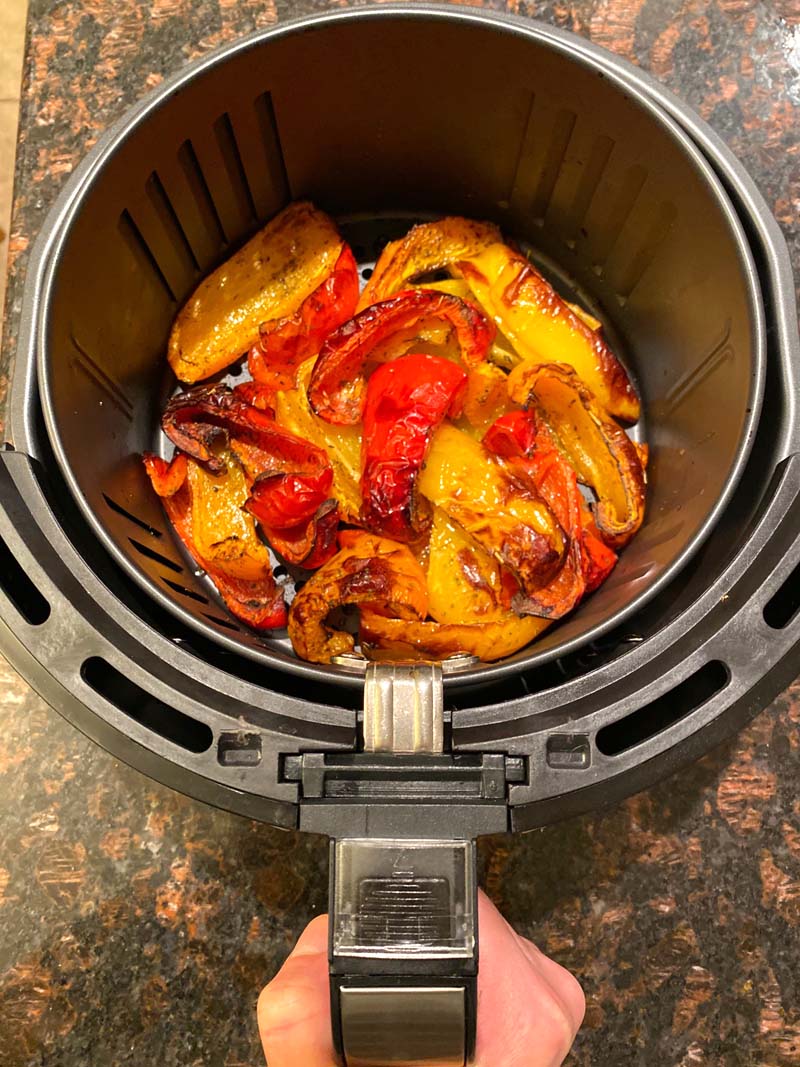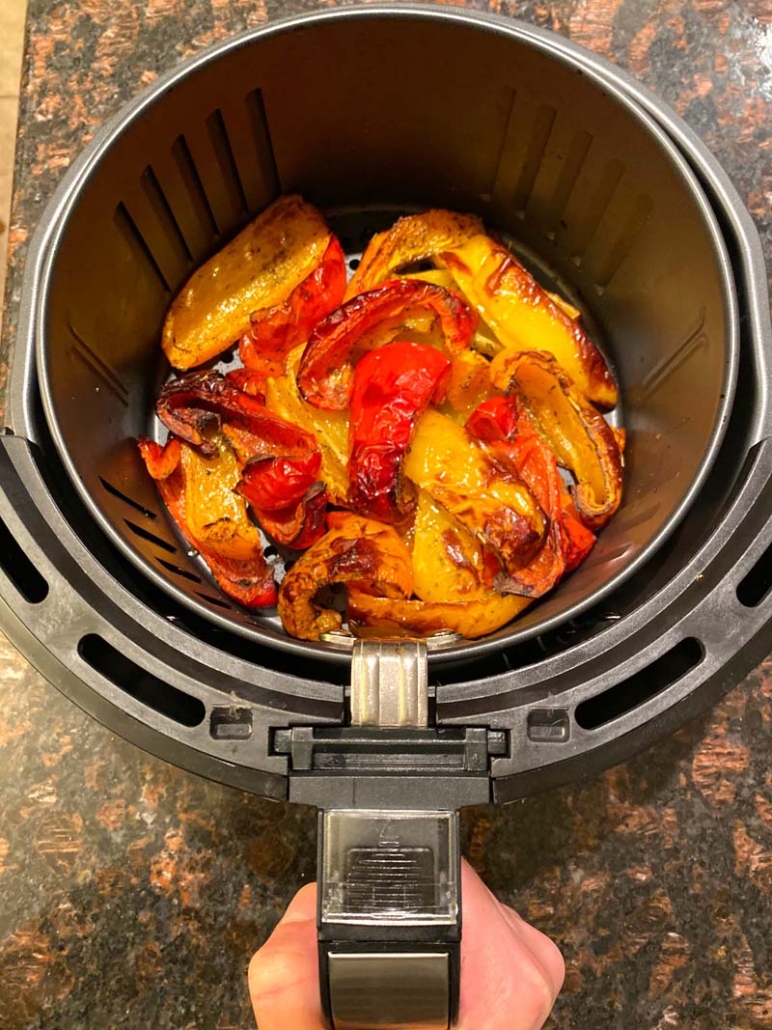 What To Serve With Air Fryer Peppers
While these 'fried' bell peppers taste amazing on their own, I love to have one of these dips on hand in my fridge to put together some quick and healthy snacks!
Lately, I've been alternating between these three dips:
You can also serve these air fryer peppers as a side dish with some Italian Sausage for a classic sausage and peppers dish. Sometimes, I even like to add them to my Shrimp Fajitas for a quick Mexican-themed dinner.
Really, You can't go wrong either way.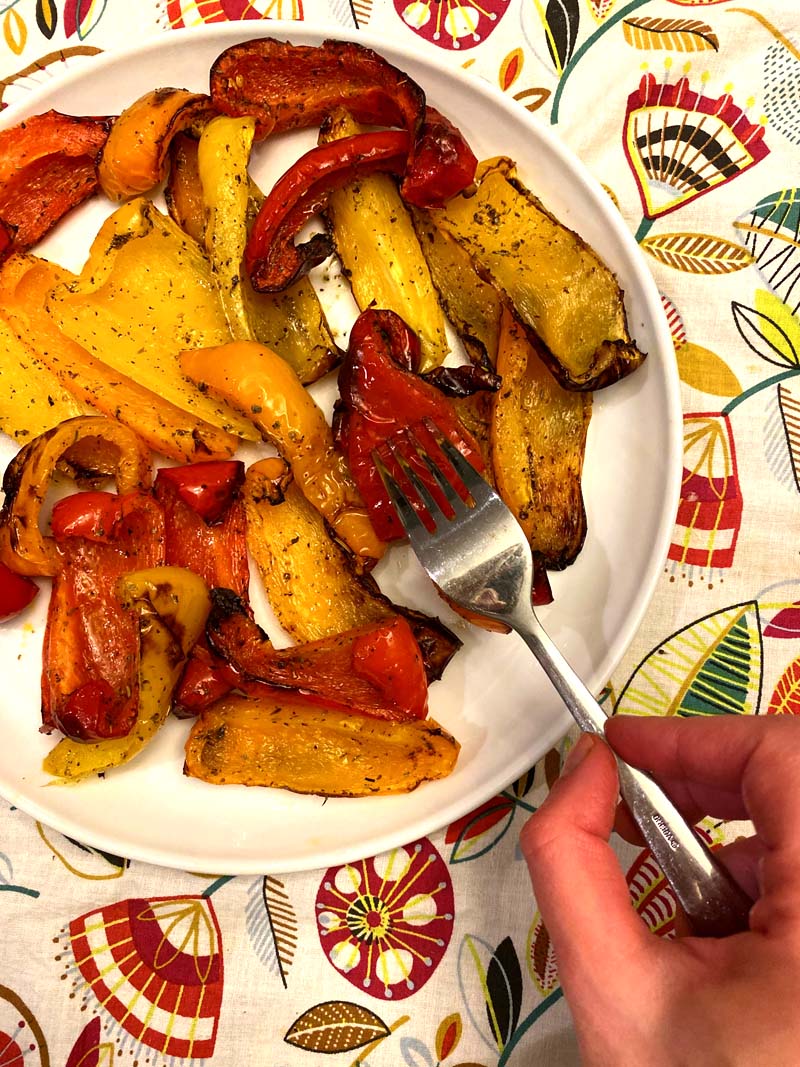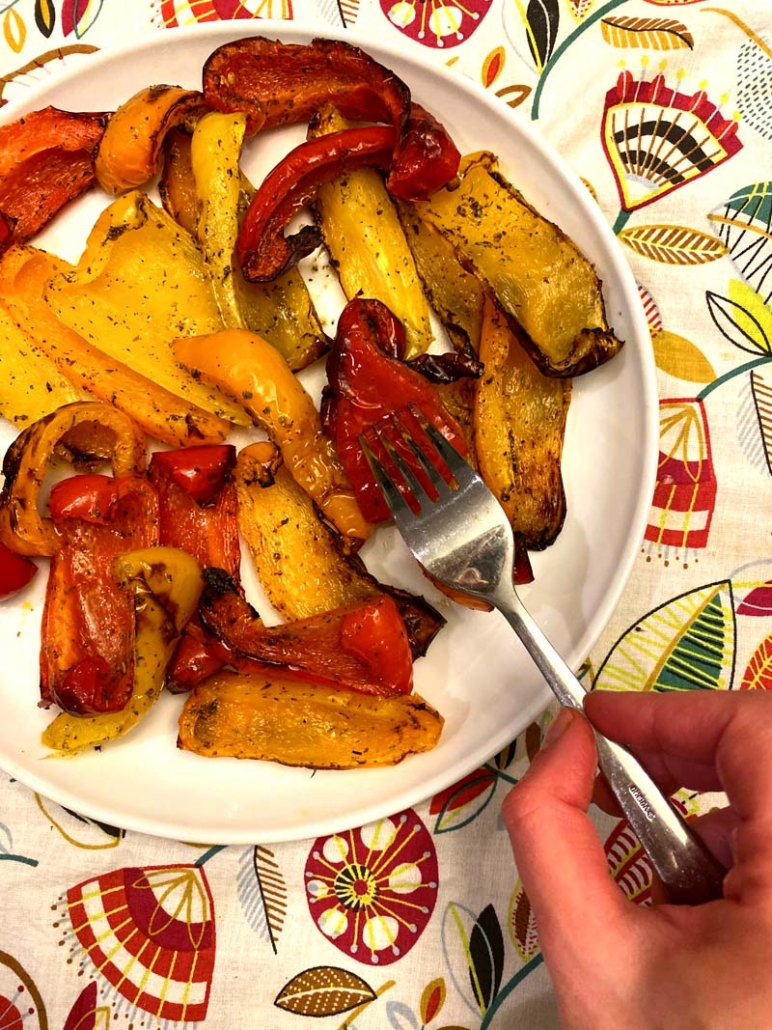 More Healthy Air Fryer Recipes
If you loved these 'fried' bell peppers, check out some of my other healthy air fryer recipes!
These are some of my current go-to's:
Click Here To Pin This Recipe
Air Fryer Roasted Bell Peppers
These Air Fryer Bell Peppers are simply amazing- Roasted to perfection and perfectly caramelized thanks to the air fryer! This is the best and easiest method when it comes to making roasted peppers. 
Recommended Kitchen Tools (click the links below to see the items used to make this recipe)
Instructions
Cut the bell peppers in half, cut off and discard the stem, scoop out and discard the seeds. Cut each half in half again lengthwise.

Toss bell pepper pieces with olive oil, salt, and pepper.

Put bell peppers in the air fryer basket and cook at 400F for 13 minutes, shaking the basket halfway through.
Nutrition
Calories:
359
kcal
|
Carbohydrates:
22
g
|
Protein:
4
g
|
Fat:
29
g
|
Saturated Fat:
4
g
|
Sodium:
1178
mg
|
Potassium:
753
mg
|
Fiber:
8
g
|
Sugar:
15
g
|
Vitamin A:
11178
IU
|
Vitamin C:
456
mg
|
Calcium:
25
mg
|
Iron:
2
mg
Save This Recipe
You will also love these easy recipes:
Save this for later on your social media:
Get Melanie's FREE Recipes In Your Inbox!
https://www.melaniecooks.com/wp-content/uploads/2020/01/airfryer_roasted_bell_peppers.jpg
1067
800
Melanie Mendelson
https://www.melaniecooks.com/wp-content/uploads/2015/11/logo-new2.png
Melanie Mendelson
2020-03-04 06:48:35
2020-03-04 07:19:28
Air Fryer Roasted Bell Peppers