Oven Roasted Parmesan Cauliflower Recipe
This post may contain affiliate links (disclosure).
Grated Parmesan cheese is baked into the cauliflower in this amazing oven roasted Parmesan cauliflower recipe! Even though you can't SEE the white Parmesan on white cauliflower, you can certainly TASTE it!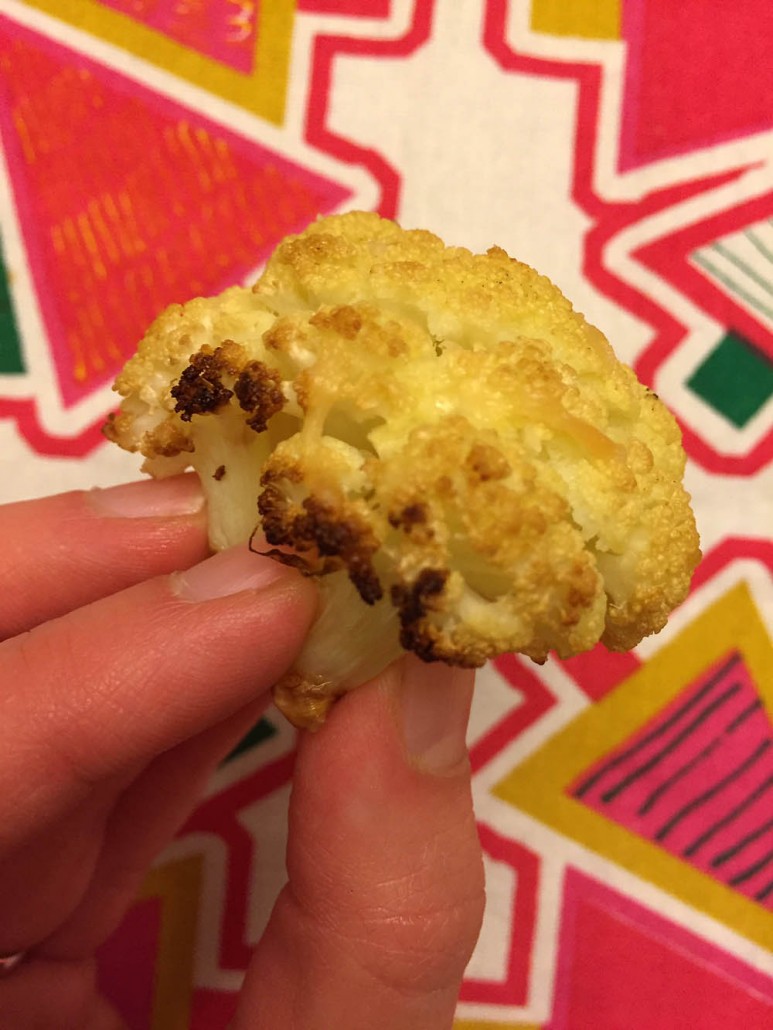 For some reason, Parmesan cheese and the cauliflower together taste like they were made for each other. If you never tried this combo, you owe it to yourself to give it a try. This recipe brings the best flavor out of cauliflower for 2 reasons: (1) tangy Parmesan cheese (2) the roasting process. The high oven temperature lightly chars the cauliflower and draws out the deep roasted cauliflower taste that people love. It's so good!
With this yummy oven roasted Parmesan cauliflower, it will be really easy to get all your servings of veggies in! Eating vegetables has never been so delicious!
This recipe has virtually no carbs, so it's a perfect fit into a low-carb diet. If you are looking for a low-carb side dish to replace the usual grains and starches, this Parmesan cauliflower is perfect for that! Move over, mashed potatoes :) Parmesan cauliflower is an awesome accompaniment to chicken, meat and fish.
Before roasting in the oven, the cauliflower is tossed with olive oil and sprinkled with Parmesan cheese. If you are watching your calories, feel free to cut down on the amount of olive oil, but I wouldn't worry about it – olive oil has good healthy fats AND it actually helps to absorb vitamins from the cauliflower! And the Parmesan cheese has the least fat of all the cheeses ;)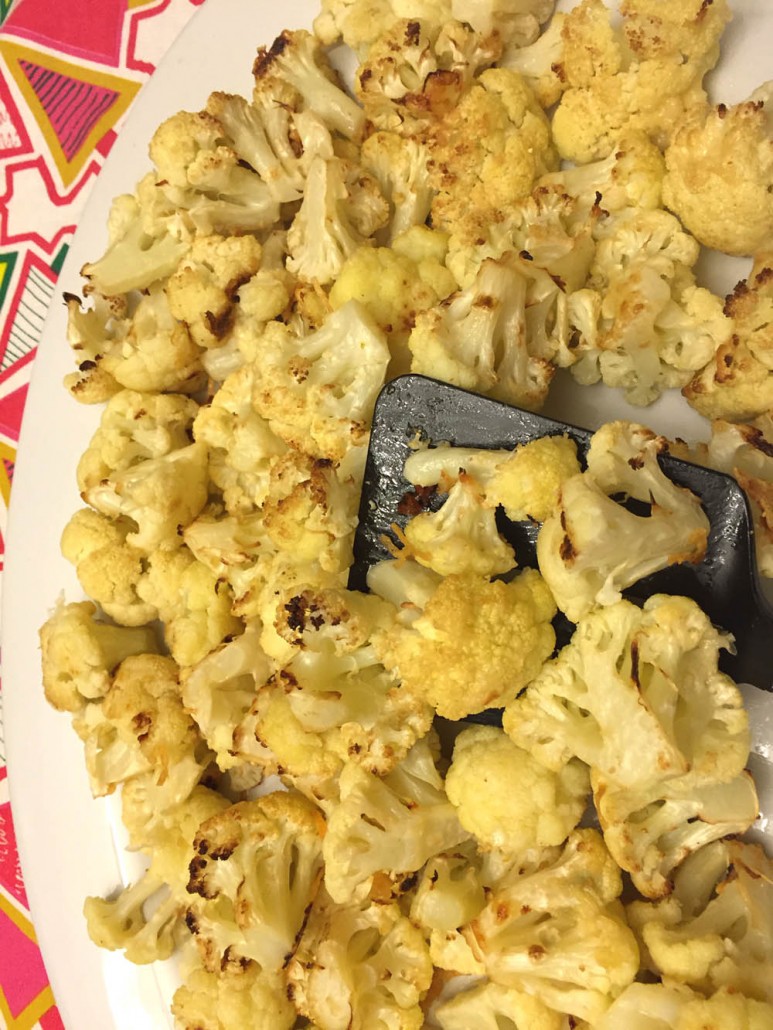 Making roasted Parmesan cauliflower is super easy. All you need to do is toss the cauliflower florets with olive oil, sprinkle with grated Parmesan cheese and bake in the oven. While the cauliflower is in the oven, you can do other stuff, like prepare the main dish!
The Parmesan cheese somehow just melts into the cauliflower and disappears from sight. If you are serving it to people who don't know that it has Parmesan cheese, they will wonder what is that secret ingredient that makes the cauliflower taste so good! Once you bite into this deliciousness, it tastes so complete thanks to the cheese HERO!
Click Here To Pin This Recipe
Oven Roasted Parmesan Cauliflower Recipe
Once you try this delicious oven-roasted Parmesan cauliflower, it will be your favoring way of eating cauliflower! The cauliflower is tossed with extra-virgin olive oil, sprinkled with Parmesan cheese and roasted to perfection!
Instructions
Preheat oven to 400F.

Line the baking sheet with parchment paper.

Put the cauliflower florets in a bowl and drizzle with olive oil. Toss the cauliflower with your hands so the oil is evenly distributed.

Put the cauliflower on a baking sheet in a single layer.

Sprinkle the cauliflower with Parmesan cheese by taking pinches of Parmesan cheese with your hands and putting it on each floret (if you just sprinkle all over, most of it will end up on the baking sheet instead of cauliflower).

Put in the oven and bake for 20 minutes.
Save This Recipe
Save this for later on your social media:
Get Melanie's FREE Recipes In Your Inbox!
https://www.melaniecooks.com/wp-content/uploads/2016/05/parmesan_cauliflower.jpg
1333
1000
Melanie Mendelson
https://www.melaniecooks.com/wp-content/uploads/2015/11/logo-new2.png
Melanie Mendelson
2016-05-19 13:14:04
2021-12-08 09:11:42
Oven Roasted Parmesan Cauliflower Recipe