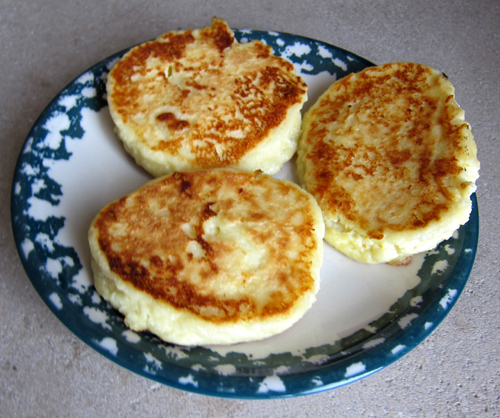 Cheese pancakes is a popular Russian recipe.  Cheese pancakes is "syrniki" in Russian – the Russian word for cheese is "syr".  Syrniki are made out of farmer's cheese.  You can find farmer's cheese in the same isle as ricotta cheese in most well-stocked supermarkets.  You can use regular or lowfat farmer's cheese for the cheese pancakes recipe.
Cheese pancakes make a great breakfast.  They are a nice change for the usual breakfast fare.  If you want something new and different for breakfast, go ahead and make syrniki cheese pancakes!
Cheese pancakes can be made with or without raisins.  I like the version with raisins much better, so I always make my syrniki loaded with raisins!
Ingredients For Cheese Pancakes (Syrniki) Recipe:
1 lb of farmer's cheese
2 tbsp sugar
1/8 tsp salt
1 tsp vanilla
2 eggs
1/2 cup raisins (optional)
2 tbsp flour (plus additional 1 cup of flour for coating)
1 tbsp oil
Directions How To Make Russian Cheese Pancakes (Syrniki) Recipe:
Put 1 cup of flour on a large plate.
Mix farmer's cheese, sugar, salt, vanilla, eggs, raisins and 2 tbsp of flour in a bowl.  Divide the mixture into 10 parts, and roll each part in a little ball.  Dip each ball in flour and roll so it's coated with flour on all sides.
Heat the oil on a large non-stick frying pan over medium-high heat.  Put the cheese balls on a frying pan and flatten each ball with your hands so it makes a patty.  Cook the cheese pancakes for 4 minutes (or until golden-brown on the bottom), then flip with a spatula and cook for another 4 minutes on the other side.
Remove the cheese pancakes for heat and serve!  Cheese pancakes go really well with honey, jam or sour cream.  Cheese pancakes also taste good cold.  You can make a double portion of the cheese pancakes, eat half of them while they are hot and refrigerate the rest.  Syrniki will make a great breakfast on the second day – you can eat them cold or reheat in the microwave.
Here's a picture of the stack of Russian Cheese Pancakes (Syrniki):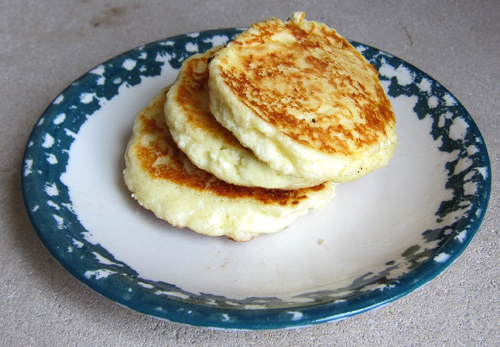 http://www.melaniecooks.com/wp-content/uploads/2011/04/cheese-pancakes2.jpg
418
500
Melanie Mendelson
http://www.melaniecooks.com/wp-content/uploads/2015/11/logo-new2.png
Melanie Mendelson
2011-07-20 08:40:36
2013-04-20 15:33:11
How To Make Russian Cheese Pancakes (Syrniki) Recipe