After you taste this homemade barbecue sauce, you will never want to eat the bottled BBQ sauce again.  This homemade BBQ sauce taste like the barbecue sauce served at the finest ribs restaurants!
Brush this barbecue sauce on the ribs or chicken before roasting or grilling.  This will make an outstanding BBQ dish! Serve the extra barbecue sauce for dipping – yum!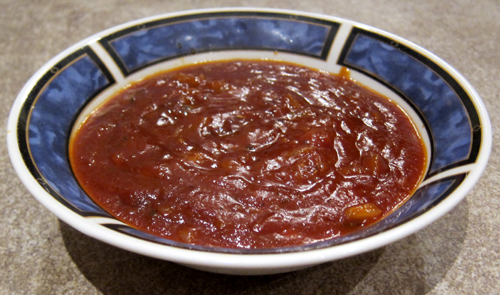 Ingredients for Homemade Barbecue Sauce:
2 onions, chopped into very small pieces
4 cloves garlic, minced
2 tsp chili powder
4 tbsp oil
1 cup ketchup
4 tbsp vinegar
2 tbsp sugar
2 tbsp orange juice
2 tbsp Worcestershire sauce
3/4 tsp salt
Directions How To Make BBQ Sauce:
Heat oil in a saucepan oven medium heat.  Add onion and cook for 5 minutes.  Add garlic and chili powder, and stir for 30 seconds. Add ketchup, vinegar, sugar, juice, Worcestershire sauce and salt.  Bring to boiling, reduce heat and simmer, covered, for 5 minutes.