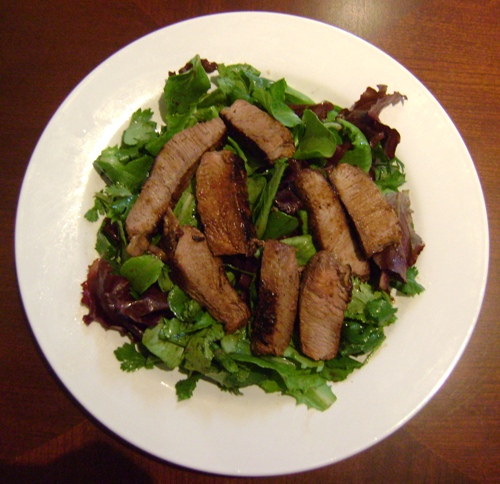 This steak salad recipe is very simple, and it makes a very filling and tasty main dish.  Lettuce greens are dressed in the olive oil and balsamic vinegar, and topping with a hot sliced steak.If you have any leftover steak, a main dish salad is a great way to use it.  You can just warm the leftover steak in the microwave, then slice it and put it on a salad.  Or you can cook the steak on a frying pan just for this salad – cooking steak takes just a few minutes per side.
Another great thing about using sliced steak in a salad is that you can use the cheapest steak.  When you are eating the whole steak as a main dish, the kind of steak really matters.  When you are thinly slicing the steak and putting it on a salad, the difference between various kinds of steaks is minimal.
Easy Steak Salad Recipe
Ingredients
3 cups salad greens
1 tbsp olive oil
1 tsp balsamic vinegar
1 steak
1 tbsp oil
Salt and pepper
Instructions How To Make Steak Salad
Cook the steak: heat 1 tbsp oil in a non-stick frying pan over medium-high heat. Add the steak and cook for 4 minutes on one side, then flip the steak and cook for 4 minutes on the other side. Remove for heat and let rest for 5 minutes.
Mix the olive oil with balsamic vinegar and drizzle over the salad greens. Toss the salad greens so they are coated with dressing. Put the salad greens on a plate.
Slice the steak very thinly and sprinkle with salt and pepper. Put the steak slices on top of the salad greens.
Enjoy this yummy main dish steak salad!  If you like main dish salads, check out these yummy recipes: chicken salad with baby spinach, smoked salmon main dish salad and turkey avocado and corn salad.
Get Melanie's FREE Recipes In Your Inbox!
http://www.melaniecooks.com/wp-content/uploads/2012/12/steak-salad.jpg
484
500
Melanie Mendelson
http://www.melaniecooks.com/wp-content/uploads/2015/11/logo-new2.png
Melanie Mendelson
2012-12-29 07:12:27
2012-12-29 08:24:30
Easy Steak Salad Recipe