Roasted Eggplant Salad With Garlic And Peppers
This post may contain affiliate links (disclosure).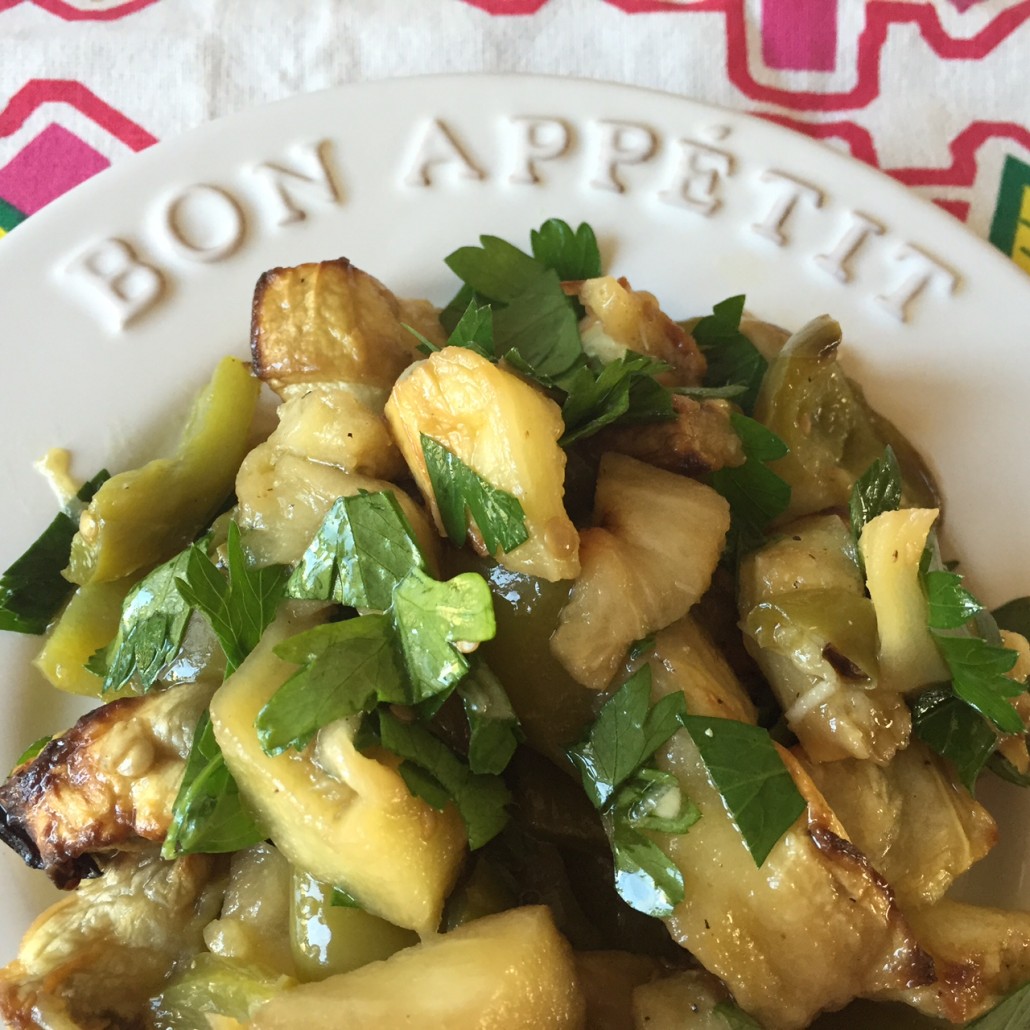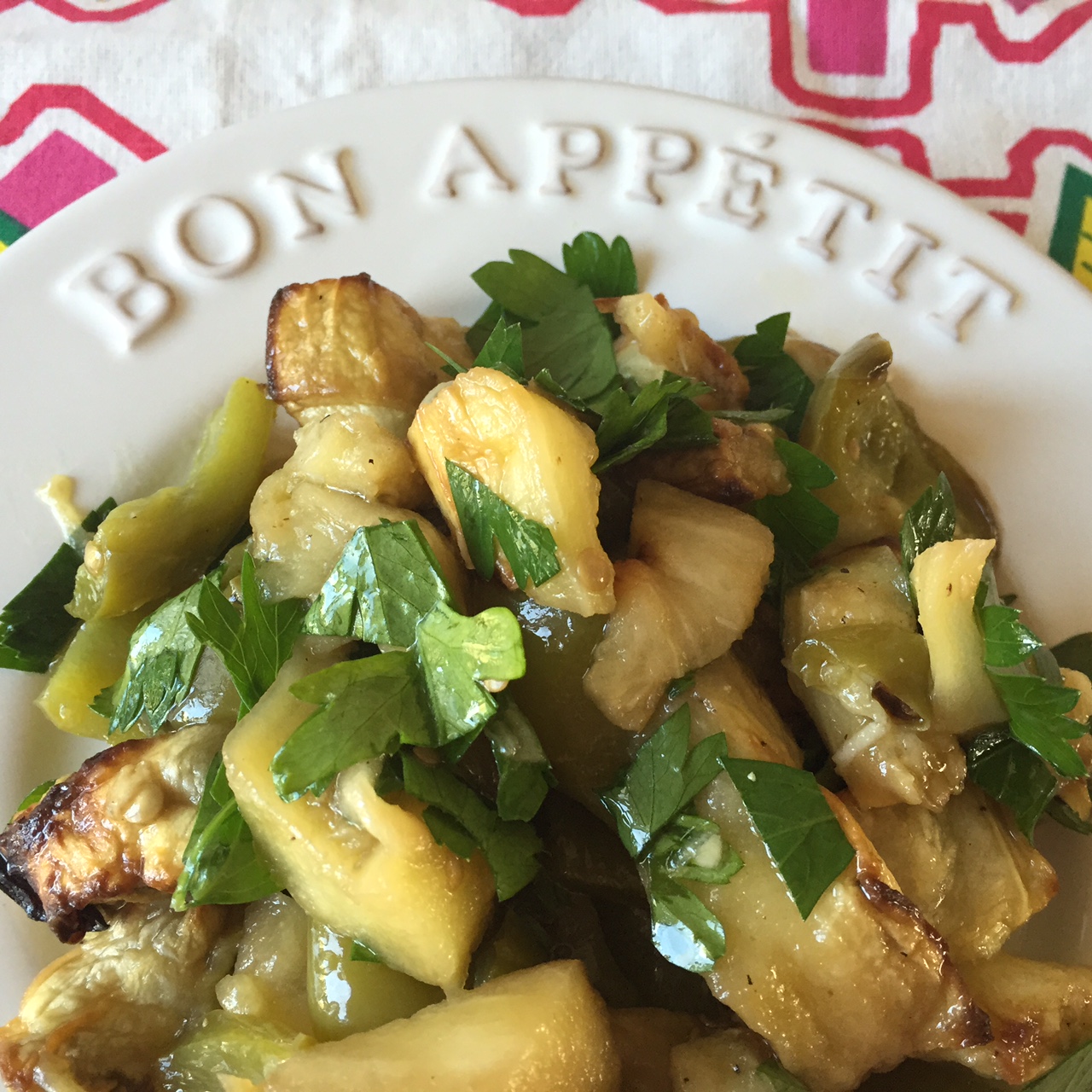 This garlicky roasted eggplant salad is so tasty and good for you! Eggplants are roasted in the oven alongside bell peppers, then chopped up and seasoned with salt, pepper, minced garlic and olive oil. Chopped fresh parsley adds a refreshing final touch to this flavorful eggplant recipe.
Like many other recipes, this eggplant recipe was born during the grocery shopping trip when I saw picture-perfect eggplants on sale in front of the store. They were so big, with perfect dark purple skin without any blemishes, just waiting for me to buy them and use them in a delicious meal. I put on my thinking cap – what should I make with them? And garlicky roasted eggplant salad immediately came to my mind.
Eggplant is one of those vegetables that's just meant to be garlicky. Whenever I think of an eggplant dish that I like, it inevitably includes eggplant and garlic together! No wonder it's a classic combination – it simply tastes really good.
The most common way to cook eggplant is to roast it in the oven, and that was my plan. I also wanted to add another vegetable so it's not all eggplant, and bell pepper was perfect for that. And what could be more refreshing than a green parsley – so it made itself to the ingredients too. The resulting salad turned out delicious!
There are many ways to eat this roasted eggplant dish. You can eat it hot or cold, but I personally prefer the cold version. This eggplant salad lasts for several days in the fridge, so if you need a make-ahead appetizer for your party, this will work great. You can serve it as a cold appetizer with pita bread on the side. You can also put it on a bruschetta to make amazing eggplant garlic toasts. You can serve it as a side dish with chicken, meat or fish. And since the eggplant is so filling, it can stand alone as a vegan main dish – roasted garlic eggplant with peppers is wonderful served over rice!
Click Here To Pin This Recipe
Roasted Eggplant Salad With Garlic And Peppers
This healthy and delicious salad combines roasted eggplants, bell peppers, garlic, fresh parsley and extra-virgin olive oil. Great as an appetizer, side dish or vegan entree!
Instructions
Preheat the oven to 375F.

Peel the eggplant and slice into 1/4-inch rounds, then cut the rounds into bite-size chunks.

Cut the peppers in half, scoop out and discard the seeds. Slice the peppers into 1/4-inch slices.

Line the baking sheet with parchment paper, and put the eggplant and pepper slices on it in a single layer.

Put in the oven and cook for 25 minutes.

Remove from the oven and let cool for 10 minutes.

Put roasted eggplant and bell pepper slices in a bowl, and sprinkle liberally with salt and pepper. Add minced garlic, chopped parsley and olive oil and stir to combine. Add more salt and pepper until it tastes just right.

Chill in the refrigerator until completely cold. Serve cold.
Save This Recipe
Save this for later on your social media:
Get Melanie's FREE Recipes In Your Inbox!
https://www.melaniecooks.com/wp-content/uploads/2015/12/roasted_garlic_eggplant_salad.jpg
1280
1280
Melanie Mendelson
https://www.melaniecooks.com/wp-content/uploads/2015/11/logo-new2.png
Melanie Mendelson
2015-12-02 16:05:06
2021-12-08 09:14:03
Roasted Eggplant Salad With Garlic And Peppers