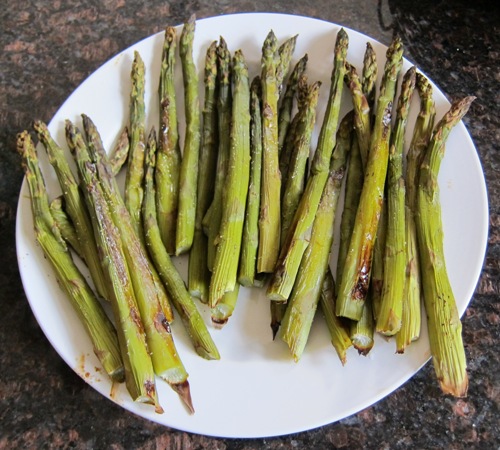 Roasted asparagus is a very elegant and flavorful asparagus recipe. When you roast the asparagus in the oven, it comes out with the appetizing roasted appearance. Roasted asparagus makes a perfect accompaniment to a main dish – it goes well with all kinds of meat and fish.
Ingredients For The Roasted Asparagus Recipe:
1 bunch asparagus
1 tbsp olive oil
1 tsp salt
1/4 tsp pepper
Directions For Roasting The Asparagus In The Oven:
To make roasted asparagus, preheat the oven to 400F.
Wash the asparagus and cut off and discard the tough ends of the asparagus (an inch or 2 from the bottom).
Line the baking sheet with parchment paper or foil. Put the asparagus on a baking sheet, and drizzle with olive oil. Spread the olive oil with your hands all over the asparagus. Arrange the asparagus on a baking sheet in a single layer. Sprinkle the asparagus with salt and pepper.
Put the asparagus in the oven and cook for 25 minutes. If necessary, add more salt to taste. Enjoy!
Roasted asparagus is much more forgiving about overcooking than steamed asparagus. Steamed asparagus tastes really mushy when overcooked, but the roasted asparagus just kind of dries up when roasted too much. For a perfectly roasted asparagus, set your kitchen timer for 25 minutes.
Here are some more pictures of making oven roasted asparagus:
Raw asparagus on a baking sheet – ready to go in the oven!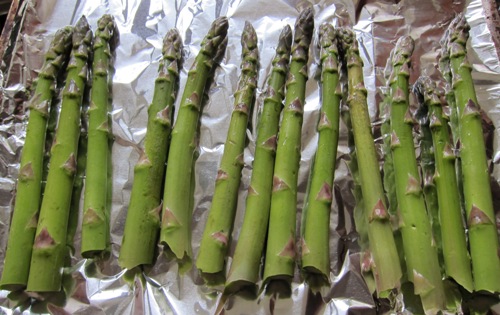 Roasted asparagus is ready – coming out of the oven!
Roasted asparagus served on a plate!
Save this for later on your social media:
Get Melanie's FREE Recipes In Your Inbox!
https://www.melaniecooks.com/wp-content/uploads/2011/05/roasted-asparagus-plate2.jpg
352
500
Melanie Mendelson
https://www.melaniecooks.com/wp-content/uploads/2015/11/logo-new2.png
Melanie Mendelson
2011-05-13 13:35:15
2013-02-04 14:13:51
How To Make Roasted Asparagus Recipe