Air Fryer Trader Joe's Frozen Chicken Burritos
This post may contain affiliate links (disclosure).
No more microwavable burritos for you! If you are craving a perfectly cooked burrito, these Trader Joe's frozen chicken burritos cooked in the air fryer are the way to go. They are delicious and so easy to quickly make for a fast dinner or lunch!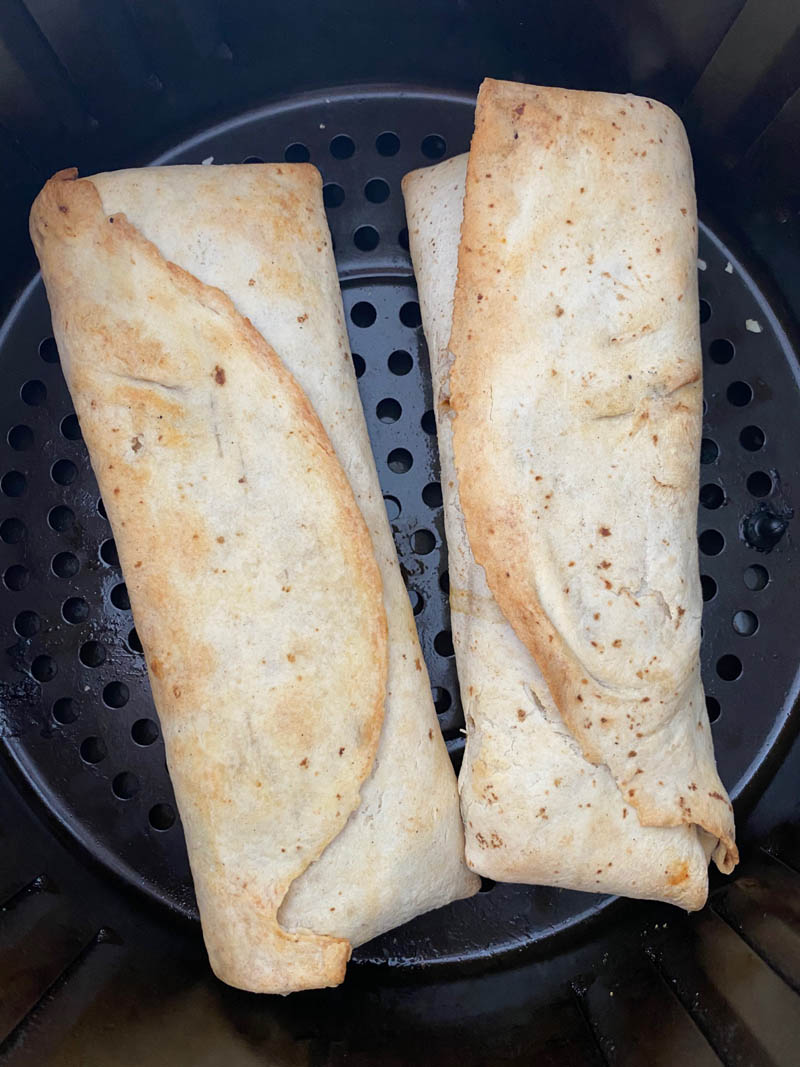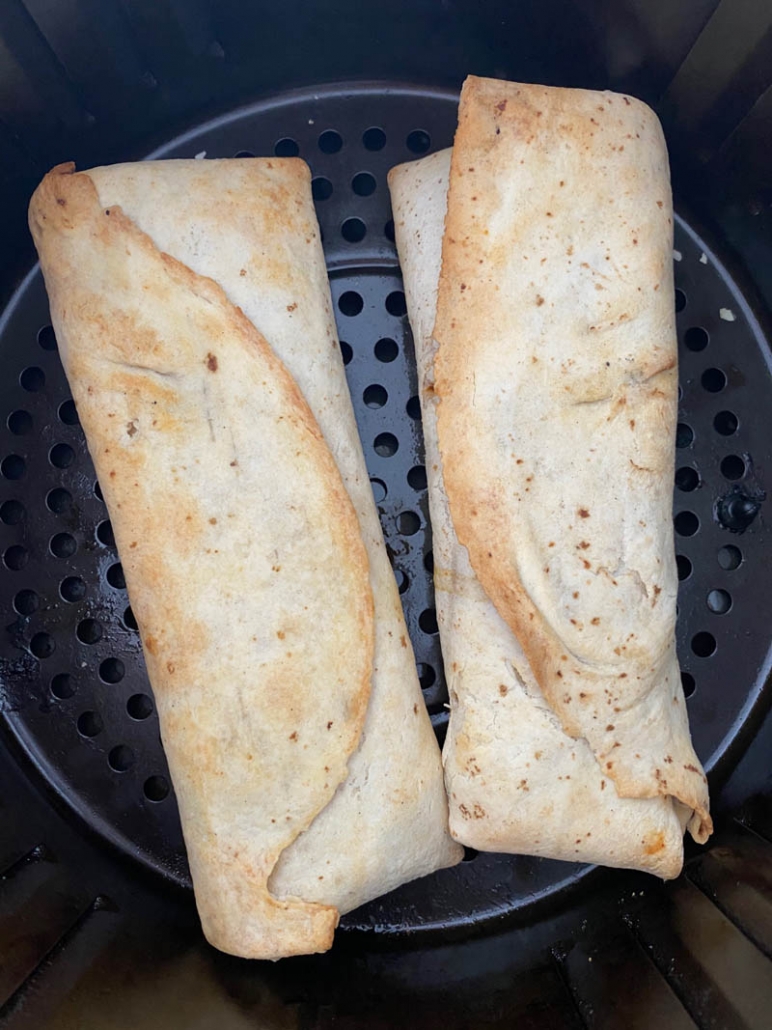 Air Fryer Trader Joe's Frozen Chicken Burritos
Have you tried Trader Joe's frozen chicken burritos? If you haven't, you are seriously missing out- they are delicious! These frozen chicken burritos are definitely one of my go-to dishes when it comes to needing something fast and easy.
Packed with chicken, burritos, and tomatoes, I just love how perfectly crispy the outside gets. They taste like something you would buy at a restaurant.
This is also a very family-friendly meal that adults and children both love!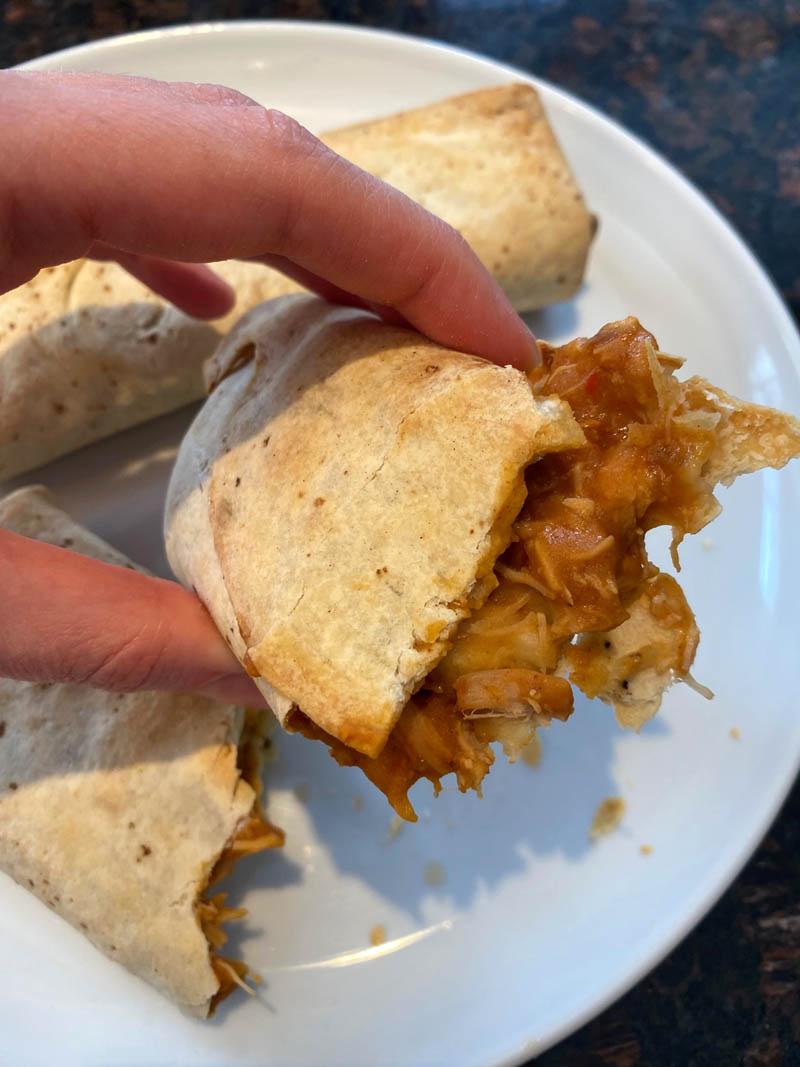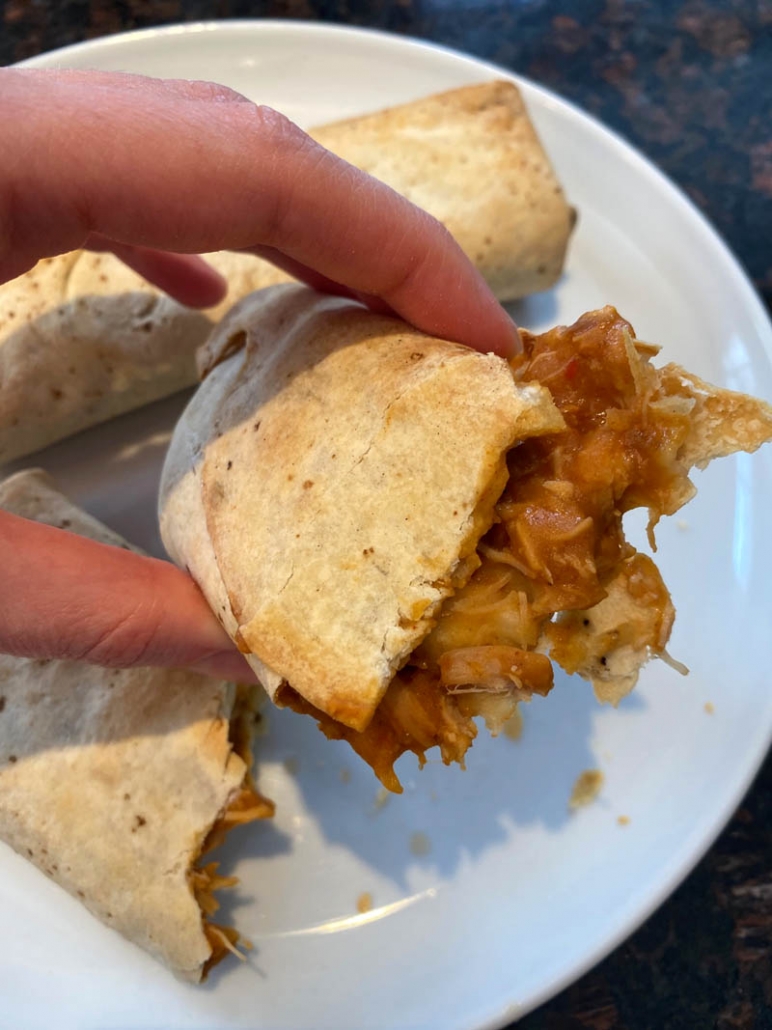 Ingredients Needed To Make Frozen Chicken Burritos
This recipe is fast and easy and creates the best-tasting burrito that you can imagine. It tastes so good that everyone will think that you made them yourself!
All you need to make these delicious and hearty chicken burritos are:
A package of frozen chicken burritos
That's all you need! You can choose whichever brand you like the most. Personally, I prefer Trader Joe's frozen burritos.
You could even get creative and try other kinds of burritos as they will all cook the same way no matter the filling.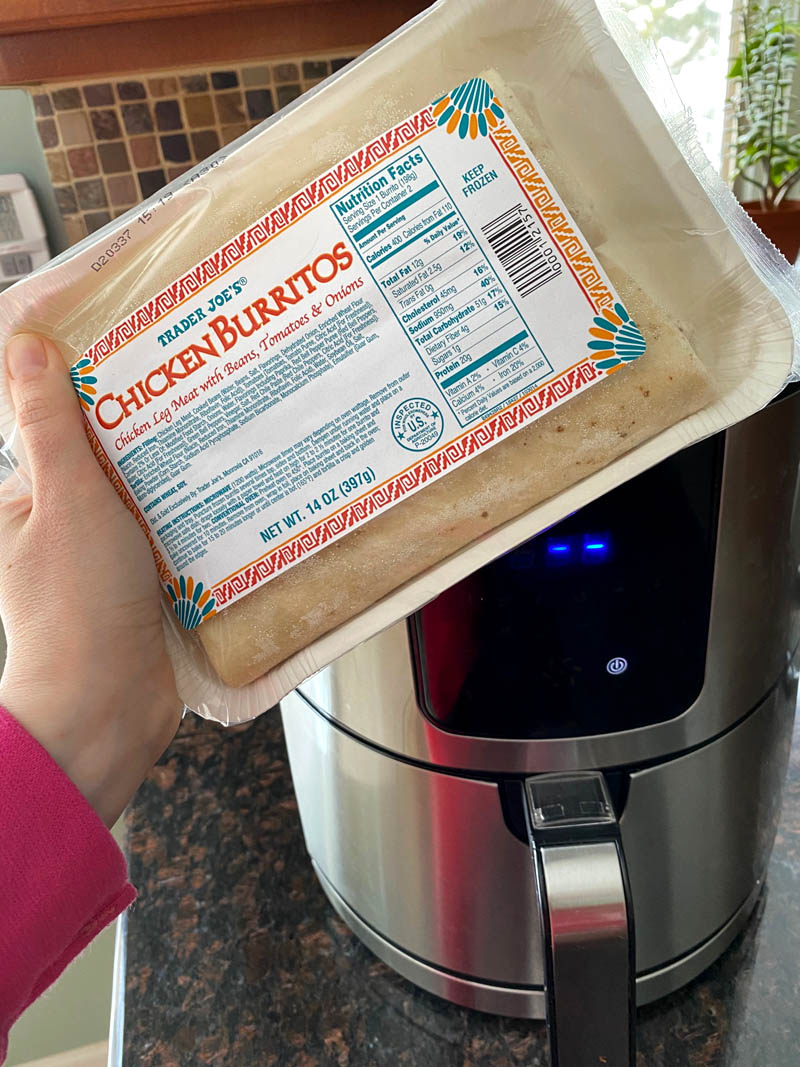 How To Cook Frozen Chicken Burritos In The Air Fryer
To make these tasty frozen burritos, all you need to do to start is to set your air fryer for 390F.
Then, you will need to spray a cooking, non-stick spray in your fryer basket. This will guarantee that the burritos will not stick.
Lay the frozen burritos in the air fryer basket. You can put in as many as will fit, but try to give each one a bit of room so they don't stick to one another.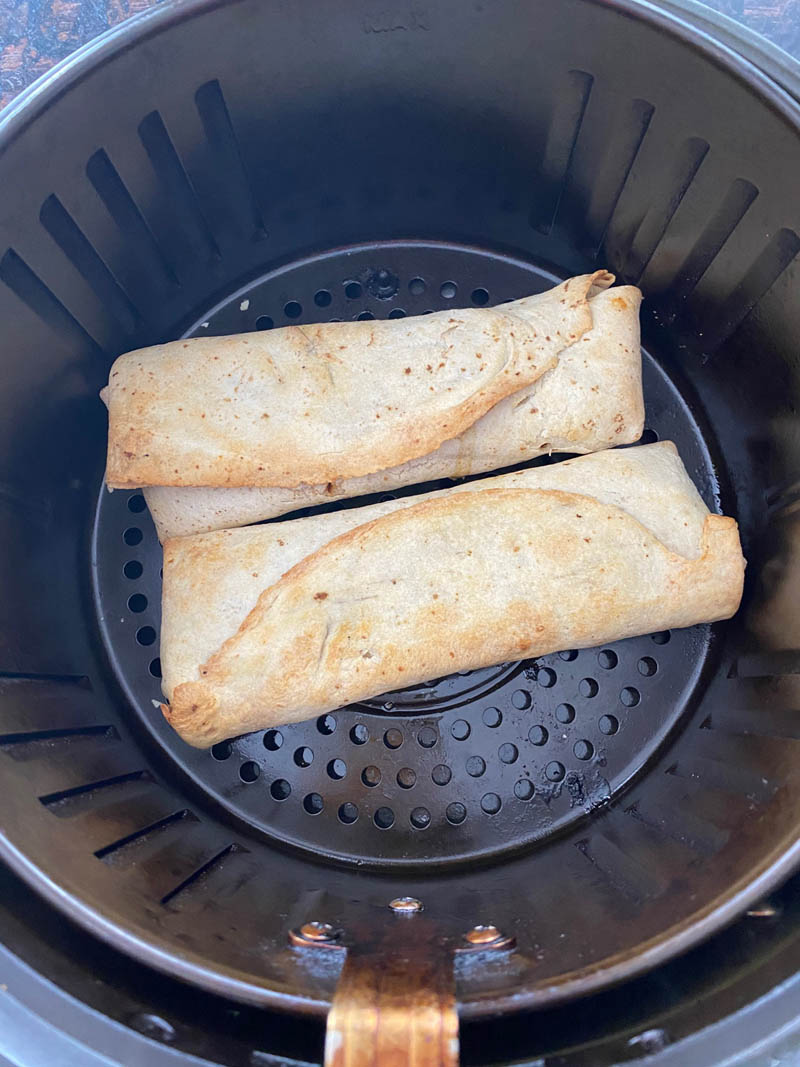 Cook the burritos for 6 minutes, then open your fryer and turn each burrito on its other side.
Cook for another 6 minutes. This will create perfectly cooked burritos with a crispy exterior.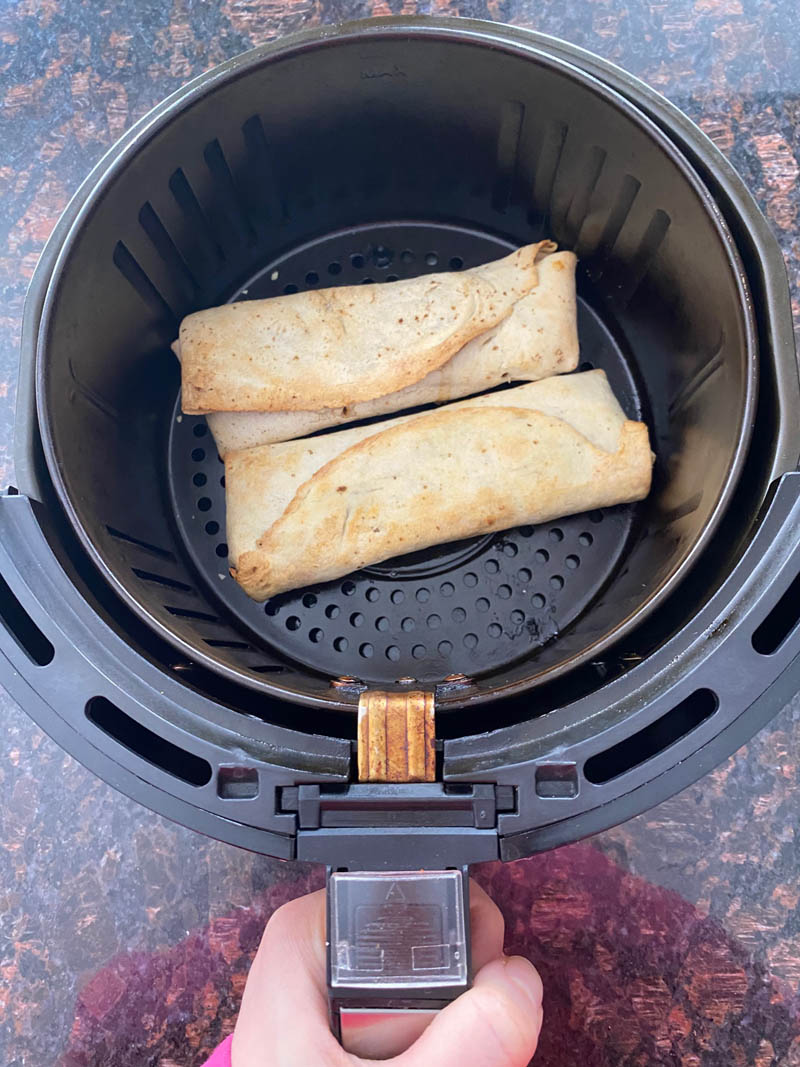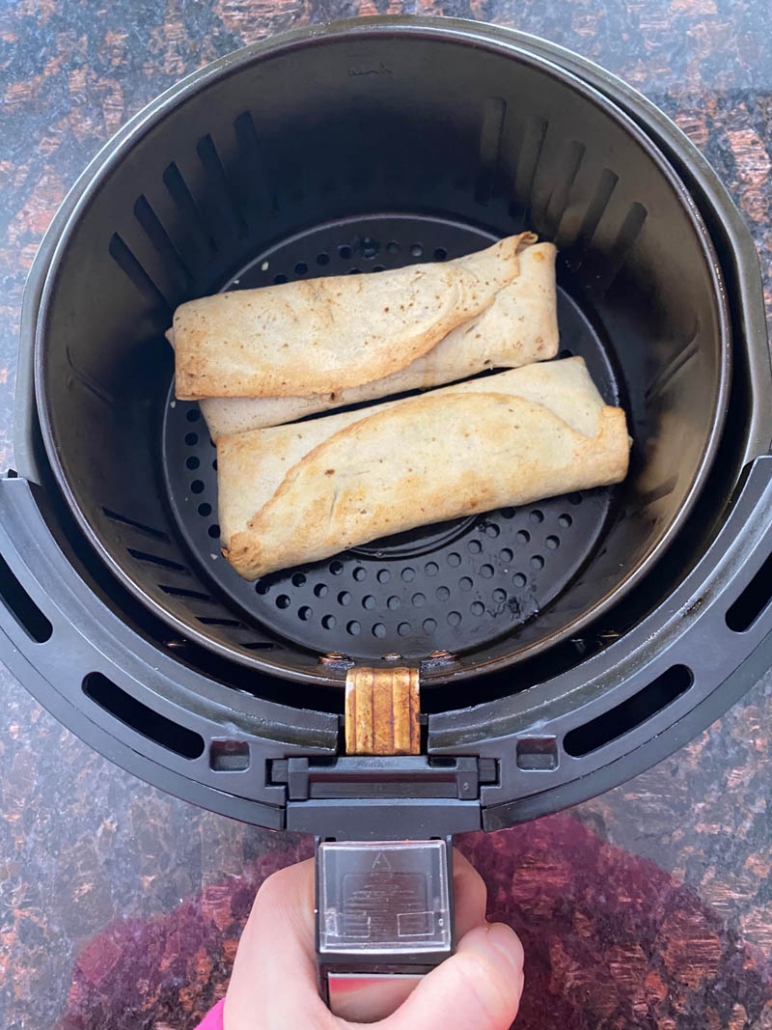 Serve immediately and enjoy!
Cooking Tips:
If you like really crunchy burritos, cook them for an additional 2 to 3 minutes.
Be careful when eating, especially if you are serving children as they are going to be very hot on the inside.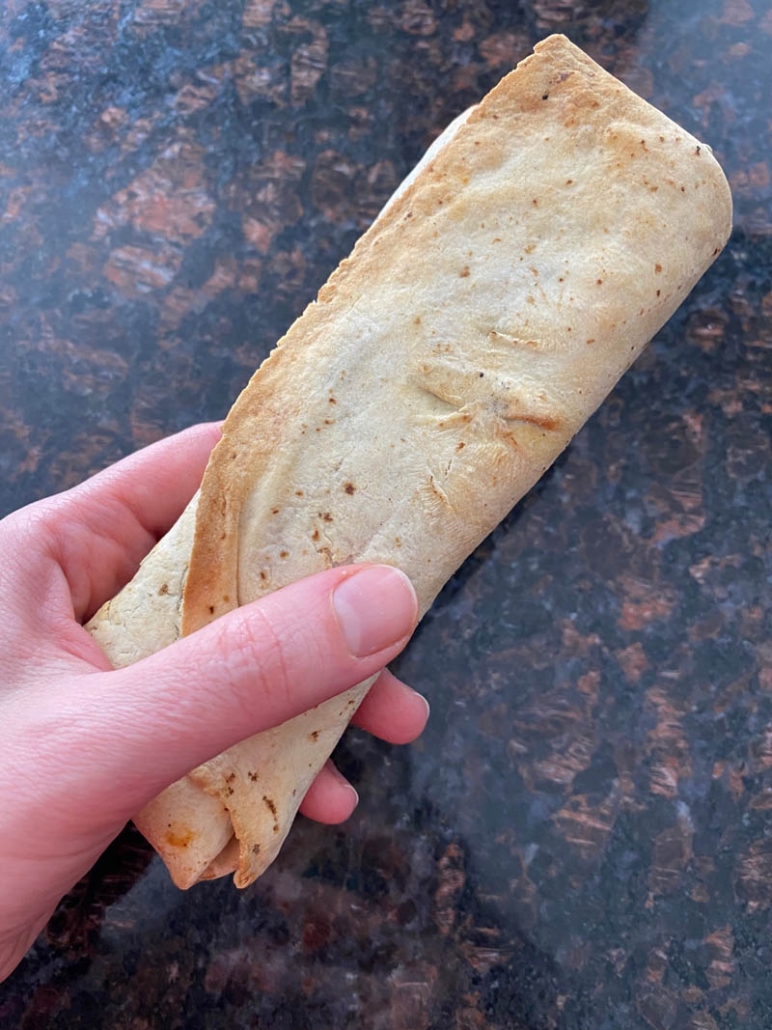 What To Serve with Trader Joe's Chicken Burritos
These burritos are perfectly delicious all on their own, but they can also be served with all kinds of sides and toppings.
If I'm in a hurry, I will just each the burrito as is since they are perfectly delicious on their own. But, sometimes I like to put more of an effort into it and serve them with other sides and an array of tasty toppings.
Here are some of my favorite: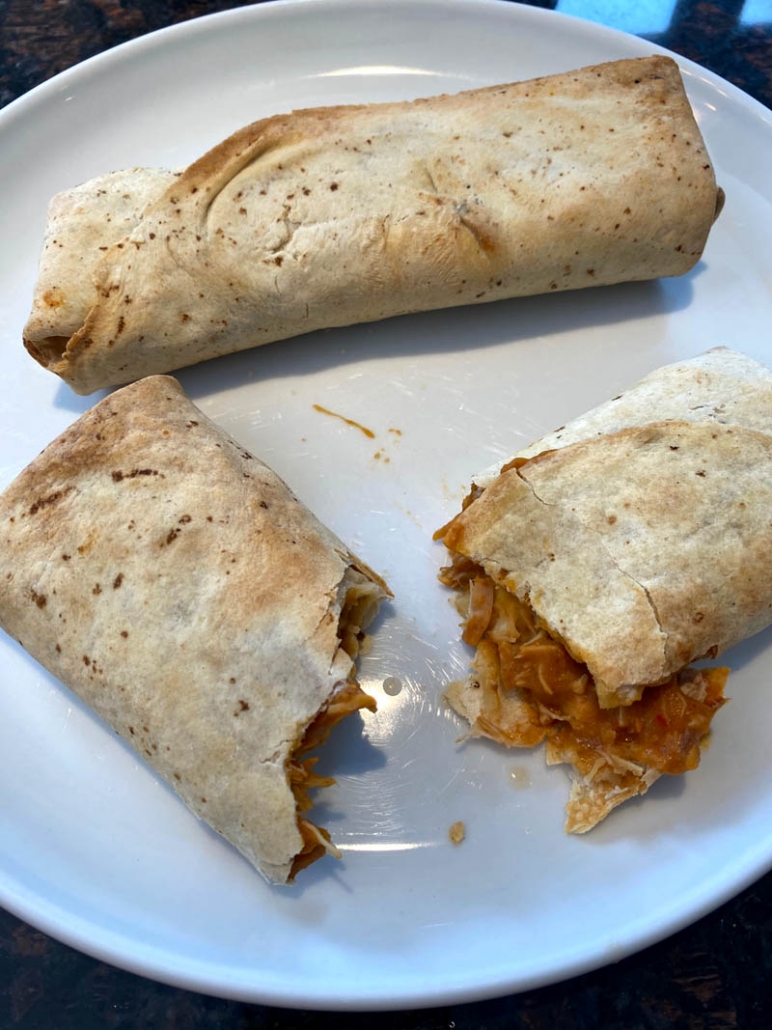 More Air Fryer Recipes
If you liked this recipe for frozen burritos, you might like these other air fryer recipes as well. These are some of my go-to recipes throughout the month for easy and tasty dishes.
Click Here To Pin This Recipe
Air Fryer Frozen Trader Joe's Chicken Burritos
These air fryer frozen chicken burritos are amazing! Just put frozen Trader Joe's chicken burritos in the air fryer and it will cook them to perfection - straight from frozen! They are so crispy on the outside and perfectly cooking inside!
Ingredients
1

package

frozen chicken burritos
Recommended Kitchen Tools (click the links below to see the items used to make this recipe)
Instructions
Spray the air fryer basket with a non-stick cooking spray.

Put frozen chicken burritos in the air fryer basket.

Cook frozen chicken burritos in the air fryer at 390F for 18 minutes, flipping them over halfway through the cooking time.
Save This Recipe
See also:
Save this for later on your social media:
Get Melanie's FREE Recipes In Your Inbox!
https://www.melaniecooks.com/wp-content/uploads/2021/02/air_fryer_trader_joes_burritos.jpg
1067
800
Melanie Mendelson
https://www.melaniecooks.com/wp-content/uploads/2015/11/logo-new2.png
Melanie Mendelson
2021-09-29 07:32:12
2021-09-08 11:08:13
Air Fryer Trader Joe's Frozen Chicken Burritos