Matzo Meal Banana Bread Passover Recipe
This post may contain affiliate links (disclosure).
This matzo meal banana bread is moist, sweet and full of banana flavor! Loaded with chocolate chips, it makes a perfect dessert for Passover!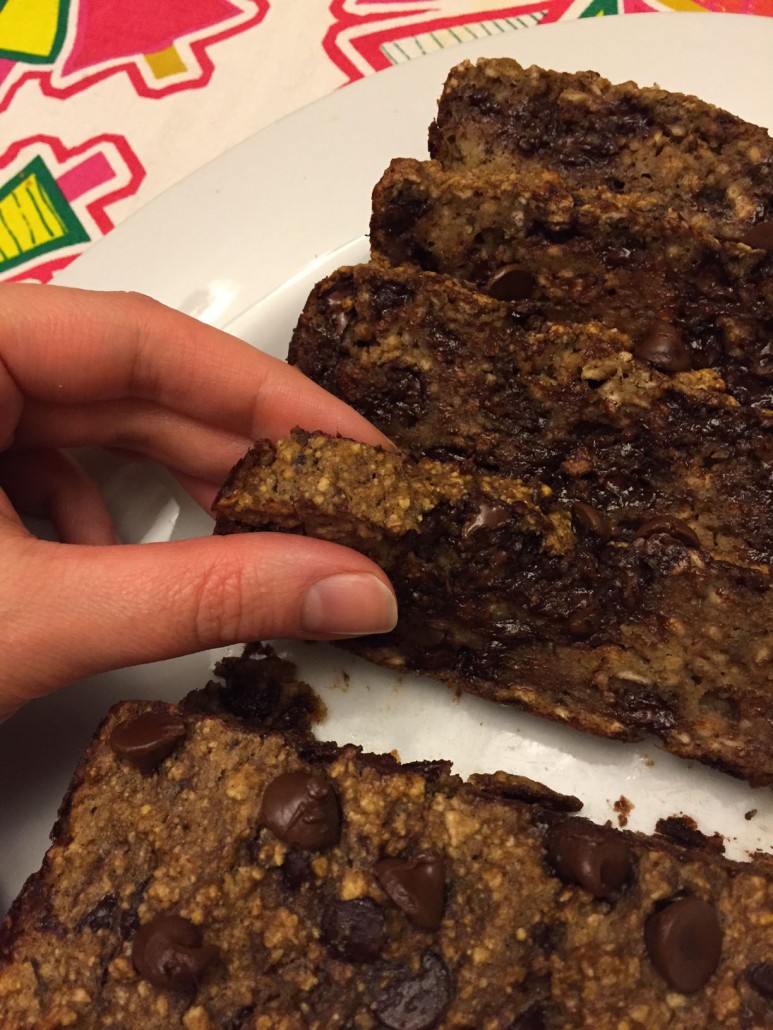 What happens when you have some overripe bananas to use up? The natural inclination, of course, is to make a banana bread! But what happens if you are observing Passover? Use matzah of course :)
This matzah banana bread recipe uses matzo meal (ground up matzah) instead of flour. The result is a sweet moist treat with a delicious banana taste and the chocolate chips inside to top is all off!
I created this recipe because I couldn't find an existing matzo meal banana bread recipe that fits my needs. I had 3 very brown bananas on the counter and it was Passover, so I had this idea of making a matzo banana bread. When I started searching the Internet for a recipe, every single one of them had potato starch as one of the ingredients. Potato starch is definitely not something I normally have in my pantry, and I certainly didn't feel like going to the grocery store :)
If something doesn't exist, you just have to create it, so that's how this recipe was born. I had a spontaneous idea of making a matzo banana bread at the spur of the moment, using the ingredients I had on hand, and the result was yum! At last – now you found a matzo banana bread recipe without potato starch!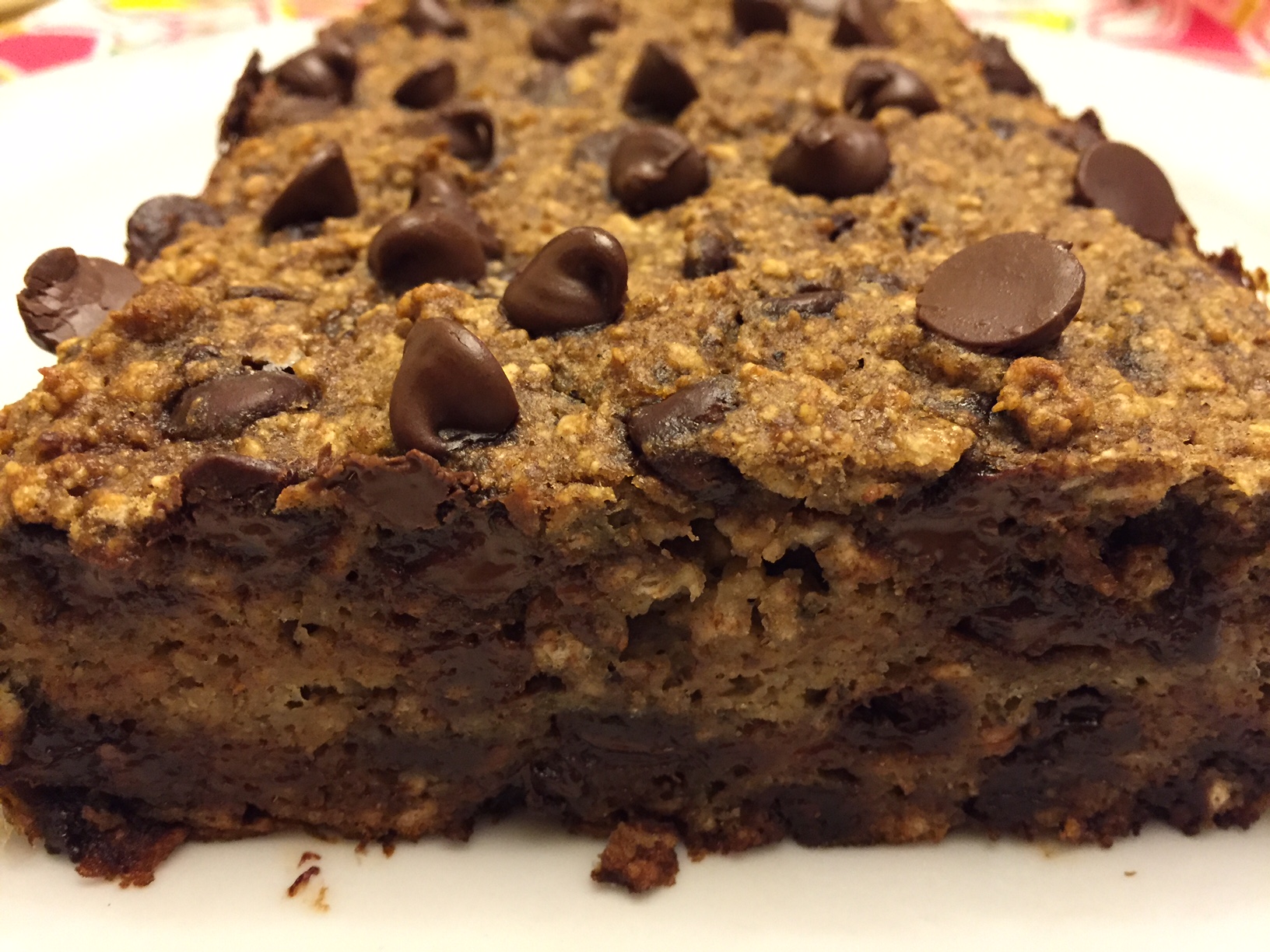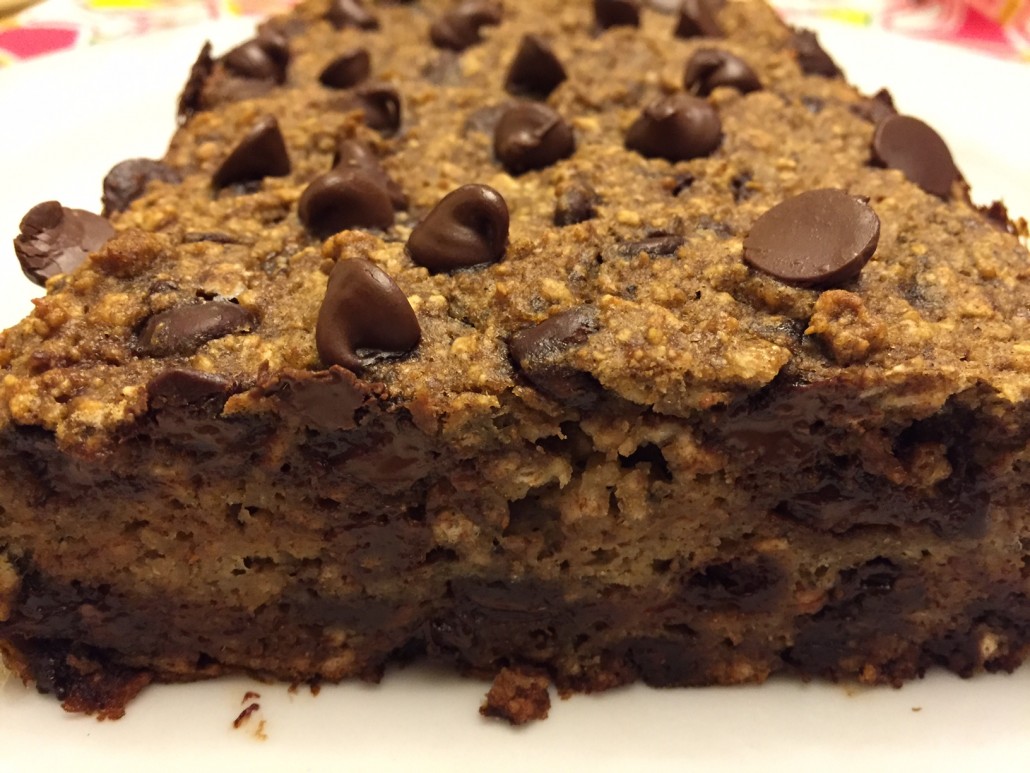 There are 2 ways you can make this matzo banana bread – with or without baking powder. Baking powder is a leavener, and all leaveners are prohibited during Passover, so during Passover you leave it out. However, if it's after Passover and you are just trying to use up leftover matzah, then add the baking powder in. Baking powder will make the banana bread taller and fluffier. The matzo banana bread on my picture doesn't have any baking powder in it, so it's pretty flat with a really moist texture – tastes delicious!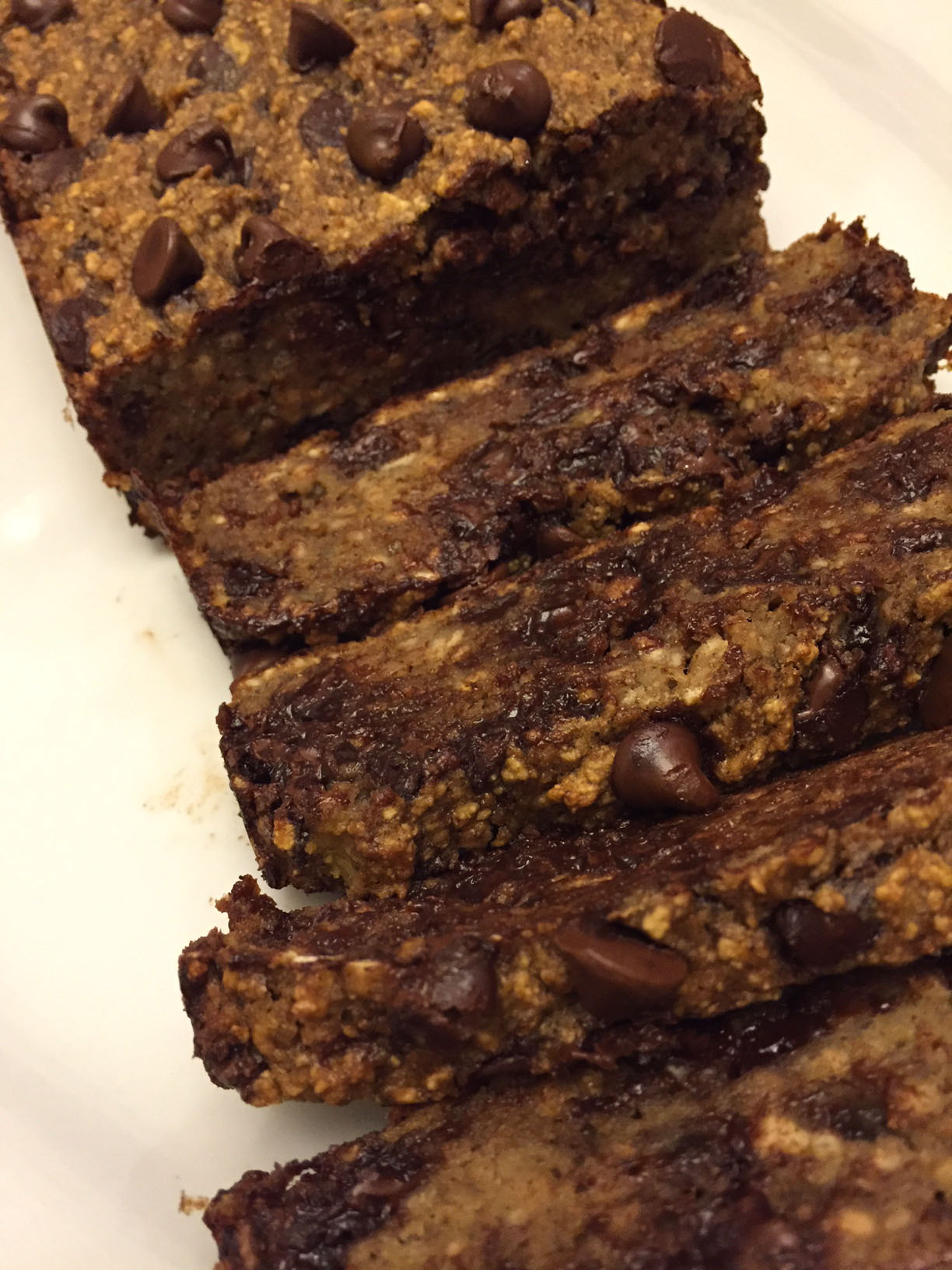 Another great thing about this matzo banana bread recipe is that it uses just 5 simple ingredients – matzo meal, bananas, eggs, sugar and chocolate chips. There is no added oil – this bread is so moist that it doesn't need the extra fat! You can use purchased matzo meal, or you can make your own matzo meal by grinding up matzah into powder in a food processor. Making your own matzo meal is a great way to use leftover matzah!
Click Here To Pin This Recipe
Matzo Meal Banana Bread Passover Recipe
This delicious banana bread recipe uses matzo meal instead of flour - what a perfect dessert for Passover! Moist and sweet bread with a deep banana flavor and chocolate chips throughout - yum!
Instructions
Preheat the oven to 350F.

Spray the non-stick 9x5 inch loaf pan with a non-stick cooking spray, and line the bottom of it with parchment paper.

Whisk the eggs in a large bowl using the mixer.

Add sugar and mix.

Add the matzo meal and mix until combined.

Add the mashed bananas and mix until combined.

Add the chocolate chips and mix.

Transfer the cake batter in a loaf pan.

Put in the oven and bake for 45 minutes.
Save This Recipe
Save this for later on your social media:
Get Melanie's FREE Recipes In Your Inbox!
https://www.melaniecooks.com/wp-content/uploads/2016/04/matzo_banana_bread_recipe.jpg
1632
1224
Melanie Mendelson
https://www.melaniecooks.com/wp-content/uploads/2015/11/logo-new2.png
Melanie Mendelson
2016-04-27 08:33:52
2021-12-08 09:12:03
Matzo Meal Banana Bread Passover Recipe