Easy Matzo Ball Soup Recipe Anyone Can Make
This post may contain affiliate links (disclosure).
This is the easiest recipe for Matzo ball soup that you will ever find. Even a beginner can make this Jewish matzo ball soup, and it tastes amazing! Soft delicious Matzo balls in a tasty chicken stock – so warm and comforting!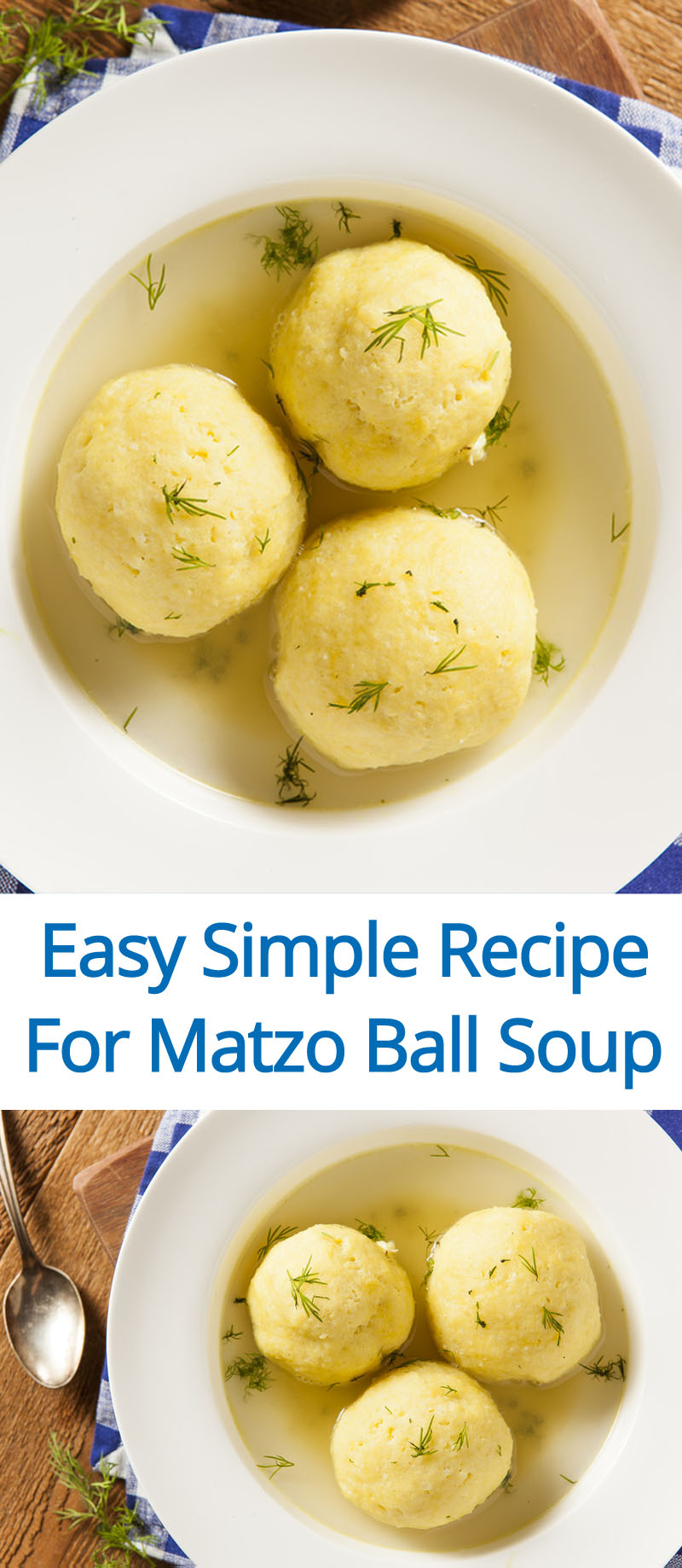 Matzo ball soup is a classic Jewish recipe that's been around for thousands of years. Matzo balls are ball-shaped dumplings that are served in a chicken soup. Matzo ball ingredients are matzo meal, eggs, oil and water.
Matzo ball soup is a historic Jewish comfort food and it is always a part of traditional Jewish holiday menus. Matzo ball soup is a staple recipe for the Jewish holiday of Passover that celebrates the Exodus of the Jewish people from Egyptian slavery. Matzah is an unleavened bread that is a symbol of freedom for Jews as it was the first food eaten by the newly freed people. During Passover, leavened breads are forbidden and only Matzah is allowed, so it's a perfect time to make a Matzo ball soup! But of course, you don't have to wait until Passover to make this delicious soup – Matzo ball soup can be enjoyed year around!
If you searched for Matzo ball soup recipes online, I'm sure you found that most of them are really complicated and impractical for today's busy cook. Well, look no further – this is the easiest Matzo ball recipe you will ever find! It uses store-bought chicken broth so you don't need to make it from scratch. No simmering the chicken for hours, straining the stock and removing chicken bones :) You just concentrate on the star of the recipe – the Matzo balls!
How To Make The Matzo Ball Soup Step By Step:
These easy instructions take the mystery out of the matzo ball soup making process :)
Step 1: Make the Matzo balls
Mix the Matzo ball dough ingredients, shape into balls and cook them in boiling water
Step 2: Flavor the chicken stock
While the Matzo balls are cooking, flavor the chicken stock by simmering it with carrots, onion and celery.
Step 3: Add the Matzo balls to the soup
Put the cooked Matzo balls into the chicken stock and finish cooking them there so they soak up the chicken soup flavor.
That's all there is to it :) You might be thinking – why not cook the Matzo balls directly in the chicken stock to save a step? The reason why we cook Matzo balls in water first, as opposed to cooking them right away in the chicken stock, is to avoid making the soup cloudy.
Enjoy this delicious Matzo ball soup – it's a true comfort food!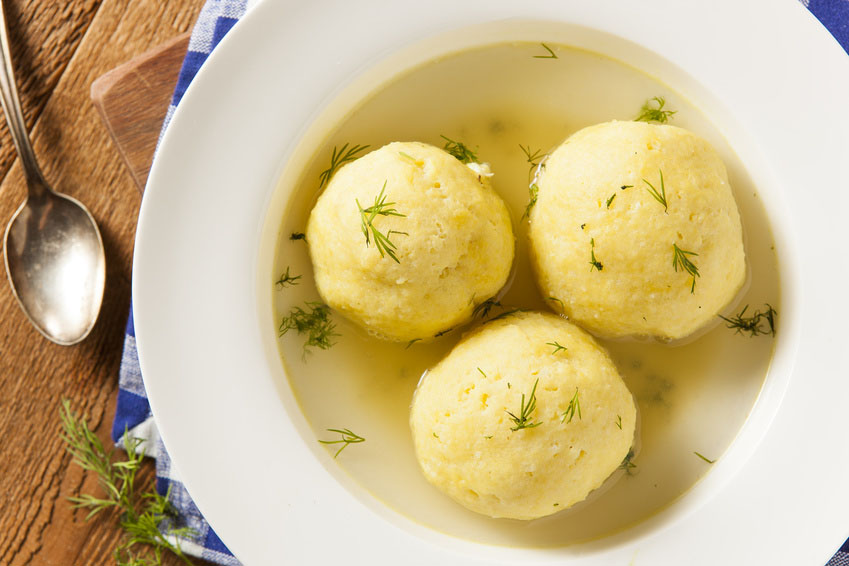 Click Here To Pin This Recipe
Easy Matzo Ball Soup Recipe
This easy Matzo ball soup recipe is made in under an hour from start to finish! Delicious Matzo balls in comforting chicken broth - so yummy!
Ingredients
Garnish
1/4

bunch fresh dill or parsley

chopped
Instructions
Mix the Matzo meal with eggs and oil, then refrigerate it for 15 minutes.

Bring a large pot of water with 1 tbsp of salt to a boil.

Using wet hands, roll the Matzo mixture into 1-inch balls (to not over-mix, or it will make the Matzo balls tough).

Carefully drop the Matzo balls in the water using a slotted spoon.

Reduce the heat to simmer and cook the Matzo balls for 30 minutes.

While the Matzo balls are cooking, add chicken stock, onion, carrots and celery to a separate pot. Bring to boil, then reduce the heat to Low and simmer for 20 minutes. Remove the onion with a slotted spoon and discard. Add salt and pepper to taste.

Carefully take out the Matzo balls with a slotted spoon and transfer them into the chicken stock. Simmer for another 10 minutes.

To serve, laddle the soup into bowls and garnish with fresh chopped dill or parsley.
Save This Recipe
Save this for later on your social media:
Get Melanie's FREE Recipes In Your Inbox!
https://www.melaniecooks.com/wp-content/uploads/2016/04/matzo_ball_soup3.jpg
566
849
Melanie Mendelson
https://www.melaniecooks.com/wp-content/uploads/2015/11/logo-new2.png
Melanie Mendelson
2016-04-20 09:41:28
2021-12-08 09:12:13
Easy Matzo Ball Soup Recipe Anyone Can Make