How To Make Chocolate-Covered Strawberries
This post may contain affiliate links (disclosure).
Strawberries and chocolate are two of my favorite ingredients – strawberry is my favorite fruit and chocolate is my favorite food :) When these delicious foods are paired together, they result in the most mouthwatering dessert – chocolate covered strawberries! They always look impressive and taste as good as they look – sweet juicy strawberry on the inside and the crunchy chocolate shell on the outside.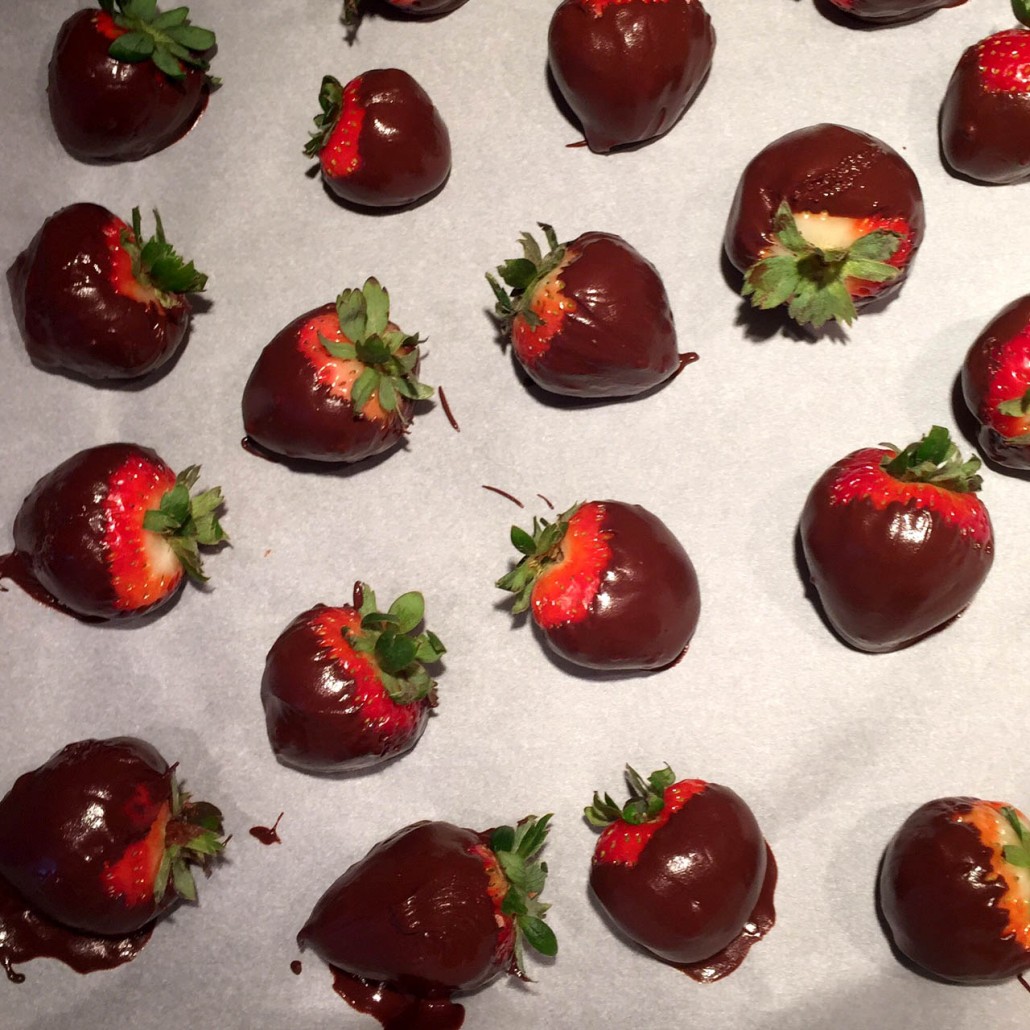 A great thing about chocolate-covered strawberries is that they are extremely easy to make. You don't need any special candy-making skills or special equipment to make this gorgeous dessert. In about 30 minutes you will make a whole batch of chocolate-dipped strawberries for you to enjoy!
I never thought the chocolate-covered strawberries were easy to make until I made them recently for the first time. I was looking for dessert ideas to bring to a potluck party, and in fact I was going to buy a dessert instead of making it. Then I saw the chocolate-covered strawberries for sale at our supermarket for $3 per piece. There is no way I was going to pay this much I thought to myself (as I needed at least 20 pieces). So I decided to try making them myself (and if they turned out bad, my plan B was to just bring some store-bought cookies instead).
These chocolate-covered strawberries on the picture above are from when I made them the first time ever, and they turned out perfect! My 11-year-old daughter was helping me make them, so this recipe is even easy enough for a kid :) These chocolate-dipped strawberries were delicious and were a hit of the party!
Another bonus of chocolate-covered strawberries is that it's one of the healthiest desserts ever, as they are low in calories and fat! Each chocolate-dipped strawberry has only about 50 calories. If you are looking for a gluten-free dessert, this is it, as there is no flour and no gluten. Plus strawberries are full of vitamins and the chocolate is loaded with anti-oxidants, making it another good excuse to make and eat this delicious treat!
Who Invented Chocolate-Covered Strawberries?
Fun fact: the chocolate-covered strawberries were invented in 1960's by a woman named Lorraine Lorusso, when she worked as a candy buyer at a Chicago store called Stop n Shop.
The Secrets To Making Chocolate-Covered Strawberries
When you make chocolate-covered strawberries, there is one rule you must follow: the strawberries have to be absolutely dry before dipping. If the strawberry is wet, the chocolate won't stick well. Here's how I dried the strawberries: first I washed them in a colander so all the excess water drains, then I put them on a paper towel and blotted the water on top with another paper towel. Then I layed out a double-layer of new fresh paper towel on the counter and carefully transferred the strawberries there. Then I just left them alone for an hour, and when I came back they were perfectly dry.
Also, it goes without saying – use the best strawberries you can get! This dessert is only as good as the ingredients that go into it. This is definitely not the recipe to use up the ingredients that are near their shelf life :) Strawberries can go bad really quickly, so it's best to buy them the same day as you plan on making the chocolate-covered strawberries. So you should use really good fresh strawberries and your favorite chocolate. My favorite is dark chocolate, but you can really use any kind of chocolate, including semi-sweet and milk.
Click Here To Pin This Recipe
Chocolate-Covered Strawberries Recipe
Chocolate-covered strawberries are easy to make at home, and they look and taste delicious. If you are looking for an amazing dessert to impress your guests, this is it!
Ingredients
1

package

1 lb strawberries

1

package

8 oz chocolate chips

1

tbsp

butter
Instructions
Wash the strawberries and fully dry them (either by laying them out on a paper towel and waiting for 1 hour, or dry the strawberries with paper towels individually and use right away).

Line a plate or baking sheet with parchment paper.

Put the chocolate chips and butter in a microwave-safe bowl.

Microwave the chocolate chips and butter on "Low" or "Defrost" setting for 3 minutes.

Stir to combine chocolate and butter, and see if the chocolate is fully melted. If not, microwave more in 1 minute increments until fully melted.

Take each strawberry by the green stem and dip into the chocolate, so it's coated on all sides.

Put the chocolate-dipped strawberry on parchment paper, and repeat with remaining strawberries.

Put the chocolate-covered strawberries in the refrigerator for 30 minutes to allow the chocolate to harden.
Notes
Chocolate covered strawberries are best consumed the same day they were made. Do not store for more than 24 hours.
Save This Recipe
Save this for later on your social media:
Get Melanie's FREE Recipes In Your Inbox!
https://www.melaniecooks.com/wp-content/uploads/2015/12/chocolate_covered_strawberries.jpg
1280
1280
Melanie Mendelson
https://www.melaniecooks.com/wp-content/uploads/2015/11/logo-new2.png
Melanie Mendelson
2015-12-15 18:04:03
2021-12-08 09:13:54
How To Make Chocolate-Covered Strawberries