How To Make Mimosas Cocktail Drink By The Glass or Pitcher
This post may contain affiliate links (disclosure).
Mimosa is a classic brunch cocktail that is a staple on the holiday brunch menus, especially for Mother's day and Easter. Sparkling wine and orange juice mixed together create an amazing cheerful and delicious drink – perfect any time of the year!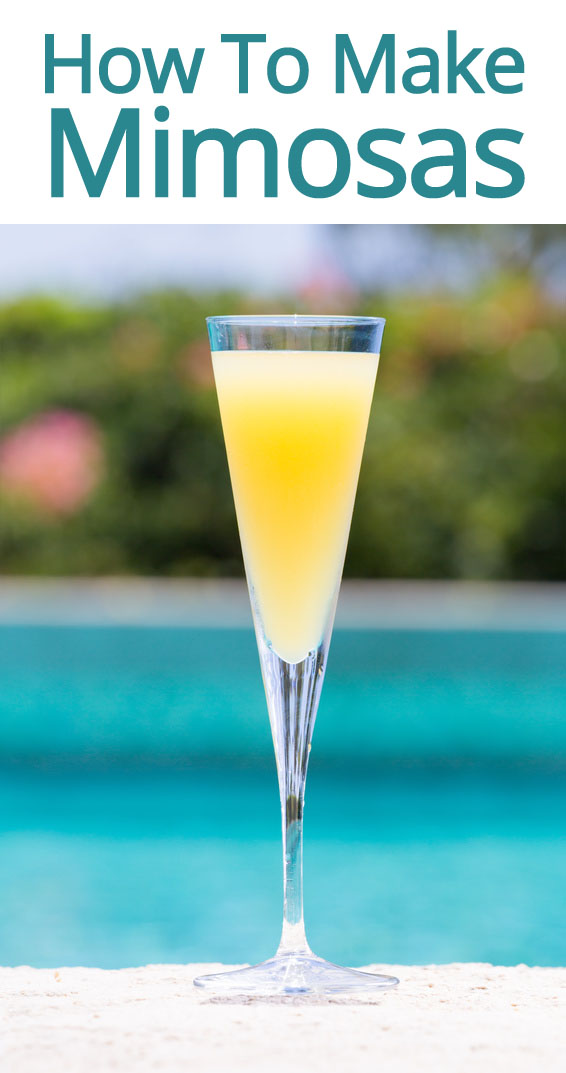 A classic mimosa recipe has an equal amount of sparkling wine and orange juice mixed together. For the sparkling wine, the classic choice is Champagne, and another commonly used choice is Prosecco.
Mimosa Cocktail Ratio
1 part sparkling wine : 1 part orange juice
Secrets To A Great Tasting Mimosa Cocktail
Your mimosa drink will be as good as the ingredients that go into it, so here are the 3 secrets to mimosa success:
1) Use good alcohol.
Don't use the cheap booze if you want a tasty mimosa! The sparkling wine that you put in your mimosa should be good enough to drink on its own, without covering it up with the orange juice :)
2) Use good orange juice.
Freshly squeezed orange juice is best! Of course, you don't have to squeeze the orange juice yourself, just purchase a good brand of orange juice that's freshly squeezed and not from concentrate.
3) Chill the ingredients.
Warm Champagne or warm juice are big no-no! Chill the sparkling wine and orange juice in a fridge before making mimosas.
4) Do not stir.
Do you need to stir mimosas? No! Mimosa doesn't need to be stirred, as stirring it releases the bubbles, makes a mess and causes the mimosa to go flat.
5) Don't let mimosas sit.
The sparkling wine will go flat with time, and that's not what you want in a sparkling drink :) Drink the mimosa shortly after mixing it, so it doesn't go flat.
Video Of How To Make A Mimosa
How To Make A Mimosa In A Glass
Making mimosa in a glass is super simple – orange juice goes in first, sparkling wine goes second. Just pour about half a glass of orange juice, and fill the rest with the Champagne or Prosecco.
How To Make Mimosas In A Pitcher
If you are making mimosas for a crowd, the easiest thing to do is to make the whole pitcher of mimosa and pour the mimosas straight from the pitcher. This way you'll save time since you'll be mixing the mimosas just once (in a pitcher), plus another huge advantage of this method is that people can serve themselves!
In a pitcher, mix 1 bottle (750 ml) of Champagne or Prosecco with 24 oz of juice (3 8-ounce cups). You can also put cut-up fruit (strawberries, raspberries, watermelon or peaches) on the bottom of the pitcher – this will make your mimosa pitcher even more impressive! And if the pitcher is not full, by all means go ahead and add more juice – this will be our little secret ;)
Mimosas Cocktail Recipe Variations
Feel free to experiment with different alcohol to juice ratios and different types of juice in a mimosa. Unlike baking, where the wrong quantity of one ingredient can ruin the whole recipe, mixed drinks allow some room for creativity. I've seen some people make mimosas with the ratio of 2 parts of alcohol to 1 part juice, as well as the other way around – 2 parts of juice to 1 part alcohol. How much alcohol to use in a mimosa depends on how strong you want it to be, or whether you want to stretch the Champagne if making mimosas for a large group :)
Also, orange juice is not set in stone. You can make mimosas with grapefruit juice, pineapple juice or cranberry juice – sky is the limit!
Click Here To Pin This Recipe
Mimosas Cocktail Drink Recipe
Mimosa is a classic drink recipe for Mother's day, Easter brunch or any time of the year!
Instructions
Make sure the orange juice and Champagne are chilled before making a mimosa.

Pour the orange juice in a Champagne flute, filling it about 1/2 of the way.

Add the Champagne until the glass is almost full.

No need to stir - the mimosa is ready!
Save This Recipe
Save this for later on your social media:
Get Melanie's FREE Recipes In Your Inbox!
https://www.melaniecooks.com/wp-content/uploads/2016/04/mimosas_cocktail_recipe.jpg
1073
566
Melanie Mendelson
https://www.melaniecooks.com/wp-content/uploads/2015/11/logo-new2.png
Melanie Mendelson
2016-04-30 07:21:45
2021-12-08 09:12:02
How To Make Mimosas Cocktail Drink By The Glass or Pitcher